Prepare for your wondrous virtual weekend escape as Porter Robinson, Madeon, San Holo, G Jones, and more play Secret Sky Festival.
---
Anticipation continues to build Secret Sky Festival as fans and artists alike have shared their pure elation for this dream virtual experience via social media. Industry heavyweights Goldenvoice, Brownies & Lemonade, and Slush are joining forces with Porter Robinson to produce the festival which is scheduled for this Saturday, May 9.
Fans will be able to stream the festival on a variety of traditional platforms including YouTube, Twitch, Playstation, and Playstation VR. Additionally, viewers can connect in the just-announced Secret Sky Digital Auditorium. This neat alternative outlet will serve as an online venue and interactive space during the stream.
Related: Searching for more livestreams happening before this virtual festival commences? Check out our post that is constantly updated!
Accompanying Porter Robinson is an all-star ensemble of renowned artists from a variety of styles. Dance music superstars like Madeon, San Holo, G Jones, and Jai Wolf lead the way on this unique lineup. Bass triad Wavedash and the prolifically hardcore Lil Texas join the Secret Sky troop as well. A talent-rich assortment of diverse groups and performers like Anamanaguchi, A.G. Cook, DV-i, and others will join the parlay as well.
Regardless of the latter, this festival will be a monumental journey for any and all who tune in. Lastly, the proceeds of the virtual festival will go directly towards supporting artists on behalf of the MusicCares COVID-19 Relief Fund.
RSVP now via their site and enter for your chance to win VIP tickets to a future Porter Robinson performance of your choice, $3,000 in Gear from Pioneer DJ, signed vinyl, and Secret Sky poster signed by Porter Robinson.
Tune in to the Secret Sky Music Festival live stream on Twitch:
---
Secret Sky Music Festival Schedule: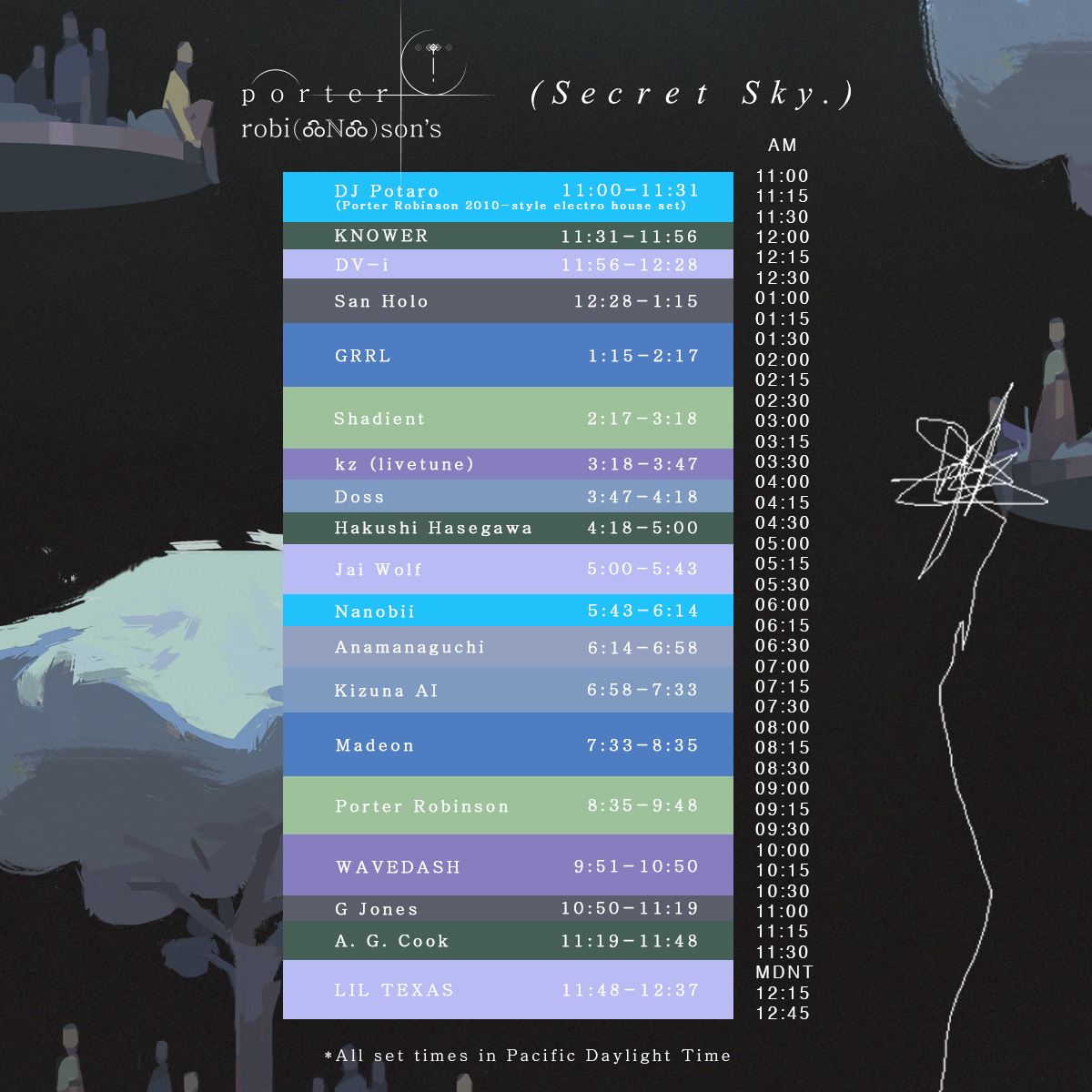 ---
Connect with Porter Robinson:
Website | Facebook | Twitter | Instagram | SoundCloud
Connect with Second Sky Music Festival on Social Media:
Website | Facebook | Twitter | Instagram 
Follow Brownies & Lemonade on Social Media:
Website | Facebook | Twitter | Instagram | SoundCloud