Will you be catching Wenzday, Dr. Fresch, Champagne Drip, Pegboard Nerds, and more during Global Dance Digital Festival this weekend?
---
Although Global Dance Festival announced that they will not be hosting their standard summer edition this year due to the coronavirus pandemic, they're set on keeping the vibes rolling strong. How, you might ask? With top-tier artists taking over the virtual realm with Global Dance Digital Festival that is set to take place on May 9 – 10 on Twitch of course!
Despite moving online for their edition this year, the festival has once again delivered a stacked lineup for 2020, including Colorado favorites like Big Gigantic, Ecotek, and Wuki. Also, joining the virtual madness in 2020 is none other than Pluko, Wenzday, Hex Cougar, and Nitti Gritti.
However, the heavy hitters don't stop there because this lineup is teeming with bass talent. After all, Colorado has become known as the bass capital of America so it comes as no surprise that they're serving up a generous dose of wubs with Dack Janiels, Sullivan King, Ray Volpe, Crankdat, Swarm, and Trivecta all featured as well.
Additionally, Global Dance will be raising funds for Direct Relief during the two days of live streaming. This U.S.-based nonprofit turns donations directly back to the doctors, nurses, and other essential employees working on the front lines to keep us safe amongst this pandemic, so make sure to donate if you can!
With a lineup absolutely brimming with talent, we're excited as ever for the first-ever digital edition of Global Dance Festival. Make sure you smash that follow button on Twitch and let us know where you plan to be tuning in from!
Tune in to CardinalNow to catch all the action on Twitch:
Watch live video from cardinalnow on www.twitch.tv
---
Global Dance Digital Festival – Schedule: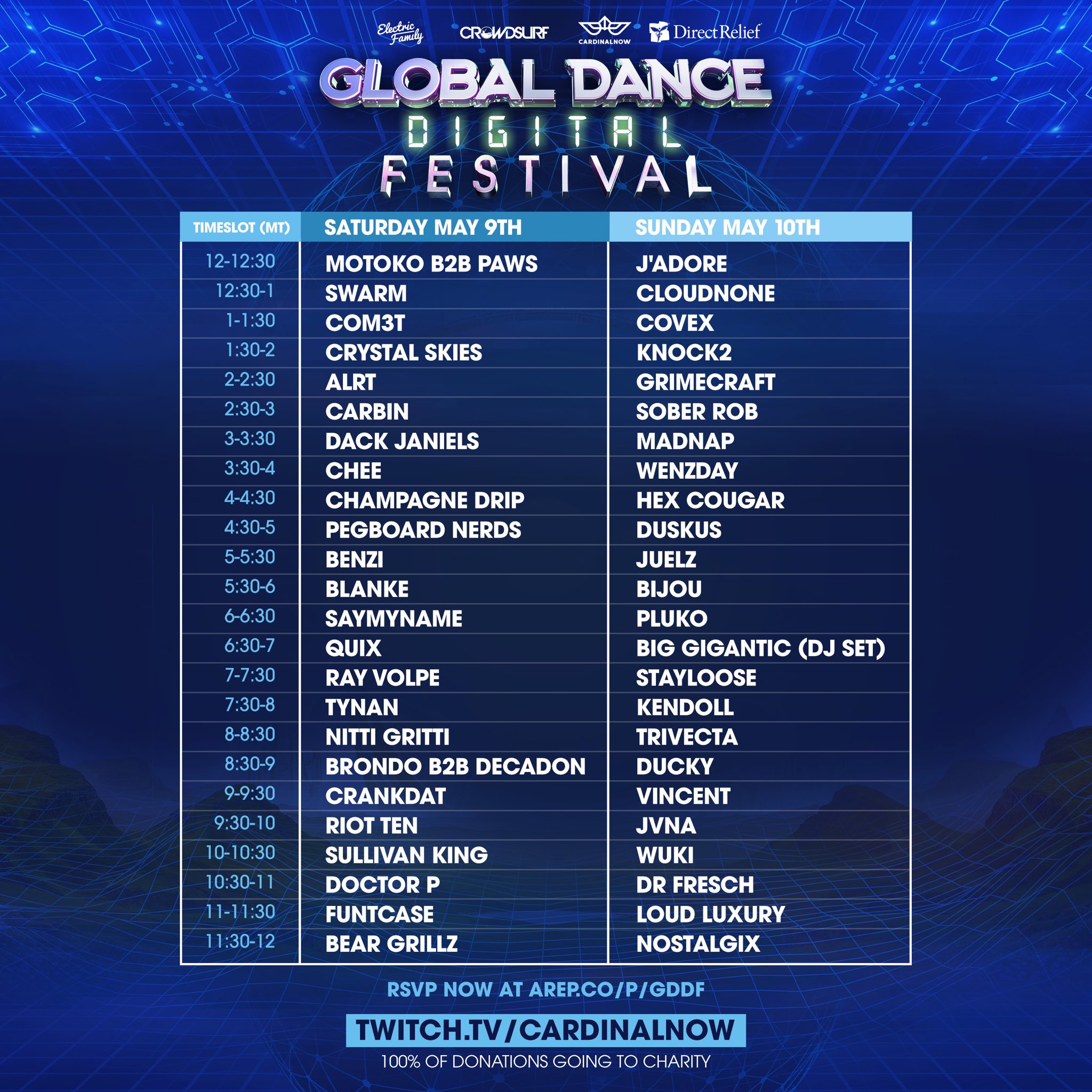 ---
Follow Global Dance on Social Media: