Are you ready to get down to the sounds from Downlowd, Diskull, Michael Bricker, Anakim, and more during Close Quarters?
---
When the coronavirus pandemic truly began to take hold of the world, the dance music community flocked to the digital realm to find moments of solace by dancing to their favorite DJs. Artists and brands from the scene took to platforms like Twitch and YouTube to satiate their cravings to perform, and now The Butter Collective has thrown their hat into the ring with the announcement of Close Quarters.
Hosted on Wednesday, May 6, The Butter Collective has flexed their tastemaking muscle with a lineup filled to the brim with quality artists. An immediate standout is LA-based artist Downlowd who will surely be hacking your system and throwing down some quality beats, but the lineup doesn't stop there! Joining him will be some stunners who have caught our ear as of late including Diskull, Michael Bricker, and Anakim.
Additionally, EKO ZU, Mr. Kristopher, and Justin Waves will be spinning sets and the virtual show will kick off with some comic relief from Austin Carr and an industry talk with Stefan Aronsen you won't want to miss. We've also teamed up with The Butter Collective for the show to broadcast it in its entirety on Twitch and funds raised during the show will benefit the MusiCares COVID-19 Relief Fund.
Head over to Twitch and follow EDM Identity now to stay in the know the moment we go live, RSVP to the event on Facebook, and let us know where you'll be tuning in from in the comments! 
Tune in to the Close Quarters – A Virtual Livestream Charity Show on Twitch:
Watch live video from EDMIdentity on www.twitch.tv
---
Close Quarters – A Virtual Livestream Charity Show – Schedule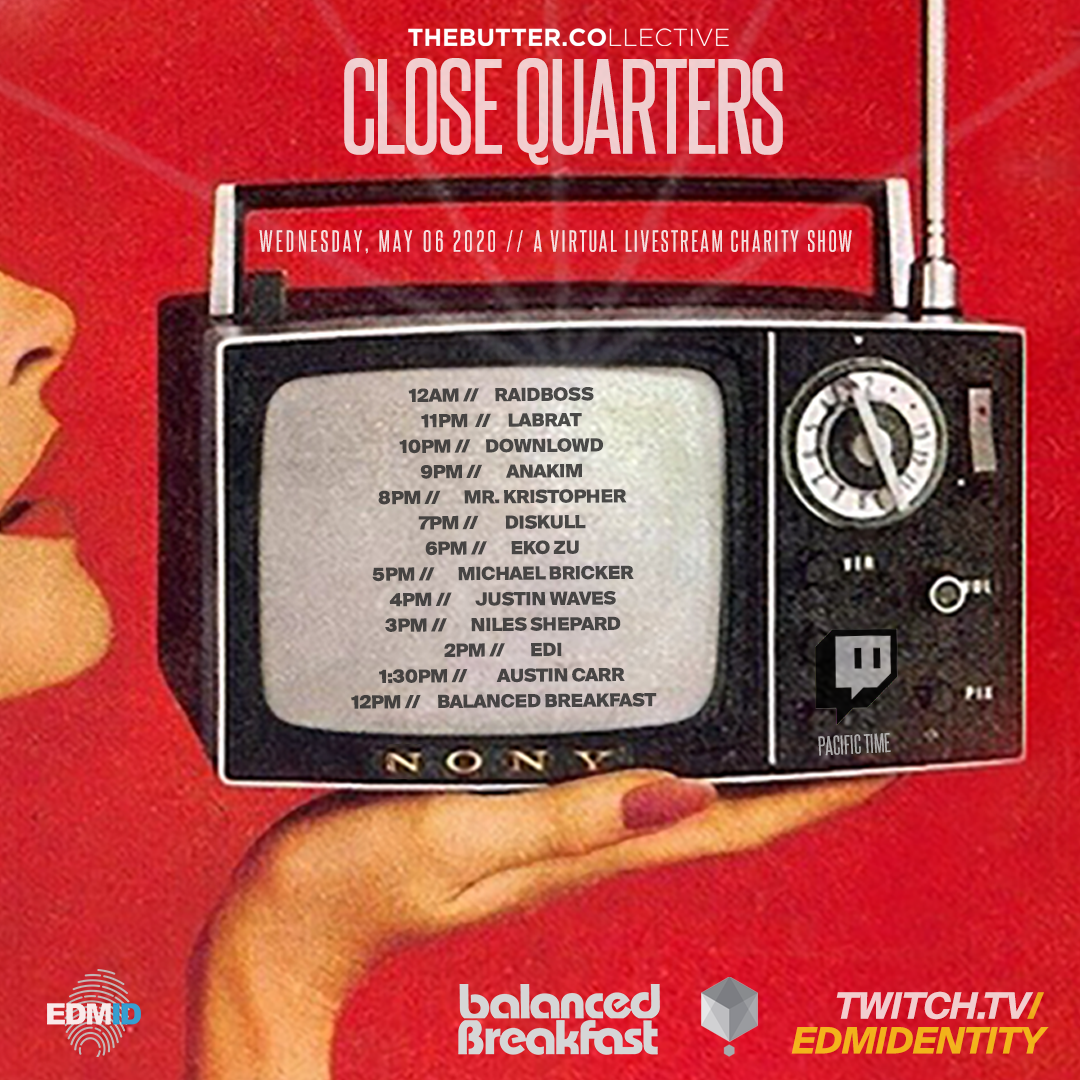 ---
Connect with The Butter Collective on Social Media:
Website | Facebook | SoundCloud
Connect with EDM Identity on Social Media:
Facebook | Twitter | Instagram | SoundCloud | Mixcloud | YouTube | Twitch