Trivecta sat down with us to chat about how his Everyday EP came to fruition, his secret to making a killer steak, and more!
---
It is hard to ignore the sheer talent that is Trivecta. This Florida-based producer has an incredible work ethic that shines bright with the number of genres that he is able to produce. Incorporating influences from melodic dubstep, trance, and drumstep there's no limit to the creativity he expresses in his music. Now, on the Everyday EP, Trivecta takes listeners on a journey and lets them in on his new genre he has coined called "folk bass."
While he had blown away his fans with tracks like "Island" and "Oxygen" as of late, it's clear that Trivecta saved his best production for his debut EP. Through the four tracks that make up this project he takes listeners on a journey filled with indie-folk chords and melodic bass-infusions, it's something fresh, to say the least.
The intro track and "Leave It All Behind" is the perfect example of this new genre Trivecta has coined for himself. While "Wasteland" and "Everyday" fuse emotional vocals with thumping dance basslines. This EP is something that will instantly connect with old fans and new ones alike!
Ahead of the EP, Trivecta chatted with us about his process making the EP, his take on approaching collaborations, and his take on the Marvel Comic Universe films. So listen to Trivecta's Everyday EP on Spotify below, download or stream the EP on your favorite platform, and read on for an interview with Trivecta himself!
Listen to Trivecta – Everyday EP on Spotify:
---
Hey Trivecta, thanks for chatting with us today! Let's talk about your most recent EP, Everyday, that's out now on Ophelia Records. What was the process behind making this EP and did it differ from your previous releases?
Yeah! It actually differed a lot, that's a great question. For a long time, I have been in the melodic bass sphere. I felt that it was really fresh when it came out – melodic bass music. But I feel like even in the past couple years, it could use a little burst, a little fresh injection of influence. Personally, I had been listening to a lot of indie-folk music like Of Monsters and Men and Mumford & Sons. I thought to myself, "dude! This music is very immersive, this music takes me somewhere. Just like trance and melodic bass take me somewhere. There has to be a middle ground here!"
That was the starting point of how I could figure out how to start to mold something that folks felt uniquely powerful. That laid the blueprint for this EP to be made.
The lead single off the EP, "Leave It All Behind," has some folk influences in there. What spurred you to incorporate these elements into this unique track?
It differs from track to track on the EP, but to answer your specific question about "Leave It All Behind." I had been touring a lot (RIP touring for now) and started to get this feeling – it was the first concentrated batch of touring that I had done on my own. You would be sort of nostalgic when you're out on the road, really far from home. 
Sometimes those songs in the airport that they play over the speaker can be a little bit more effective when you haven't seen your friends in a while. And I would hear some of this folk music on the radio in the airports actually, and there was actually one song I kept hearing at Tampa International Airport. I think it was by Manchester Orchestra. It just had this big acapella vocal hook, this big stack of vocals – super nostalgic and super powerful and I was like "man I want to do something like that!" That sort of informed how I incorporated those influences in "Leave It All Behind."
Aside from your solo work, you've also teamed up with artists such as Varien, Wooli, Seven Lions, and many more. How do you approach collaborations and is there an artist you'd like to work with in the future who you haven't yet?
As far as collaborations – for example, Wooli came at me and he was so pushy. He was like "let's make something, let's make something." Finally, we got something together and that was one of my first real collabs I had done. He's a really easy guy to collab with. Ever since then it has been easier. It's fun, man!
Seven Lions has been great to work with, we have a couple of other ones we are working on. A lot of the Ophelia artists are sort of cross-pollinating during this quarantine, so there will be a lot more collabs for sure.
I would love to work with Of Monsters and Men and Mumford & Sons in the future!
One of my favorite recent tracks by you is "Oxygen." How did this collab come together between yourself, Excision, Wooli, and vocalist Julianne Hope?
So Wooli had been working with a lot of stuff with Excision at the time, who I did not know personally yet. And Wooli and I started working on the tune "Oxygen" since he found the vocal for the tune, which was really nice. He was working on a bunch of stuff with Excision and he had a bunch of ideas for the tune too and we decided to work on the whole thing together. That was a pretty easy one to get done, that was one of the easier wrap-ups I have had for a tune. Everybody was on the same page. We all contributed and made it work!
How do you deal with bouts of writer's block? Do you have any tricks that help you get through it?
Yeah, I do! There are a few things. One is whenever I start feeling inspired, I try to jot down a lot of "sketches," rather than "okay I'm inspired, I'm going to start one song and only work on one song". At any given time, I have at least a good ten tracks that I am actively thinking about or trying to get done. So if I have writer's block, it's like I am not coming up with anything creative, but I have songs that need tending to. I have songs that need to be tightened better, I have songs that need to sit better sonically, I have songs that need sound replacement. Things like that. 
Another thing if I have writer's block I will find music that really just inspires me. Especially if it is not EDM and just listen to it and find inspiration. Usually, something will come from that eventually.
What has been the biggest struggle that you both have faced so far in your career, and how did you overcome it?
There have been a few. Honestly, there are some that are more concrete. Like one was getting the hang of playing live shows. I went from a place where I thought I had all this "cred," I had half a million listeners at the time online, but I would go play shows and no one knew who the hell I was. That's when I realized it's totally different spheres. That was definitely a big challenge to overcome that. 
Lately, a struggle I have been having is the quarantine and finding creative ways for this EP to have its time of day and get its legs and is able to create experiences with the fans. Another one that feels overarching is the struggle of when you start off making live music online and you do not actually see these people. It can start to feel disconnected, for a while Trivecta and me, Sam, were such wildly different things. I was portraying a different person online and I didn't know any of my fans personally and it was all very disconnected. I'm a goofy dude and the music was very serious, I didn't know how to connect the two, but lately more so things have been a lot more connected where it all feels like the same thing. Where people can go "yeah he's a goofy dude, but the music is serious and that's okay." Through communicating with the fans at shows and online everything feels a lot more connected than ever. That's been a struggle that's lately been a lot more together.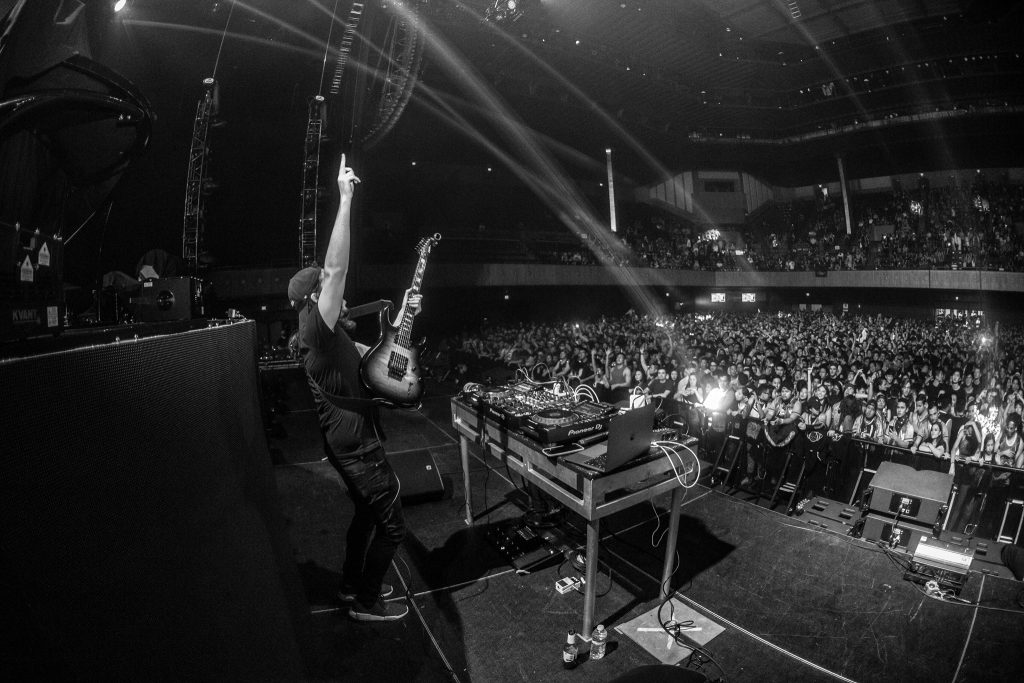 You recently tweeted that despite everything that is going on, you feel more connected to the dance music community than ever. Could you elaborate on that feeling?
It feels like as soon as this all happened, I figured I was going to start streaming. I'm a guitar teacher by day so I'm used to communicating about music with people. So I figured I was going to set up everything – Twitch, Discord, OBS. 
Through doing that and going through unreleased tunes that I don't want to put out because they are so wildly different from what I do and showing my fans them on stream and they are like "yo, we love this!" My fans are already seeing that side, so I feel a lot more connected with them just about the material itself. Even through Discord and talking with them all the time and through streaming and talking with them all the time. Especially even with the Ophelia label group – all of us have this WhatsApp and we chat all the time. So I feel closer to all of my close artist friends as well.
In light of all this coronavirus (COVID-19) news and show cancellations, how has this changed the course of the next few months for you and your team?
It's completely changed a lot of things, but some things are still the same. For example, we are still moving forward with the EP and we are still putting all of that out. It feels weird to feel like I just have arrived at this unique folk bass and I'm putting it out there in the middle of a pandemic. I'm not able to tour around it, unfortunately. 
So everything has been clearly disrupted, but I think an interesting caveat to all of this, is that the board is shifting and the playing field is changing. I think that we may find that artists who have something to offer, whether it's their personality or artists who are more focused on creative music versus artists who maybe aren't making their own music and are just out there throwing parties every night and are now like "oh no, what do I do now". 
I feel like a lot of us are more engaged in the music and more engaged in the content. As long as they are down to communicate to the fans, I feel like guys like us are in a position to come out of this whole thing in better relative standing than where we started. Rather than trying to compete with all of these guys who are throwing parties every night, we may be able to leverage our creativity, music, and content during this time and give people things that they can connect with. Turn this into a net positive.
You have posted some recent videos on Instagram of you cutting up an incredibly juicy steak. What would you say is the secret to making a killer steak?
Oh, man! My secret… okay, there are a couple of things. I like to get thick steaks because then I can really focus on how I want the middle to be cooked, compared to the outside. I need to get my middle to a nice medium rare and a hard sear on the outside and not compromise either of them. 
Honestly, another secret is…. and people sleep on this – a damn good meat thermometer! People talk down on meat thermometers and you'll find purists that don't like them and to me, it's like producing music without using visual guides like spectrum analyzers. Every producer uses that stuff because it gives you another way of understanding what it is that you are doing. Meat thermometers are so cool because it allows me to know what temperature different parts of the steak are at. That's great because I can really sear hard and not have to worry about all of that. 
It also starts with the cut too! You have to select a nice cut. My favorite cuts to cook are typically a rib-eye or a filet or a strip. I love the fat content of the rib-eye. I love strips for sharing with people. I love a good filet because they are just so tender. It depends on the context!
View this post on Instagram
Word on the street is that you're a huge Marvel Comics fan. Who's your favorite Marvel superhero and why?
I wasn't actually. I had no interest until I sprained my ankle and was in bed for a while. Then I figured I was just going to watch all the MCU (Marvel Comic Universe) movies and just see what this is about. As I was watching though I was like "okay this good….okay this is pretty good….okay this is good!" I was really buying in, but let me tell you, by the end, by the Infinity War and Endgame I was like "dude! This is the craziest thing I have seen in my entire life." When I saw Infinity War and Endgame, it had completely validated everything I had seen.
To me it was the anti-Game of Thrones, I was so obsessed with GoT, but it was so clear they were trying to figure out what they were trying to do at the end. Whereas MCU, you really got this sense they knew where they were going. Everything led to that ending. I have never felt more engaged by any sort of media content as I felt watching Infinity War and Endgame.
After watching all of that, I would say… it's tough, I would say out of all of them I like a few of them for different reasons, but I would say the character who's lore and the world they live in I like the most would be Thor. I love Norse folk mythology and sort of having that aspect intertwined in the Thor universe I felt was really cool. I'm a big Scarlet Witch guy too!
Finally, if you could offer up an inspiring message to your fans during this uncertain time, what would it be?
Oh, that's a good question. Let me think…..don't leave it all behind! [Laughs]
---
Connect with Trivecta on Social Media:
Facebook | Twitter | Instagram | SoundCloud