Max Styler captures a smooth, groovy vocal house vibe on his sophomore album Body High.
---
Max Styler has built a steady presence on Dim Mak since being signed by the label at just 18 years old. While some of his career highlights include collaborations with Deorro, MAKJ, and Steve Aoki, this diverse artist has no boundaries when it comes to his sound. His recent EPs Feel It and Supernatural showcase a unique house style that he continues on Body High.
Body High consists of six tracks including "Let Me Take You There" featuring Laura White, a can't-miss single he released last year. The album presents Styler's infectious house sound and is an impressive display from one of Dim Mak's finest artists.
"My life is music, making music is one of the only things that gives me a true feeling of a body high and I wanted to dedicate this body of work to that feeling…90s rave/house music was a big influence on Body High. That era of dance music had undeniable energy and uplifting spirit to it and that's excitedly what the world needs right now."

'
Listen to Body High by Max Styler below, stream or purchase it on all platforms, and keep reading for a closer look at each track!
Stream Max Styler – Body High on Spotify:
---
The EP opens with the title track, and "Body High" effectively sets the tone with a peaceful vocal and deep house influences.
Similar to "Let Me Take You There," both tracks combine an impressive vocal performance on top of production reminiscent of UK house music and their use of pianos. "Echo Over Me" and "Back To Me" have seen similar success as singles, and both are vocal focused tunes with a smooth melody that bring positivity in a time of crisis.
The energy increases on "Disco Pop", a catchy track with nu-disco influences and a filthy bass line. Next, "Got The Feeling" strikes an optimistic tone and features one of my favorite drops on the album. Closing out the EP is a dub mix of "Body High", a more bass-focused version of the title track designed for a club or festival atmosphere.
Body High is another well-produced album of Max Styler music that fans of several different genres will surely enjoy.
It's a solid collection of uplifting piano house, and Max Styler's production expertise always shines brightly. When he's not in the studio, he's working behind the scenes creating soundtracks for the some of the most well known brands in the world. With track releases on Dim Mak, Ultra, Mad Decent, Spinnin, and more, Max Styler is clearly an artist to watch in the future.
---
Max Styler – Body High Tracklist:
Body High (feat. Sanna Martinez)
Let Me Take You there (feat. Laura White)
Echo Over Me
Back To Me (feat. Jimmy Nevis)
Disco Pop
Got The Feeling
Body High (feat. Sanna Martinez) – Dub Mix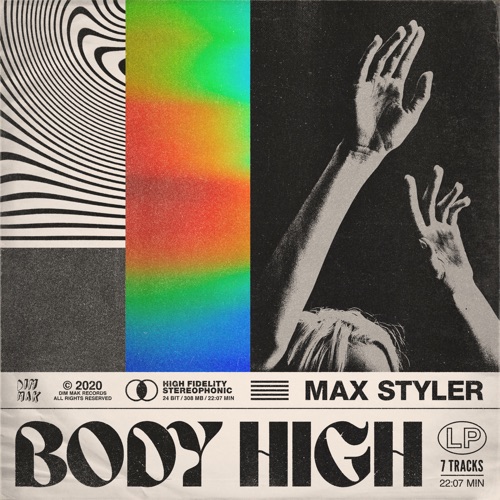 ---
Follow Max Styler on Social Media:
Facebook | Twitter | Instagram | Soundcloud