Are you ready to get dominated by sounds from artists like BUKU, Ravenscoon, and more during Harmony Virtual Music Festival this weekend?
---
Even though the world may seem like it's constantly throwing curveballs at us all and this year hasn't turned out the way that anyone expected, Electric Hawk has continued to thrive in the face of uncertainty. Now, after the release of REBIRTH and a plethora of other fantastic EPs, they're flexing their tastemaking muscle with Harmony Virtual Music Festival.
Set to take place on April 25-26, the debut edition of Harmony Virtual Music Festival will see a highly curated lineup of artists dominate the decks and put their unique styles on full display. Featuring stunners like BUKU, Blanke, DMVU, Ravenscoon, and Subdocta, there will surely be something on the lineup for any lover of weird wubs and bassy beats.
Related: Looking for some beats to get your hyped for the weekend ahead? Check out REBIRTH and get your body movin'!
Of course, there are a plethora of rising stars on the bill that include everyone from Voliik and Hollow Moon to sumthin sumthin and Yewz throwing down some heaters in the digital realm. Additional sets you won't want to sleep on are coming from REZI, Acrillics, Onhell, and Mize, so make sure to get your rave cave ready for a wild weekend with the Electric Hawk family!
RSVP now so you can stay in the know the moment your favorite artists take the virtual stage this weekend and let us know who you're most stoked to catch in the comments!
Tune in to the Electric Hawk TV on Twitch:
---
Harmony Virtual Music Festival – Schedule:
Please note that the set times below are in the Central Time Zone, so adjust your schedules accordingly!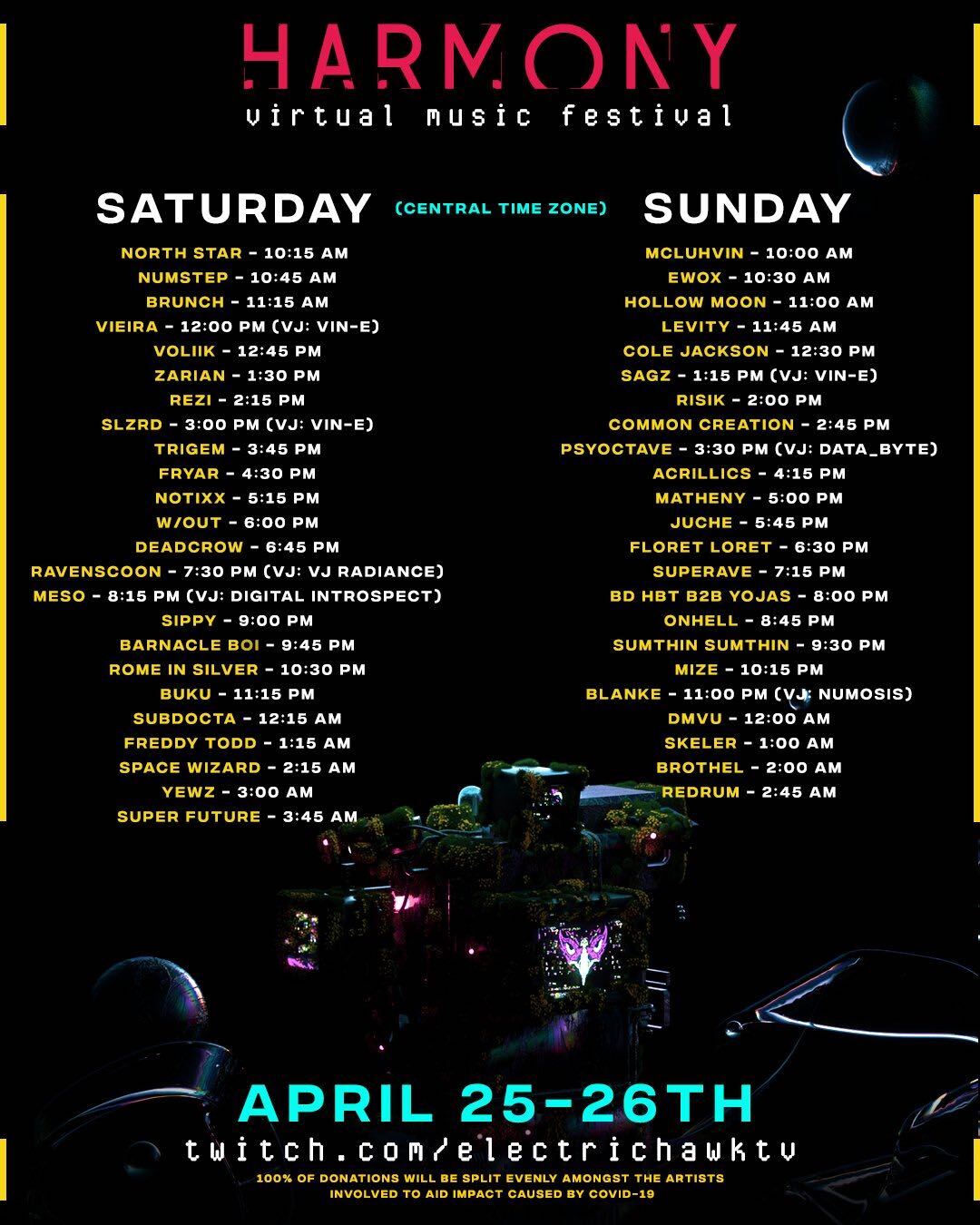 ---
Follow Electric Hawk on Social Media:
Website | Facebook | Twitter | Instagram | SoundCloud | YouTube