RAAKMO combines hard and heavy styles for a unique sound that has gained support from some of the biggest artists in the scene.
---
If you're looking for the hardest bass music in the scene, look no further than Chicago-based DJ/producer RAAKMO. After taking up producing in 2015, he has continuously developed his sound and has recently earned support from DJ Snake, VINAI, and Excision on some of the world's biggest stages.
RAAKMO has made appearances at countless shows around the Midwest, notably playing at Spring Awakening Music Festival and recently providing direct support to Lil Texas at Sound-Bar in Chicago. His music combines elements from multiple hard dance music genres like hardstyle and hard house, while also taking influence from trap, dubstep, and more.
With his most recent single release coming on Harsh Records, RAAKMO will surely continue to be a force to be reckoned with in the hard dance community. Following an unforgettable set at Sound-Bar, we caught up for an interview with RAAKMO to discuss his future career plans, how he fell in love with dance music, and much more.
Stream EDMID Guest Mix 215 || RAAKMO on SoundCloud:
---
Thanks for chatting with us today, RAAKMO! To introduce yourself to our readers, tell us about the style of music you make and when you fell in love with electronic music.
RAAKMO: Thank you for having me!  When it comes to my journey into dance music, it really wasn't on my radar when I was growing up.  It was a style of music I'd only hear on rare occasions or something a few local radio stations would play on weekend nights.
It wasn't until about 2007 when I started to get into it.  I was browsing YouTube and saw this "Tiesto Power Mix" video. I was amazed at not only the energy and emotion of the music, but the fact that a DJ was making an entire arena full of people go crazy.  Those two things combined really got me hooked as I had never really thought of DJs or dance music existing on that scale before.
As far as my own style I would describe myself as a hard music artist.  Whether it be trap, hardstyle, or any other elements of bass music, I enjoy being able to create a raw, intense, and hands the air type energy.  Almost like a battle scene in a movie or show, there's a combination of dark and uplifting moments accompanied by sheer brutality and power.
Your most recent release "Break" was released on Harsh Records. Take us through the production process for this track and how you created the sound featured in the drop.
The production process of this track was a bit unique since it was created for a producer contest that had some requirements.  In addition to using my own sounds, it was required to use a certain amount of samples from a provided sample pack. This was a lot of fun as well as a great learning opportunity as it pushed me to find unique ways to work with the required samples.
I think that's a challenge that many producers can learn from.  While it's nice to have a library full of thousands of samples, presets, and various VSTs, it can oftentimes be distracting thinking about all the different options you can work with.  Almost like opening up Netflix and spending half of the time looking through all of the different choices. I also found out about the contest a bit later than I would have liked which really pushed me to work efficiently and make the most of my time since the deadline was approaching fast.
The melody came to me first which set the mood for the track.  When building off of that, I enjoy adding interesting ambiance sounds that provide some more unique and personal character.  The drop is always an exciting part to work on as it carries a ton of energy, and it's when I can really imagine a huge crowd of people going crazy to the track.  The screeches are the main element that consists of a few layers of presets that I have created and modified over the years.  So overall, working on this track was a great opportunity and a good learning experience.
https://open.spotify.com/track/1GJ1O60G9jpH475wbr10jL?si=kFJy2sJfTT6eAXtlnQTnhw
When did you first start producing? While some of your first releases were big room house, you eventually transitioned to multi-genre hard bass music. How and when did you realize this style was your passion?
I started to really get into producing back in 2015. I dabbled with it a bit before, but initially, it was just a hobby that I could mess around with every now and then. Like with my current genre of hard music, I really like big, bold, and unique sounds that are full of energy.  So genres like big room house, jungle terror, and eventually hard house caught my attention. I still really enjoy those genres as well as most others that I don't produce.
What mainly drew me to hard music was the fact that there are so many styles you can combine that fit well at the 150 BPM region. Trap, hardstyle, and dubstep elements can all be combined without really sacrificing too much of the unique character that each genre brings.
So it's really fun knowing you can apply all these different styles when making a track or playing a DJ set.  And as I mentioned previously, there's just so much power and energy.  It's like the type of music that gives me the adrenaline rush to keep going after already jumping around for 6 hours at a festival.
Several of your recent original productions are collaborations with Gl0bal including "RTG" and "Slept On." How did you first link up with him, and what are some things that you've learned through your collaborations?
I first connected with Gl0bal after he heard one of my releases and reached out to me with some collaboration ideas for what would eventually be "Slept On." I think the main benefit of working with him and other artists is being exposed to new ideas and not being stuck inside the same style and workflow that I'm used to.  I believe that constantly learning is a key part of any craft, and collaborating with other artists is a great way to do that and keep that growth steady.
Your tracks have been supported during live sets by artists like The Chainsmokers, Excision, and DJ Snake. What was it like learning that these artists played your music at massive shows around the world, and what does it take to get your tracks noticed?
The initial feeling is just the thrill that your music has reached a certain level of success.  The first time I experienced it was on accident when I was clicking through some festival's video footage and saw "Slept On" just sitting there in one of the tracklists. I was like, wait a minute… and had to check and see who played it.  It turned out I was looking at DJ Snake's setlist.
Ultimately I feel that the greatest reward from seeing my tracks supported by headliners is the motivation it brings me. I know that I have a lot to learn when it comes to making music, but seeing my tracks played out across the globe and enjoyed by massive crowds tells me that I'm at least doing something right. On a similar note, it's inspiring knowing that a track can go from being made entirely in a bedroom to the biggest stages in dance music.
To get your tracks noticed, the first thing is obviously making good music as well as music that fits where you want it played. But, of course, the challenge we're talking about here is how to get the big names to hear it. When working with Gl0bal we were fortunate enough to get the tracks in the hands of individuals directly connected to some of these big names, but in other cases, I don't know the exact path my tracks took to reach the DJs.
Either way, a key part of making that opportunity happen is creating as much exposure for the tracks as possible. Whether it be getting on a label like Harsh or spreading your music around with various genre-based tastemakers, all of that gives your tracks an opportunity to be seen.
You were recently featured as direct support for Lil Texas before his show at Sound-Bar in Chicago, right before the clubs closed indefinitely. Was this one of your favorite live sets in recent memory? What are some of your other favorite DJ sets throughout your career?
That show was one of my favorites for sure.  There were a lot of things that made it stand out and memorable. Hard music events are extremely rare in Chicago, so being able to fully express myself with the music I like to make and play is always an opportunity I am extremely grateful for.
And I just love the local hard music fan base. While the genre locally has more of a niche following, the fans are so passionate and faithful to the music that it's always a special opportunity when we can all get together for events like that. Lastly, there was just a ton of energy at the show, so needless to say it was a blast playing for a wild crowd like that.
Some other favorite DJ sets of mine include Spring Awakening Music Festival and the local Porn And Chicken dance parties. The Spring Awakening sets are an obvious choice as it's a huge opportunity to play on some of the biggest stages any DJ could dream of.
When it comes to the Porn And Chicken events, I'm sure there are many raised eyebrows for those unfamiliar with that name, but it was the best weekly dance party in Chicago and my absolute favorite event. You can safely look up "porn and chicken" on YouTube, and that would give you a taste of the vibes. While those weekly events have unfortunately been discontinued, they will always be some of my favorite memories of both DJing and being in a crowd.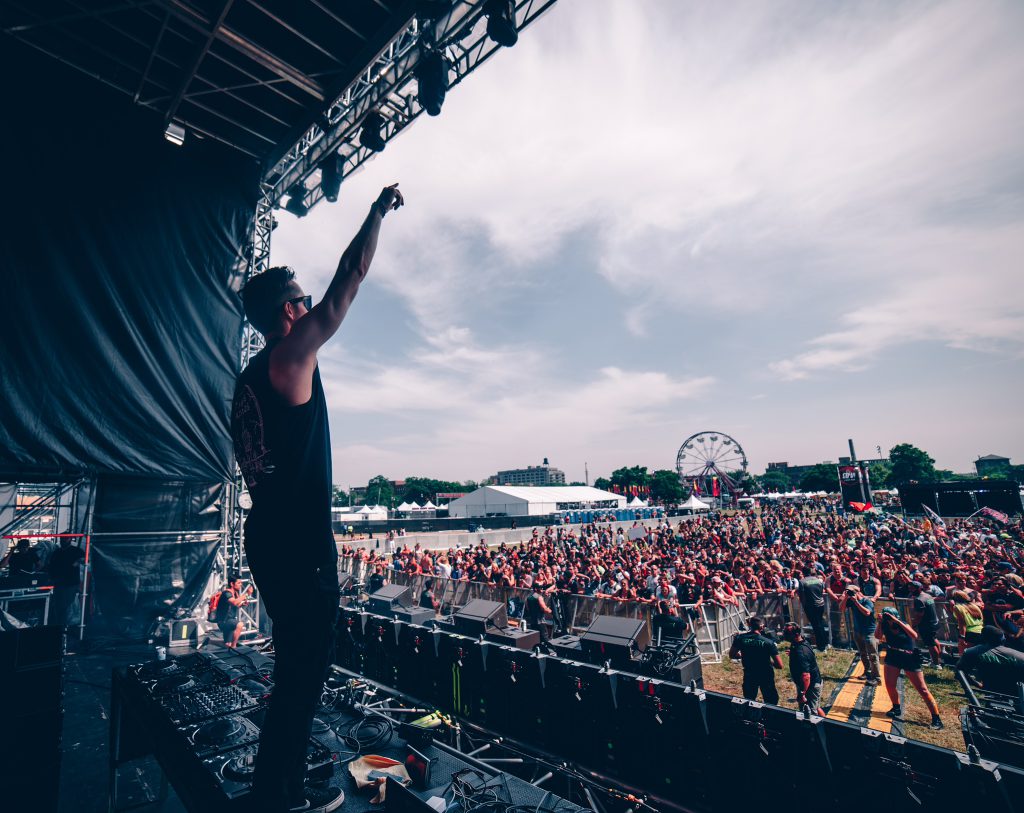 Now that we're in quarantine, what are some things that you're focused on while stuck at home? What's some advice you have for producers trying to stay productive during this time?
It's funny because my free time and schedule at home really didn't change with the virus lockdown. I'm still working full-time at my job, and all things considered with the struggles others are going through, I'm fortunate to be able to continue to work as well as work safely without putting myself at serious risk. So really I'm in the same evening routine as usual which consists of working on music, creating gaming/DJ/production content for Twitch streaming, and physical exercise to balance out all that sitting around.
For advice I think a simple tip is to always try and do something productive for your music or brand each day. Even if you aren't feeling creative or only have a limited amount of time to work, simply putting in even the smallest effort is a step forward. It doesn't even have to be strictly working on a song.
Things like organizing a sample library, setting up better project templates, making presets, trying out new sound ideas, or even exploring new ways to reach your audience on different social platforms all helps your brand grow. For example, a lot of DJs have discovered Twitch and live streaming which is an awesome form of content to tap into. So it doesn't even have to be specifically music-related. Any way you can keep your current fans engaged as well as finding additional avenues to draw in new fans are all great ways to keep productive and moving forward.
Looking towards the future, do you see the hard dance scene growing in popularity in the States? Who are some of your favorite hardstyle producers?
I definitely see it growing in the future. The dance music scene in terms of mainstream popularity is still really young in the US, so there is still plenty of space in which hard music can develop. More and more events are featuring hard music acts and even the headliners that aren't within that genre are including hard music in their sets. But most importantly, there is a ton of amazing up and coming talent in the US that is ultimately laying the foundation the scene needs in order to grow.
Some hardstyle producers I enjoy across the globe are Sub Zero Project, TNT, Junkie Kid, DJ Isaac, Keku, and Zatox to name a few.
What can we expect from RAAKMO in 2020 and beyond? Do you have more releases or collaborations coming soon?
There are definitely more collaborations in the works. For future releases, I'm excited to explore more hardstyle. A lot of my previous tracks have been primarily trap-based, so I'm eager to really dive into that end of the spectrum while of course still maintaining elements from my current style as well.
Lastly, what are you most looking forward to once the coronavirus pandemic is over?
I'm mostly just looking forward to people being able to do the things they enjoy and get back to living the life they want without the looming fear of the virus affecting their health or their job.  I'm certainly excited to hang out with friends again and get the music community together with some more shows!
---
Connect with RAAKMO on Social Media:
Facebook | Twitter | Instagram | SoundCloud | Twitch