Coming off the debut of Heartfeldt Records, Sam Feldt discusses his latest single, the Heartfeldt Foundation, quarantine life, and more.
---
Sam Feldt has been a mainstay of Spinnin' Records since his first release on the label in 2014. Bursting onto the scene with his brand of smooth and uplifting deep house, Feldt quickly became a household name with the release of his rework of "Show Me Love" in 2015, which was a successful hit.
Over the years Sam Feldt has continued to develop his sound, release massive tracks and has become a true force to be reckoned with in the scene. 2019 saw the release of the Magnets EP featuring "Post Malone," one of his most successful tracks to date. He started 2020 by releasing "2 Hearts" featuring Sigma and Gia Koka, an irresistible tune that combines the two producers' talents perfectly.
While an epic Heartfeldt Pool Party was scheduled during Miami Music Week this year, plans abruptly shifted due to the coronavirus pandemic. This also preceded the revealing of his brand new label, Heartfeldt Records, that he had planned to launch in March.
Sam Feldt considered waiting to release the debut single, but he ultimately went through with his original plan. "Hold Me Close" featuring Ella Henderson is out now on the imprint and we chatted with him shortly after about this career milestone and what he's been up to during quarantine.
Listen to "Hold Me Close" by Sam Feldt and Ella Henderson on Spotify below, become a member of Heartfeldt Records, and read on for an in-depth interview with Sam Feldt!
Stream Sam Feldt – Hold Me Close (feat. Ella Henderson) on Spotify:
---
Congratulations on the launch of Heartfeldt Records! You said that you considered pushing back the launch during this difficult time but ultimately went through with the start date. Take us through that thought process and what this experience has been like for you.
I think in times like these, we have to be really careful with what we send into the world and what message we want to convey. The number one thing that's important right now is the health crisis that we're facing and putting as much emphasis on that as possible.
On the other hand, everyone is home. People that were planning on going out can't go out, so they want to be entertained. That kind of pushed me towards sticking with the original release date even though it's a weird time right now. Putting out new music when people are stuck in their homes is definitely not the wrong thing to do!
Also, we're donating 1% of the royalties to the Heartfeldt Foundation to make this world a better place. We're building a forest in Costa Rica with the money from the streams of "Hold Me Close." There's a lot of positive factors involved, and "Hold Me Close" conveys a powerful message about staying home. It's literally in the lyrics! Spend time with your loved ones. That's really what this time is all about; caring for other people and staying safe.
"Hold Me Close" is the first release on the label and features lyrics from Ella Henderson. What was it like to work with her and how did you ultimately choose this song as the debut release?
We've been working on this song for a long time. I have about 10-15 songs almost finished right now, so it was a long selection process with the team. Both lyrically and instrumentally, it sets the tone and vibe of the label perfectly. It's lyrically about loving the people next to you, and it's everything that Heartfeldt stands for. It's upbeat, happy, positive, inspiring, and melodic. Ella was the perfect voice on it! I saw her sing at the Capitol Jingle Ball where we both performed in London. I've known her music for a very long time, so I reached out to her and she was super excited to do the track. 
A portion of all royalties from the label will go towards the Heartfeldt Foundation, which will focus on donating money towards a greener planet. Tell us about the beginnings of the foundation and some long-term goals that you hope to accomplish.
I started it about a year and a half ago at Amsterdam Dance Event. I was looking at my life as a DJ, and as a travelling musician, I'm not doing too well on the sustainability side. I'm flying everywhere and polluting. I wasn't brought up that way. Both of my parents are modern-day hippies, and I was always taught to take care of the planet and take care of your footprint. That kind of put me in a situation where I wasn't happy with what I was doing myself. 
At first, I was looking at my life and things I can change. Like getting rid of plastics on tour, offsetting my CO2 emissions, taking the train or car instead of planes, and trading in my car for an electric one. I was looking at the industry and seeing all these big events being sustainable, but on the other side, the DJs and artists are not really putting the time and effort into making it a big priority. 
The Heartfeldt Foundation got launched as a platform to unite these artists that actually do care for the environment. We're giving them the tools and the knowledge they need to tour and live more sustainably and spread that message to their fans.
It's based on four pillars: Give, Do, Inspire, and Empower. "Give" is raising money, "Do" is showcasing the right actions to your fans, "Inspire" is using your reach and leverage as an artist to talk about this issue, and "Empower" is standing behind and supporting brands that are already doing well. One of the long-term goals is to enlist ambassadors and one day reach over 100 million people through social media!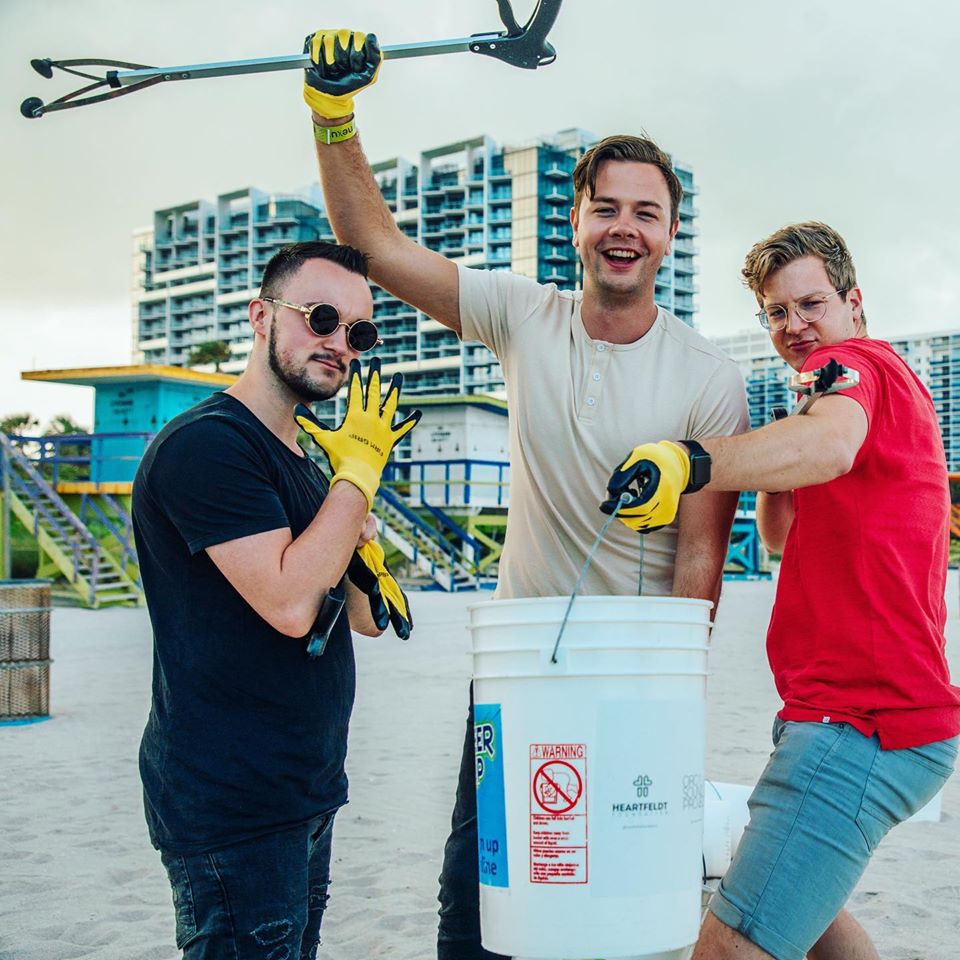 That's awesome! You said there are more artists involved. Are there any that you can share?
Goldfish is one of them, they're good friends of mine. They're involved with the foundation, specifically our efforts in doing beach clean-ups and recycling the plastic that's used at shows. Blond:ish is really at the forefront of these efforts. Jay Hardway is one of our ambassadors as well. There's a lot of people involved, and we really want to unite everyone behind a common cause. There are no contracts; if you're an artist and want to do something good, come to us and we'll set something up for you!
For example, at ADE, we had a bunch of people come together to clean up the streets before our show. We did the same thing on the beach in Miami last year. That's the kind of stuff we're focusing on right now. Once we get the resources in, we want to expand the team and really be able to create these tailor-made plans for artists to follow and stick to.
One of your most recent releases is "2 Hearts" with Sigma, an amazing song featuring lyrics from Gia Koka. What was it like to collaborate with them? Did you expect the track to be as successful as it has been?
It was one of my favorite songs from the very first lyric demo that we got in. I've been a fan of Sigma for a long time. They're very diverse when it comes to their productions. I've worked with Gia before on my song "What About The Love". Lots of good vibes when creating this song! 
Since I premiered it at Tomorrowland mainstage last summer, everybody's been asking about it. I had an idea of the hype surrounding the song, but I honestly didn't expect it to do this well. I think it's still on 200,000 streams a day on Spotify. The club mix and remixes should come out soon! We're looking forward to it.
I downloaded your Heartfeldt Signature Sounds pack from Splice and it's absolutely incredible! What are some other ways you plan to help out producers in the future?
Yeah! I'm working on a new concept on my YouTube channel called Sam Feldt TV. It's gonna launch pretty soon, and every video will have a separate theme. One might be focused on production, another about DJ gear, or maybe one on what I bring on tour and how I organize my DJ sets. Lots of stuff for other producers and DJs to learn from and get inspired by! That's something we're launching later this year.
The coronavirus pandemic unfortunately cancelled your Heartfeldt Pool Party along with all other Miami Music Week events. With a lineup featuring Bakermat, Cheat Codes, and EDX along with several special unannounced guests, what were you most looking forward to in Miami?
For me, the Heartfeldt Pool Party is always an event where I can showcase what I have in store, like new music and collaborations. I try to put artists that I'm working with right now on the lineup. The whole week is a showcase where the industry comes together, similar to ADE.
It's a key moment in my touring schedule, so for that to be cancelled, it was a bummer. Hopefully, we can do it again really soon! The Heartfeldt Pool Party is known for having great vibes and always selling out, so it's always a big show in my schedule. We were looking to bring out some DJ Mag Top 100 artists as unannounced guests as well.
The "Hope" mixtape you released recently brings some amazing vibes! Do you have any more #LetsStayHome mixes planned for the future? How about live streams or other content while you're staying at home?
I hosted the Heartfeldt Home Sessions streaming festival on the Spinnin' Records YouTube page! I brought out Fedde Le Grand, The Him, Jay Hardway, Marc Benjamin, and Cat Dealers. A lot of artists that will release on the Heartfeldt label in the future came together from their own homes and streamed live sets. 
Of course, I'll continue to release a new episode of Heartfeldt Radio every week. There are a few more live streams that I'll play, and while we're here at home, you can expect a mixtape every month similar to the "Hope" one that you mentioned.
Your music is full of good vibes and positive energy. What does it mean to you that people all around the world will find an escape in your music during this global pandemic?
Everybody's going to be different, but I hope my music is able to lift some people up. What I've been hearing on my social media is that a lot of people turn to my music during a difficult time and it helps them get through it and stay positive and hopeful. That's the biggest compliment I could ever ask for.
For me, personally, that means the whole world. That's why I make the music and mixtapes and do the live sets, in order to make people feel happy. I love to do that on stage, but while we're at home, I'm trying my best to do it from my house in Amsterdam and spread those good vibes across the world!
Lastly, do you have any positive messages you can share with your fans during this difficult time?
Honestly, I'm as bummed as you all that we can't go out to party right now and have a good time at festivals. It's not only my job, but it's also my hobby and what I live for. Let's try to stay positive and use this time productively. Continue listening to your favorite music, and if we all stay inside and follow the advice from authorities, we can party together again soon!
---
Follow Sam Feldt on Social Media:
Website | Facebook | Twitter | Instagram | SoundCloud