The Glitch Mob creates pure magic on Chemicals, a three-track EP that will leave you hypnotized the entire time.
---
When it comes to the dance music scene, many artists have a signature sound. However, The Glitch Mob possess their own distinct sound… one that's difficult to replicate and adds their uniqueness to anything they touch. Don't believe me, check out their remixes of "Crawl Outta of Love" featuring Annika Wells by ILLENIUM and "Falls" featuring Sasha Sloan by Odesza.
It's been ten years since the trio entered our hearts with their debut album Drink The Sea, the album that brought us "Fortune Days," "Bad Wings," and "Animus Vox." Now, Edward "edIT" Ma, Justin "Boreta" Boreta, and Josh "Ooah" Mayer are ready to melt our minds with their new EP Chemicals via Glass Air Records. The EP includes three fully loaded tracks that will keep your ears and mind hypnotized.
Take a listen to Chemicals on Spotify below, download or stream on your preferred platform, and read on for my take on these fresh tracks from The Glitch Mob!
Stream The Glitch Mob—Chemicals EP on Spotify:
---
Let's get to the good stuff, it's time to dissect
Chemicals
. 
The first track off the EP is the title track "Chemicals." Although it's the only song with vocals, The Glitch Mob magically blends them with the synths and the bass line to create a fantastic experience. The track explores the viciousness of comedowns and the chemical manipulation substances have on the brain. It's the most melodic and laidback song on the EP, especially since the lyrics are the showstopper. 
Next up, is "Take Control" the track that had me hooked within seconds. The beginning is slow and subtle, but it builds into a fantastic melody. I couldn't stop bobbing my head to the beat. Around the 1:20 mark, we're graced with a break that slowly begins to build back towards the final breakdown. Despite the various distorted synths, the song is simple as a whole and that's what makes it stand out. It's a game-changer. 
Lastly, there's "The Stance," a packed track that sounds like you're being swallowed by a hypnotic vortex. That's a mouthful, but it's the perfect summary of the song in a nutshell. The mixture of the distorted synths and melody coexist perfectly together.  It's trippy, it's grimy, and shows off what makes The Glitch Mob unique. It's the right song to close out the EP.
Enough about my thoughts, tell us what you think about the EP in the comments below!
---
The Glitch Mob—Chemicals EP—Tracklist:
Chemicals

— (2:58)

Take Control

— (3:14)

The Stance

— (3:52)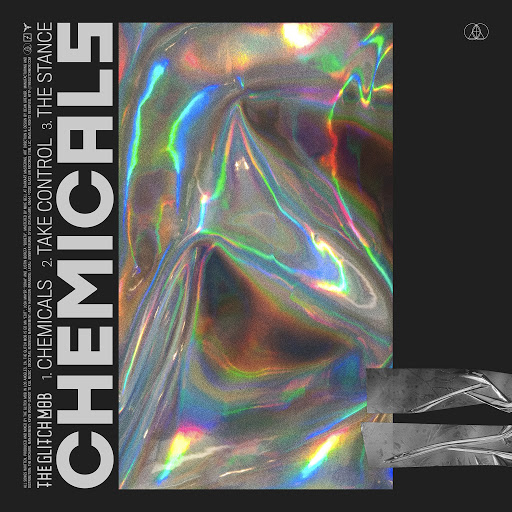 ---
Follow The Glitch Mob on Social Media:
Website | Facebook | Twitter | Instagram | SoundCloud