Before their debut b2b at Hardcore Heaven LA, we sat down with Jakka-B and Macks Wolf to talk about the current state of happy hardcore and more.
---
If you were to ask happy hardcore fans to name the scene's rising stars, Jakka-B and Macks Wolf would certainly be on the list. While both artists can make that classic happy hardcore sound of yesteryear, they excel in making happy hardcore that is more synonymous with the modern sound. With the genre-mixing, diverse styles that are prevalent in this new class of happy hardcore artists, Jakka-B and Macks Wolf are leading the charge in moving the scene forward.
If there are two things Jakka-B is known for, it's his polished production and unique style. Though he is a happy hardcore artist through and through, he's not one to be pigeonholed into continuously creating the same sound. His versatility and diverse repertoire are clear as he has the ability to develop enchanting melodies and powerfully aggressive kicks and infuse these sounds with other genres such as psytrance.
On the flip side, you would never know that Macks Wolf is one of the happy hardcore scene's newer artists as his productions have a maturity that is often associated with more seasoned musicians. He excels in producing earworms and Beatport-charting hits and has a keen ability to read the audience and deliver what they didn't know they needed to hear. With his sets, Macks Wolf is able to take the audience on a proper journey and create masterful soundscapes, with each track expertly chosen to create a specific ambiance.
Before their debut back-to-back set at Hardcore Heaven LA, we sat down with Jakka-B and Macks Wolf to talk about their thoughts on the current state of happy hardcore and what fans can expect from them in 2020. This year is gearing up to be massive for both artists and we can't wait to see what they'll take on next! Tune in to their special guest mix below and read on for their thoughts!
Stream EDMID Winter Waveforms 2020 || Jakka-B & Macks Wolf:
---
Hi Jakka-B and Macks Wolf, thanks for taking the time to chat with us before your Hardcore Heaven B2B debut. How are you feeling about this massive set and what's the dynamic like between the two of you behind the decks?
Jakka-B: In the UK we've done a few back to back sets and it always feels kind of special.
Macks Wolf: It always works. We're generally on the same page musically and can usually anticipate what each other is going to play.
J: Our track selection is very similar and I think the last time we went back to back was in 2016 in Spain. Sometimes you get thrown together with other DJs and are not sure if it's going to work but we know this works. We've done 3 or 4, not loads of them but this is the first in the US.
What should fans expect?
J: We've talked about it, it'll be a bit off the cuff, I guess.
M: We'll read the crowd. It's always good to see what actually works. Sometimes you have an idea of what's going to work and then when you actually play it, the crowd doesn't react to it at all. Then you have to switch it up.
J: Some DJs have a more structured set. If I was playing a set on my own, it would probably be slightly more structured and would have more of a plan. Back to back though, you don't always know what the other person is going to play, which can make things interesting.
M: I might throw in a few curveballs to keep you on your toes.
J: We've done a track together in 2017 called "Islands in the Sky" and that's a definite play.
Happy and UK Hardcore seems to be in an interesting place right now as they are still very niche genres but continue to increase in demand in the US and Australia. What is your take on the state of UK/Happy Hardcore?
J: I think it's a niche genre but that's the cool thing about it. However, in the world of streaming and algorithms, I think it struggles slightly because it almost feels like a bit of an echo chamber – you're fed what you want to see but then it's also hard to get out of that bubble. When you see the crossover stuff it's great, obviously The King, Darren Styles, but then it's great to see people like Ben Nicky giving it exposure too.
M: There are a lot of big DJs who are (not so) secret happy hardcore lovers. They'll play a bit of it in their sets – like Porter Robinson, Hudson Mohawke, all these guys. A lot of DJs in the wider scene actually used to make happy hardcore or cite it as a major influence in their music. There's so much crossover with it now.
J: And Hixxy has done some remixes for Gareth Emery. It's kind of odd as in the UK it seems like the demand is declining but it seems like here, Sydney, and Japan it's growing. It's hard to judge where it's going to go but ultimately I think it's going in the right direction.
M: There's a lot of interest in it.
I spoke with Alex Prospect when he came out here and he stated that maybe in the UK they take happy hardcore for granted.
J: I do feel in the UK, it [happy hardcore] doesn't really entice many new listeners. The fanbase's average age is between 25-35; they know what they like and what they like is not the new sound. They seem to like the Clubland era, 2006 – 2008 stuff. You kind of feel like you're trying to compete with stuff that happened 10 years ago and you're judged by that. It's kind of the way it is everywhere in the world but you really see that in the UK. I don't really feel that way here, I just feel like here people are into the new sound.
As the epic debate rages on – how do you classify the difference between UK hardcore and happy hardcore, do you feel there is a difference?
M: I say happy hardcore because it's only really in the UK that people call it 'UK Hardcore' or simply 'Hardcore'. If you go somewhere like The Netherlands or Europe in general, people like Angerfist are considered hardcore. I just prefer to use happy hardcore as I'm addressing it internationally and more people will recognize it.
J: I don't love the term happy hardcore as a term to describe the new sound. I don't like it when you put a mood before a genre as with the new stuff I wouldn't necessarily call it "happy." UK to me kinda sounded a little bit cooler but no one else in the world calls it that so I address it as happy hardcore and I'm happy to do that.
M: I use it purely to differentiate. Also, UK Hardcore could be and usually is, associated with hardcore punk, if you look at the hashtag results on social media for instance.
J: A lot of people think the term UK Hardcore has held it back. People in the UK just associate happy hardcore with the old stuff from the 90s, not the modern stuff. However, America and Australia, just seem to call it happy hardcore whether it's new or old.
M: Even when Da Tweekaz and Darren Styles created Electric Fox, it was presented as a happy hardcore label. If they're going to use that label, I can get behind that.
J: When Monstercat called Stonebank happy hardcore, then you've got to realize you have Gammer, Darren Styles, Monstercat, all these people calling it happy hardcore; at that point in time I accepted that this is the name.
Whether people like it or not happy hardcore are part of the greater hard dance spectrum but is often treated as though it's not accepted by the hardcore and hardstyle fanatics. What are your thoughts on this division?
J: Definitely. Compared to the Dutch or European hardcore, happy hardcore sounds silly as the former is very aggressive music. In America particularly there has been this like hard dance explosion and it's kind of picked up everything. Hardcore has benefited from this but nowhere near the same level as hardstyle.
I don't know whether it's the sound or I think it just goes back to not many people really knowing what happy hardcore is. I find a lot of my stuff that's on Spotify is added to hardstyle playlists. So it's like do people even know it's hardcore or do they just think it's fast hardstyle? I think it may suffer from a lack of identity.
Jakka-B, you have a producer tutorial series on YouTube that helps aspiring UK Hardcore producers improve their skills. What was the impetus for the tutorial and why did you decide to offer it up for free? 
J: Going back to what you said earlier its niche and if you want to make happy hardcore there aren't that many resources. I remember I Googled tutorials and found ones that were eight years old. That is not acceptable and that has to change, right? At the end of the day, if the genre is booming then I benefit from it, Macks Wolf benefits from it, we all benefit.
There are some fantastic producers out there and I hope they come across these and become stars because they've learned some things. I think that there are maybe others who didn't quite nail it because there was nothing out there to teach them.
I have thought about potentially doing a masterclass on the side but for now, I'd like to put out something for free just for the sake of the genre. It's more about making sure there's something out there for people to come across as the learning never ends.
Macks Wolf, your track "Hit Em Like This" was a certified banger as it hit #1 on the Beatport Hard Dance chart. What do you think resonated with fans and artists alike, and what did it feel like having two back to back hits (as "Turn on The Light" eventually made it to #2 as well)?
M: In general, the way I approach most tracks is from a musical point of view. So it starts with chords or a melody or something and "Hit 'Em Like This" is an easy progression and a very simple melody. You only have to hear it once and you remember it. I always liked the fact that "Animals" by Martin Garrix had a great drop riff as well as a breakdown riff, and that's kind of what I had in mind with "Hit 'Em Like This".
Synth-wave is a big thing for me, and the second breakdown goes into a bit of a synth-wave kind of thing, so maybe that resonates with people. I would say I'm very close to that track because I feel like it does represent what I'm about really well. It's musical and dramatic.
In regards to "Turn On The Light" with Mark Breeze, first off, it was great to release on the OneSeventy label. I think most of the guys in the scene really respect that label. We've got, Technikore and JTS at the head of it and it has consistent quality releases. It was great to have both of the tracks come out on that label.
J: It probably was not their intention but it's [OneSeventy] just naturally become the genre's flagship label. Electric Fox is obviously a huge label but I would say it was more of a crossover. Whereas if you really want to find what people would look for in traditional UK/happy hardcore, if you came across OneSeventy I think you'd like what you heard.
M: I was working with Mark Breeze for quite a long time and it just so happened that the tracks ["Hit 'Em Like This" and "Turn on The Light"] came to completion at similar times, but they were made at very different timelines. If I work with someone, I want to extract what they do and then likewise, I want to put in what I do, and hopefully, it sounds like the two artists truly collaborated.
Jakka-B, you recently remixed Jordan Suckley & Kutski's massive track "Ecstasy Love." How did this remix project come about?
J: This week was the exclusive first play and it premiered on Kutski's show but it's releasing on March 28th on his Keeping the Rave Alive label. I caught John [Kutski] at a gig in London and was backstage talking to him about general stuff when it kind of just popped up in conversation. I had just done the "Zombie Nation" remix with Alex Prospect then the Warp Brothers' "Phat Bass" and they were both bootlegs. He liked the sounds and said, "You know if you could do something with that hard dance kind of vibe to it."
Keeping The Rave Alive is a label I'd associate with something more hard dance, so I felt that gave me a license to drop the tempo and try something completely different. I mean it's a huge honor. Jordan Suckley and Kutski are both, in their own right, big artists in the UK. They're both on Radio One. I was like," Wow, that's cool." You know, I was really kind of honored to do that.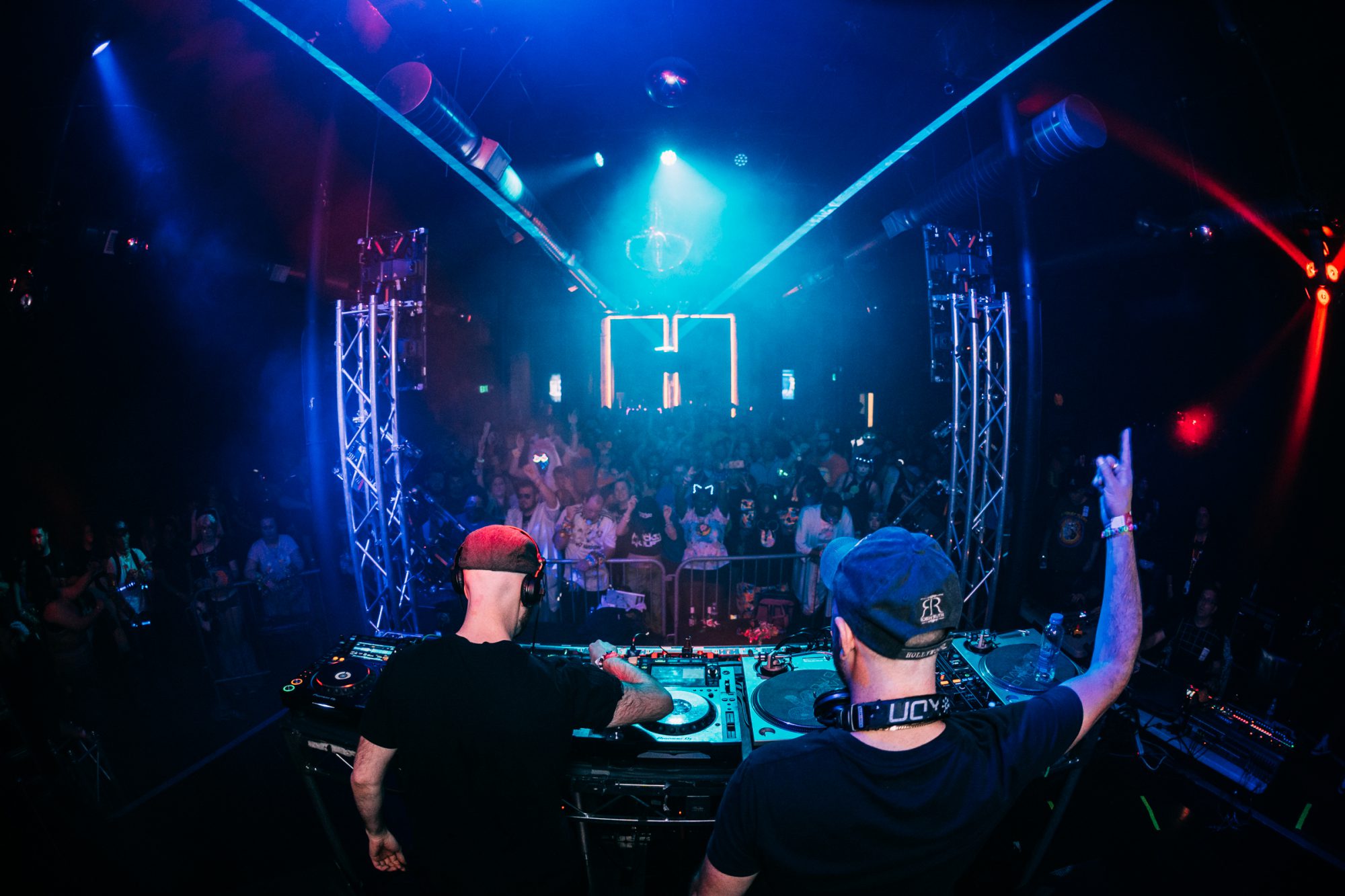 How do you feel about hardstyle purist or about artists such as Gammer who mix genres, such as hardcore and hardstyle with bass music?
M: I think it's good to be open-minded with mixing genres.
J: Every genre has its purists and that's absolutely fine. I just think that maybe people could be a bit more accepting that other people are going to like more than one genre and that artists are going to experiment. I know Gammer in particular, he got a lot of shit for doing other stuff. I think, at the end of the day, the music he made that they love isn't being taken away.
M: What I like in a DJ set, though, is if you go to see a dubstep DJ, and in that set, he drops a happy hardcore track as that has so much more impact than if you go to a set that is all happy hardcore, right? I like that, so I'm always happy for someone to play a multi-genre set.
J: There's always going to be the DJ that only plays their genre set and that's absolutely fine. I think now we're moving to a time where it's kind of becoming more of a thing to just drop other genres and go up and down the tempos a little bit. Things are kind of evolving a little bit. There are so many DJs now that I can't necessarily pinpoint their genre. Somebody like Kayzo, I don't know where I would put him as he's not pigeonholed and that's cool.
M: With most of my sets now they go from 150 to 200 BPM, depending on the audience. You know, you can't just turn up and say, I'm going to play this and then just play it regardless of if the audience is feeling it or not. I just think if you feel like it's the right decision you should play that track that may not be typical of the genre you're known for.
You're both working on an upcoming compilation, what can fans expect from that?
J: Yes, we're working on the Hardcore Heaven compilation which is kind of iconic. The brand has been around for a long time and Fracus and Darwin have rebooted the series essentially. In the past it's had Scott Brown do a CD, Technikore do a CD, Al Storm, M.O.B. as well and many others. So being asked to do that, and particularly both of us, is just really, really cool. I'd find it more daunting on my own. It's good to do with Macks Wolf because 18 tracks is a lot of music. We both also have our own music and are working on a few new bits for it obviously as well.
M: We also have our favorite artists who we want to support on the album. We just wanna make sure it's a great mix and that it's a worthy addition to the long-running Hardcore Heaven album series.
With that in mind, can you talk about the new music you're working on together?
M: Yeah. Well actually, we approached a photographer out here to cover our set. He said to us "Would it be cool if you gave me a song for pre-production to try and get some ideas?" We didn't really have a track that would suit a one minute Instagram clip, so it sort of started the conversation. We began working on a track in the days leading up to our trip out here and it actually turned out really well. I think this will be a track to feature on the album because it ties into the story of us coming out here and playing at the Hardcore Heaven show.
J: There's a vocal track we've started but it's not quite come to fruition yet though I'm sure it will by the time we drop the album. We've also got our own solo bits but I don't quite know what's going on there yet. I've got stuff coming out on OneSeventy and we want to capture what's going on in the genre.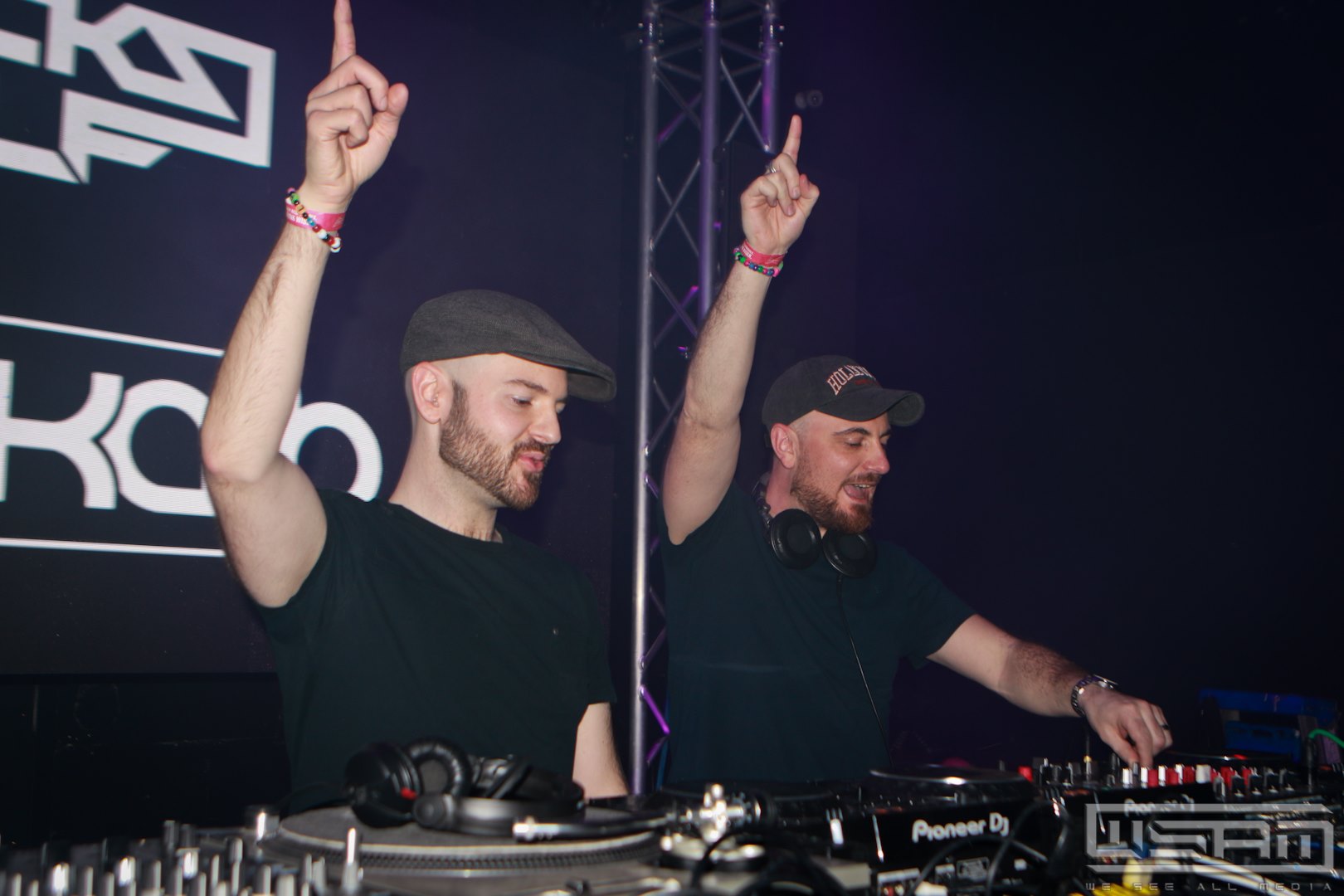 Rising artists often joke about the low compensation for streaming. As you're in a very niche genre, how hard is it to make a living as a full-time happy hardcore artist? Additionally, do you have any advice for aspiring artists?
J: Very hard…Very difficult; I think even if I did hardstyle or something else even, it would still just be hard. I think, in general, it's not easy. I know that there are people who have been doing this for 15 years and still struggle as well. I think it being niche is maybe one of the reasons; maybe if it was more commercially viable there would be more money in it.
M: The least you have to do is make great music, but now also have to heavily market yourself to compete with all the noise. You have to try and generate as many streams of income as possible (gigs, merchandise, sample packs, etc.) as there isn't much money from the actual sale of music anymore. The game has changed a lot over the years.
J: Honestly, if someone asked me, "Should I go to uni and do a degree in music?" I'd say no, do a degree in marketing and learn Photoshop and video editing and learn music production on the side.
M: Also with the rise of social media, you can create a more exaggerated perception of yourself and almost a different identity. You can constantly add photos and content to contribute to your "value." You used to just have to make good music and play gigs. People would listen to your music and watch you play, that's all you really had to demonstrate what you're about.
J: Yes, it's just a different game, exactly. I think social media has made it very easy for people to kind of blow up and it's just changed the dynamic. When people say you have to build a brand, I still just find that so odd as an artist. When I started that didn't exist, that wasn't a thing. I personally found that to be one of the most challenging things, none of it's easy, but building a brand is particularly hard.
You're both highly revered artists of the new wave of UK Hardcore acts and seem to have a tight-knit group, which includes Alex Prospect, Spyro, and Callum Higby. How important has it been for you to have these colleagues and friends while working in the industry?
J: The single most important thing. One of the things I found I've benefited from personally is just the production techniques. For example, Spyro might have found a new way of making a kick or Macks Wolf's using a certain lead sound. It's just those little things you bring on board and you can share. Also then everybody moves up as well. It is hugely, hugely important to have a network of like-minded people. The guys you mentioned are our main guys, plus Mike Reverie.
M: What's great is that you want to support them and you want them to succeed because then it actually pushes you to be better. It's like a cycle and we all want to rise. They aren't just colleagues, as, over time, they become friends. It's always great when we find ourselves on a line up together.
Finally, Though you're clearly playing at gigs around the world what was one notable gig you've played and what's one you would love to book?
M: Well, I'll start with the second part of that. Japan has always been a place I've wanted to play. Jakka-B's been out there and some of the videos I've seen are insane. Without question that's the number one place I want to play.
The one set that stands out for me is actually one of my recent sets, which was a back to back with Joey Riot at Westfest. I love Joey; we get along very well and he's a legend in the scene. We didn't even plan the set, it just worked so well. It was almost like a one-upmanship. For each track, we would go a bit faster and a bit harder each time and it just ended up insane at the end. So that was a standout set for me.
So you mentioned you played this set at Westfest. So many people talk about Westfest so before Jakka-B answers the same question, can you explain what that festival is about?
J: Westfest was the first-ever rave I went to; it was in 2006. It is the flagship UK event if you do happy hardcore. You know that there's no other event where the main arena has 5,000 people. The Hardcore Heaven arena is like 2-3,000 people. It used to be bigger unfortunately but the genre just isn't as popular but, you know, it's still the event that everybody goes to. When I got booked to play there it was a huge, huge moment, and it's still the one that I like to do every year.
It sounds like an awesome event! So going back to the original question, Jakka-B, what was one notable gig you've played and what's one you would love to book?
J: One of the standout gigs for me was definitely Tokyo. I played in a small club of about 200 people but it was the atmosphere and passion they projected that was insane. What I found that threw me off of it was like, I would play a vocal track and they didn't know the words, but they'd all be chanting the melody and I never really experienced that before. From what I gather as well like, there's not really a big drinking culture out there and a lot of them there were sober and they were just here for the music. It was just a totally different culture. The only downside was people smoking in the clubs. Otherwise, It was absolutely amazing!
I'd want to play at EDC Las Vegas. When I get on that lineup, I'd think "Ok I've had a good run."
---
Connect with Jakka-B on Social Media:
Facebook | Twitter | Instagram | SoundCloud | YouTube
Connect with Mack Wolf on Social Media:
Facebook | Twitter | Instagram | SoundCloud | YouTube