Okeechobee has announced that artists including GRiZ, Julian Gray, Wreckno, Baynk, and more have been added to the lineup along with a PoWoW! update!
---
Last year, Okeechobee Music & Arts Festival made some waves by announcing that they would be reopening The Portal in 2020 and bringing a new relationship Insomniac Events along for the ride. Then, those waves grew in an ever-increasing manner the moment they dropped their lineup that featured headliners RÜFÜS DU SOL, Bassnectar, Vampire Weekend, and Mumford & Sons.
In fact, the diverse lineup that Okeechobee announced featured a number of artists ranging from Machine Gun Kelly and Big Gigantic to Yheti and Maya Jane Coles with a dose of Sublime with Rome in there for good measure. Now, they've added even more fantastic names to their lineup as Alexander 23, Ambar Lucid, Baynk, Grandson, GRiZ, Jaialai, James Vickery, Overjoy, Richie Hell, and UMI are joining the list!
Related: Check out our review of the most recent edition of Okeechobee for a taste of what's in store once you enter The Portal!
They also have released the lineup for the Incendia stage as well that is set to feature a bevy of rising artists you should consider catching. Stunners like C.H.A.Y. and Julian Gray will bring some mau5trap vibes to the festival while Yokai and Hunter Reid deliver some house beats. And you need to catch Wreckno and Toadface for a dose of bass sounds as well.
If those new additions weren't exciting enough, the PoWoW! details have also surfaced for the upcoming edition. Taking place on Saturday, March 7 on the Be stage, PoWoW! will feature Vampire Weekend who will curate artists from the lineup for the intimate affair. This once-in-a-lifetime opportunity will be one you won't want to miss out on.
GA and VIP Passes, as well as camping upgrades for Okeechobee Music & Arts Festival are available now via their website. Prices are due to increase from Tier 2 on January 27 so lock in your experience soon!
---
Okeechobee 2020 Lineup: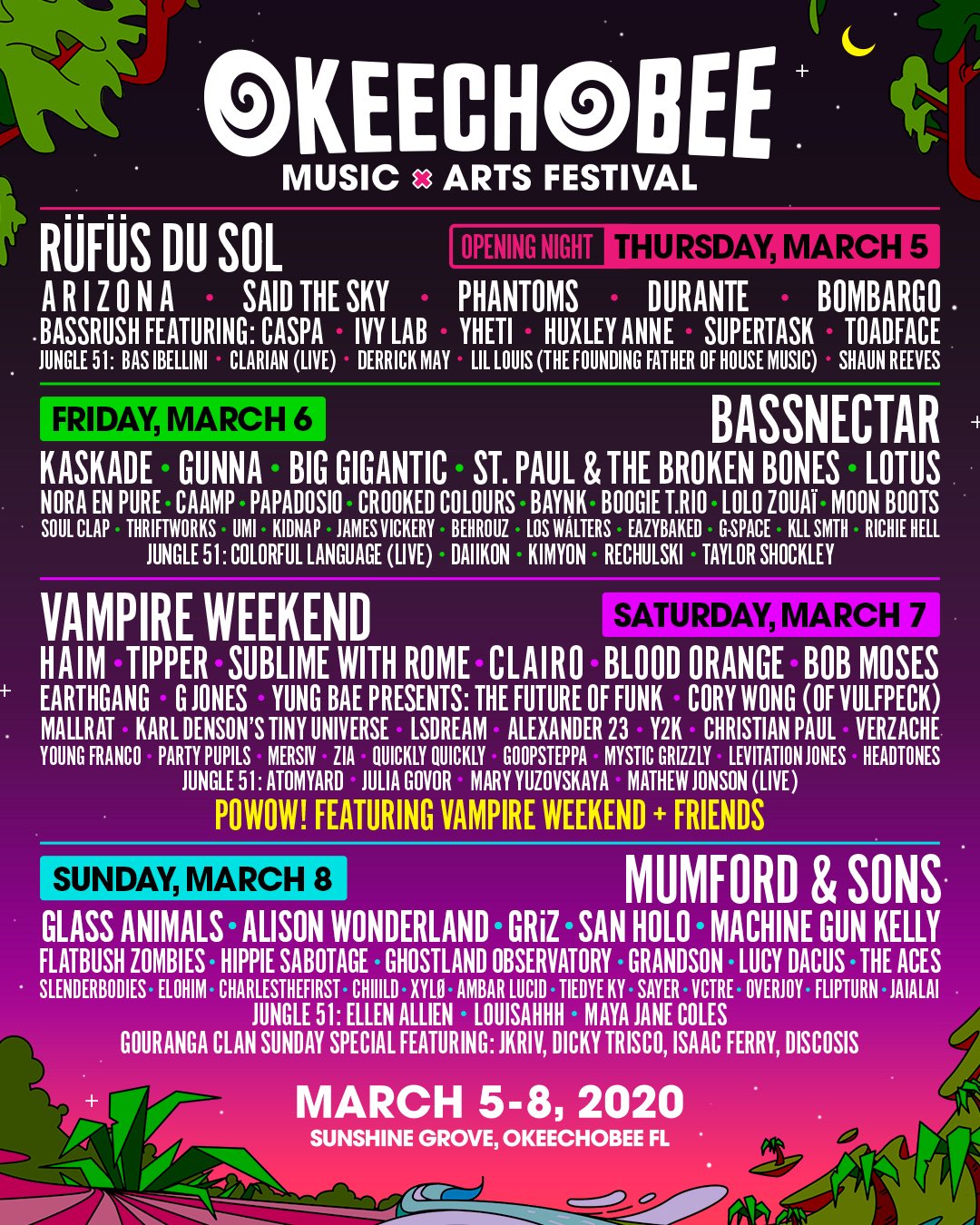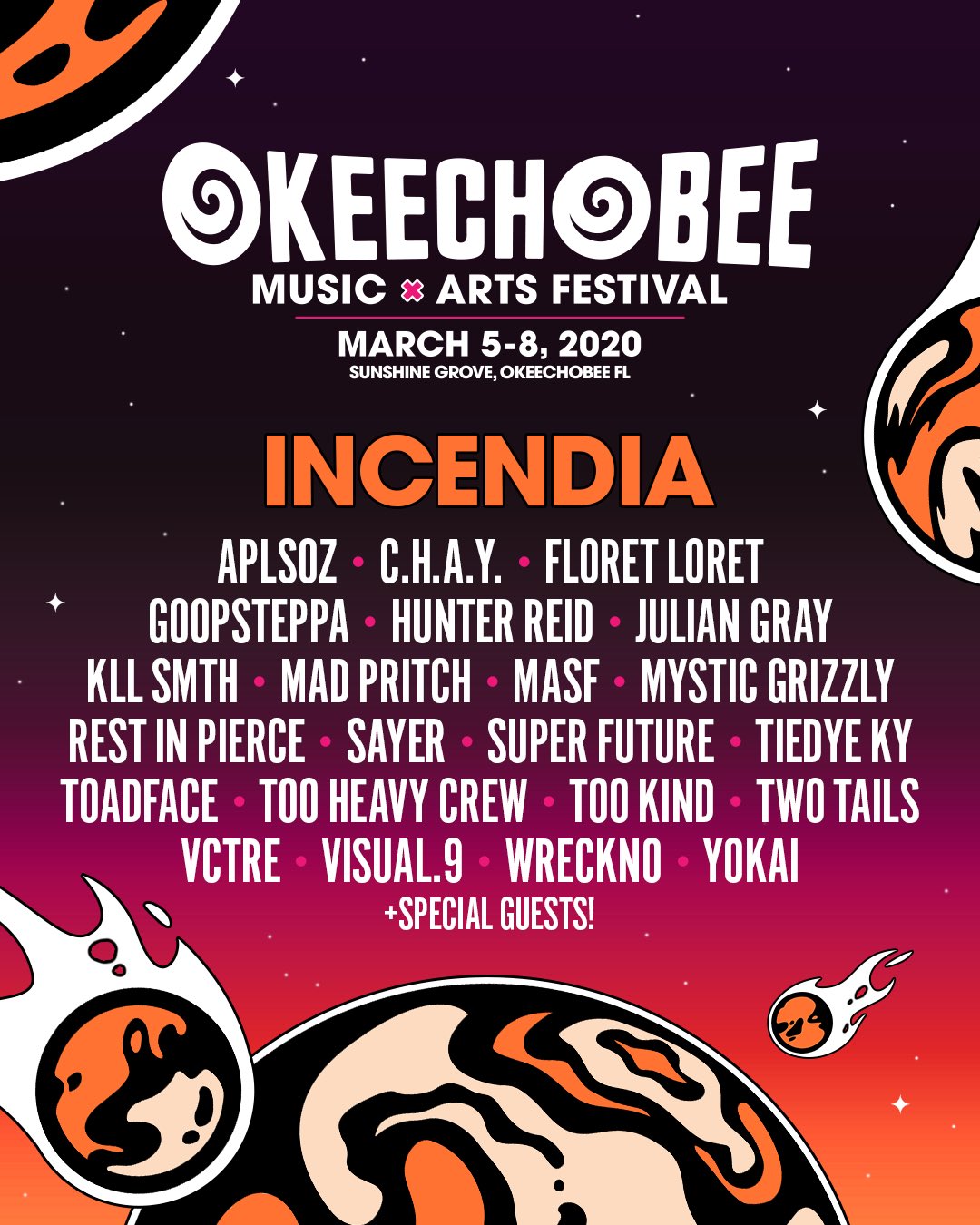 ---
Okeechobee 2020 – Lineup By Artist:
A R I Z O N A
Alison Wonderland
Alexander 23
Ambar Lucid
Atomyard
Bas Ibellini
Bassnectar
Baynk
Behrouz
Big Gigantic
Blood Orange
Bob Moses
Bombargo
Boogie T.Rio
CAAMP
Caspa
CharlestheFirst
Chiiild
Clarian (Live)
Clairo
Colorful Language (Live)
Cory Wong (of Vulfpeck)
Crooked Colours
DAIIKON
Derrick May
Durante
Earthgang
Eazybaked
Ellen Allien
Elohim
Flatbush Zombies
G Jones
G-Space
Ghostland Observatory
Glass Animals
Gouranga Clan Sunday Special Feat: Jkriv, Dicky Trisco, Isaac Ferry
Grandson
GRiZ
Gunna
Gus Dapperton
HAIM
Hippie Sabotage
Huxley Anne
Ivy Lab
Jaialai
James Vickery
Julia Govor
Karl Denson's Tiny Universe
Kaskade
Kidnap
Kimyon
Levitation Jones
Lil Louis (The Founding Father of House Music)
Lolo Zouaï
Los Wálters
Louisahhh
Lotus
LSDream
Lucy Dacus
Machine Gun Kelly
Mallrat
Mary Yuzovskaya
Mathew Jonson (Live)
Maya Jane Coles
Mersiv
Moon Boots
Mumford & Sons
Nore En Pure
Overjoy
Papadosio
Party Pupils
Phantoms
Rechulski
Richie Hell
RÜFÜS DU SOL
Said The Sky
San Holo
Shaun Reeves
Slenderbodies
Soul Clap
St. Paul and The Broken Bones
Sublime With Rome
Supertask
Taylor Shockley
The Aces
Thriftworks
Tipper
UMI
Vampire Weekend
Verzach
xylø
Y2K
Yheti
Young Franco
Yung Bae Presents: The Future of Funk
ZíA
Incendia Stage
Aplsoz
C.H.A.Y.
Floret Loret
Goopsteppa
Hunter Reid
Julian Gray
KLL SMTH
Mad Pritch
MASF
Mystic Grizzly
Rest In Pierce
SAYER
Super Future
Tiedye Ky
Toadface
Too Heavy Crew
Too Kind
Two Tails
VCTRE
Visual.9
Wreckno
YOKAI
---
Connect with Okeechobee Music & Arts Festival:
Website | Facebook | Twitter | Instagram | SoundCloud | YouTube