Downtempo guru Douglas Appling, aka Emancipator, is set to release his sixth studio album, Mountain of Memory, on April 3. 
---
Emancipator has a long history of natural, chill-out sounds that seamlessly blend electronic production with live instruments. His sixth album is on track to bring more of this beautiful style to his fans. "Labyrinth," the first release from Mountain of Memory, sounds as new and refreshing as it does familiar and comfortable. I personally listen to Appling's music when I'm looking for some natural grounding, and also when I feel the need to get up and move.
The new album will drop April 3 on Loci Records and single "Labyrinth" is out now for your listening pleasure. Speaking about the track Appling says: "Listeners will probably notice that it shares a lot in common with the original Emancipator vibe. It has a quest-like, adventurous spirit and reflects that part of the hero's journey toward enlightenment. Musically, this song went through many forms over the years. It felt like I was building a labyrinth of melodies that I would have to produce my way out of, and here we are with the finished track."
Take a listen to "Labyrinth" below or on your favorite platform, stay tuned for the full release of Mountain of Memory, and read on for details on the upcoming tour!
Stream Emancipator – "Labyrinth" on Spotify:
---
Additionally, Emancipator and his live band, Emancipator Ensemble, will support the album with the Mountain of Memory tour.
Emanicpator Ensemble is made up of Douglas Appling (production/guitar) along with Ilya Goldberg (violin), Colby Buckler (drums), Mub Fractal (bass) and Asher Fulero (keys). The live band will showcase a 13-date tour of the West Coast starting April 29 in Santa Barbara, CA.
This is only the first phase of touring for the band this year, with details or the next phase to follow. Live bands with electronic sounds have a lot to offer and Emanicpator Ensemble is no exception. I'm just disappointed that I'm on the wrong coast for this tour!
Tickets for the Mountain of Memory Tour are available now, head over to his website for more info!
---
Mountain of Memory Tour Dates & Venues: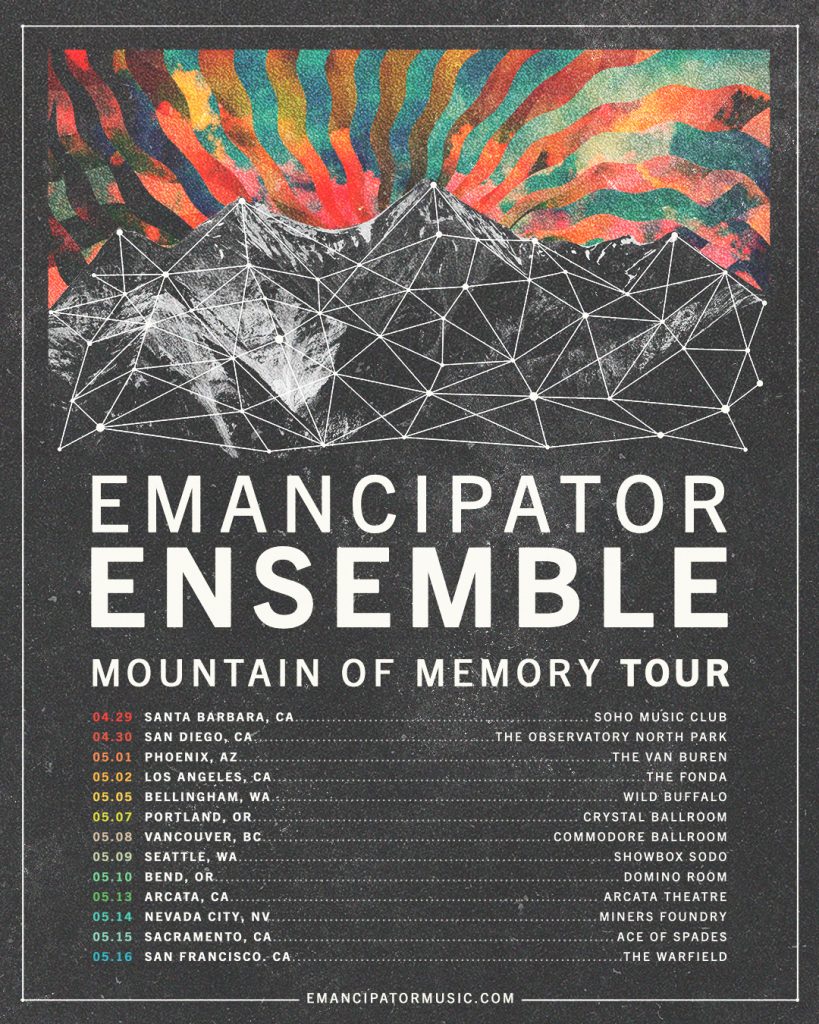 ---
Mountain of Memory Tour Dates
4/30/2020 – The Observatory North Park, San Diego, CA
5/1/2020 – The Van Buren, Phoenix, AZ
5/2/2020 – The Fonda, Los Angeles, AZ
5/5/2020 – Wild Buffalo, Bellingham, WA
5/7/2020 – Crystal Ballroom, Portland, OR
5/8/2020 – Commodore Ballroom, Vancouver, Canada
5/9/2020 – Showbox Sodo, Seattle, WA
5/10/2020 – Domino Room, Bend, OR
5/13/2020 – Arcata Theatre, Arcata, CA
5/14/2020 – Miners Foundry, Nevada City, NV
5/15/2020 – Ace of Spades, Sacramento, CA
5/16/2020 – The Warfield, San Francisco, CA
---
Follow Emancipator on Social Media:
Facebook | Twitter | Instagram | SoundCloud | YouTube