Spag Heddy kicks off the new year in style with Armageddy, a monstrous five-track EP that comes with an accompanying tour!
---
In just a few short years, Spag Heddy has made his distinctive name synonymous with bass music. He is revered by fellow producers for his top-notch production techniques and the energy he brings in his performances. Likewise, every basshead has his tracks in constant rotation and yearns for new music by him. To start the year off with a bang, Spag Heddy has given us Armageddy EP along with an accompanying tour!
Related: Check out our recent interview with the meatball master himself!
Released on Never Say Die, Armageddy shows us how he is progressing as an artist. The five-track EP gives listeners a more refined bass sound from the producer, but still preserves the classic Spag Heddy sound that we have all grown to love.
Along with this EP, Spag is underway with his Armageddy Tour which features support from Bailo, Ivory, LAXX, LUX, Minesweepa, and Moore Kismet. Head over to his website to secure yourself a ticket to this meatball feast!
Listen to Armageddy on Spotify below, download or stream the EP on your favorite platform, and read on for a review of these tracks!
Listen to Spag Heddy – Armageddy on Spotify:
---
The EP begins with the melodic, yet bass-filled track "Stupid-O!"
A prime example of how Spag Heddy has matured in his song creation progress is evident on his intro track "Stupid-O." The track begins with some cool melodic elements along with vocal chops which all quickly lead to the bass-filled drop of the track. While it is undeniably heavy, the melodic elements allow the listeners to be transported to a different world while listening.
The onslaught of bass continues on "Raise Ur Hands." This is easily my favorite track off the EP. It combines old school dubstep melodies with hard-hitting bass that never lets up as you are listening. This track is about to burn up the festival circuits with its high-octane energy.
The third track off the EP, "Bass Goes Boom," continues the pattern of melodic elements being present. However, the track exhibits some unique sound design and bass synths that only a true spaghetti master could cook up. The track is best described as a dubstep rollercoaster that will take you for an exhilarating ride!
"Dojo" is a masterful body of work that combines various genres together into one singular song!
Listening through the EP, you cannot help but be wowed by "Dojo." The song begins just as the others have, some melodic elements along with a heavy bass first drop, but differs as it goes into a psytrance-type section before switching back to dubstep. The second drop is fully trapped out and then goes into a final house drop to finish off the song. That's four different drops in four different genres! Bravo Spag Heddy.
Rounding out the EP is "Robot Song". The way the song progresses is awesome. I personally think it embodies the most melodies out of the four other tracks which makes it the perfect track to end the EP with!
Overall, Armageddy is an unbelievable body of work for an already established producer! Spag Heddy raises the production bar yet again, somehow and leaves listeners and other producers in awe.
What's your favorite track on Armageddy? Leave us a comment!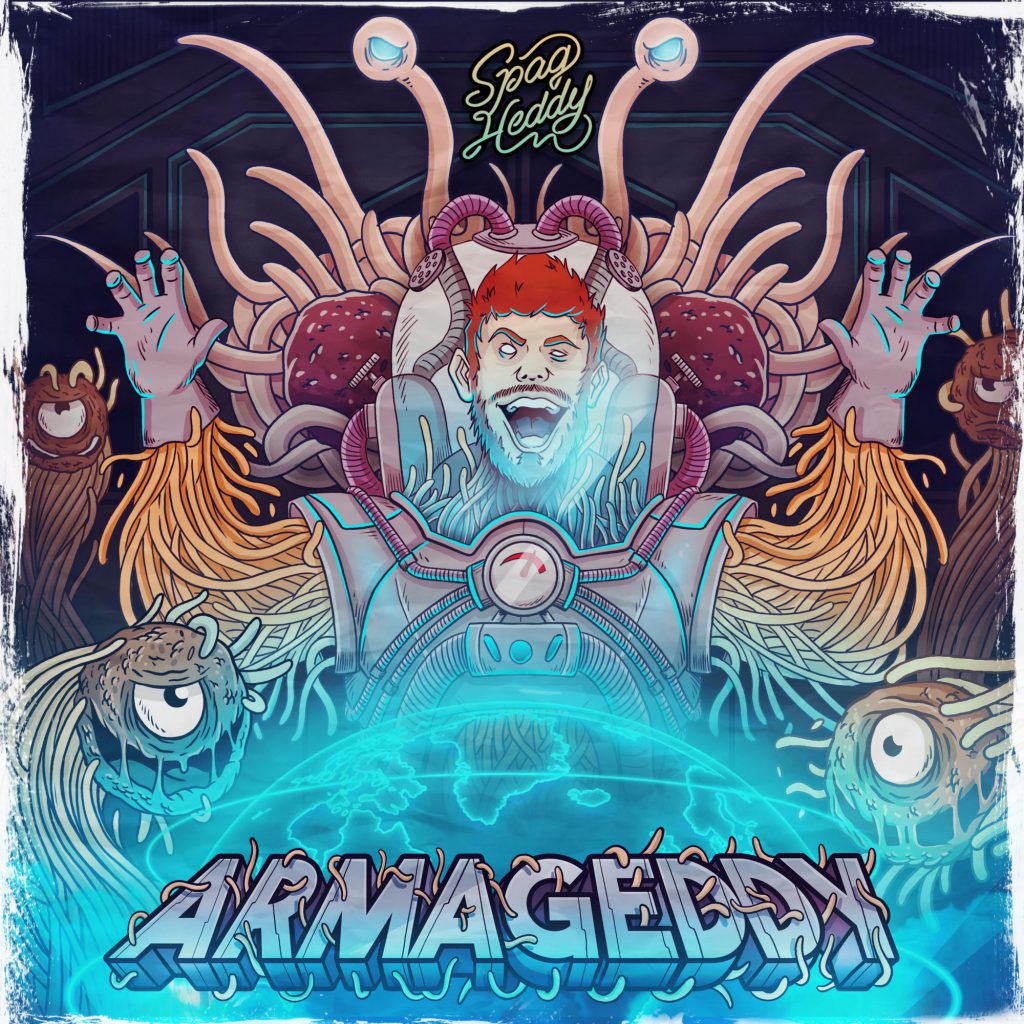 ---
Connect with Spag Heddy on Social Media:
Website | Facebook | Twitter | Instagram | SoundCloud