Above & Beyond have just unveiled that their Acoustic III album is due out for release this summer along with the tour dates for it as well!
---
In 2014, iconic trio Above & Beyond made waves in the scene when they stepped out from behind the decks to rework many of their beloved originals for the first Acoustic album. Returning with Acoustic II that was met with just as much praise, the corresponding tour was one of the most sought after to attend. Now, those who have been waiting patiently for a fresh Acoustic album can rejoice as after plenty of teases over the past year, Above & Beyond have officially announced that Acoustic III is on its way.
While the tracklist is not yet out for the upcoming edition, if it's anything like the past two we're expecting some serious gems throughout as they reimagine their music. They've mentioned that this album is a subtle departure from the original two, with more upbeat qualities while still retaining the emotion throughout.
This can be heard in the first single off the album "Flying By Candlelight" with Marty Longstaff that was released along with the announcement. Additionally, we've been told that Acoustic III will feature completely new arrangements of some of the biggest hits from Common Ground, including "Northern Soul," "My Own Hymn," and "Happiness Amplified," plus reinterpretations of 2019 club singles "There's Only You" and "Waltz."
Check out the first single off Acoustic III on YouTube below for a taste of what's in store, read on for the details on the upcoming tour, and head over to their website to register or pre-order the album!
Watch Above & Beyond feat. Marty Longstaff – "Flying By Candlelight" (Acoustic):
---
Of course, the news of Acoustic III is also paired with a tour announcement as well that will land this summer, and it's also a massive one that features 22 dates!
Kicking off at their familiar home of Alexandra Palace in London, the trio and their ensemble will embark on tour to head to cities like Washington DC, Toronto, New York, Los Angeles, and Chicago during the summer. Then they'll head to Red Rocks in Colorado to close the tour down with an amazing show featuring the Colorado Symphony on July 1.
Tickets go on sale February 11 at 10am local time so register now and mark your calendars!
Above & Beyond Acoustic III – Tour: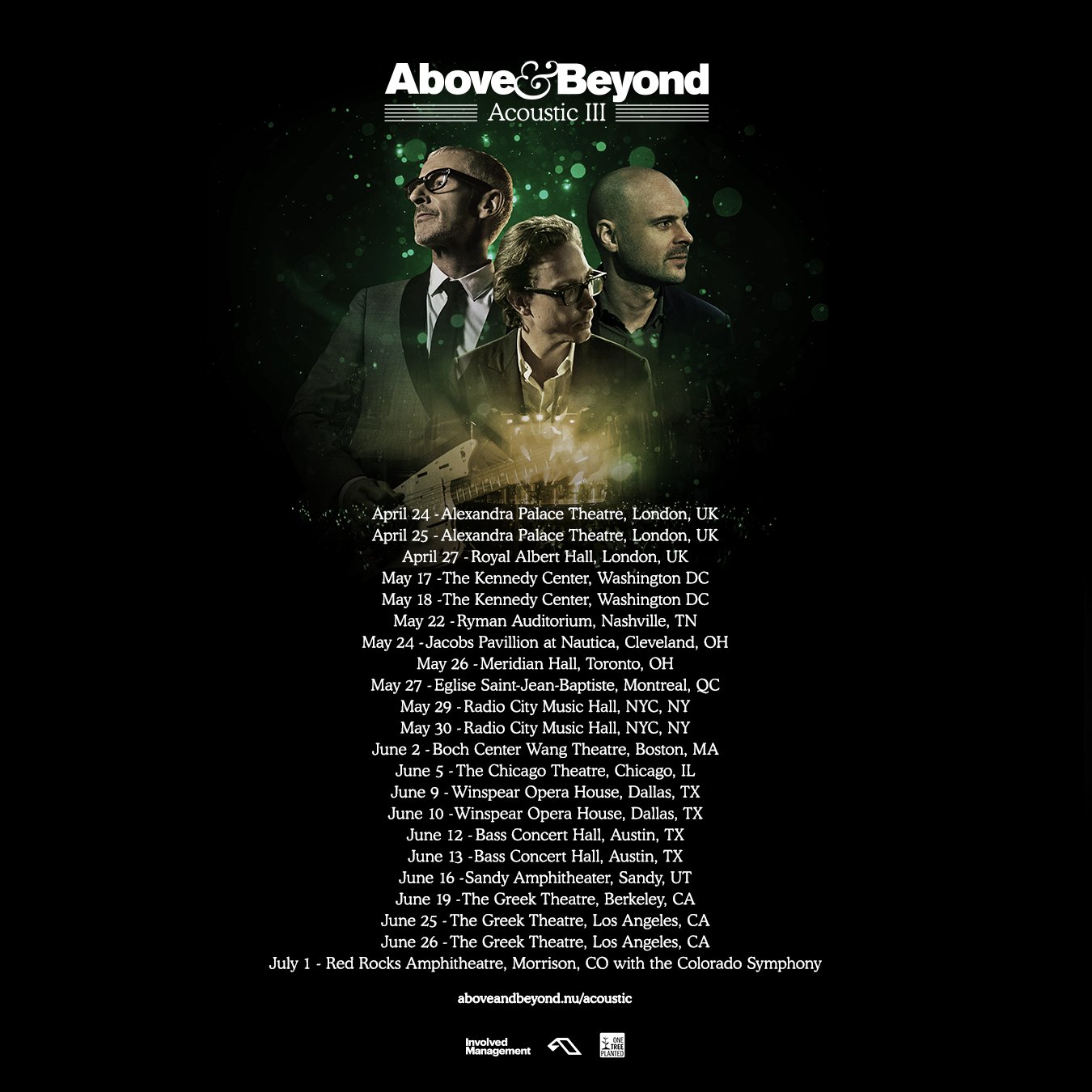 ---
Above & Beyond Acoustic III Tour Dates & Venues:
April 24 – Alexandra Palace Theatre – London, UK
April 25 – Alexandra Palace Theatre – London, UK
April 27 – Royal Albert Hall – London, UK
May 17 – The Kennedy Center – Washington DC
May 18 – The Kennedy Center – Washington DC
May 22 – Ryman Auditorium – Nashville, TN
May 24 – Jacobs Pavillion at Nautica – Cleveland, OH
May 26 – Meridian Hall – Toronto, ON
May 27 – Eglise Saint-Jean-Baptiste – Montreal, QC
May 29 – Radio City Music Hall – NYC, NY
May 30 – Radio City Music Hall – NYC, NY
June 2 – Boch Center Wang Theatre – Boston, MA
June 5 – The Chicago Theatre – Chicago, IL
June 9 – Winspear Opera House – Dallas, TX
June 10 – Winspear Opera House – Dallas, TX
June 12 – Bass Concert Hall – Austin, TX
June 13 – Bass Concert Hall – Austin, TX
June 16 – Sandy Amphitheater – Sandy, UT
June 19 – The Greek Theatre – Berkeley, CA
June 25 – The Greek Theatre – Los Angeles, CA
June 26 – The Greek Theatre – Los Angeles, CA
July 1 – Red Rocks Amphitheatre – Morrison, CO
with Colorado Symphony Orchestra
---
Follow Above & Beyond on Social Media:
Website | Facebook | Twitter | Instagram | SoundCloud