Thailand is one of the most sought out travel destinations in the world and Wonderfruit Festival was an experience worth attending.
---
Back in 2014, Thailand-based production company Scratch First put forth a mission to protect and preserve the glorious land that is Thailand. Inspired by his father's work to tackle environmental issues that affect the planet as the founder of Think Earth, Pranitan Phornprapha aka "Pete" joined forces with Montonn "Jay" Jira to create a festival experience like no other: Wonderfruit Festival.
Focused to promote environmental sustainability throughout Thailand, Southeast Asia, and the world, Pete eventually formulated a plan to create an experience that allowed for having fun with the notion of being socially responsible. The Wonderfruit Festival experience is just that – a way to coalesce art, music, wellness, architecture, and much more with environmental sustainability, social responsibility, community, and family.
Wonderfruit's inauguration in 2014 did not fall short of featuring stellar acts such as hip-hop sensation, De La Soul and house and techno superstars DJs such as Jamie Jones and Seth Troxler. Food was provided by The Bangkok Farmer's Market and the infamous Thai architect, Duangrit Bunnag was responsible for the art while the Siam Winery offered tasting sessions. 2015 then saw the Samui Circus Corp. organize some extraordinary experiences.
The 2019 edition of Wonderfruit saw all the above… and more.
Taking place over five days, Wonderfruit Festival has expanded exponentially moving to an even bigger location than previous years and continuously adding new stages and areas. There are activities for all ages that include arts and performances, talks and discussions, farm feasts, workshops, yoga, massage, sound healing, and music from a variety of genres.
In fact, it proved to be difficult to even tally up the number of acts, activities, performances, workshops, food vendors, and art installations that took place among the 23,000 attendees at Wonderfruit. There was so much going on that nowhere really seemed too cramped or crowded at any given time. This could be an attempt to mimic the Thai culture, which is known to have an infinite amount of options for literally everything.
There are hundreds if not thousands of markets, temples, bars, restaurants, malls, sanctuaries, tours, and whatever else you can think of in Thailand making it nearly impossible to do and see everything in one trip. Wonderfruit Festival encompasses this notion of an endless amount of options and possibilities of things to do and see.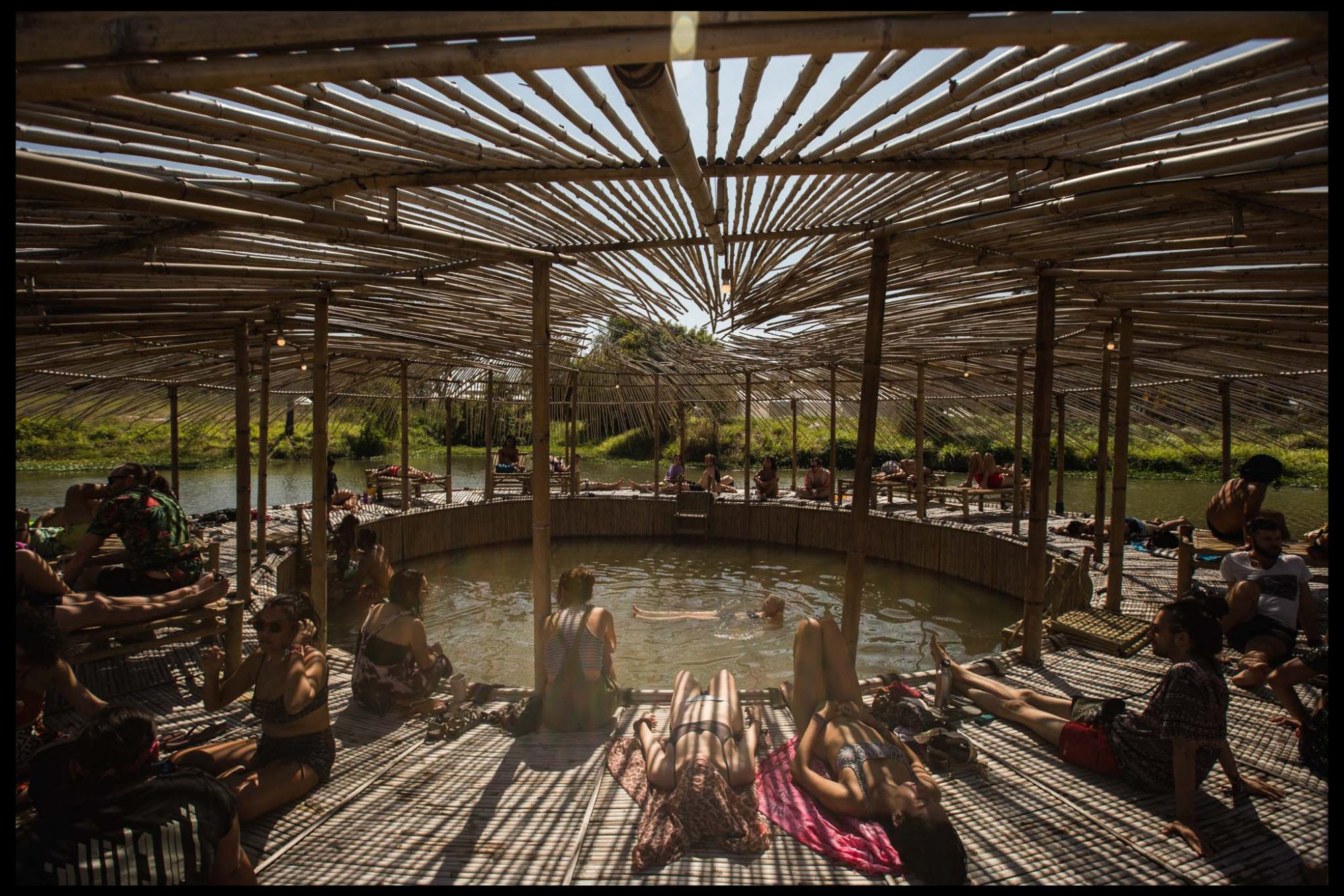 Once you arrive, check-in, and top-up your RFID wristband, you begin to realize how enormous the festival grounds are.
Although there are maps and signage located throughout, you might find yourself and others staring at it for a little while trying to figure out how to get from point A to B or just trying to figure out exactly where they are. One place you'll definitely want to find, though, is the Wonderness area where the workshops and wellness events take place. The Tiki Bar and Rainforest Pavillion are also located in this area, as well as a Vinyl DJ School.
We opted for the two-minute massage in the Wonderness area a bit later on which involved a bit of chiropractic work while using a rubber mallet. Yoga sessions, a gong bath, and juggling were also going on in The Wonderness area but unfortunately, it proved a bit difficult to wake up in time and get to the festival to attend a lot of the wellness events or talks from the beginning.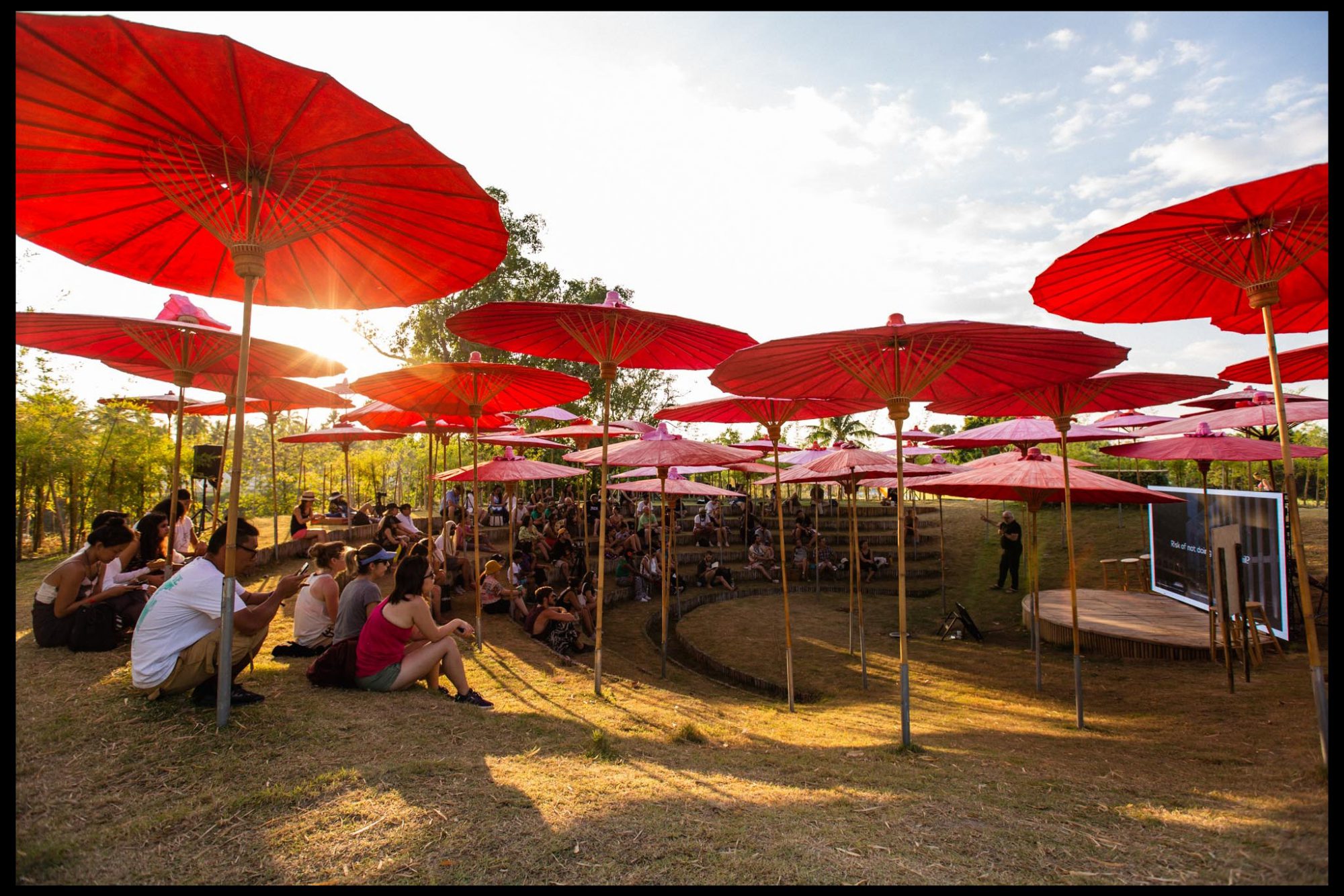 Scratch Talks featured topics including fashion, LGBT, the Human Experience, Climate Change, Technology, Cannabis Legalization, Plastics, and more.
Speakers traveled from all across the world to speak on the above issues. Farm feasts were created by Michelin rated chefs with plant-based brunches and sustainable seafood as well as Omakase dinner and Thai-Sri Lankan cuisine. In addition, there were also cooking classes also hosted by top chefs.
Some of the workshops present at Wonderfruit included designing everything from kites and umbrellas to clothing, lip gloss, leather crafts, dreamcatchers, natural dyes, bamboo fans. There were even workshops on how to make friends and putting together totem puzzles. Wellness events included everything from different forms of yoga and bodywork to gong baths and singing bowls.
We did happen to catch the world-renowned speaker and author, Yuri Van Geest, speak about The Future of Festivals and educate us on some emerging technologies that could transform festivals in the future and the world. Following Yuri, Barney Swan of #ClimateForce shared his magnificent story of traversing through Antarctica on skis with his father and his ambitious goal of reducing 360 million tonnes of CO2 before 2025.
On the experience front, this year featured The Farm Tour with pig petting, art gardening workshops, tie-dye workshops, live painting, circus playshops, family yoga, and an oxygen workshop for kids and adults. Art installations were also present throughout the festival grounds, including the 2500 bricks art installation by Elin Eyborg, the bigger monster by Tom Patsit, Opium by Visual System, Pearl & Celeste by Nice Monster, and Space-Craft by Lordfai.
Additionally, there were performances by the Samui Circus Studio, Tiger Drum Thailand, the Thai Kite Association, Unamedminor, and The Bangkok Voices which include a sunset fire show, tribal rhythms, and a roaming chorus. And the Silent Room located inside a shipping crate that was designed by Simon Heiidens was a standout among the many other pop-up art installations on the grounds.
With a total of 12 stages, Wonderfruit Festival had more than world-renowned festivals like Coachella.
Although not all the stages are active during the entire duration of the festival, there is still music going on throughout the majority of the day and night. It can prove nearly impossible to catch all the acts amongst all the numerous workshops and activities going on throughout the day and it certainly proved to be overwhelming, to say the least.
The Polygon Stages, as well as The Solar Stage and The Quarry, were arguably the most unique at the festival.
The Polygon Stage consisted of a geometric medley of fluorescent lightbulbs that you might see above a typical office cubicle and The Solar Stage was situated directly facing the Sun during sunset. An art installation straight from Burning Man sat right in front of the Solar Stage that looked like someone put a giant wooden puzzle together.
The Nearamit stage was a bit further away and offered cushioned seating throughout with a craft cocktail bar on the right side when facing the stage. Nestled in a forest behind the Neramit stage was The Quarry, which lit up the forest with out of this world lasers and lighting along with massive stacks of speakers for a 360 auditory/visual experience.
The SOT stage, Omelette, and Wonder Kitchen were located a bit more in the distance and at the far end of the festival grounds was The Living Village. In this area were The Ziggurat Stage, The Creature Stage, and The Concept Lab (which was new for 2019). There was also The Woven House and The Cheese Shack, as well as another entryway for The Quarry which featured an extraordinary visual display of lasers created by Baan Sabai.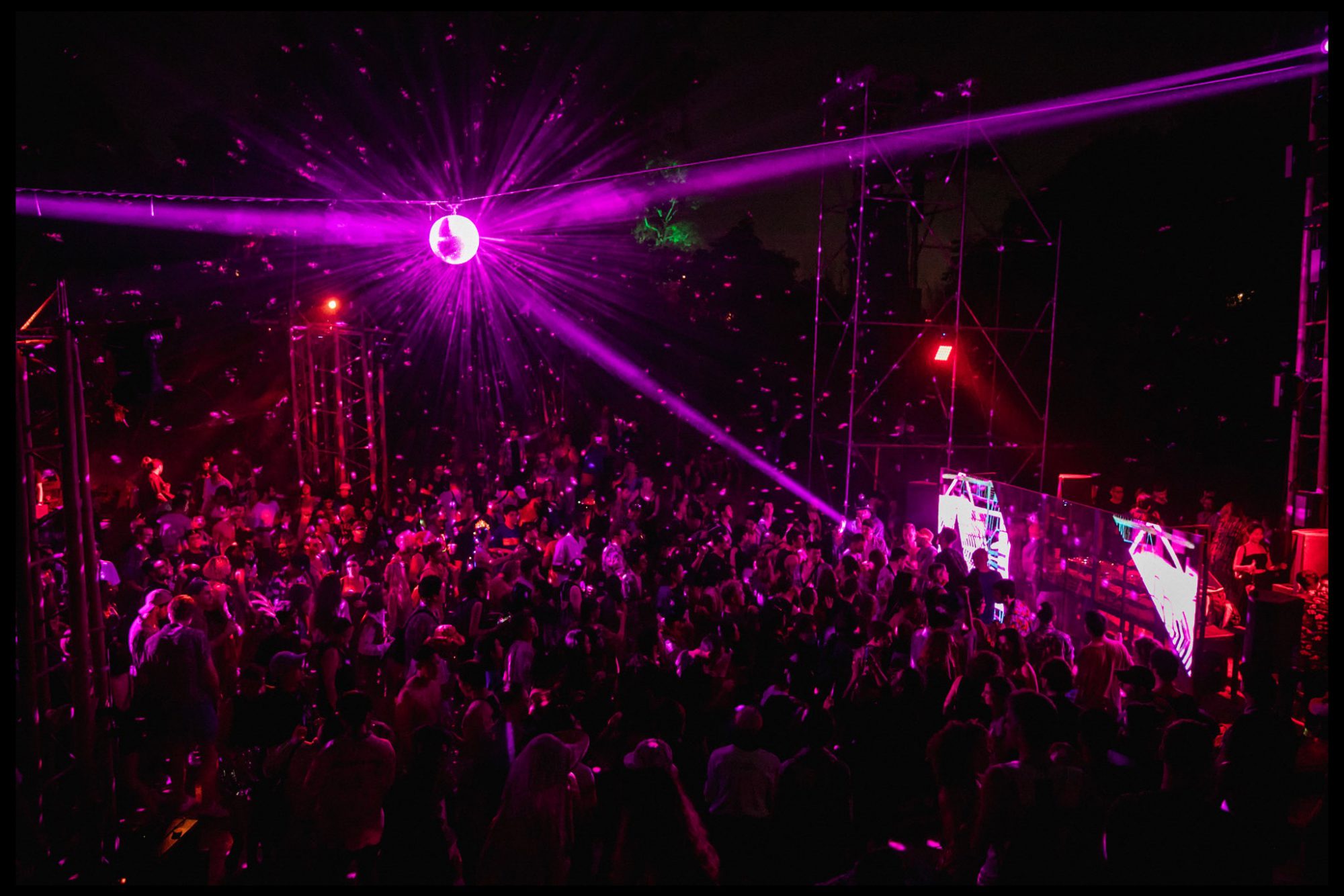 There seemed to be much more of a variety of music during the day while at night it was mostly house and techno.
Beardyman played his usual eclectic and entertaining set while looping his own voice and beatboxing into the mic. Craig Richards started out with some reggae sounds at The Neramit stage later venturing into his more usual house and techno beats while Floating Points went with a more mainstream sound for his sunrise set.
Sonja Moonear and Felix Dickinson made proper use of the incredible sound system in the Quarry and Trojan Soundsystem played the sounds of Jamaica at The Solar Stage during sunset. Colleen 'Cosmo' Murphy took us back to the 70s with the sounds from Love Saves The Day at The Forbidden Fruit stage and Four Tet played an incredible set prior to sunrise at The Solar Stage.
The final day saw the likes of Hibiya Line, Naoki Serizawa, Archie, and The Sorry Entertainer. Additionally, Camion Bazar performing a B2B set with La Mamie well into the late morning was a fantastic way to finish the musical experience at Wonderfruit.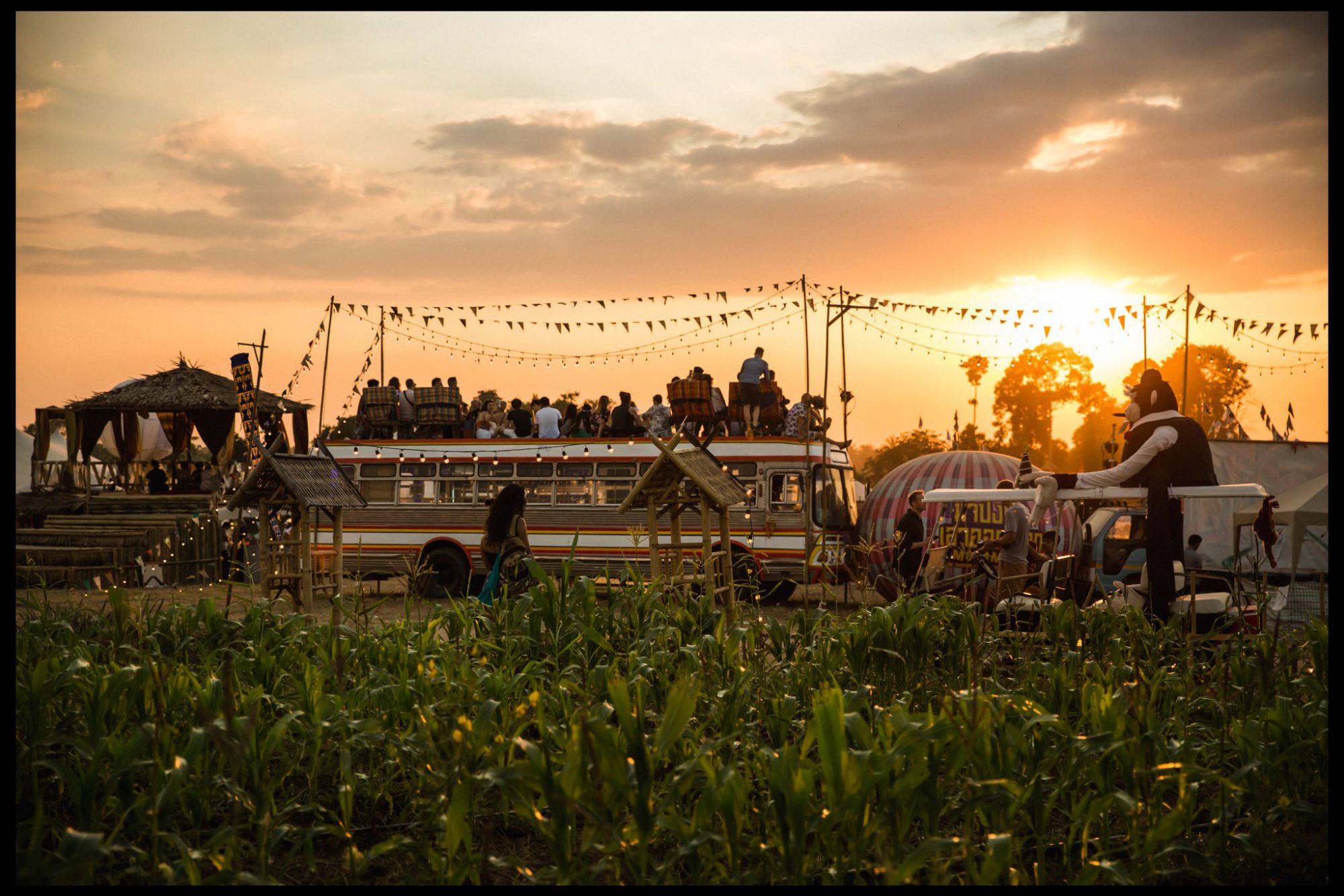 Festivals such as Wonderfruit and others are continuously finding ways to build a conscious community that works together towards tackling the complexities of modern-day society.
Climate change is now at the forefront of global political discourse and poses an imminent threat to society while issues such as commercial fishing, agriculture, deforestation, and pollution are gaining a considerable amount of attention. Mass gatherings of forward-thinking human beings such as Wonderfruit are necessary to tackle these complex issues and raise public awareness that insinuates political action on a global scale.
Purpose-driven festivals such as Wonderfruit are so much more than just another party or festival to attend. It not only provides for an enthralling experience to have a great deal of fun but also leaves attendees feeling hopeful and inspired to make a difference. The friendships made, knowledge gained, and newfound inspiration acquired at gatherings like these are priceless. One might simply leave with a boost of confidence and self-esteem or one might come home with an altruistic perspective vying to make a difference in the world.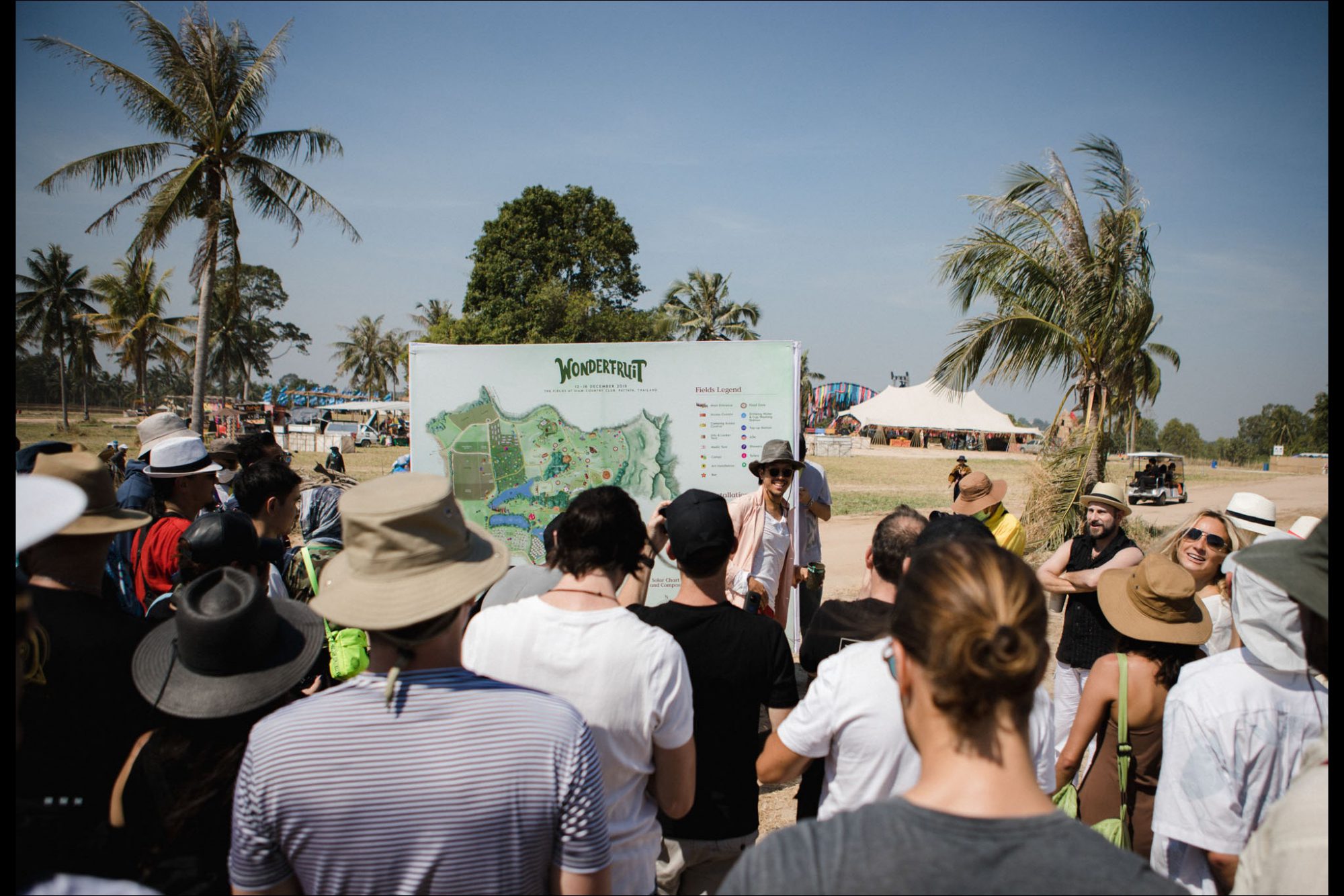 Although being eco-friendly or environmentally sustainable might seem to be an ongoing trend throughout the world in general, "going green" should be the norm.
This is why it was a welcome sight to see that Wonderfruit was among the numerous other festivals throughout the world in banning all single-use plastics. Instead, they asked festival-goers to either bring their own reusable cups or purchase one at the merchandise store.
Many improvements towards sustainability can certainly be made at Wonderfruit but at least they are moving forward in the right direction. Festivals and event organizers all over the world need to start working together to not only cut down on their carbon footprint but also on the amount of waste they produce which is comparable to a small city and sometimes even a large city or a small country.
Hopefully, Wonderfruit and similar festivals can set an example for others to follow and find ways to further cut down on waste and CO2 emissions.
With new sustainable/eco-friendly technologies and products emerging every year that are coming down tremendously in cost, hopefully events and festivals throughout the world can commit to zero-emissions and reducing waste tremendously by the next decade.
No event or festival is perfect and each and every one makes for not only an enriching and often mindblowing experience but also acts as a haven for learning, innovating, and evolving. Festivals such as Wonderfruit prove that we are moving forward in the right direction as a society but there are still many improvements that can be made.
Early Bird Tickets for 2020 are officially sold out and tickets will go on sale for the next Wonderfruit on June 5. Check out the official aftermovie below to get a taste of what's in store!
---
Connect with Wonderfruit Festival on Social Media: