We interview Showtek to discuss EDM Sucks / Island Boy and working with Gammer, SKINK Records, and bringing people and cultures together through music.
---
All the way back in 2001, Showtek was formed by Dutch brothers Sjoerd and Wouter Janssen. For the first half of their career, they created some of the most powerful hard dance records in the world. Iconic tracks like "FTS" and "The F-Track" reflected their rebellious attitude towards the world and continue to be hardstyle classics to this day.
In 2012, Showtek began to explore other genres of music and in turn, have become some of the most dominant artists in the EDM scene. Since then, the brothers continue to be trendsetters in the electronic music world, as their music truly has no limits. Showtek's most recent release, the four-track EDM Sucks / Island Boy EP, features collaborations with Gammer, Dropgun, and Linka X Modello.
We chatted with Sjoerd about the new EP, their recent collaborations, what it takes to make it onto SKINK Records, and where the scene might be headed in the future. Showtek's music brings together people from all cultures and musical backgrounds, and they are extremely grateful for what their fans have allowed them to achieve.
Listen to EDM Sucks / Island Boy on Spotify below and keep reading for our in-depth interview with Showtek!
Stream Showtek – EDM Sucks / Island Boy on Spotify:
---
Thanks for chatting with us today, Sjoerd! You recently released EDM Sucks / Island Boy on your label, SKINK Records. "EDM Sucks" is definitely one of the harder tracks that Showtek has released recently, so where did the idea for a collaboration with Gammer first start?
It first started when we started playing tunes from Gammer in our sets. My brother [Wouter] and I were talking, and if we were going to do a hard song, we wanted to do one with him – his music is more UK based, and it's fun! He definitely has a different approach to harder music.
We had a song idea, and we were deciding who we wanted to work with. I hit up Gammer, and he was very interested. We mostly worked on the track over the phone – we spent hours talking on the phone and working on the song. Then, we were in Los Angeles last summer, and we finished the song in the studio.
You really have to take the title of "EDM Sucks" with a grain of salt. You see the title and it's like, what the hell is this?! It's a joke, and we did it for two reasons. First of all, we felt it was time to do something that's more old school EDM since it's so different now. Sometimes we just want to hear some old stuff that's 2014 festival vibes so we were poking fun at the EDM of today.
What was it like to work in the studio with Gammer? I bet it was interesting considering that you guys both come from backgrounds in the hard dance scene.
Well, first of all, he speaks with a very thick English accent! He's a really funny guy. It's interesting to see how people work differently – using different programs, different plugins, and different techniques to get the same result. I think we learned a lot from each other.
I'm a super detailed person. Over the phone, I'd be asking him about the programming on the kick and it's obviously hard to hear on the phone. We had a lot of long, funny conversations. Eventually, we met in LA and had a great time in the studio. We laughed together so much. Once we met I think we had already finished the drop, but we hadn't finished all the vocals yet.
I remember being in the studio and my brother suggested the "EDM Sucks" lyrics. We looked at each other like… should we really do this? It's just a fun concept, which is the most important thing in music. It should be fun when you're making it, which is where some artists struggle sometimes.
You mention the "EDM Sucks" lyrics. What is the vocal, and how'd you guys record that?
We just went on the Internet and used a program where you can enter text and it'll speak it for you. We changed the pitch shift on some of them and eventually made it fit perfectly in our song.
"Island Boy" is a collaboration with Dropgun featuring Elephant Man and GC. What's the vibe that you guys are going for in that track, and what was it like to work with Dropgun and his distinct style?
You can definitely still a lot hear a lot of his influences. For example, on the kick and the chord progression, we left it that way because it's important to have some noticeable details in the song that remind you of each artist in a collaboration. We left some of the kicks and percussion the way Dropgun makes it, and the melody came together nicely as well.
Elephant Man is pretty much a legend in the reggae industry. It was amazing to work with him! We've worked with GC before on some other songs, and we've been working with him for a few years now.
If you listen to "Booyah" by Showtek and We Are Loud, we have a mixture of island sounds, drum n bass, EDM, and more. We always love to mix styles and cultures – music is a way to bring people together. GC is from New York, and Elephant Man is Jamaican. We all worked together, and the song is doing really well. It's being picked up by a lot of DJs, it's doing well on streaming support, and we're very happy with it!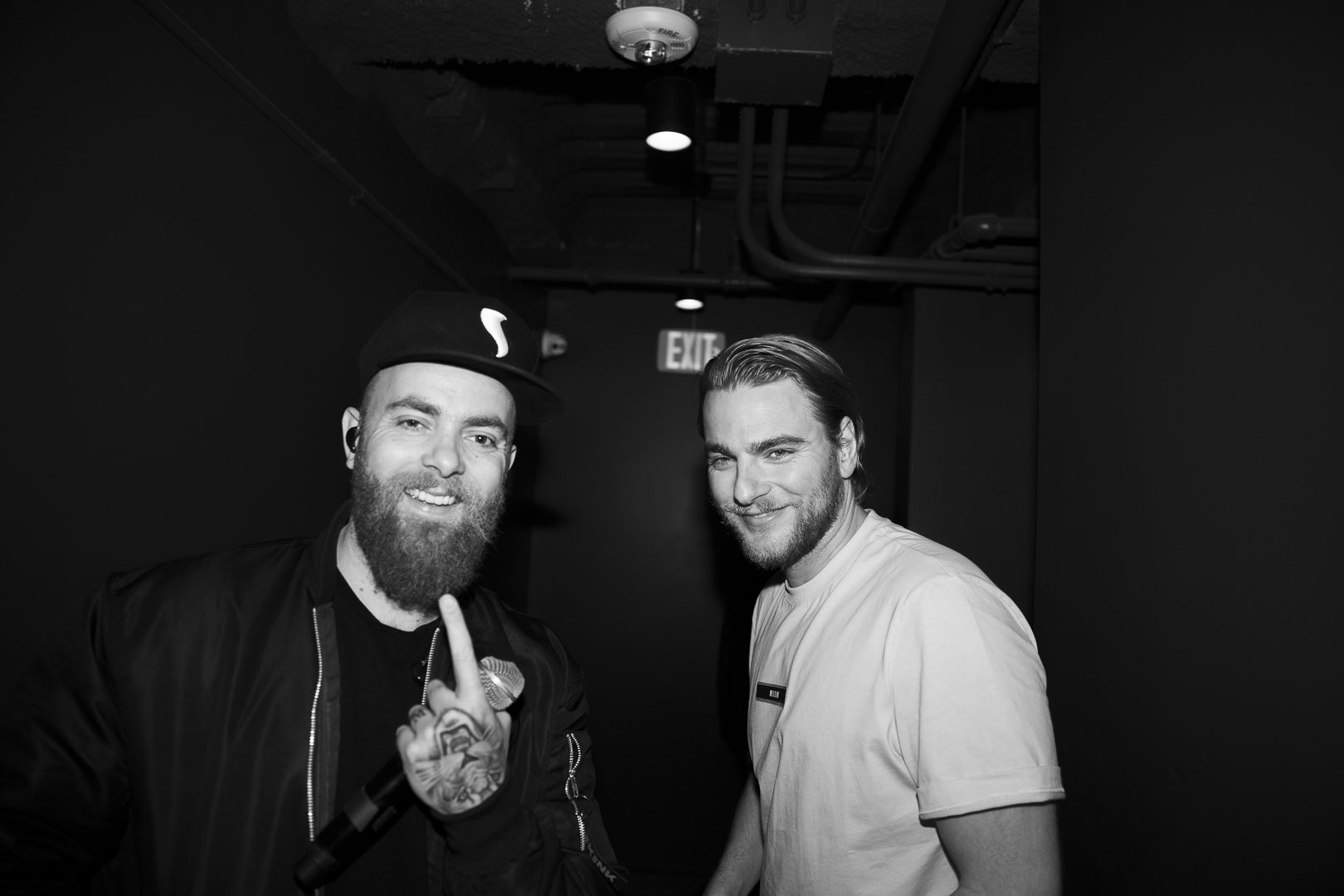 There's also two more tracks on the EP: "Straight Shots" and the Hard Driver remix of "We Like To Party". Tell us about those a bit.
"Straight Shots" is a song we've been playing for over two years. It's insane how many versions we have. I'm not joking – we probably have over 150 versions of that. Eventually, we threw them all away and made a new version that we wanted to release. This EP is really for the fans – it's a lot of harder stuff, and more energetic. It's for the club and festival lovers.
The Hard Driver remix of "We Like to Party" is a really, really hard remix. We played it in Australia at a hardstyle festival, and the whole crowd went crazy! It went a lot better than we thought, and we've decided to release it for our fans who have been loyal to us through our different sounds and transitions for so many years. We wanted to give something back.
All four songs on the EP are tracks that our fans have been asking for and, we're planning to do another EP early next year! I'm liking the concept of an EP because it's like a mini-album: you can have a favorite song, and it's not just one single track. You can tell a little story within the music, and we wanted to give our fans some party music.
You've also given us two songs with Sultan + Shepard this year, with "Way We Used 2" and "We Found Love". Can we expect more collaborations with them in the future?
We're huge fans of their work! They actually participated in the production of "Bad" with David Guetta. They were the writers of the lyrics and some of the music. We jumped in afterward to produce the drop and other parts of the track, that's when we first started working with them. We have great chemistry
"Way We Used 2" was a really fun song; very female-friendly. Not all songs have to be for the guys with no t-shirts on in the front! We want to show the girls a good time too. "We Found Love" is a remake of an old school song that we redid the vocals for. We recorded a session where someone sang exactly like the original, and you can barely hear the difference.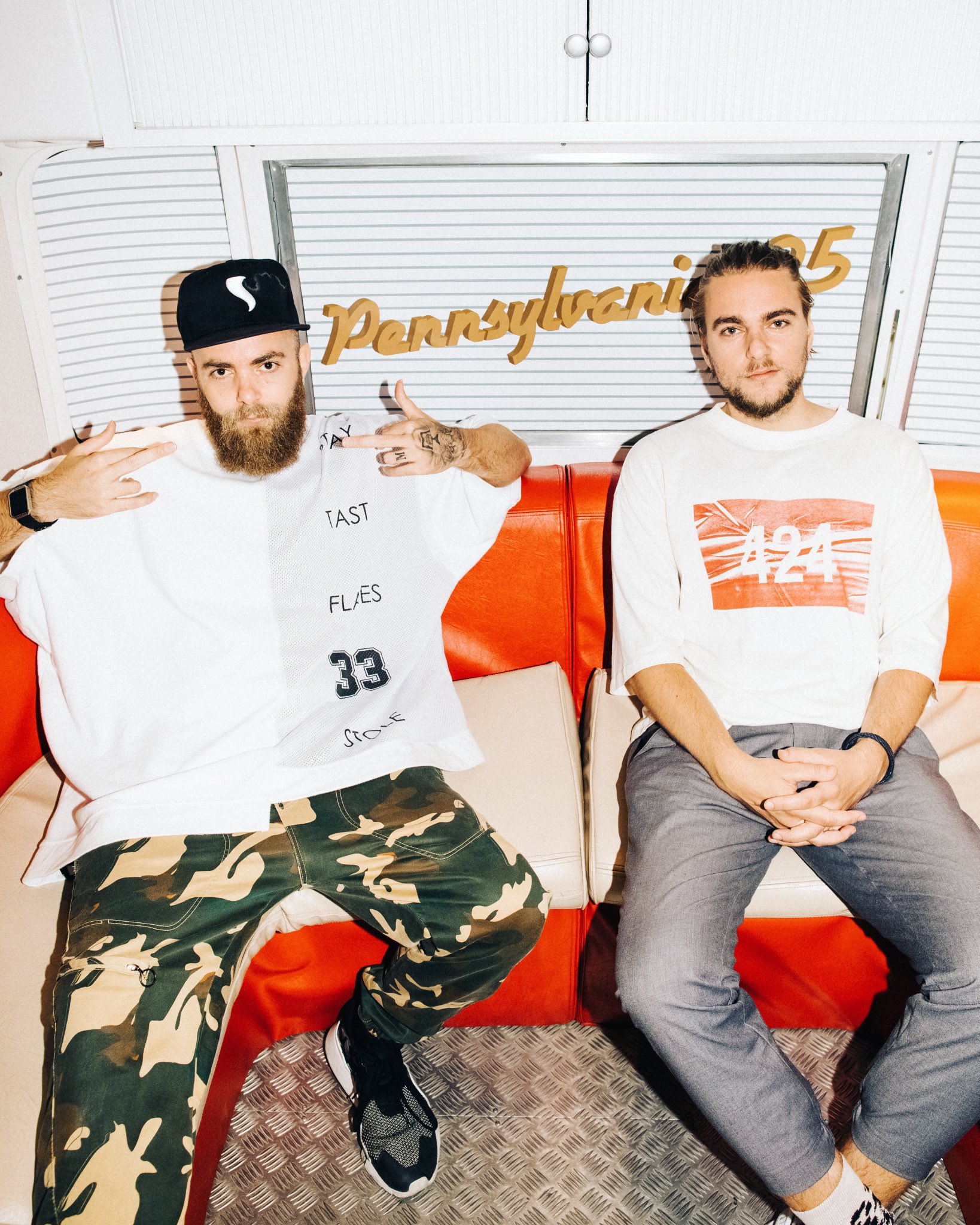 What was the original track for "We Found Love"?
"Now That We Found Love" by Heavy D & The Boyz. It came out in the nineties, but the original [by The O'Jays] is super old. The lyrics we recorded sound exactly like the ones from the Heavy D version, which was difficult to do, but really fun. We made that song mainly to put into our Las Vegas sets because we felt that we were missing a cool song with a more urban, hip-hop feel. 
I think it's really important as artists to just do whatever you want, and always be free with your expression. Your identity as a person has to come through your music as well. Every day is a different day with different thoughts, and you don't eat the same food every day! So, we don't want to make the same music every day either.
Those tracks with Sultan + Shepard definitely display a different side of your music, or like you said 'for the ladies'. Coming from your hardstyle and EDM background, what's it like for you guys to make more 'chill' music like that?
We listen to a lot of hip-hop and other genres as well. When we started doing techno and hardstyle, we were like 17 or 18 years old. We were rebels! We were fighting against the system, and doing things you shouldn't be doing. It was a translation of who we were back then.
In the process of a lifetime, you grow, and your preferences change. Our music changes with who we are – we grew up a little bit. Of course, we still like to do some hardstyle. But there's also a part of us that knows we have a lot of talent within us to write and produce music that doesn't always have to be 120 or 150 BPM. Everyone should be allowed to just play around and be successful with music and show that you're diverse. That's what makes us happy!
Your record label, SKINK, consistently releases new music from both established and up-and-coming artists. What's some advice that you'd share with aspiring producers that are trying to get noticed by your record label and others?
There are 25,000 tracks uploaded to Spotify every day! Even for big players like us, you have to really stand out and try to do something different. If you stay true to yourself and your own inspiration and thoughts, I think that's a true translation of who you are and how you see things and that makes it unique. 
Embrace your uniqueness, and believe in your own direction. Of course, you can always get inspired by others, but if you want to be a producer and have an artistic side of you, that artistic brain needs to have freedom. We want our label to be diverse and build a platform for people who want to do something and really believe in it. 
Are there any specific artists that have been featured on SKINK lately that you think we should all be listening to?
I really love the Elliot Fitch remix of "Listen To Your Mama". He's a really young guy – like 18 years old, a small basement producer. There are a few guys from Belgium – Linka and Mondello, who were featured on "Straight Shots," and did a track with MAKJ as well.
There's a ton of producers we love – a lot of guys come to us with hard music as well, and ideally, we want to grow to be a little more diverse. We want some chill stuff, too. We're always looking for people who are doing something cool and original. If they believe in it, we're happy to release it!
I saw on SoundCloud that you guys listen to every SKINK promo that comes in, right?
Yeah! Every Thursday, we have a big team meeting and go over all the music. Sometimes we'll have weeks where we have like 300 promos, and we have to listen to them all! We think it's really important to listen to those promos because, if not, then why did we even start a label? 
There are producers on our label like Steve Walls from France who makes really hard stuff, but is also branching out into other styles. We really want to support him, because we hear a lot of talent. 
When we started, we went from label to label, and people would tell us that our songs weren't good enough. Eventually, when we found the right label, it would be a really big song for us. You have to find someone who believes in you and supports what you're doing and can already hear what you're capable of in the future.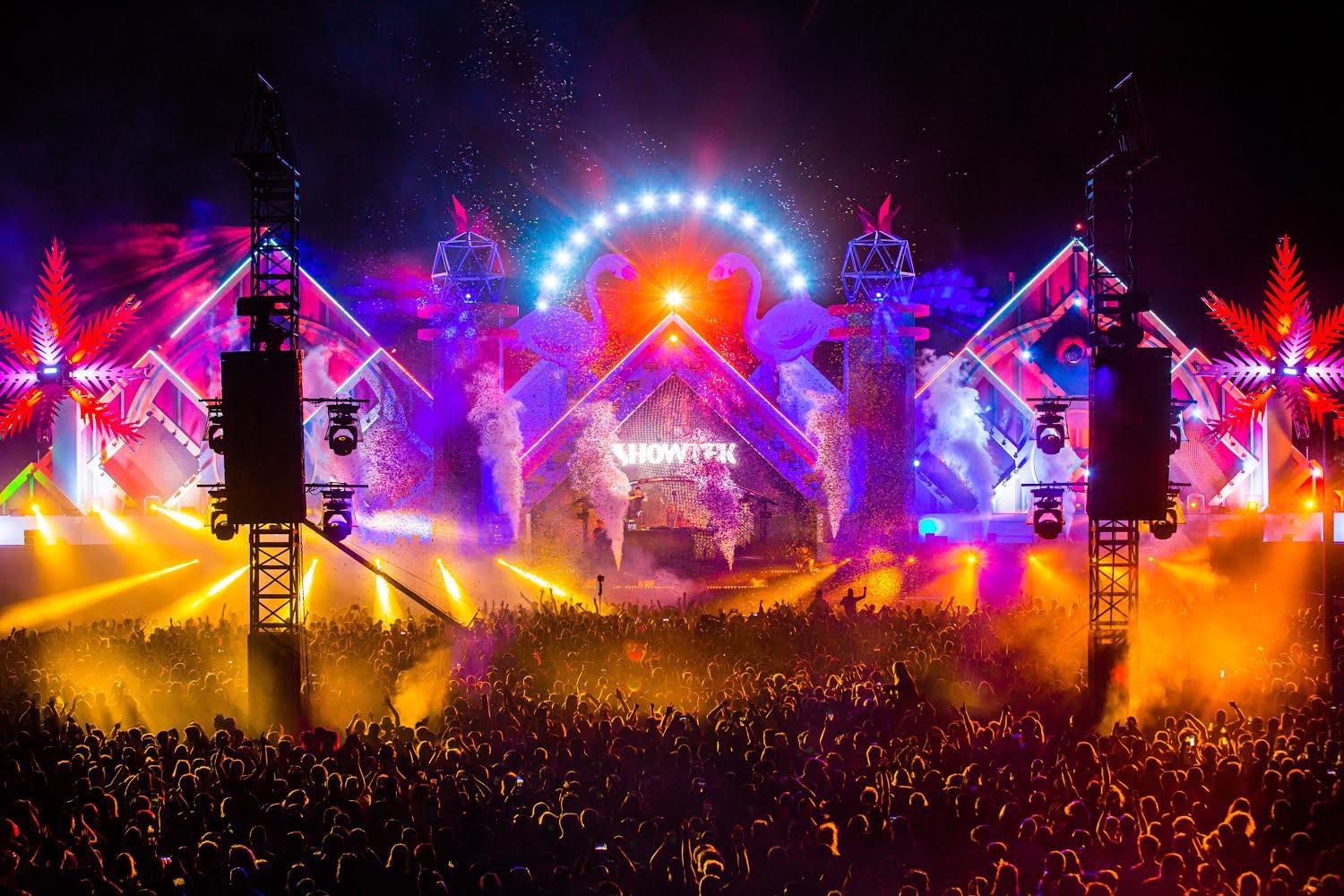 I think it's fair to say that you guys are real tastemakers in the EDM scene. Where do you see the scene headed in the near future? What styles will be most popular next summer?
For a while, I thought that disco would come back! Nowadays, the whole techno and deep house vibe is more of a get-together for people rather than waiting for the drop. Disco is one of the biggest examples of people coming together to dance. The vibe is really cool, and I think those sounds and beats could be influential with what's coming next.
I feel like with where we're at in society, it's more important to bring people together and become more multicultural. In some countries, really popular artists will have hit songs in their native language, and I'd really like to see the same thing happen in dance music. Actually, right now, we're working with a few artists who are just specifically big in their native countries. I don't want to name them yet, because it's going to be a surprise!
Not to brag, but I think 2020 is gonna be a super cool year for Showtek! There'll be a lot of diversity and unexpected moves, as well as the dance music that people expect to hear from us. We like to surprise people. 
Will Showtek be surprising us with some disco? Is that the plan?
No, I just think that would work and it was the first thing I thought of! I notice that dance music isn't just about the drops and going hard anymore – it's really about being cool and having good vibes. It's about dancing, different buildups, and stuff that would work with disco too. I wouldn't be surprised if there were some super funky beats and grooves that could be implemented in today's styles. I can hear the bass loops, guitar loops, and that kind of stuff coming back.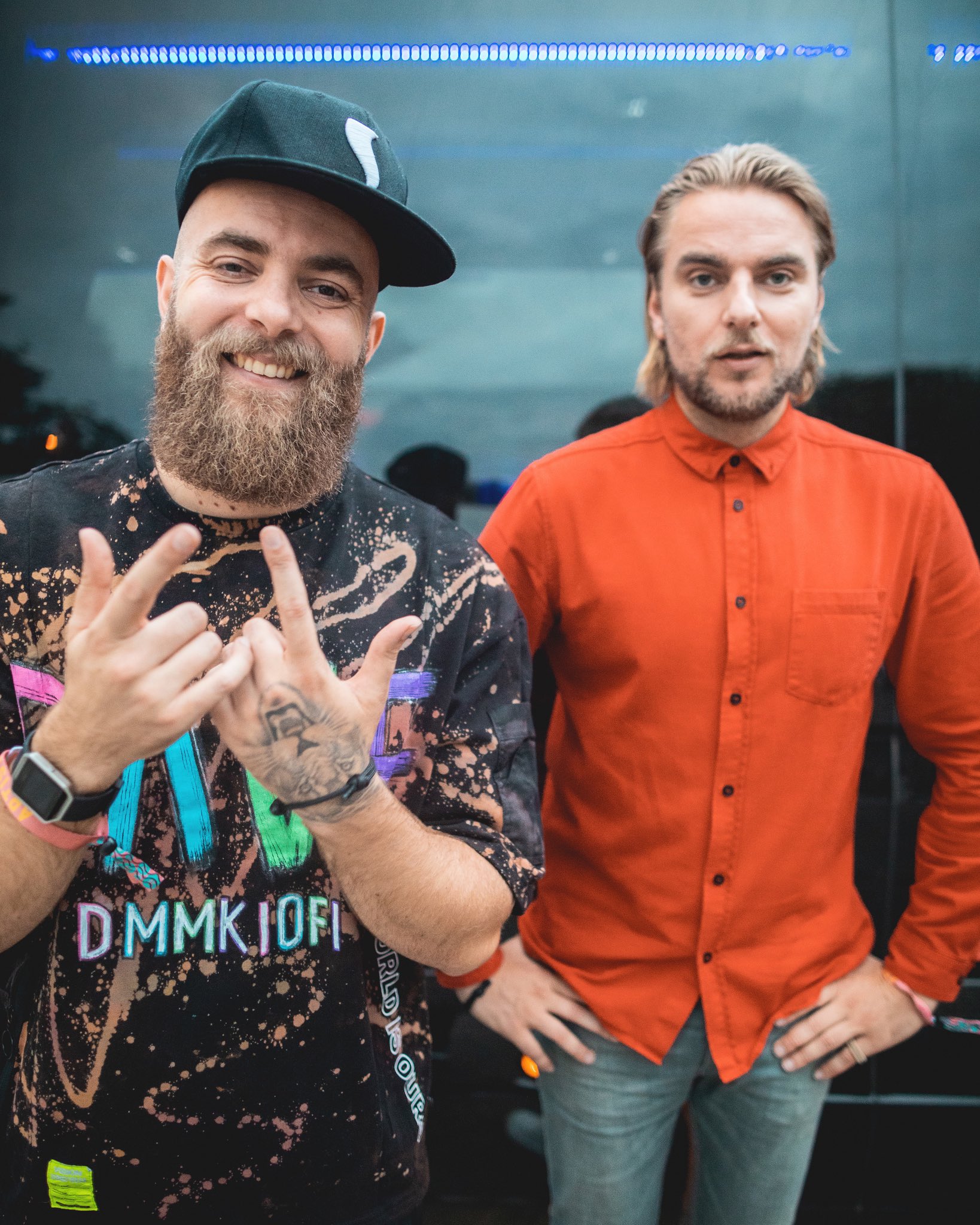 You said 2020 is gonna be a big year for Showtek – do you have any specific goals for next year, like shows you want to play or songs you plan to release?
Yeah, we have a really big song with a Spanish pop star coming out early next year. It's almost 100% Spanish – it's a pop song, and it'll be different for Showtek fans. Of course, we'll make a remix for the festival sets, too.
We also have a track coming out with a rapper, and it's another 100% Hispanic song – we put the beats and the melodies together, and it's been a new journey for us. We announced them on our Instagram a few weeks ago! 
And we have a song with one of the biggest singers in France right now. We're just doing fun stuff that isn't really expected. Of course, we also have some songs that are very Showtek-y. Big room, big melodies, and big drops.
"How We Do" was one of the first electronic songs I fell in love with back in 2012. Given your long history, I'm sure countless people around the world have had a similar experience. What does it mean to you to have so many people connect with your art?
We started doing music with the intention to just release our creativity and had no idea we would be so successful. Nowadays, we travel the world and go to places that people save their money to visit on holiday. We have the privilege to perform for all of those people. 
Music is a really great way of bringing people together. No matter if you're from Europe, Asia, Africa, North or South America… everyone can find themselves through music. When you're at a festival, somebody from a totally different background loves the same stuff that you do and you form a connection. I think that's one of the most powerful parts of music.
Finally, do you have any messages you'd like to share with all the fans of Showtek around the world, both old and new?
We've been hustling our asses off since 2001. We want to thank everyone who's been supporting us from the beginning. Especially the fans who started as die-hard hardstyle fans and accepted our new sound and fell in love with it – we really appreciate them. To all the new fans, there's a lot more to come, and we hope you guys stay loyal to us!
---
Connect with Showtek on Social Media:
Website | Facebook | Twitter | Instagram | SoundCloud | YouTube