Chicago brothers AYOO have played sets at Spring Awakening and several venues in the city in addition to releasing plenty of remixes and original tracks.
---
AYOO is a name that you should be watching closely if you're a fan of the bassier side of house music. The pair of brothers from Chicago are well known across the city for their banging opening sets at Concord Music Hall, Electric Hotel, Spring Awakening, and more.
More recently, the brothers have been busy in the studio, releasing remixes of "The Wave" by WOLFBITER and "True G's" by SALADIN. With these being some of their biggest releases yet, keep an eye on AYOO in the future as they continue to grow and find their sound.
We caught up with the brothers (Eric & James) after they opened for Moksi at Prysm Nightclub in Chicago. Take a listen to their exclusive guest mix below and read on for the full chat!
Stream EDMID Guest Mix 196 || AYOO on SoundCloud:
---
Thanks for taking the time to chat with us, AYOO! To start let's dig back into your history as artists. Who were some of your earliest musical influences and what led to developing a passion for dance music?
We both love music but honestly, our dad has been the main reason why we started DJing/producing dance music. As youngsters we had the opportunity to help our dad DJ/mix in a few songs and just enjoy some one on one time with Pops. Along with our dad, Spring Awakening 2013 was a huge boost that opened our eyes to electronic dance music and everything is history from there!
Where did the idea to come together as AYOO first start, and where did you come up with your name?
The name AYOO came from our slang use of the word and two songs that we would hear almost regularly that just happened to say "ayoo". Those songs were "Boom Boom Boom" by The Outhere Brothers and "Ay Yo Yo" by DJ Rashad and DJ Chi Boogie. Think about it – how many times do you go throughout the day and randomly say, "AYOO nice job, AYOO how was the weekend or AYOO who's ready for tacos!?" ..it has a nice ring to it!
Some of your recently released remixes are of "The Wave" by WOLFBITER and "True G's" by SALADIN. How would you describe the bass house vibe that you're going for in those tracks and others?
For "The Wave", we were influenced by "Hard in Dis" by Lektrique and "Bang" by Matroda. We wanted to take the two styles and create a song that has a heavy emphasis on electro house with the plucks of a G House track. For "True G's", G House instantly came to mind with this as the name of the song should fit the vibe of the remix!
What's the decision-making process like on choosing tracks to remix, and does your production process differ for these compared to original tracks? 
We both have crazy ideas and are always messaging each other on song ideas, remixes, collabs, etc. Eric will usually begin projects and work on melodies, essentially creating a "template" of the track where I can continue working once the project has been passed. Once I (James) receive the project I dig more into the technical side of things along with drums, effects, mixing, etc. Needless to say, we love how the process is working for us!
If you could collab on a track with any other artist in the scene, who would it be and why?
There are a few artists we have in mind and few currently have projects underway! Three that are on our list are Tombz, Proppa, and Birthdayy Partyy. Their recent tracks, style, and format all fit our AYOO brand and would make some very interesting music!
This year you took the stage at Spring Awakening Music Festival. What was your experience like playing there, and what's one festival that each of you hope to play one day?
Spring Awakening is always fun and this year we had the opportunity to play on the Function Stage w/ Destructo, Masteria, Noizu, Matroda and more! Being able to showcase our new music is a great feeling and we honestly couldn't have asked for a better crowd. From start to finish the energy was at 100! There are a few festivals we have on our bucket list such as Electric Forest, EDC Las Vegas, Orlando, Lollapalooza, and Ultra.
You've opened for artists like Redlight, Tchami, and many more at their recent sets in Chicago. What is some advice that you can share with other artists looking to land shows in their city?
Those are definitely highlights of our career thus far! Our advice would be to build your brand first cause branding is everything. Networking, supporting shows that you want to get booked on, working on new music, and brand management are some of the things that have helped us. You want to make sure you can stand on two feet before you start walking.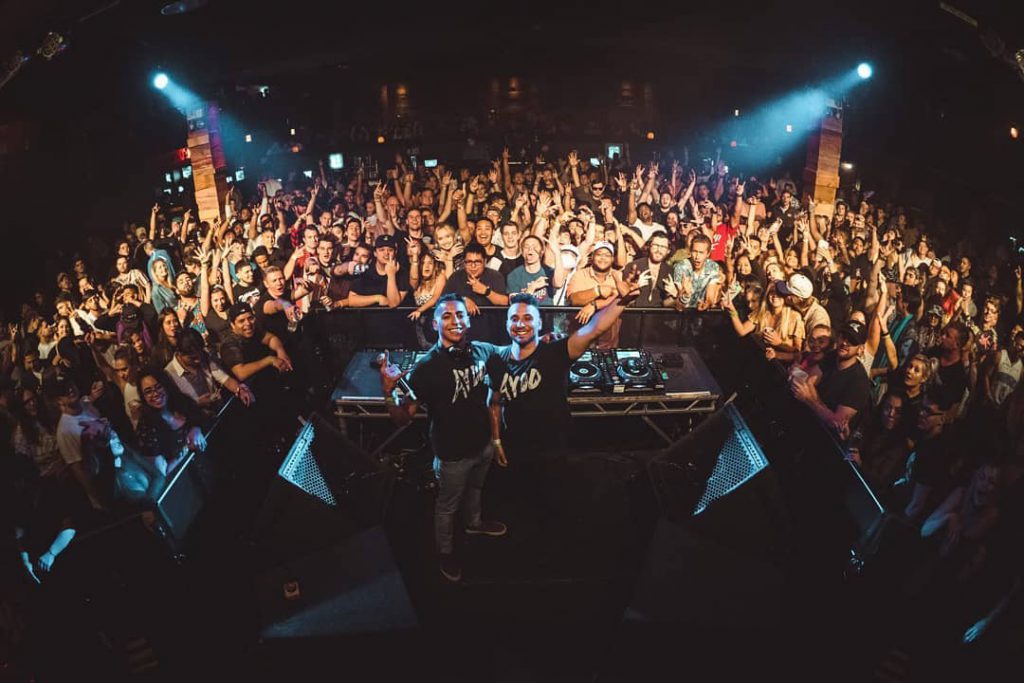 How would you describe the art of playing an opening set? What kind of vibe do you guys aim for when opening a room?
It honestly depends on the headliner and if we are the 1st act playing. If we're the first act, then it is our job to set the tone for the beginning of the night and to be able to properly pass the decks off to the next DJ. We want to attract people to the dance floor, not scare them off.
Lastly, with 2020 on the horizon, what can we expect in the future of AYOO? Are there more releases or big shows coming up you can share?
We have a release coming out in December that will be self-released, along with our collab with Rico Act that will be released in January via a *pretty dope label* that we cannot announce yet. As far as the shows go, we don't have any upcoming at the moment but look we forward to finishing our other projects for 2020!
---
Follow AYOO on Social Media:
Facebook | Twitter | Instagram | SoundCloud