If you're headed out to Intersect Music Festival this weekend, sneak a peek at this essential info including parking and daily set times!
---
Intersect Music Festival is just a few days away and the excitement is building. With interactive art installations and an incredible lineup of music, there is a little something for everyone. The lineup is packed with powerful electronic artists like Tokimonsta, Flying Lotus (3D experience), Jamie XX, and Gesaffelstein as well as delivering some R&B, rock, and alternative artists into the mix.
But before you head to Sin City to get down on the dancefloor, we've compiled all the details that you'll need to know to have a fun weekend. From daily set times to which items you should leave at home, read on for all the important info!
Related: Check out who we're listening to from the Intersect Lineup with this Spotify Playlist!
---
Intersect Music Festival 2019 Essential Info:
Dates: December 6-7, 2019
Hours: 3pm – 12:30am
Venue Address: Las Vegas Festival Grounds, 311 W Sahara Avenue Las Vegas, Nevada 89109
Tickets: Purchase HERE
Facebook Event Page: RSVP HERE
Intersect is an all-ages event BUT anyone under 17 years of age must be accompanied by a parent or legal guardian. A legal guardian must have proper documentation. No exceptions.
---
Intersect Music Festival 2019 Set Times: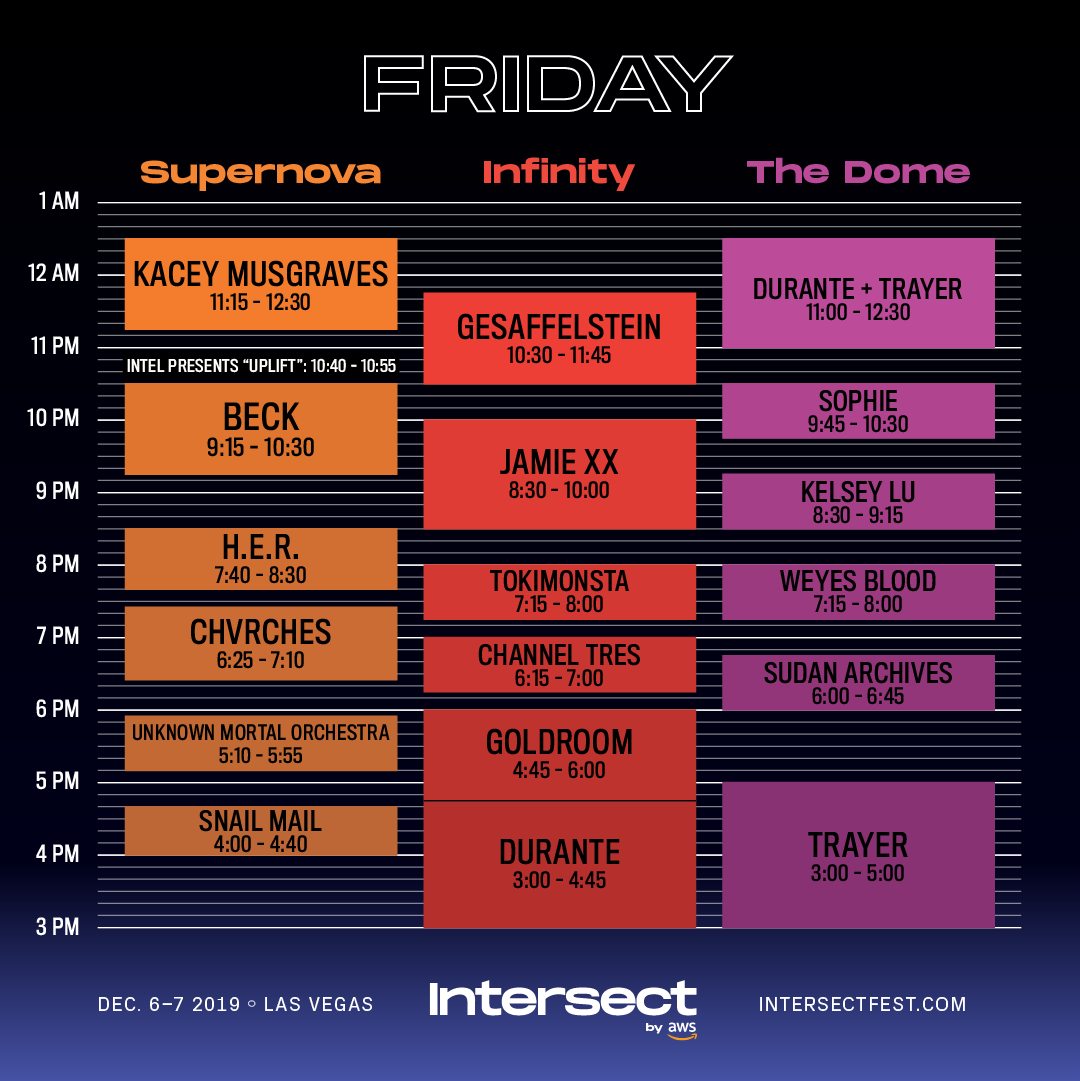 ---
Transportation Info:
Intersect's festival grounds are only accessible by walking, rideshare/taxi, and public transportation. There is no onsite parking or direct access to the festival grounds for passenger vehicles.
Rideshare
Get dropped off by an Uber/Lyft at 810 Circus Circus Drive. From there, you can walk into the south entrance.
Public Transportation:
Las Vegas Monorail
Ride the Las Vegas Monorail to the Sahara Station.
From there, walk across the Monorail pedestrian bridge above Paradise Rd.
Make your way through the Sahara Las Vegas Hotel (formerly known as the SLS), and cross Las Vegas Blvd. to enter the festival grounds.
Bus Line
Take the Deuce on the Strip or the Strip & Downtown Express (SDX). Both buses stop by the Las Vegas Festival Grounds on Las Vegas Blvd.
No Parking!
There is no parking available on-site at the Las Vegas Festival Grounds.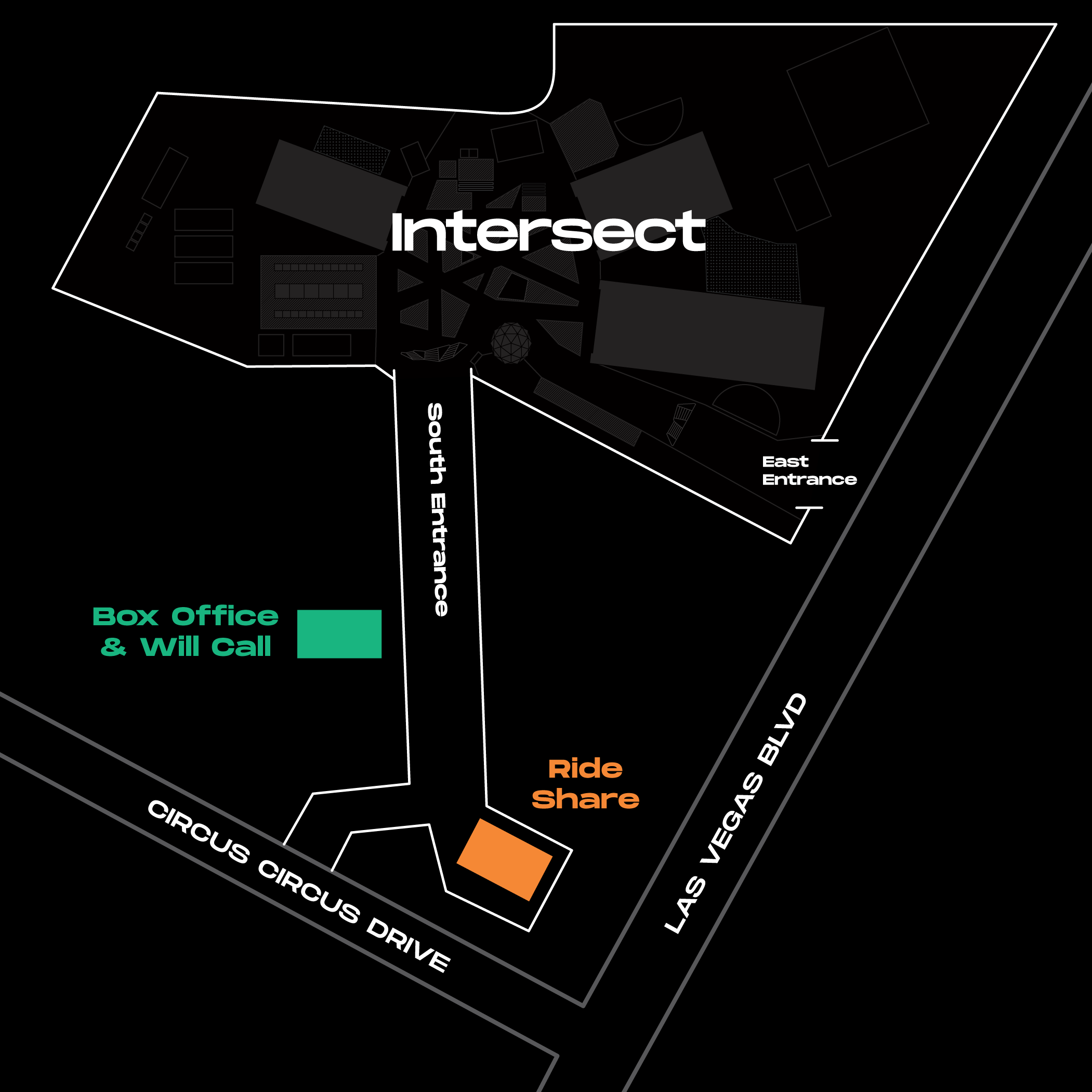 ---
Do's & Don'ts:
Prohibited Items
Weapons or harmful objects of any kind, including edged blades and sharp, pointy, or blunt bludgeoning objects
Toy or replica weapons, including BB, pellet, and Airsoft guns, as well as objects that shoot projectiles
Mace, pepper spray, or other dangerous chemicals and compounds
Explosives (including fireworks and firearm ammunition of any kind)
Illegal drugs and drug paraphernalia
Selfie sticks, totems, signs, posters, flags, and banners
Unauthorized/unlicensed vendors
Unauthorized solicitations, handbills, samplings, giveaways, etc.
Drones and UAVs (subject to large fines)
Bicycles, skateboards, scooters, roller/inline skates, and motorized vehicles
Airboards, hoverboards, and Segways
Outside food and alcoholic beverages
Face masks of any kind or tactical gear
Aluminum cans
Glass and disposable containers
Coolers and thermos-type containers
Aerosol cans
Bare feet (shoes must be worn at all times)
Clear bags larger than 12″ x 12″ x 6″
Non-clear bags larger than 6.5″ x 4.5″
Animals or pets (acceptable service animals excluded)
Laser pointers or similar focused light devices
Laptops, tablets, and personal computers
Blankets, sheets, and towels larger than 11″ x 18″
Seat cushions or chairs
Lights or glow sticks
Noise-making or distractive devices, including air horns, bullhorns, thunder sticks, and whistles
Chains, chain wallets, or studded/spiked jewelry
Umbrellas, tents, and parasols
Wagons and strollers
Video, professional photography, or audio recording equipment
Walkie­-talkies and two-way radios
Sharpies, markers, and spray paint
Stuffed animals, toys, and squirt guns
Permitted Items
Clear Backpacks, totes and purses (Max Size 12″ x 12″ x 6")
Small clutch bags and fanny packs up to 6.5" x 4.5" do not need to be clear (about the size of your hand)
Small towels (max size 11″ x 18″)
Empty water containers, bota bags, water bottles, misters (must be emptied prior to the entrance)
Cameras (no detachable lenses)
Cigarettes and tobacco products (sealed)
Ear plugs
Eye drops (sealed)
GoPros (but no GoPro sticks or extended poles)
Gum and mints (sealed)
Hand Sanitizer (sealed)
Baby wipes (sealed)
Hats
Lighters
Lip balm (sealed)
Makeup (sealed)
Phones and phone chargers
Sunscreen (sealed, no aerosols)
Sunglasses
Prescription medicine (all prescription medicines must be in a marked bottle, and you must have photo-matching ID with you)
---
Reminder To Mind Your Belongings:
Unfortunately, many people have reported pickpockets, bag slashings, and theft of wallets, smartphones, purses, and other valuables during this festival season. While this small number of bad apples in the bunch doesn't define an entire crowd, there are opportunistic people who come to these events to take advantage of unsuspecting partygoers and it's important to be mindful of your valuables while at Intersect Music Festival.
Looking for tips to keep your belongings safe? Check our post highlighting some ideas!
---
Connect with Intersect Music Festival on Social Media:
Website | Facebook | Twitter | Instagram | Facebook Event Page