After another stunning year of amazing beats, unreal art, and vibes that were out of this world, Lightning in a Bottle has announced the details for their 2020 edition!
---
Earlier this month, the Do LaB blew us away with their latest edition of Lightning in a Bottle as they created a magical experience for all who attended the festival. Making their new home at Buena Vista Lake in Kern County this year, they truly left a lasting impression with some impactful sets, insightful workshops, and high-quality production elements that LiB has become well-known for.
While many continue to reminisce about the event and bask in the afterglow, the Do LaB has already been hard at work as they begin to look forward to their next edition. Today, they have announced that Lightning in a Bottle will return to their new home in 2020 while also moving back to Memorial Day Weekend. Mark your calendars for May 20-25 and read on for more details about the upcoming Super Earlybird Ticket Sale!
Paired with the news that LiB would be heading back to Memorial Day Weekend was information about the Super Earlybird ticket sale for those looking to lock in their experience for next year. Offering 4-Day and 5-Day passes, along with car and RV camping options, this is the best opportunity for you to secure your spot at one of the best festivals in California.
Loyalty passes for Lightning in a Bottle 2020 start at $285+fees for 4-Day and $345+fees for 5-Day passes. These are available to attendees who registered their wristbands this year, with the sale beginning on June 6 at 10am PT. Make sure you register your wristband on Eventbrite before June 4 at 11:59pm PT to access this sale.
If you didn't attend this year, don't fret. The Super Earlybird sale begins for the general public on June 7 at 10am PT. Expect a $10 increase on the loyalty pricing for this sale, and don't forget to grab your car camping or RV pass as those will quickly sell out. Head over to Eventbrite to see the pricing for the different passes and camping options!
---
Lightning in a Bottle 2020 Super Earlybird Sale Info: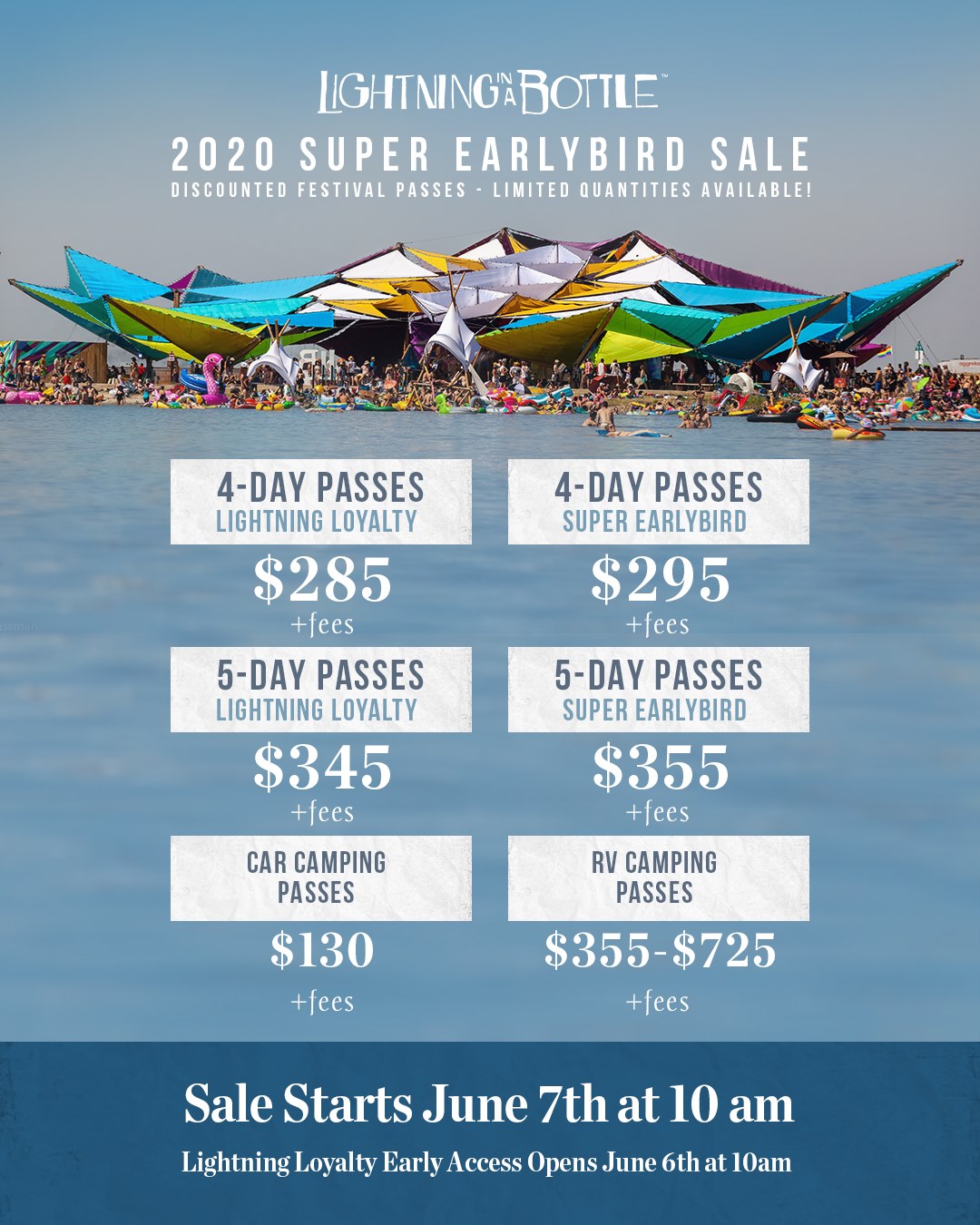 ---
Connect with Lightning in a Bottle on Social Media: