All My Friends is finally here and we're all stoked! Here's everything you need to know before you head out to Downtown Los Angeles this weekend!
---
This weekend the second edition of All My Friends Music Festival will once fill SKYLIGHT ROW in Downtown Los Angeles. The two-day event will feature a wide variety of artists in the house and techno genres. Moreover, it will feature two stages, a veritable list of delicious food trucks, a Svedka Rose Garden, and many more activation throughout the weekend.
This will be my first time attending All My Friends and there are so many sets I'm excited for. I was stoked when the first lineup announcements came out and as they add more and more acts the excitement continued to grow. I've actually never seen Idris Elba so you'll definitely be able to catch me there. Additionally, the Diplo b2b MK is a combination I never would have imagined, but I know that they're both very talented producers.
Download your ticket, organize your Hydration Bag or fanny pack and get ready for a weekend of fun. To help you out, we've compiled all the info you need to know for the show. Let us know if you'll be attending in the comments below!
---
All My Friends 2019 – Essential Info:
Dates: October 19-20, 2019
Hours: 5:30pm – 12:00am
Venue Address: 777 Alameda St, Los Angeles, CA 90021
Tickets: Purchase HERE
Facebook Event Page: RSVP HERE
Ages: 21+
Acceptable Forms of Identification for Entry
Any US government-issued driver's license or ID card containing a photograph and date of birth
US or foreign government-issued passport containing a photograph and date of birth
Temporary DMV documents proving you are currently renewing a license — ONLY if accompanied by passport or expired license
---
All My Friends 2019 Set Times: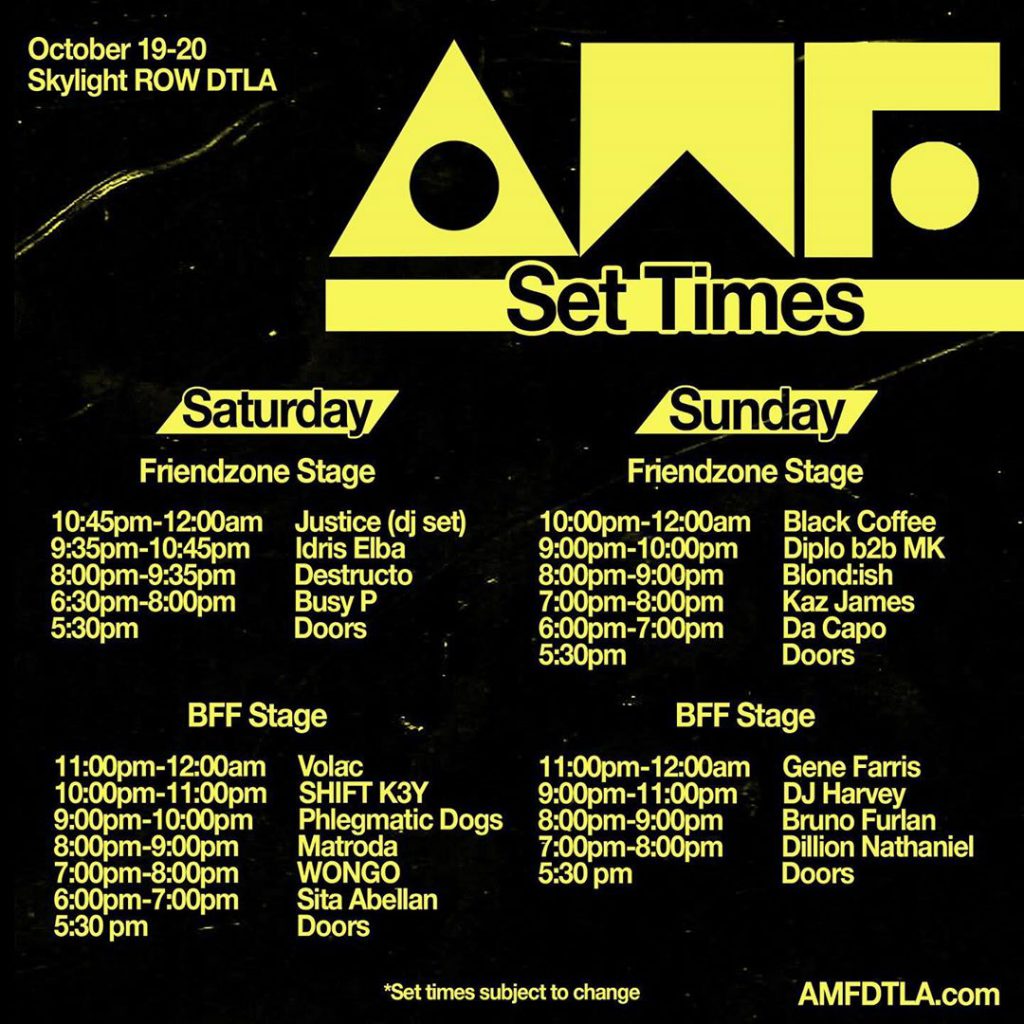 ---
All My Friends 2019 Festival and Parking Maps:
Coming Soon!
---
All My Friends 2019 Do's & Don'ts:
Prohibited Items
No Illegal Substances
No Drugs or Drug Paraphernalia
No Unselaed Over the Counter Medications or Vitamins
No Vicks Inhalers, VapoInhalers
No Animals (except service animals)
No Massagers
No LED Gloves or LED Microlights
No Laser Pointers
No Pacifiers, Dust Masks, Gas Masks
No Native American Headdresses
No Glass, Cans, Cups, and Coolers
No Open Containers
No Markers, Pens, or Spray Paint
No Large Chairs or Spiked Jewelry
No Stuffed Animals or Dolls
No Stickers or Flyers or Promotional Signage
No Inflated Toys, Balls, Balloons (must arrive un-inflated)
No Sports Equipment
No Tents, Umbrellas, Hammocks, or Chairs
No Camping Gear
No Soap, Shampoo, Conditioner, or Other Detergents
No Bota Bags
No Backpacks, Purses, or Bags larger than 12″ x 12″
No Multi-Pocket Bags
No Luggage
No Pineapples
No Unsealed Cigarette Packs
No Pre-Filled Refillable Vape Devices (Chambers must arrive empty)
No Unsealed Tampons
No Liquid Makeup
No Unsealed or Aerosol Sunscreen
No Outside Food, Beverages, or Candy
No Musical Instruments (Including Whistles, etc).
No Tactical Gear
No Walkie Talkies
No Professional-Grade Tripods, Monopods, Go-Pro Sticks
No Fireworks, Flammable Products, Projectiles, or Explosives
No Chinese Lanterns
No Weapons of any Kind (Including Pocket Knives, Pepper Spray, etc)
No Professional Recording Equipment – Photo, Video, or Audio (Including Detachable Lenses, Tripods, Big Zooms, etc)
No Vending Without Permit
No Drones or Unmanned Aerial Vehicles (UAVs)
No Bicycles, Scooters, Go Carts, Skate Boards, Hoverboards, or ATVs
No Open Fires or Grills
No Generators
No Pets (Unless it's a service animal)
No Items deemed as posing a threat to the safe enjoyment of the concert by management
No Totems which contain metal or wooden pieces, sharpened elements or are capable of being pounded into the ground or hurting others. Totems and flags without these pieces are deemed safe and adhering to these guidelines will be allowed.
---
Reminder To Mind Your Belongings:
Unfortunately, many people have reported pickpockets, bag slashings, and theft of wallets, smartphones, purses, and other valuables during this festival season. While this small number of bad apples in the bunch doesn't define an entire crowd, there are opportunistic people who come to these events to take advantage of unsuspecting partygoers and it's important to be mindful of your valuables while at All My Friends.
Looking for tips to keep your belongings safe? Check our post highlighting some ideas!
---
Connect with AMFAMFAMF on Social Media:
Website | Facebook | Twitter | Instagram | SoundCloud | YouTube