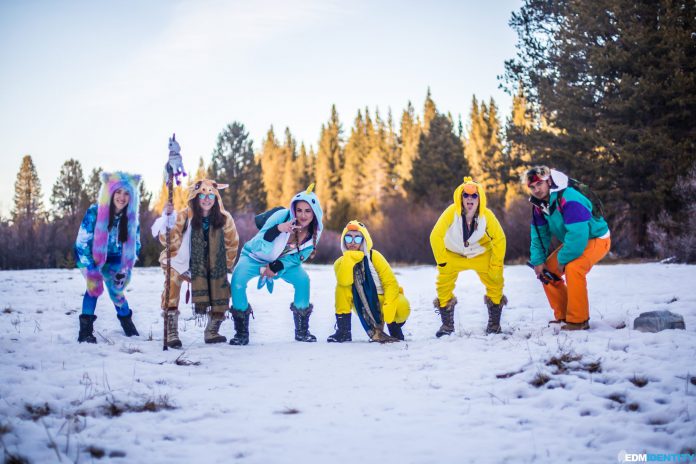 As the temperatures begin to drop it is time to step up your onesie game before you embark on your next festival adventure!
---
There is nothing more fulfilling than running around your favorite festival cloaked in the stylish warmth of a onesie! With Dirtybird Campout and Escape: Psycho Circus coming up next month and chilly New Year's Eve events like SnowGlobe creeping up faster than you think, why not make an impression with some fresh new swag.
To help you in your shopping endeavor I have dug deep to pull out some really cool options that promise to keep you snug as a bug in a rug while you get loose and limber on the dance floor. Take a look at some selections below and let us know which onesie you identify with the most in the comments!
Related: It's important to stay hydrated at festivals even when the winter chill hits. Check out our top hydration packs to keep you loaded up with H2O and dancing all night long!
Read on for our favorite onesie's made for lasting impressions!
---
iEDM Onesie's will get heads turning in your direction!
While the price may be a bit steep I just can't get enough of the tripped-out iEDM style. Made from 100% recycled Microfiber Polyester, all of their unisex onesies are crafted using eco-friendly inks and materials. And in our community, saving the environment should always be at the forefront. In addition, each onesie is created and hand-finished in the USA. High construction quality with great attention to detail ensures that the colors and design won't ever fade, crack, or peel!
Splatter Alien – Price/Link: $109.95 on Amazon
EYECOPI KOPIE – Price/Link: $79.95 on iEDM
Magic Balance – Price/Link: $109.95 on Amazon
Weed Multicolored – Price/Link: $109.95 on Amazon
---
Tipsy Elves offer up options with extra flair for those who seek something outside of the box.
With so many different styles of onesies circulating both online and on the shopping racks, it may become a challenge to find one that truly stands out. Well, Tipsy Elves has got us covered with some really fun styles that I am dying to get my hands on. While much of their onesie supply focuses on the Christmas holiday, there are a few gems that have really caught my eye. Each of these selections will have you feeling festive and ready to bust a move while your friends gawk at your spunky creative edge! Note: these onesies are available in both men's and women's sizes. See the links below for options.
Lobster – $59.95 on Amazon | Also available in men's sizes
Pineapple – $69.95 on Amazon | Also available in men's sizes
Giraffe – $59.95 on Amazon | Also available in men's sizes
Piñata – $79.95 on Amazon (Unisex)
Stick Figure – $79.95 on Tipsy Elves (Women's) | Also Available in men's sizes
---
We simply can't get enough of the animals that make the onesie style so much fun to wear!
We may have already featured a Giraffe and Lobster, but let's keep on rolling through the animal kingdom with a few more options that belong at your next festival or event. Because seriously people, how can you have a bad time when you are bouncing around the grounds sporting these hilarious onesie's?! Continue on for my favorite critter selections and I hope to see you sporting one at your next major festival or event!
Walrus: $29.99 on Amazon
Goldfish: $39.99 on Amazon
Squirrel: $59.95 on Amazon (Standard Size)
Kangaroo: $35.00 on Amazon
Cthulhu: $74.44 on Amazon
How To Train Your Dragon: $77.00 – $99.00 on Amazon
Sloth: $57.90 – $99.00 on Amazon
Shark: $57.00 on Amazon
---
Have a onesie in mind that we didn't feature? Share the love and hook us up with the details in the comment section below! Happy shopping my friends!