Leon Bolier, who is known today as BLR, ignites new and old fans alike with his latest sonic journey, Odyssee.

---
The acclaimed producer who's never let genres define his sound returns to where he debuted the BLR alias on Musical Freedom's sublabel AFTR:HRS with a journey familiar to longtime fans and yet refreshingly different than the norm. Leon catapulted into the scene with early collaborations with trance legends and gained further notoriety on a slew of labels under both Spinnin' Records and Armada Music. Now, after two albums as Leon Bolier (Pictures and Phantasma) and one as WSTLNDR (Atmostopia), Leon leaps as BLR with Odyssee and boy was it worth the wait from this creative producer.
Odyssee is the output from a year-long effort – a creative price that captures the ever-evolving sounds of Leon. Moments evoke everything from the early sounds of his Inner Stories alias to the darker depths of deep house under BLR. Let's join the journey and explore the 15 track love affair with instrumentation and electronic music.
"Odyssee started as an idea halfway 2018 when I had a few tracks ready; soon we developed this idea into something that should be bigger: an album. In the end this turned out to be a sonic showcase touching all flavors in what I see as the BLR realm. A fun and rewarding process."

– BLR
Take a listen to Odyssee on Spotify below, download or stream it on your preferred platform, and read on for my take on this fresh album!
Stream BLR – Odyssee on Spotify:
---
Odyssee is a journey distilled for the listener above all else.

At the start, Odyssee ensnares the mind with a two-part album namesake track. Combined the full length tops nearly eight minutes – it's atmospheric, opportunistic, and an exploration of how sounds interact with perception. The first part leaves big beats behind, while the second part drives the audience towards an experience unlike others I've heard this year. The best bit of the entire ensemble comes in around the minute and a half mark of Part 2. Here is what, as best I can explain it, a bit of a Parisian stroll that just effortlessly haunts the mind's eye. The effortless imagery is what helps to leave that haunting feeling in the listener.
The ethnic flares within the mind's eye don't end there though. Their present throughout the entire album. "Lokva", a collaboration with Mark Otten, evokes the Balearic vibes of the games island of Spain in the Mediterranean. Meanwhile, vocals draped by NBLM on "I Like The Way You Move" lay soaked in moonlight over the sounds of a mandolin or lute.  Perhaps this creativity comes from collaborating with Albanega. Regardless of its origin, this inclusion is as surprising as it is welcome as a departure from the norm. This motif reappears on "Vida Futura" with plenty of ethnic instrumentation used as a hook.
"Calor," with its piano melodies instantly calls back to "Summernight Confessions,"  while "Carillon" offers syncopation in its percussion that undoubtedly harkens its name. Back to back vocal tracks "Don't You Love This Feeling" with NBLM and "Symmetry" with Rob Styles and featuring Tiggi Hawes showcase the airplay singles the album can spawn. "Symmetry" indeed already is a single as of the writing of this review and might be the most club centric track of the entire album.
That's not to say that the album lacks moments where it stumbles.
"Night and Day" and "Orchid" are strong tracks but break the mood established when listened to as members of the album's flow. "Orchid" explores a different structure and serves more like an interlude bridging sections of the album – but its vocal tweaks feel jarring to what comes before and after it.  Obviously this issue is null when listening to the tracks on their own, but as Odyssee is an album, it feels remiss to not discuss the flow of the whole piece artistically.
"Méduse" is amazing and equally a club-centric sound, but the cut up French vocals just feel out of place to the booming sound of the rest of the production. This may be highly subjective but I invite all listeners to take the chance and see what they hear.  "Bark" likewise feels at an odd place on the album. Perhaps it should pop up earlier. The dark vocal lines of "I don't need anyone" and "Do you love me?" evoke further depressing thoughts centered on loss, relationships, and the stumbles of everyday living. Be in the right state of mind when you dive into this one or you may find yourself twisting the wrong way.
Odyssee is a work of today wrapped in lessons from yesteryear.
There is plenty to adore listening to this latest effort from BLR. Taken as a complete work the album is both idiosyncratic and yet mesmerizing, and even after repeated listens I cannot overcome the wealth of emotions that pour forth.  Lessons from Leon's earlier effort shine through brilliantly (see "Revelation" as a prime example). The album closes with a chill pop-inspired work simply titled "And That's Okay With Me" and indeed – this album is all okay with me. Take the plunge, follow a path traveled less, and embark on this odyssey with BLR.
---
BLR – Odyssee – Tracklist:
BLR – Odyssee (Part I)
BLR – Odyssee (part II)
BLR & Albanega – I Like The Way You Move ft. NBLM
BLR – Night & Day
BLR & Mark Otten – Lokva
BLR – Orchid
BLR vs Propulsive – Vida Futura ft. Danni Monroe
BLR & Albanega – Calor
BLR – Carillon
BLR & NBLM – Don't You Love This Feeling
BLR & Rob Styles – Symmetry ft. Tiggi Hawes
BLR – Méduse
BLR – Bark
BLR – Revelation
BLR & Albanega – And That's Okay With Me ft. NBLM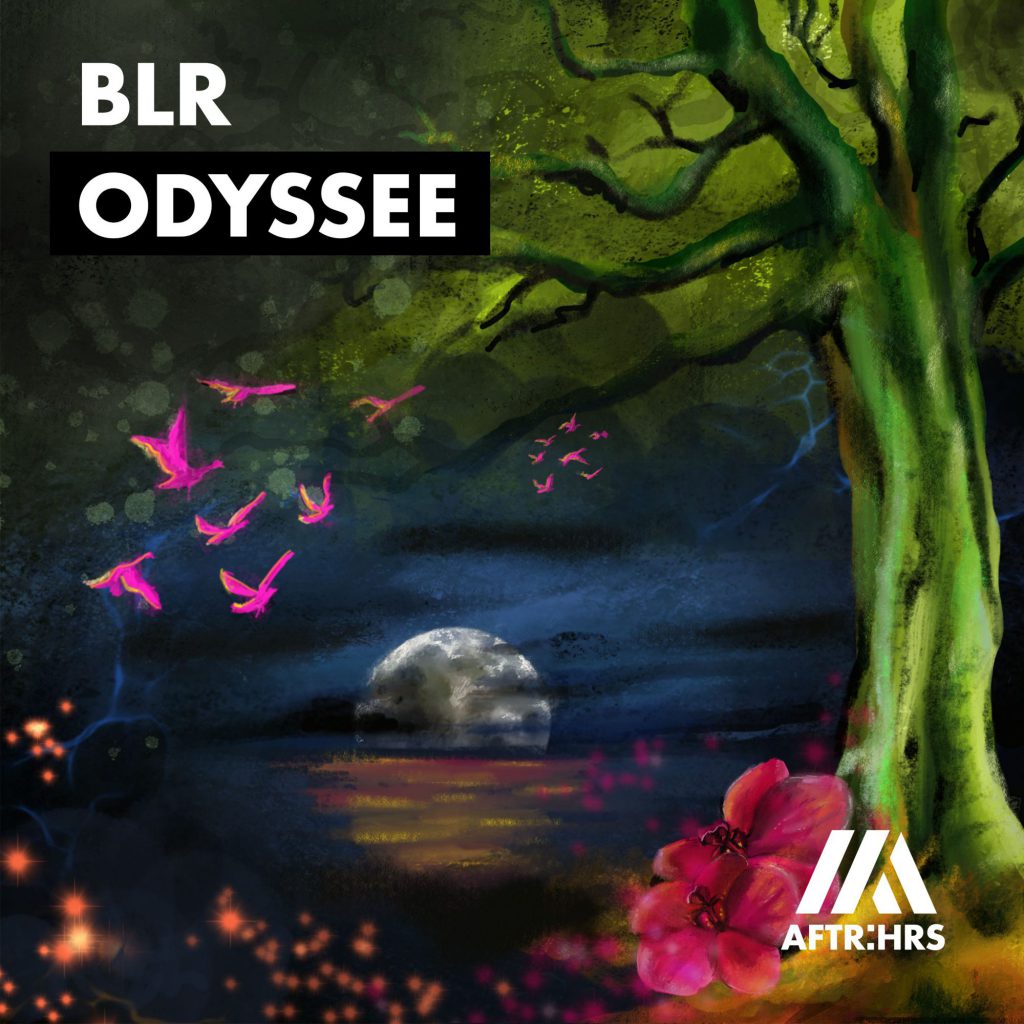 ---
Follow BLR on Social Media:
Facebook | Twitter |  Instagram | SoundCloud