Lil Texas teams up with LUCA LUSH for "Sucker Punch", a high energy, in-your-face hardcore track released on Carnage's Heavyweight Records.
---
Lil Texas, the now iconic leader of the American uptempo hardcore movement, has joined forces with genre bender LUCA LUSH to release "Sucker Punch". Blending Lil Texas' hardcore brand with LUCA LUSH's "lush rave" vibe, the track has four different crazy drops to choose from, making you feel like you've been sucker punched right across the face for four straight minutes.
Listen to "Sucker Punch" now on Spotify, keep reading and watch the hilarious video below, and let us know which drop you think hits the hardest!
Stream Lil Texas & LUCA LUSH – "Sucker Punch" on Spotify:
---
Although releasing music for several years, Lil Texas introduced his unique Texcore style in 2018 and has gone all in on reshaping the American hard dance scene. Often eclipsing 200 BPM, Lil Texas and his style of hardcore are continuously gaining fans while Texcore continues to infiltrate hard dance sets all around the world.
LUCA LUSH, instantly recognizable with his fluorescent blue hair, burst onto EDM fans' radar around 2015 with a seemingly endless selection of remixes uploaded directly to SoundCloud. His music has always maintained a heavy bass vibe, but it's simply impossible to narrow his sound down to even one list of genres. He's a true artist that makes whatever he wants, and his music has consistently improved with time.
"Sucker Punch" boasts a fast tempo and combines the expertise of both artists to produce a quality hard dance track.
As soon as "Sucker Punch" starts, the energy is high and never lets up for the duration of the song. After an intense buildup, the first drop hits with a big sidechained kick along with a variety of other ravey sounds. Before giving us a chance to catch our breath, it transitions seamlessly into another drop with even heavier bass and more intense sounds.
After a cinematic breakdown in the middle of the song, true craziness ensues. An intensely fast sound effect is now the focus of the drop, which then descends into a section that's similar to the second drop of the track with the perfect amount of variation.
I've been waiting for "Sucker Punch" to be released since hearing it earlier this year at EDC Las Vegas.
Not only did Lil Texas play "Sucker Punch" while closing the wasteLAND stage on Friday night, but I wandered over to LUCA LUSH's set on the Brownies & Lemonade art car on Saturday. After an awesome set touching a variety of genres, Luca saved his craziest track for last and exclaimed that he'd be closing with his new collab with Lil Texas.
Clearly feeling the energy like all of us, Luca came down from the art car to start a mosh pit in the crowd. Seeing him rage with everybody was an awesome moment, and I'm happy that this song is finally seeing an official release! Follow their socials below and let's hope to hear another collab from these two in the future.
---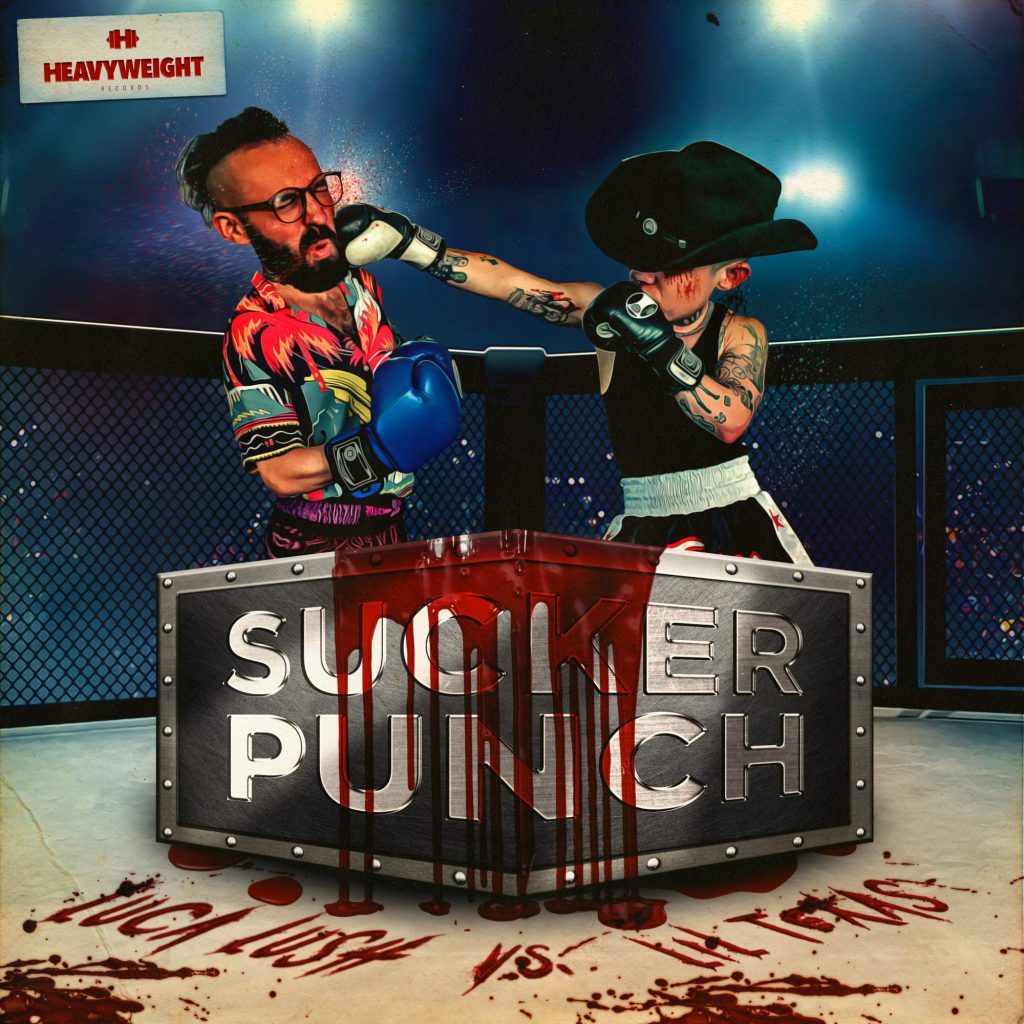 ---
Connect with Lil Texas on Social Media:
Website | Facebook | Twitter | Instagram | SoundCloud
Connect with LUCA LUSH on Social Media:
Facebook | Twitter | Instagram | SoundCloud