The presale for Camp EDC 2020 has begun! Prices have increased this year as Las Vegas applies a lodging tax, but if you grab your tickets before September 2, Insomniac will cover them for you.
---
Update September 23: After the presale that ended earlier this month, Insomniac has announced that the main sale for Camp EDC will start on Friday, September 27 at 9am PDT.
With EDC Las Vegas selling out of all tickets this past weekend we suggest making sure that you lock in your camping option via their website as soon as possible once they're available.
Not convinced? Watch the Camp EDC 2020 Trailer on YouTube:
---
Previously: Camp EDC is on the rise. This year's edition received rave reviews, and despite having only been around since 2018, the accommodations have become an essential part of the event's yearly festivities. Camping at EDC offsets a lot of transportation hassles one might encounter in their EDC Las Vegas planning. Although there is an increase in pricing this year due to new lodging fees being applied to camping, Camp EDC is still is a viable option for those looking for a place to stay for the weekend. You can secure your spot by heading over to the Camp EDC presale now!
Related: Check out our review of this year's Camp EDC to learn why it's a game-changer.
Earlier this week, Insomniac sent an email to returning campers with preliminary details about camping for EDC Las Vegas 2020. The email was a letter from Insomniac CEO Pasquale Rotella informing people that per direction from Clark County, EDC camping will now be subject to the same lodging taxes as hotels and resorts on the Las Vegas strip.
This means individuals and groups interested in purchasing camping passes will see a steeper than expected price increase. Currently, the lodging tax in the area is 12.5% which will translate to a sizable price upsurge to the increasingly popular EDC Camping passes.
In the same email, Rotella offered to cover the new lodging fees if people purchase their camping passes before 11:59pm on Monday, September 2.
The Camp EDC presale includes options for Bring Your Own RV with power options as well as MoonGlow and Desert Rose tents. You can make your full purchase plan now or opt-in to one of the available purchase plans.
Before fees and taxes, camping prices start at $1,099 for MoonGlow, $1,299 for Desert Rose with 2 twin beds, and $1,399 for Desert Rose with 1 queen bed. For RV camping, prices start at $449 with the option for a $450 30 AMP or $650 50 AMP upgrade. If you need to bring an extra car to your campsite, you may purchase an additional vehicle pass for $100 before fees.
For more information regarding the different levels of camping and amenities offered, visit the Camp EDC website.
Regardless of price increase, one thing is for certain – Camp EDC adds a whole new level to the EDC Las Vegas experience. We're excited to return to Camp EDC in 2020!
Are you planning to head to Camp EDC next year? Let us know in the comments!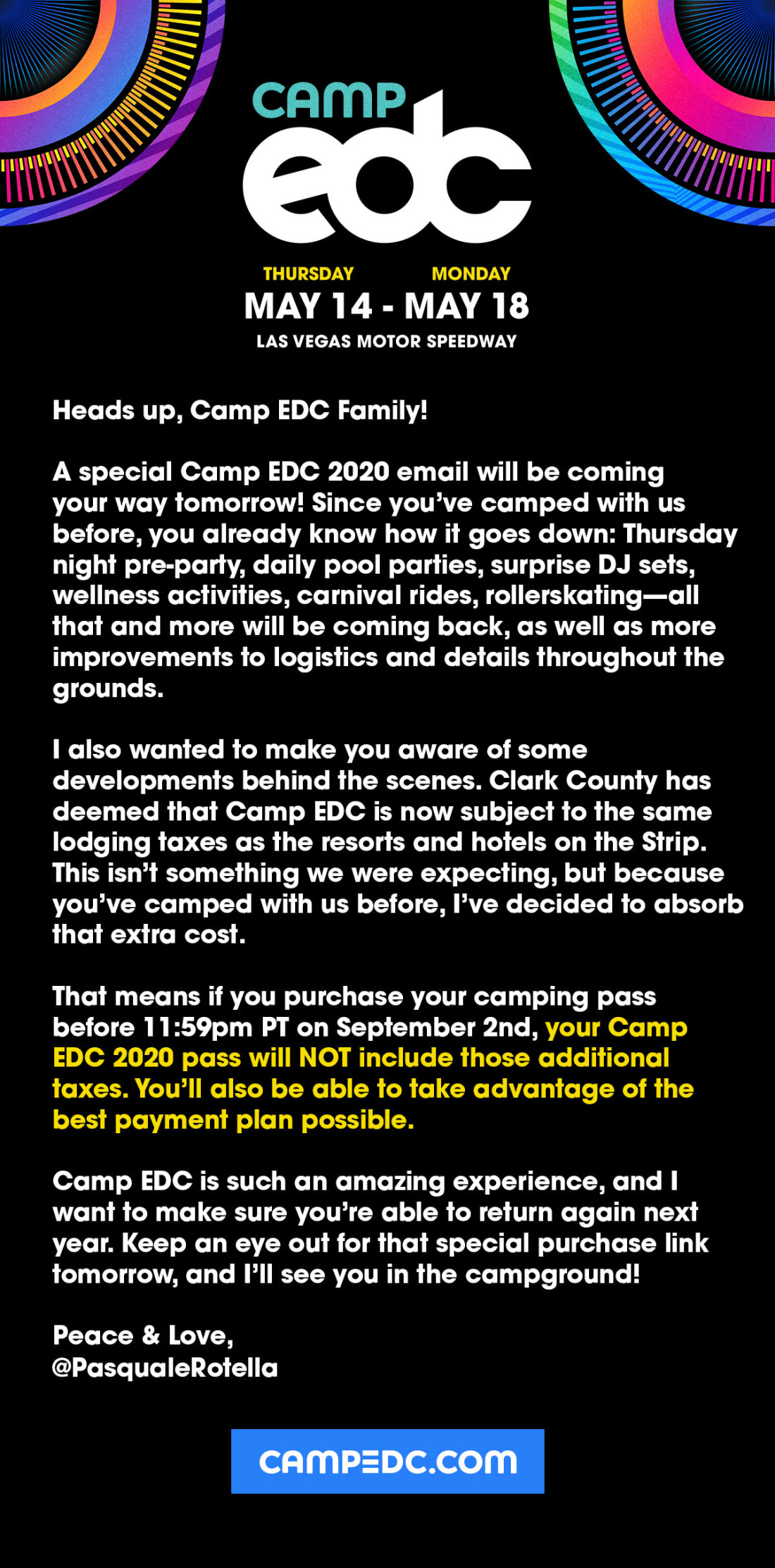 ---
Connect With EDC Las Vegas On Social Media: