For this week's Artist Spotlight we introduce you to REZI, a Play Me Records artist with a fierce passion for everything bass-centric!
---
When it comes to the intense musical stylings of dubstep and bass music, REZI is a name that we have quickly fallen head over heels in love with. He emerged as a young artistic visionary growing up in the ever-expanding Buffalo music scene. With dreams in tow and a whole lot of heart, REZI captured the attention of Play Me Records drum & bass wonder woman Reid Speed. From there, REZI hit the ground running, delivering his first EP, Artificial Contentment, a package full of hard-hitting dance floor fire starters that prove his worth as an artist to watch!
Dripping with swag, REZI has developed an unwavering knack for delivering a well-rounded live event experience as well. In fact, it is his attention to detail and understanding of just what his bass fans desire in their beats that will surely help continue to catapult him into the upper echelon of success. Tracks like "Come And Get It" and his immaculate remix of Ariana Grande's "7 Rings" are just a couple examples of what makes our hearts tick with excitement for a bright future full of REZI music.
Continue below for an EDMID Guest Mix of epic proportions and then read on as I dig into the mind of one of my favorite up and comers, REZI!
Stream EDMID Guest Mix 182 || REZI on SoundCloud:
---
With your roots as a fan, DJ, and producer in the dubstep/bass music realm, what is it about the genre that speaks to your heart and how has the dubstep/bass scene in your hometown of Buffalo helped to mold your direction in the industry?
I grew up listening to a majority of the electronic genres; drum & bass, trance, house, dubstep, future bass, etc. All genres have songs that are stale or cookie-cutter, and I hear them and just say "meh." In order for music to speak to me, it has to be the project directly. There are EP's, singles, and albums in many genres that give me goosebumps.
But to answer your question more directly, I would say dubstep has touched my heart the most. I started listening to dubstep back when Skrillex released his remix of "Promises" by Nero, and fell in love with the genre halfway through 2014 when I discovered Firepower Records. Dubstep got me through a majority of my high school experience. Get on the bus to school, put my earbuds in, turn dubstep on, only take them out when my teachers told me to, and when I walked in the door at home, in which I would go to my room and listen to it on my computer for hours.
There's just something about the creativity of dubstep bass, the movement of the drum beats, and the beauty of the music theory behind it all that can always be refreshing and constantly evolving into bigger and better subgenres. I just got lucky that dubstep had influence in my hometown, and I had the ability to get in contact with the people who basically ran it while I was growing up.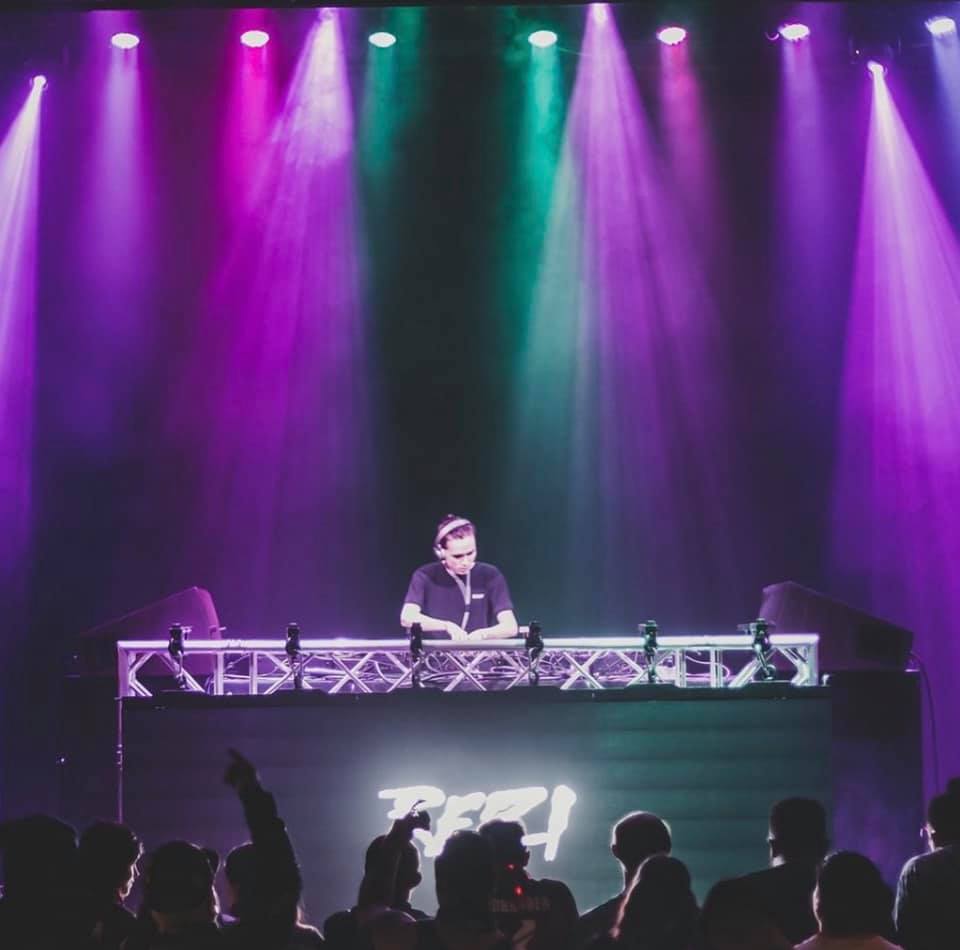 As a young DJ/producer, what are some of the most difficult hurdles you have had to cross and do you feel that your age has hindered you or helped you in regard to gaining industry respect?
I personally feel lucky that I am young in this industry. With artists such as Marauda and Moore Kismet, age feels like it doesn't matter as long as people can get down with what you make. I feel like since I am younger I have more time to learn and grow as a person and an artist. And maybe I'll have time to do other things too.
Reid Speed is an artist that has become a mentor to you after first catching her ear with "LMSD", a track collab with Notixx. Now, as a blossoming producer/DJ on Reid Speed's Play Me Records, what are some industry lessons that you have learned from her that you would like to pass down to others breaking out in the scene?
One thing I've learned from her is the importance of remembering your roots. If you aren't doing this for the love of the music, you shouldn't be doing it at all. The amount of time, money, and emotion needed to invest in this journey of sorts is immense. Especially with today's saturated market.
There will be constant frustration, excitement, confusion, insecurity, and a huge lack of financial return. But with the right mindset and the love for what you make, you might just have a chance to accomplish the dreams that drive you. Just keep doing what makes you the happiest.
Last month you took over Reid Speed's Full Speed radio show with a high octane guest mix. Can you talk about some of the highlights from that mix and the creative process behind its development?
Well, when starting the mix I thought it would be appropriate to open with drum & bass because that's what Reid's radio show is based around, although I can't ever just play one genre so it only lasts a couple of tracks in. My favorite part would probably be when I decided to put the song "Multicolored Diamonds" by Craz in since I discovered that song when I first fell in love with bass music back in 2014. I didn't think about it until it randomly popped back up in my head one day. Just a little throwback that made me happy.
Your recently released Artificial Contentment EP is a fantastic representation of your focus as a producer. Can you give us some insight behind your inspiration to run the gamut of trap and dubstep while opening with "Artificial Moonlight", a track that drips with hypnotizing melodic beauty? 
"Artificial Moonlight" is something I made last year when I was bored and got ahold of a MIDI file of Moonlight Sonata by Beethoven. This is my favorite composition from him, and I wanted to see if I could turn into something else. After completion, it seemed like a great intro track and I decided to save it for the intro for my next project which turned out to be Artificial Contentment.
It is a pretty long and droning intro to the EP that I'm sure a lot of people just glossed over because the lack of drums or hype factor, but it just didn't feel right to not appreciate the beauty of the entire composition. One thing people always tell me is that my intros are too long. But I feel like a longer intro not only builds more hype for the upcoming drop but also just might get people to enjoy the musicality of it all instead of just judging tracks off of how the drop sounds.
Can you talk about the most difficult track to produce on Artificial Contentment and the journey you went through to perfect it? And in your own eyes, which track excites you the most and why? 
In my eyes this EP is far from perfect, there are many things I would change about it if I would've decided to release it at a later date. The hardest track for me would have been my collaboration with Penn Chan, "Crankin'". This track went through many sessions, many exports, many revisions, and was originally going to be a single. The first drop sounded completely different for about a year, until about three months before its release. It sat in private track purgatory for a very long time, but I am very happy we were able to get it out.
Collaborating with Reid Speed on 2018's "Unfound" has led you to develop a remix contest in preparation for the release of the "Unfound" remix album. What kind of feelings were invoked when you heard your personal track under another artist's light? 
The first artists to finish their remixes were 8ers, Notixx, and Audiowrx. It felt really good to hear something that I spent a lot of time focusing on re-interpreted by so many talented musicians. Although the remix done by Exclusion & Wye Nawt blew my mind the minute I heard it. They turned our tune into something completely different and beyond amazing, and I cannot thank them enough for doing so. It never disappoints live, and I don't think it ever will.  
Staying on the topic of remixes, you remixed Ariana Grande's "7 Rings". When taking on a task of this caliber, do you just dig right in and see where the music takes you or is there specific planning that takes place to help guide the result?
Sometimes I find tracks I like in the mainstream that I feel could use a little more to them. I look around the internet to see if I can find the songs split into an a capella and instrumental, import them into Ableton, and from there it's just whatever comes to mind.
There is rarely any planning in my creative process because I feel like if you do too much planning all your tracks will start to feel and sound too similar. If it sounds good to me, I will put it out for the world to hear. The only constant thing in my projects is usually just the way I sidechain and my master chain.
Now, let's flip the script and talk about your vision as a performing DJ. For those who have not yet seen you behind the decks, what kind of energy do you bring to the dance floor and what do you hope that attendees take away from their REZI experience in the club?
I like to treat my live performances as a journey through bass music. I always have sections of my set dedicated to a specific genre. For example, I will start with slower trap-esque bass music and work my way up to higher BPM dubstep while building the hype factor with it.
I'll keep the builds and drops going for a little bit, then play the breakdown of a song to give people time to breathe, vibe, get a drink, answer a text. Then pick it back up going into a faster BPM to bring a new level of movement and excitement to the music and keep it fresh. I want people to enjoy and remember the set so they are more inclined to go to the next show, and maybe check out the music I make. 
Finally, let's talk about your current goals and five-year plan. What are some of your goals moving forward in your career that you'd like to achieve? 
Currently, I am focusing on developing my sound enough to cure the insecurities I have with my music. I decided not to go back to college after a semester to focus on this project and I'm giving myself till the age of 24 to try to make something out of what I love before I fall back on schooling again.
I am going to focus on gaining the attention of the EDM industry and its audience, as well as make friends in different levels of the industry. The next milestone I'm working toward is gaining a support slot on a nationwide tour, so I can expose more people to the experience I have to offer.
---
Connect with REZI on Social Media: