The Alchemy Tour brought a huge 25,000 person crowd to Long Beach with epic music from Slander, NGHTMRE, Seven Lions, and more!
---
With one month left to go of summer, along with the cancellation of Kaskade's Sunsoaked, The Alchemy Tour Long Beach stop at the Marina Green was the summer event for me. Not only did the lineup include some of my favorite artists, but friends and family also came from all over the country to see the first stop of the tour which took place.
All week NGHTMRE and Slander posted that they expected a crowd of 25,000 people, with Insomniac Events posting that tickets for the event were nearly sold out. Many attendees posted on various Facebook groups worried about the space for the event since typically events at the Marina Green venue only held 10,000 people. This prompted me and my friends to come to the venue as early as possible to find parking and avoid long entrance lines.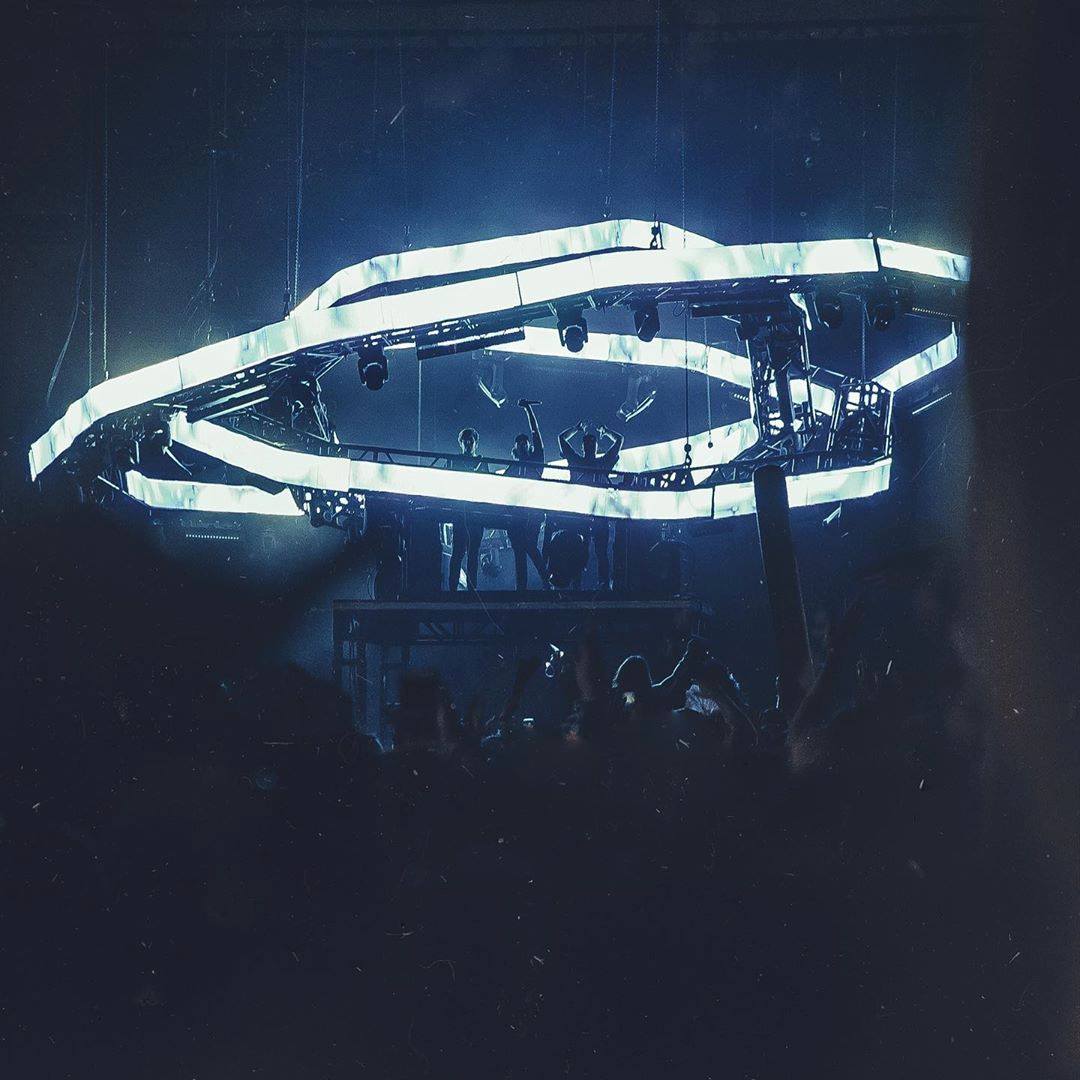 Due to familial obligations, I couldn't make it in time to see Shadient open the event. Thankfully, I got there just in time to see Jason Ross warming up the crowd.
Jason brought in the feel-good vibes with "Shelter" and his remix of Above and Beyond's "Sahara Love." With his set being earlier, I felt it was a good way to give attendees a break from the headbanging since Svdden Death played after. I'm not the biggest fan of bass music but if I was, I am pretty sure Svdden Death would have blown me away. His set was very cohesive and had the crowd going crazy with how heavy he went.
After his performance, crew members came on stage to prep for Glitch Mob. I thought the 20-minute break was to help bring out the Blade 2.0 but when no equipment was changed, I felt disappointed, especially since Seven Lions and Gud Vibrations had a special stage set up for their performances. The crowd did not have the same high energy during their performance and I feel the Blade 2.0 would have helped bolster it. It could also be that the crowd wasn't as familiar with Glitch Mob as the other headliners. The crowd became more vocal when Glitch Mob dropped their remix of Illenium's "Crawl Out of Love".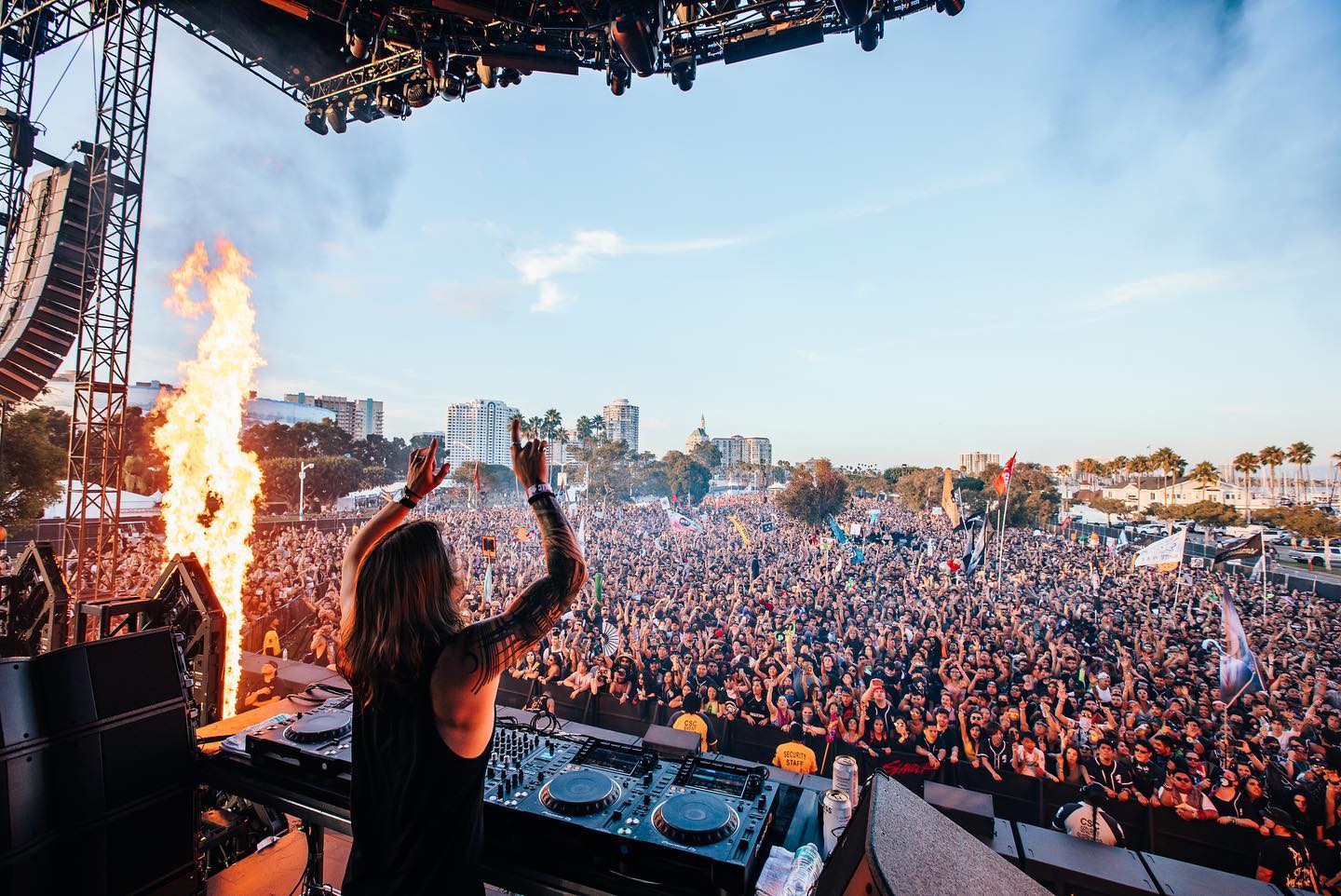 While the crowd was quieter for Glitch Mob, they roared for Seven Lions and Gud Vibrations.
The atmosphere shifted greatly as Seven Lions started playing. He began with an amazing new ID to kick off the Alchemy Tour then took us through a magical journey through his music and visuals once more. Within one hour and 15 minutes, he went through over 20 different songs with mashups. The crowd lost it when he combined Zedd's "Clarity" with his tracks "Calling You Home" and "Dreamin" and sprinkled in a few bass bangers such as "In Your Head" (RL Grime Edit) by G Jones and SKisM's remix of Far Too Loud's "600 Years".
For Alchemy, he brought new LED "diamonds" to add to the performance. While I loved the ones created for his Journey I Tour, the new ones look more travel-friendly. I love how Seven Lions and his team focus on the visuals and production for him tell the Seven Lions Mythos with his music. The sunset time slot added to the magical atmosphere and made for a memorable set. As an avid Seven Lions fan, this set definitely belongs on my top 10.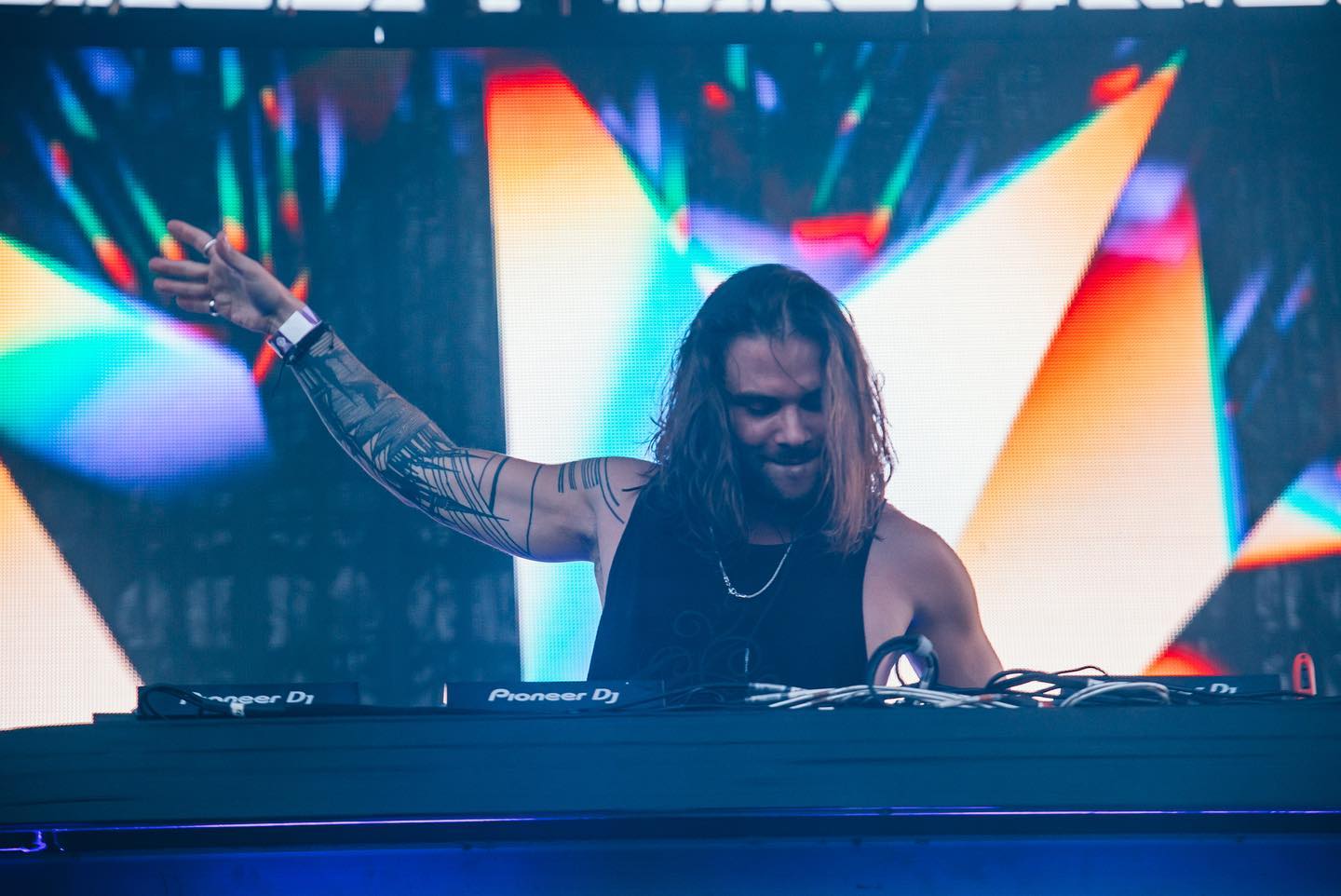 Lastly, Gud Vibrations took the stage to close out the epic, nearly 8-hour event.
After Seven Lions, I had to leave the crowd and watch Gud Vibrations from the street level. I watched as the crowd roared even louder for Slander and NGHTMRE as the heavy bass sounded. While they performed, CO2 cannons hit the stage as their stage setup called "The Atom" started to take form. It was impressive to see three separate parts of it move independently in all directions and tilts. I have to say it's impressive to see in person and definitely makes sense for them to close with such an epic set up.
Throughout their set, they played their version of "Gud Vibrations" and bought out a variety of special guests, including Dylan Matthew who surprised us by popping out to sing "Love is Gone" and "First Time" with Seven Lions. Later, Kompany came out for "Broken", their track with Slander and FKNSYD which was released the day before The Alchemy LB stop. Gud Vibrations lived up to their name with a fun set full of bass, melodic dubstep, and some trap.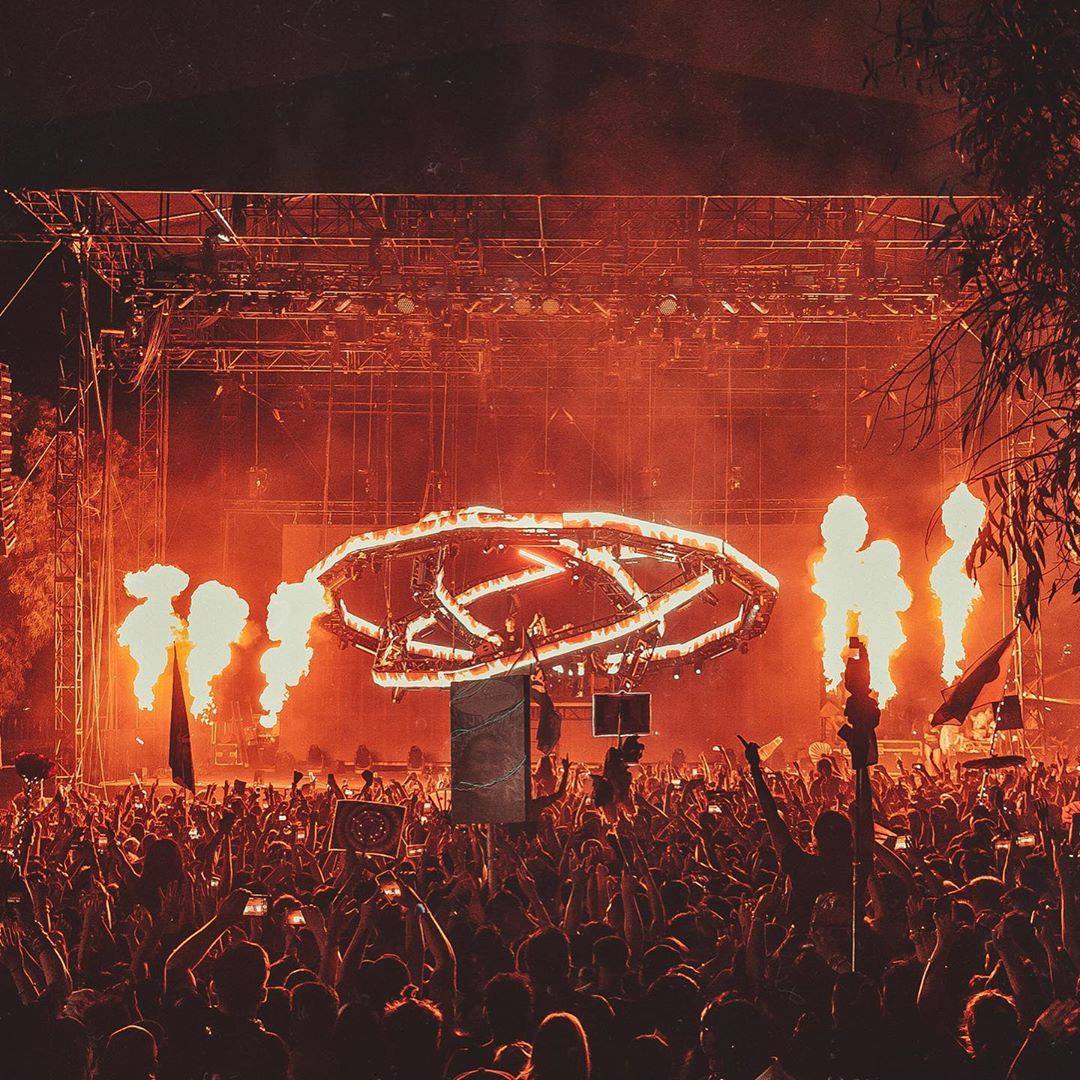 Insomniac Events produces some of the best experiences in SoCal but they do have the occasional hiccups.
On the Friday before the event, I received an email from Front Gate Tickets Customer Service providing box office and show hours, the event address, parking information, info for Alchemy Enhanced Purchasers, and a map of the venue. However, the email was missing other information such as a list of accepted and prohibited items, the set times, and the closures information that the LBSpecialEvents twitter sent out. I wished they had sent all the information ahead of time for more people to become familiar with the map.
For attendees upgrading to VIP, they had to wait for the VIP merch pick up to get their names added to the pick-up list.  I found the process to be very inefficient as they offered no explanation why they couldn't just scan the VIP ticket for merch pick up.  It also bothered me that the pick up list openly displayed people's full names and emails for everyone to see. Perhaps a VIP merch ticket voucher process would have been more efficient.
For the first Alchemy Tour stop, Insomniac and the Alchemy production team did a great job putting on this show.
This was a massive event and I can easily picture this location hosting more electronic events in the future. I saw enough bar areas for people to purchase alcohol or water in a timely manner. The event had a water station, tents for shade, and enough food trucks for the location. They provided enough medical tents due to the large crowd.
In the meanwhile, avoid missing the Alchemy Tour if you are a fan of Glitch Mob, Seven Lions, NGHTMRE, or Slander. I guarantee you will get FOMO. Each artist brought something different to the experience and showed off their best qualities. My advice is to attend an outdoors Alchemy event for a more pleasant experience, as it will be a great way to end your summer fun with great music and an energetic crowd!
Tickets for other Alchemy stops are still available! Be sure to purchase them directly from official ticketing vendors at alchemytour.com. 
---
Follow The Glitch Mob on Social Media:
Website | Facebook | Twitter | Instagram | SoundCloud
Follow Seven Lions on Social Media:
Website | Facebook | Twitter | Instagram | SoundCloud
Follow NGHTMRE on Social Media:
Website | Facebook | Twitter | Instagram | SoundCloud
Follow SLANDER on Social Media:
Website | Facebook | Twitter | Instagram | SoundCloud