In anticipation of North Coast Music Festival's 10th anniversary this week, start planning your weekend and make sure you're prepared for the fest!
---
Labor Day Weekend is approaching, and festival-goers from around the Midwest know that North Coast Music Festival is right around the corner. Now in its tenth year, North Coast has now been providing music fans with incredible memories for an entire decade. However, this year, things will be a considerable change compared to the festival that Coasties have grown accustomed to.
Formerly taking place at Union Park, a comfortable park on the near west side of the city, North Coast Music Festival will be moving straight east toward the lakefront to Live Nation venue Northerly Island located on Lake Michigan. Northerly Island will provide Coasties with an awesome view of the skyline and a venue that's usually reserved for big headlining bands on nationwide tours.
This year's North Coast headliners include Bassnectar, Major Lazer, Flux Pavilion, and Jauz. With two main stages and two additional stages providing a home for local talent, there's a ton to look forward to this Labor Day Weekend at North Coast's new home.
---
North Coast 2019 Essential Info:
Dates: August 30-31, 2019
Hours: 2pm – 11pm
Ages: All Ages
Venue Address: 1300 S Linn White Dr, Chicago, IL 60605
Tickets: Purchase HERE
Facebook Event Page: RSVP HERE
---
North Coast 2019 Set Times: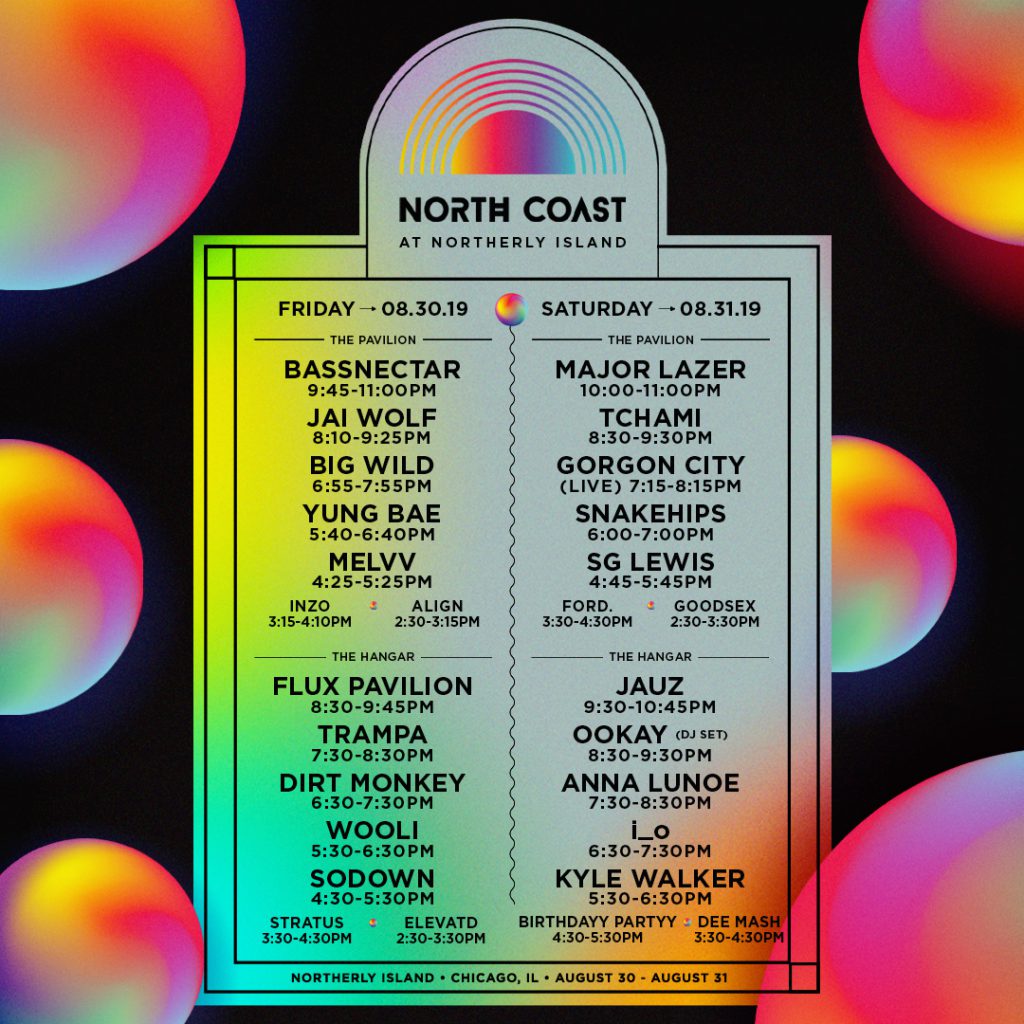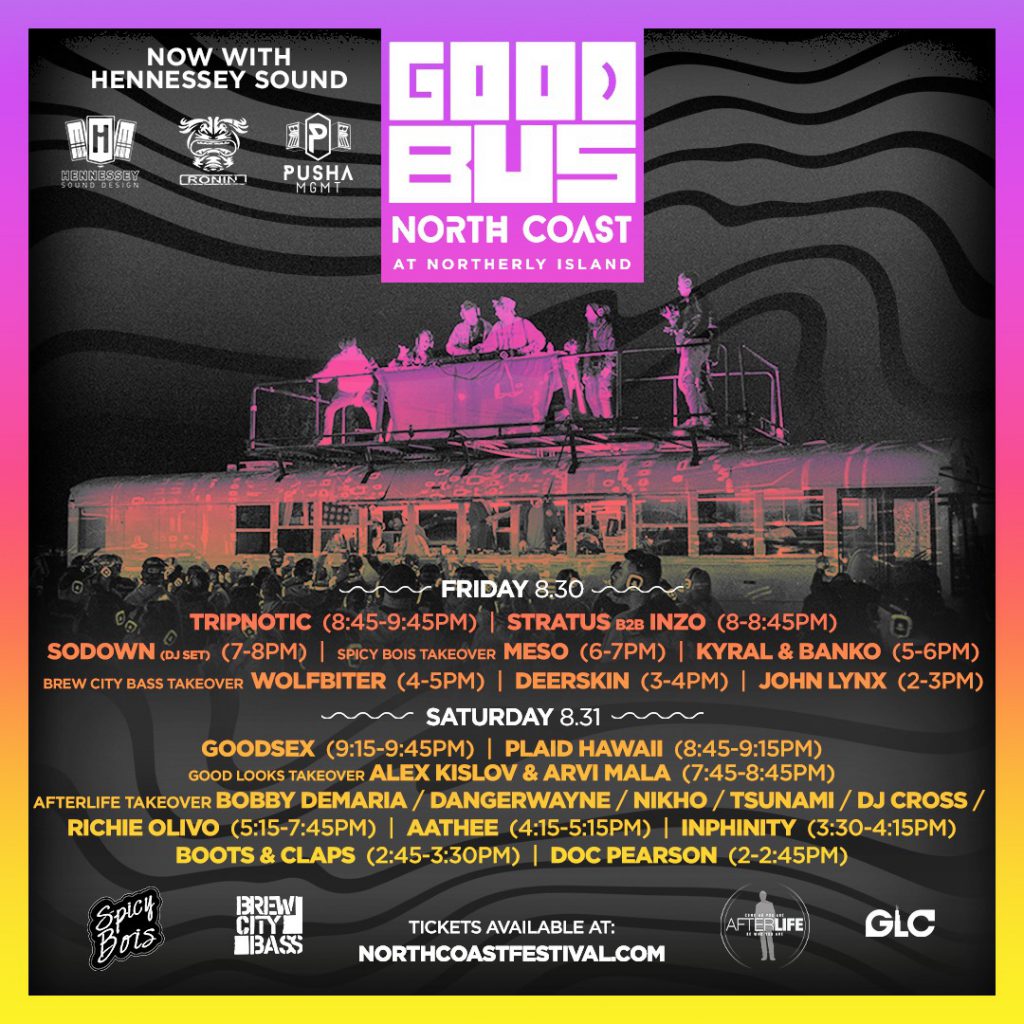 ---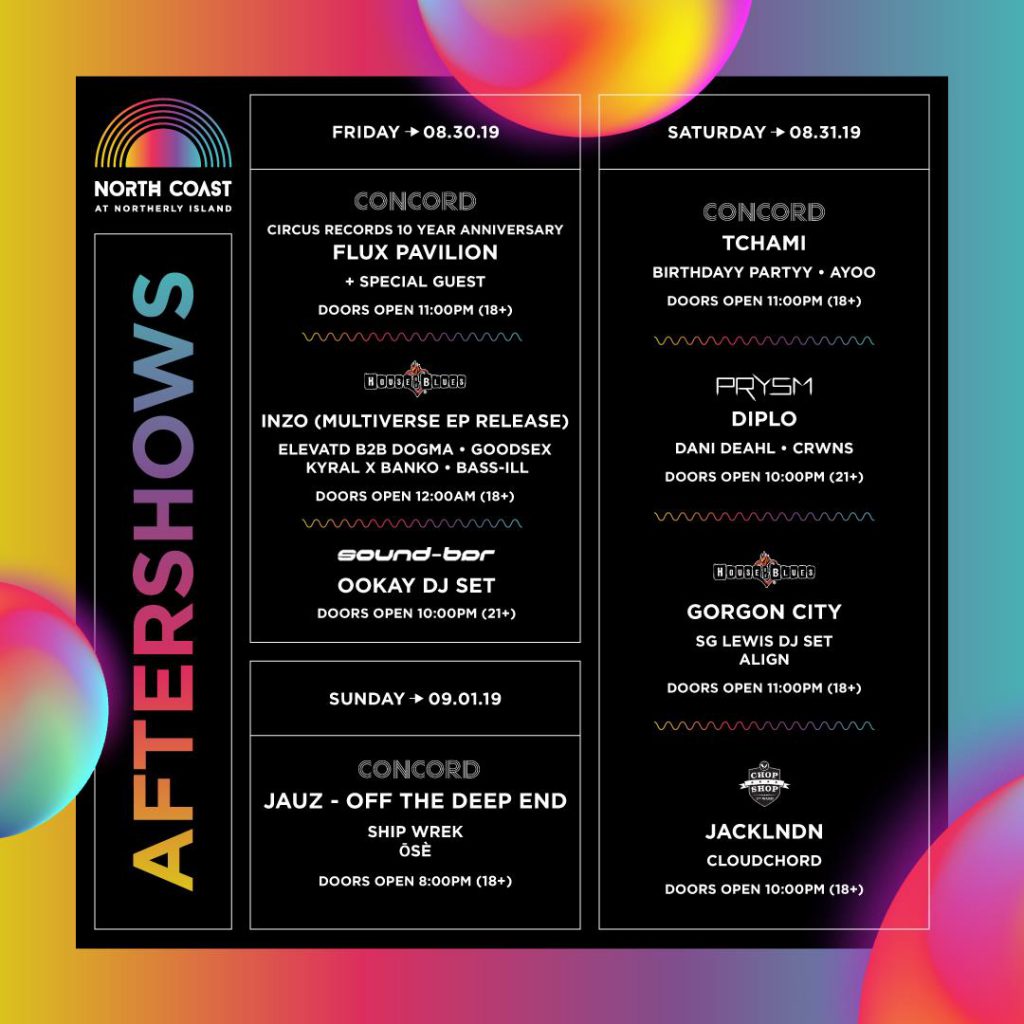 ---
North Coast 2019 Map: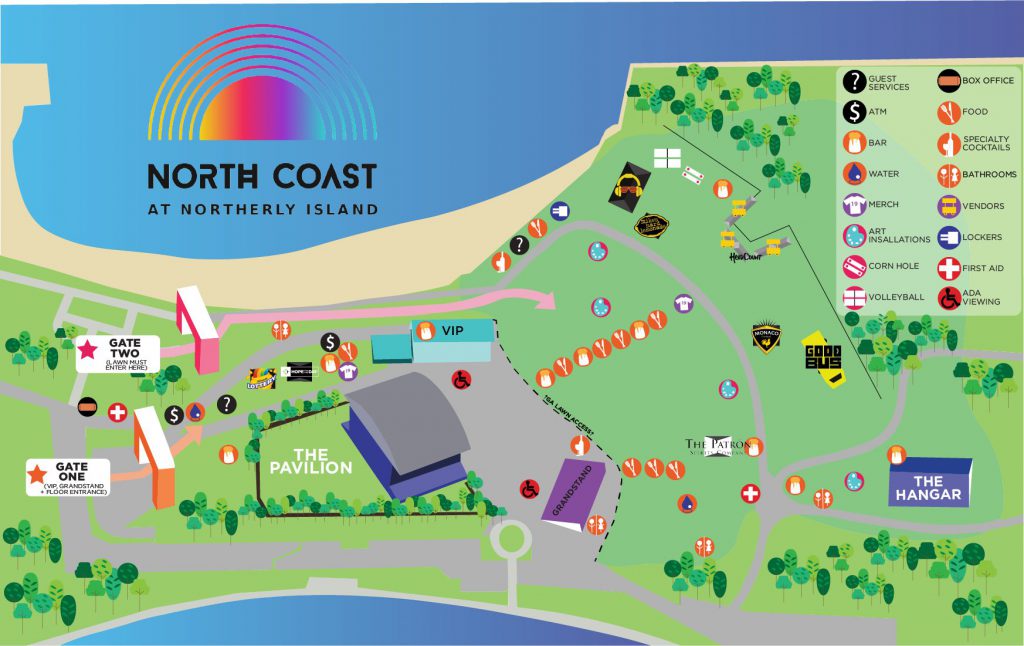 ---
North Coast 2019 Transportation & Amenities:
CTA buses will have a designated drop-off and pick-up located within the East Museum Lot
CTA trains are accessible via the Roosevelt Road station
Uber pick-up is located on McFeteridge Drive, just south of the Field Museum
Several parking options starting at $35 can be found on North Coast's website
Bike parking is available at the corner of Solidarity Drive and Linn White Drive
Lockers (with charging) can be reserved now 
Free water stations will be located throughout the venue
No re-entry or ins & outs
More information can be found on the guide on North Coast's website
---
North Coast 2019 Do's & Don'ts:
Acceptable Items
Blankets (no larger than a beach towel)
Cell phones and portable chargers/external batteries
Cigarettes and lighters (cigarettes must be sealed upon entry)
Deodorant (must be sealed at entry)
Earplugs
E-cigs/vapes (refillable liquid chambers OK, must be empty upon entry—no E-liquid or E-juice of any kind will be permitted)
Empty 1.5 L transparent Camelbak
1 factory sealed or empty bottle of water up to 1 gallon
Fanny packs
Glowsticks & glowing/illuminated costumes or jewelry
Gum (must be sealed upon entry)
Hula hoops—including LED hoops
Hydration packs with no more than two main compartments and one smaller compartment—must be empty upon entry
Juuls (one sealed Juul Pod OK at entry)
Lip balm & gloss (must be sealed upon entry)
Non-professional flash/still cameras, handheld and mounted GoPros (Head/Shoulder Strap) are permitted into the venue. GoPros mounted on stands/sticks/tripods/wands are prohibited.
Personal misting fan with a bottle no larger than 1.5L (must be empty upon arrival)
Physician-prescribed medication that is not expired (must show physician's prescription and consult with a safety officer upon entry)
Powder makeup (liquid makeup is prohibited) – Must be able to see face with ID
Rain ponchos
Small bags, single-compartment backpacks, plush backpacks, purses (maximum 12″ x 12″ x 6″)
Strollers
Sunglasses & hats
Sunscreen lotion (no aerosol sprays – inspected upon entry)
Tampons and pads (must be sealed at entry)
Wet wipes (must be sealed at entry)
Prohibited Items
Aerosol products/cans
Air/helium/or any type of gas balloons/balls/inflatables
Anything deemed a weapon or weapon accessories of any kind (includes firearms, ammunition, pocket knives, pepper spray, explosives, fireworks, etc.)
Mace/pepper spray or other dangerous chemicals and compounds
Balls or Frisbees
Bota bags
Bandanas or mask of any kind
Drones, remote-controlled aircraft, toys
Illegal substances, drugs, and or drug paraphernalia
Edible jewelry, candy bracelets, or necklaces
Eye drops
Gas masks
Glass, cans, cups, or coolers
Handheld and mounted GoPros (Head/Shoulder Strap) are permitted into the venue.  GoPros mounted on stands/sticks/tripods/wands are prohibited.
Helium balloons
Inflatables
In-line skates, roller skates, skateboards, or bikes
Large chains or spiked jewelry
Large purses, bags or backpacks (over 12″ × 12″ x 6″)
Laser pointers and air horns
Lawn chairs
LED gloves or LED microlights used for light shows
LED whips
Liquid makeup
Paint, markers, pens, or spray paint
Massagers
Musical instruments
Open packs of cigarettes (upon entry)
Outside food and beverages including alcohol
Pacifiers
Pets (SERVICE ANIMALS ARE ALLOWED)
Professional photo, video, or audio recording equipment (no detachable lenses, tripods, big zooms, or commercial-use rigs)
Signage over 12" x 12" (this includes totems), totems, signs, posters, flags, banners
Stickers, flyers
Spiked clothing accessories
Stuffed animals or dolls
Tents, umbrellas, chairs, or blankets
Totems/staff/flag pole items
Toy guns, water guns, slingshots
Umbrellas or canes (non-medical)
Unauthorized solicitations, handbills, sampling, giveaways, etc.
Unsealed tampons or pads (upon entry)
Wagons
Whistles, horns, or other noisemakers or air horns
Wind chairs/sofas
Face masks of any kind/ tactical gear
Full face paint (must be able to match face to ID)
(Venue, Law Enforcement, and Security's sole discretion) Anything deemed suspicious, inappropriate, unsafe or disruptive
Laptops, tablets, personal computers, or two-way radios
---
Reminder To Mind Your Belongings:
Unfortunately, many people have reported pickpockets, bag slashings, and theft of wallets, smartphones, purses, and other valuables during this festival season. While this small number of bad apples in the bunch doesn't define an entire crowd, there are opportunistic people who come to these events to take advantage of unsuspecting partygoers and it's important to be mindful of your valuables while at North Coast Music Festival.
Looking for tips to keep your belongings safe? Check our post highlighting some ideas!
---
Follow North Coast Music Festival on Social Media: