We chatted with Snakehips about their top tracks of 2018, their album Stay Home Tapes, and more! 
---
British duo Snakehips have been rocking the electro-R&B scene since for years and have been on a monumental rise after releasing their debut single, "Days With You." Since then, they've gone on to tour at festivals around the world and work with some of the biggest artists in rap and R&B, including Chance The Rapper, Joey Bada$$, and most recently, Jeremih and Aminé.
Known for their electrifying live sets that expertly weave together rap, R&B, and their own original tracks, if you've ever had the chance to see these guys live, you know just how much of a party it is. Their most recent releases, the Stay Home Tapes, especially honors this signature vibey sound, treating both their day one fans and newer ones alike to some classic Snakehips goodness.
Stream the releases on Spotify below and read on to learn more about Snakehips' recent re-imagining of one of the tracks off the album, "iii'M Not Sorry", working with Jeremih and Aminé on Stay Home Tapes, and more!
Listen to Snakehips – Stay Home Tapes on Spotify:
---
Hey, thanks for taking the time to chat with us today!
All good thanks for having us.
First off, let's talk about the Sony: Lost In Music show that was an immersive pop-up space in NYC that allowed guests to walk through and create a unique song based on their heartbeat. We heard that you went through yourselves and reimagined one your songs. What was this experience like and which song did you choose to reimagine?
We re-imagined a song of ours called "iii'M Not Sorry" that we made with Elbee Thrie from Phony PPL from our last EP. It was awesome to strip back a song of ours that was all based on samples and electronic instruments and play it out live with some keys, guitars, and drums etc. Really glad we got the opportunity to put it together.
You also performed a live show at the event space later that night. Would you say that when playing for smaller crowds, you have more freedom in what you play? For example, how does the set you performed on Tuesday differ from the one you'd play when headlining a festival?
To be honest I think we always aim to bring the same vibe and energy whatever type of crowd we're playing for. Although the vibes can be different we still aim to do the same thing.
Speaking of performances, what does your preparation process look like leading up to a show? How do you go about picking which songs you want to include in the mix?
We kinda have a bunch of songs we always play of our own and then we mix up the bits around it depending on where we're at or what type of show we're doing. So much of the stuff is original music so we always play that stuff and then try to keep the vibes up with the stuff we mix it with.
You've become known for your fusion of rap, hip-hop, and EDM in your songs and live sets. What led you to that style and how do you feel your sound and preferences have evolved since first starting your careers?
We always just used to listen to and DJ hip-hop. And really the 'EDM' stuff we play kinda in our minds comes from hip-hop anyway. It's really easy to go from like 140 trap stuff into old-school hip-hop etc.. so much of the drums pattern are the same and it's kinda fun to move back and forth through different things and not be stuck in one era or genre.
Earlier this year, you released the Stay Home Tapes, an eight-track album featuring an impressive lineup of rap and hip-hop artists. Some say the album is reminiscent of old-school Snakehips, paying homage to your first fans. Is this true and if so, what gave you the inspiration for the album?
Yeah for real, we always made beats based around soul samples and disco type things that lent themselves to rap or RnB type vocals. We just wanted to make something that felt like classic Snakehips and do something vibey for the summer. We're making some totally different stuff now haha.
Circling back to the artists featured on the album, what was it like working with artists like Jeremih and Aminé and how did those relationships come about?
We've been throwing ideas back an forth with both of those guys for like three years now! But never totally finished a full song that got released or anything. It was awesome to connect with them on the same tune and that idea just suited them both so well and we're just huge fans of their shit.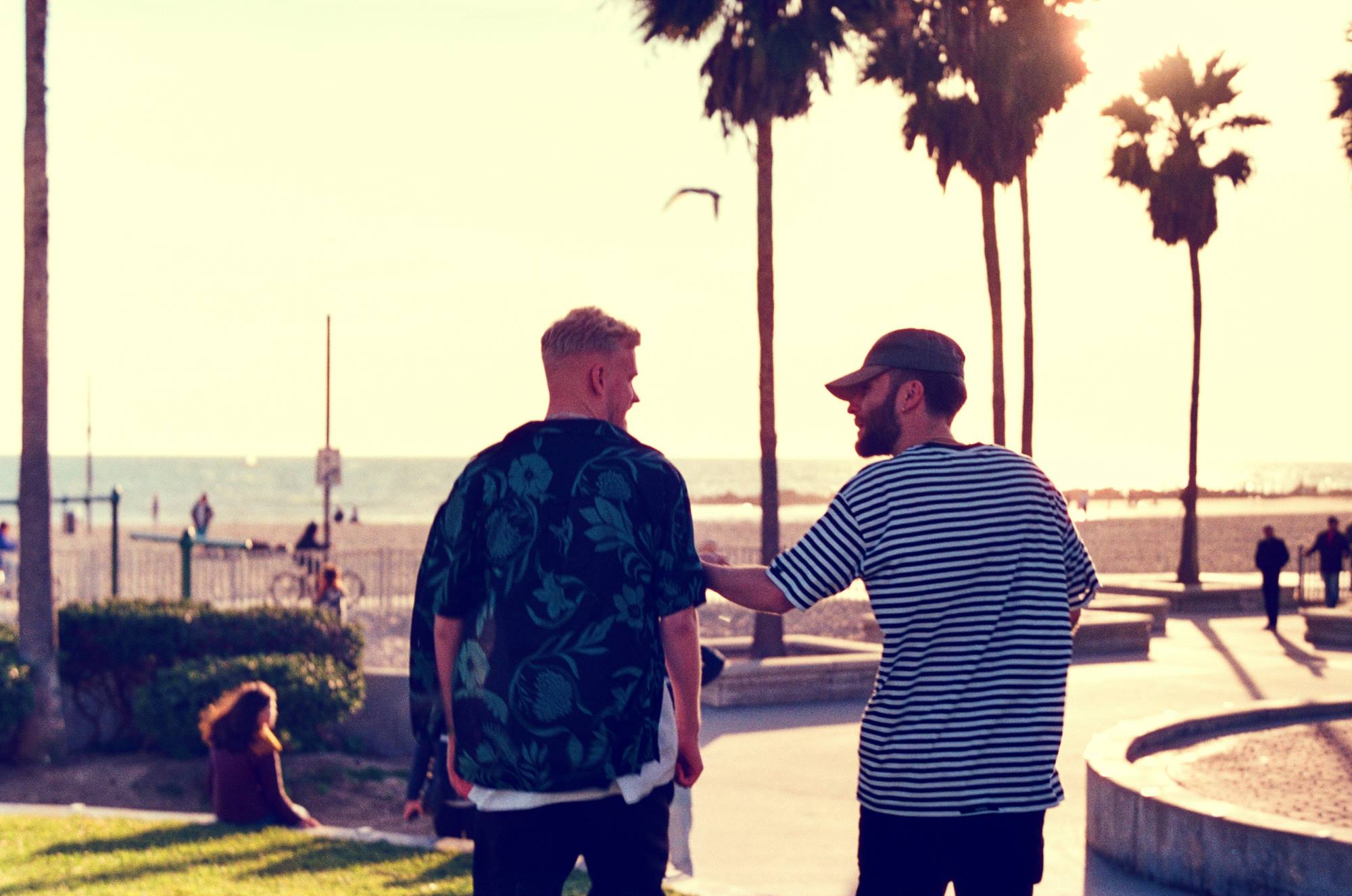 Who are your top three favorite artists in the hip-hop/R&B scene right now that you've been listening to the most?
Damn, there's too many. I just saw my top songs I'd listened to this year on Spotify though and they were:
Reeseynem x Chance The Rapper – what's the hook
Zedd – Happy Now (MXXWLL remix)
Melotonics – Perception
You just wrapped up two nearly back-to-back tours, your Asia, Australia, and New Zealand tour and your most recent US tour. Do you have any tips or tricks for staying healthy both mentally and physically while on the road?
Nah, we try everything but always end up in all types of trouble. [Laughs]
What's one surprising fact about both of you that most people don't know?
James is my uncle.
Finally, with the year winding down and 2019 on the horizon, can you both share a specific memory from 2018 that stands out as special?
Playing Coachella this year was pretty special. Its all been crazy to be honest, looking forward to whatever's next!
---
Connect with Snakehips on Social Media: