Kittrix stopped by to chat about her experience playing EDC Las Vegas, her EP Mindreader that dropped back in May, and plenty more!
---
Rising through the ranks of the dance music scene in the City of Angels is Kittrix. Taking on the role as a producer, DJ, and vocalist, she has quickly begun to make her mark on the scene with her versatile sound in the house music realm that brings energy to any stage she plays on.
Taking over the decks at the EDC VR stage at EDC Las Vegas 2018, she made a return trip and played a massive set at the Pixel Forest at this year's edition of the festival. She's left an even larger impression with the release of her Mindreader EP back in May that delivered three tracks that hit the spot and showed off her creativity in the studio as well.
Looking to learn more about Kittrix, we caught up with her to gain some insight into her latest EP, some thoughts on playing North America's largest dance music festival, and plenty more. Listen to her exclusive guest mix below and read on for our chat with her!
Stream EDMID Guest Mix 180 || Kittrix on SoundCloud:
---
Hi Kittrix, thanks for taking the time to chat with us today! Let's start off by taking a look back at your beginnings. What initially drew you to house music and led you to decide to make music?
Hi EDM Identity! Thanks so much for having me. I first started listening to electronic music in middle school, after my older sister gave me her old collection of dance music CDs.  It was a collection of mixtapes of acid house, techno, and hard house music made by her, or her DJ friends, many unlabeled or covered in illegible scribbles. I was fascinated by the hard kicks and heavy bass and weird sounds overlayed on the 120-130 bpm tracks. 
I saw my first house music show when I was 18, featuring Wolfgang Gartner, and the live experience hooked me harder than any other listening session at home. That year I started attending USC for film production, attending shows and music festivals in between classes, and eventually became a videographer for music events and festivals. This led me to meet hundreds of music producers and DJs, where I would later learn the foundation of making music in a private mentorship. As to why I make house music specifically – it's kind of like breathing air. It's always been house music. 
I didn't go out of my way to choose house music, I think it chose me. 
Earlier this year you dropped the Mindreader EP. What was the process like on the EP and when you were producing the tracks did you have the collection in mind?
The Mindreader EP all started with the song "Tension". I made the majority of the track in one 10 hour session, looked back at it, and thought, "This is it. This is the sound I've been looking for." If I can speak for music producers in general – we're always learning, always refining our sound.
When I made "Tension," I hit a note deep down in myself that really resonated and it felt right. I didn't know it was going to be part of an EP at the time, as I had been planning on releasing singles. That same month, "Mindreader" and "More" were also born in the same way, just a couple long single day sessions. I looked at the three songs and it just made sense to put them together. 
As for the production process on the EP, for these three tracks, the music came first, and the lyrics came later. One of my favorite parts of making music is manipulating and modulating bass waveforms. I usually start with the drop, but I actually started "Tension" with the moody intro it still has now. Then came the melodies, then came the vocals. All of the vocals in these tracks are original, and they're all my voice, including "Tension," which is just my voice pitched down a bit. 
Since you aren't just a producer but a vocalist as well, how do you feel this has altered the way that you approach your releases when in the studio?
I'm always writing songs and lyric ideas even when I'm not in the studio, so once I have the bones of a track, I usually try out the variety of lyrics I have in my back pocket that I've been dying to use. If one of them works, I record a scratch track right away, which usually dictates the rest of the production process around those vocals. If they don't, I keep writing the song until the lyrics come to me. The same goes for when I work on collab tracks. 
What was your experience like playing at EDC Las Vegas 2018 versus this year at the festival this year in the Pixel Forest?
I don't think it's possible to not have a great experience playing at EDC, no matter where you play. Last year I played at EDC at the VR Stage – it was intimate and amazing and everyone there was getting down on the dancefloor and it really special and completely warmed my heart. I made some wonderful new friends after that set that I still talk to and work with today. 
This year was bigger as I played on an art car in the Pixel Forest, and I played a lot of original music which I didn't do last year. When "Mindreader" came on, and I actually started crying while I was djing because I was so moved by the response from the crowd. I will never forget that feeling. I got a lot of messages from old and new fans after that set and I've honestly been floored and am so thankful for all of the support I've received in the last year.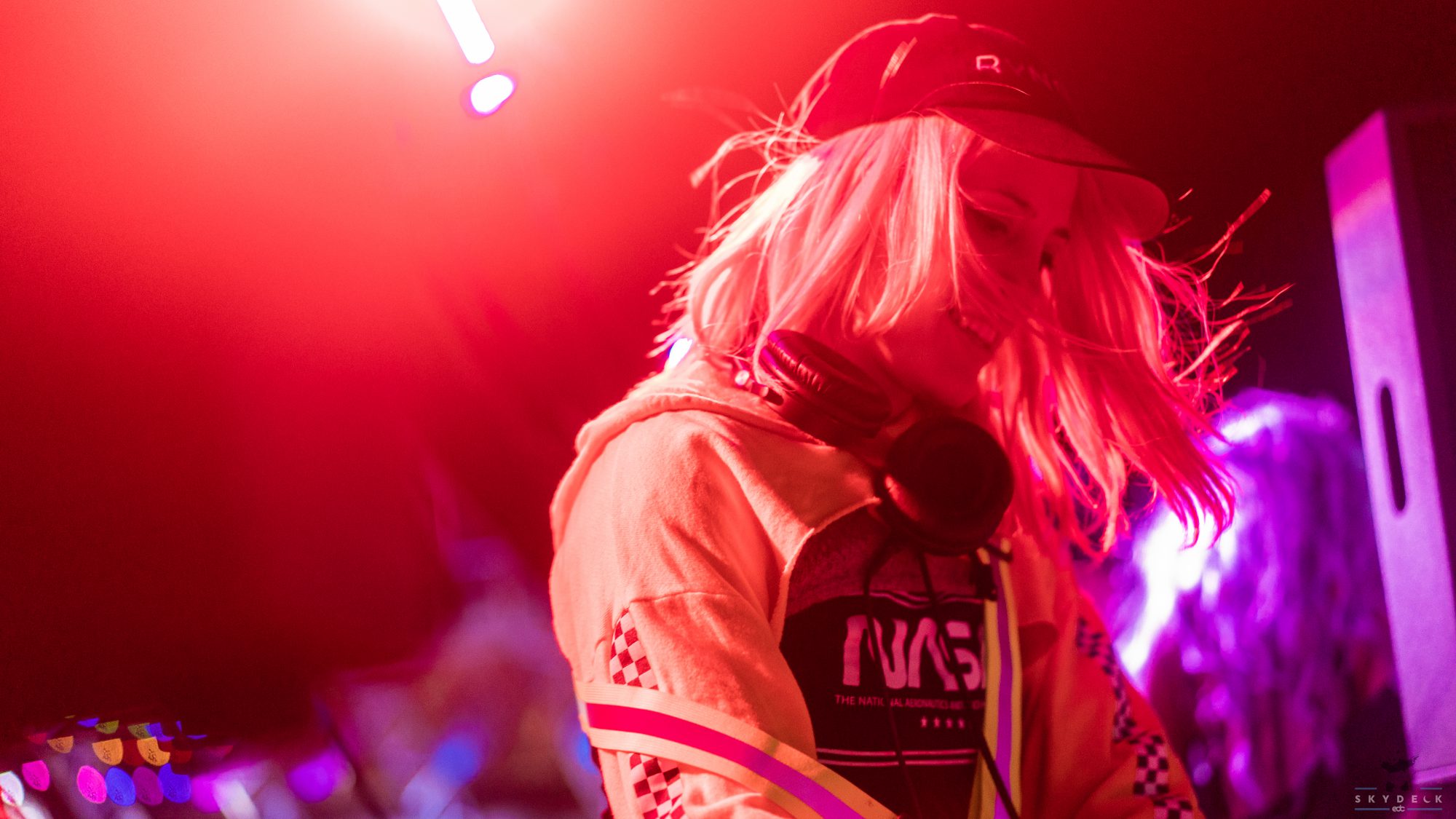 When you have a set on the horizon, are there any specific preparations you go through in deciding what tunes to play?
Definitely. I usually first look at my recently liked on Spotify and Soundcloud, then I'll head over to Beatport to get the .wav files. I'll shuffle my entire library to remind myself of older hidden gems that I have that I want to bring back. And then I like to browse new releases to see what my favorite artists have been up to. The general rule is – if a track makes me want to dance, I'll download it, and I hope it makes you dance, too.
I put all the songs I'm vibing with into a playlist, with my released music and my latest WIPS that I want to test out in the wild and see what sounds good together. Because I'll play any genre within house music, a flow emerges from the tracklist as I move through genres and originals and hybrid tracks. Sometimes I'll plan the order of tracks for a portion of the set, sometimes I'll do it all on the fly, it depends on the setting and vibe of the week. 
What has been the biggest struggle you've faced so far in your career, and how have you battled against it?
Since the very beginning of my music career, people have told me that I need to pick a genre in house and that I won't make it as a producer unless I do. I personally don't find making a style of music to be a conscious choice, I think it just happens how it happens.
I love tech house. I love deep house. I love bass house. I love electro. If my music happens to be a hybrid of genres, so be it. I'm okay with that, and I'm owning that. I won't be put in a box. I've always looked up to Mat Zo for this, as he hops around genres, which is why I was so happy to close for him at Academy this past month. 
If you could only listen to three artists for the rest of your life, who would they be?
RÜFÜS DU SOL, Tycho, and Marc Rebillet
With 2019 now over halfway over, what goals do you have for the rest of the year that you'd like to achieve?
I'm working on a bunch of collabs right now that I plan on releasing in the next few months, as well as a bunch of new original music. I am also learning some new skills with some new toys, including getting more into drumming, for a live set that I hope to launch in 2020. 
Finally, its late night in Los Angeles and you're just leaving the club after an epic night out. Where are you grabbing a bite to eat and what's your order?
I always want pizza. But I can't eat pizza. So tacos it is. Street meat if I'm feeling risky, Taco Bell if I'm feeling frisky.
---
Follow Kittrix on Social Media:
Website | Facebook | Twitter | Instagram | SoundCloud