Splash House August is this weekend and we couldn't be more excited. Read on for all the essentials you need to know before heading to the fest!
---
Splash House June brought the heat earlier this summer and now it's August's turn to keep the party going. Armed with a stacked lineup that ranges from major names like Claude VonStroke, Mark Knight, and Lane 8 to some of the hottest up-and-comers like ilo ilo, there's no doubt that this weekend will be one to remember.
Before you and your favorite floatie head out to Palm Springs, however, you'll want to familiarize yourself with the pool rules! We've compiled everything you'll need to know to help yourself prepare for the fest, so all you'll have to do is remember sunscreen. And please, remember sunscreen!
Read on for all of the essential Splash House August info including the maps, set times, and more, and let us know in the comments who you're most excited to see!
---
Splash House August 2019 Essential Info:
Dates: August 9-11, 2019
Hours: 12pm – 9pm Daily; After Hours 9pm – 2am
Tickets: Sold Out! Buy After Hours Tickets HERE!
Facebook Event Page: RSVP HERE
This is a 21+ event. Your Driver's License or Passport will be required to pick up your wristband.
You may not pick up additional wristbands with your order unless that guest is present.
Please make sure to keep your ID on you at all times as any venue may ask for proof of age.
Download the Splash House App on iTunes or Google Play for the latest updates! 
---
Splash House August 2019 – Set Times: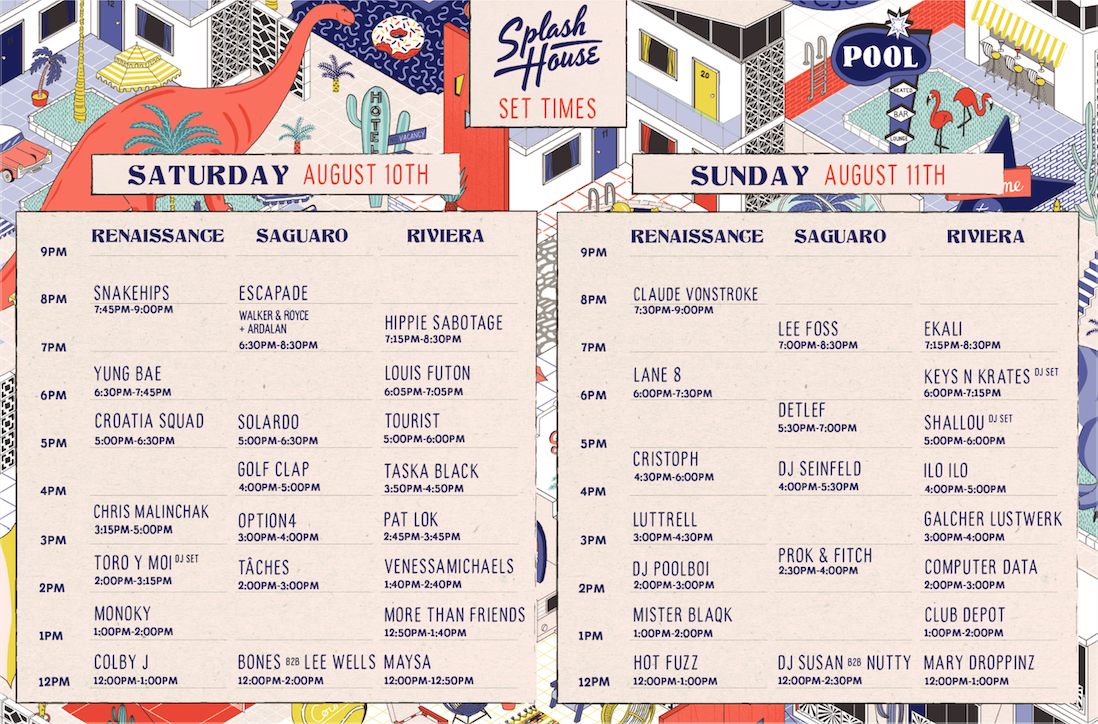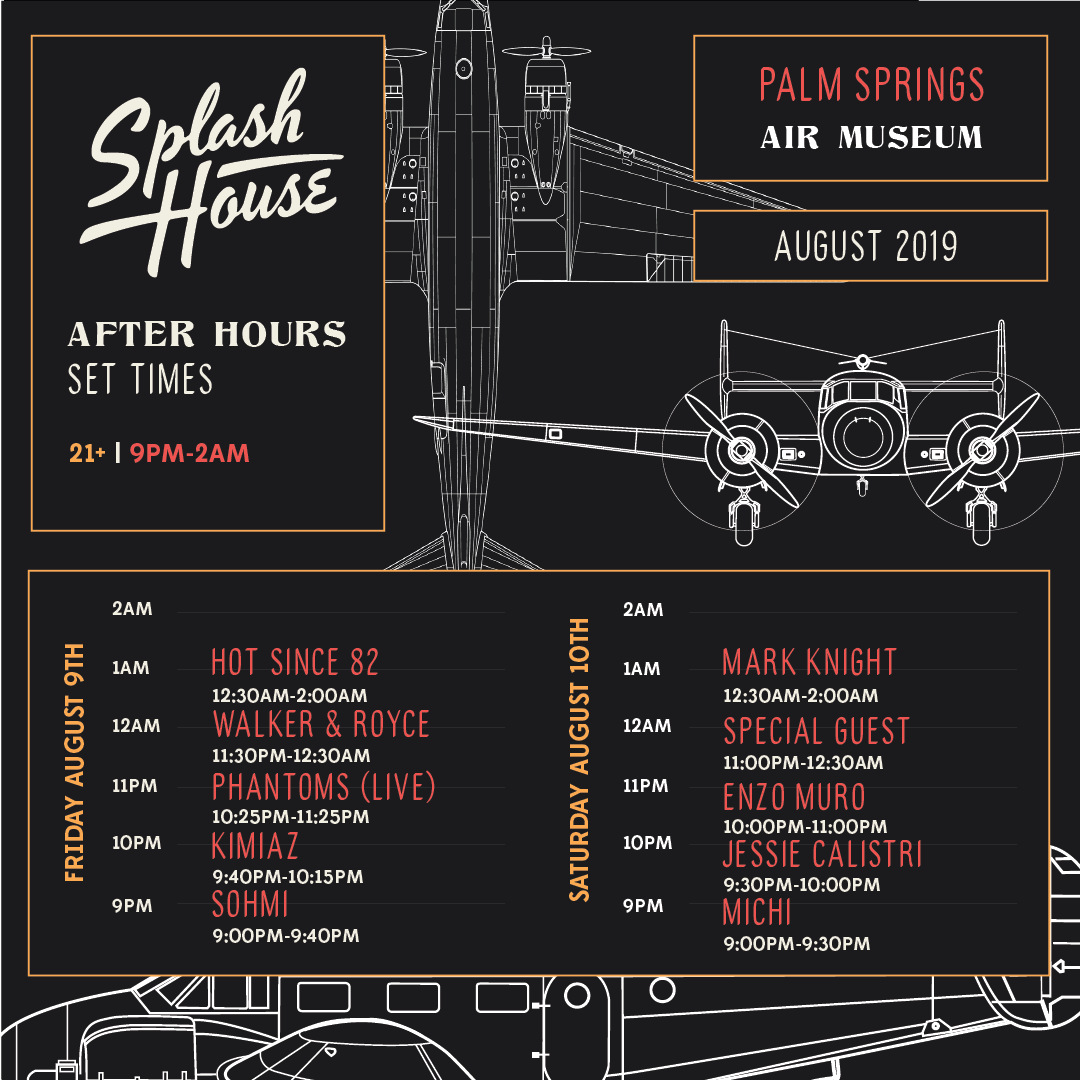 ---
Splash House August 2019 – Maps:
---
Shuttle Info:
A shuttle stop is located at each hotel and shuttles will run nonstop during festival programming hours. When you're ready to move to another venue, simply follow the signage to find a shuttle ready to depart to the next location.
The Renaissance is the central hub. Shuttles run in two direct loops between the Renaissance and Riviera and Saguaro respectively.
After Hours shuttles will also be running both Friday and Saturday nights on direct routes to/from the Air Museum and each hotel venue.
Daytime Shuttle Hours (Running between hotels) Saturday: 12:00pm-9:30pm Sunday: 12:00pm-9:30pm
After Hours Shuttle Hours (Direct to/from Air Museum & hotels): Friday: 9:00pm-2:30am Saturday: 9:00pm-2:30am
---
House Rules:
The Golden Rule: Treat our hotels like you would treat your own home. Please do not damage or vandalize these properties!
Clean up your room when you leave. Remember that real human beings work here.
Hotel employees are our friends. Treat them with respect.
Make friends with your neighbors. Many lifelong friendships have been forged here.
Real splash mates decorate their balconies.
No need to move your furniture. The feng shui is just fine as-is.
Don't throw anything off your balcony except waves, winks, and invites to your birthday party.
Believe it or not, people need to sleep. Be aware of your music and noise volume.
No smoking on property. Breathe in that sweet summer air instead.
No more than 4 splash mates to a room. We're 'adults' now.
Pool Rules:
The Golden Rule: Treat our splash mates like you would treat your best friend. No fighting or being rude!
Respect other people's differences, backgrounds, orientations, and opinions.
Listen to our staff and safety personnel. We are here working for you!
Smile and say hello to strangers. You never know who's your next best friend.
Wear whatever makes you feel good and don't be afraid to dress up.
Carry your ID with you at all times. But don't use it for driving!
Leave your phone in your hotel room and see where your feet take you.
Drink lots of water and consume alcohol responsibly.
No outside food, beverage, glass, or any prohibited items at the pools!
Max inflated floatie size is 4'x4′. Be nice to other people's floaties, they have feelings too.
---
Do's & Don'ts:
Prohibited Items
Pool phobia
Audio Recording Devices
Outside food & beverage
Chairs, tents, beach umbrellas
Coolers, glass, metal/steel/aluminum containers
Drugs & Drug Paraphernalia
Bota bags
Drones, Remote Control Aircraft, Toys or Cars
Fireworks / Explosives / Flammable Liquids
Flags
Hula Hoops
Large chains or spiked jewelry
Laser Pointers
Musical Instruments
Outside Food or Beverage
Animals/pets, Including Emotional Support Animals
Professional Cameras / Video Cameras
Spray Paint / Giant Markers / Sharpees
Squirt Guns
Tents / Tarps
Totems
Unauthorized/Unlicensed Vendors
Unauthorized Solicitations, Flyers, Sampling, Give-aways, etc.
Weapons of any Kind (Includes Guns, Ammo, Pocket Knives, Pepper Spray, etc.)
Any Item Deemed Inappropriate by Festival Security
Permitted Items
Floaties (4'x4′ maximum inflated size)
Backpacks
Chapsticks
Cigarettes (In designated smoking areas only)
Contact Lens Solution (Eye Drops)
Digital Cameras (Non-Pro)
Disposable Cameras
Ear Plugs
E-cigs/Vapes
Empty Plastic Bottles & Camelbaks (40 oz or less)
Fanny Packs
Film Cameras (Non-Pro)
GoPros (no poles/extenders)
Hats
Lighters
Misters (Empty, Plastic, Small/Personal Sized)
Parasols
Single compartment purses
Small Bags (20″x20″ or less)
Beach Towels
Sun Block (non aerosol)
---
Reminder To Mind Your Belongings:
Unfortunately, many people have reported pickpockets, bag slashings, and theft of wallets, smartphones, purses and other valuables during this festival season. While this small number of bad apples in the bunch doesn't define an entire crowd, there are opportunistic people who come to these events to take advantage of unsuspecting partygoers and it's important to be mindful of your valuables while at Splash House.
Looking for tips to keep your belongings safe? Check our post highlighting some ideas!
---
Follow Splash House on Social Media: