Shambhala is rapidly approaching and with so much to participate in and experience, here's everything you need to avoid missing a thing!
---
The 22nd edition of Shambhala Music Festival is less than a week away. Ten's of thousands of attendees will arrive at Salmo River Ranch to participate in a weekend full of art, music, and creativity. The three-day festival features six stages each with their own directors and vision. It is a festival that has used a tradition of participation and connection to create a beautiful community, a family.
Related: Looking to explore the stages at Shambhala this year ahead of the festival? Check out these playlists!
The lineup has exploded since their early days in 1998 and features music from around the globe from a variety of genres. Whether you're looking for that groovy, funky, house, or that hard-hitting bass line with a side of wubs, Shambhala has curated a diverse and beautiful array of artists.
To help you maximize your experience at the festival, we've compiled all the info you need to know before you go. Check it out below and let us know what you're most excited for this year at Shambhala!
---
Shambhala 2019 Essential Info:
Dates: Thursday, August 8 – Monday, August 12, 2019
Ages: 19+ with Government Issued ID
Venue Address: Salmo River Ranch, Salmo, BC, Canada
Tickets: Shambhala 2019 is Sold Out
Facebook Event Page: RSVP HERE
Electronic Tickets:
This year Shambhala is using Electronic Tickets for the first time. Each ticket must be assigned to one person through their online portal and individually claimed before coming through the gate. Download it to your phone or print it before you arrive.
If you do not do this prior to your arrival you may experience delays at the gate.
Gate Hours: Gates open Tuesday, August 7 at 8:00AM. Those entering before Friday, August 10 must purchase Early Entry passes at the gate with cash only. Early Entry works as follows:
Tuesday, August 7 @ 8AM: $150 per person; cash only
Wednesday, August 8 @ 8AM: $100 per person; cash only
Thursday, August 9 @ 8AM: $50 per person; cash only – 2 of 6 stages are open
Friday August 10 @ 8:00AM: $0 – All 6 stages are open
Please note: Guests who arrive before Tuesday at 8AM will be placed in a special holding lot and processed after all of those who arrive on time.
Acceptable Forms of Identification for Entry
Valid government issued ID (passport, driver's license, etc)
A second supporting piece of ID (credit, health card, etc. Anything with your name, signature or photo)
Unacceptable Forms of Identification for Entry
School identifications
Expired identifications of any kind
Birth Certificates
Social Security Cards
Voter Card
Photocopies of any identifications
Consular identification
---
Shambhala Music Festival 2019 Set Times: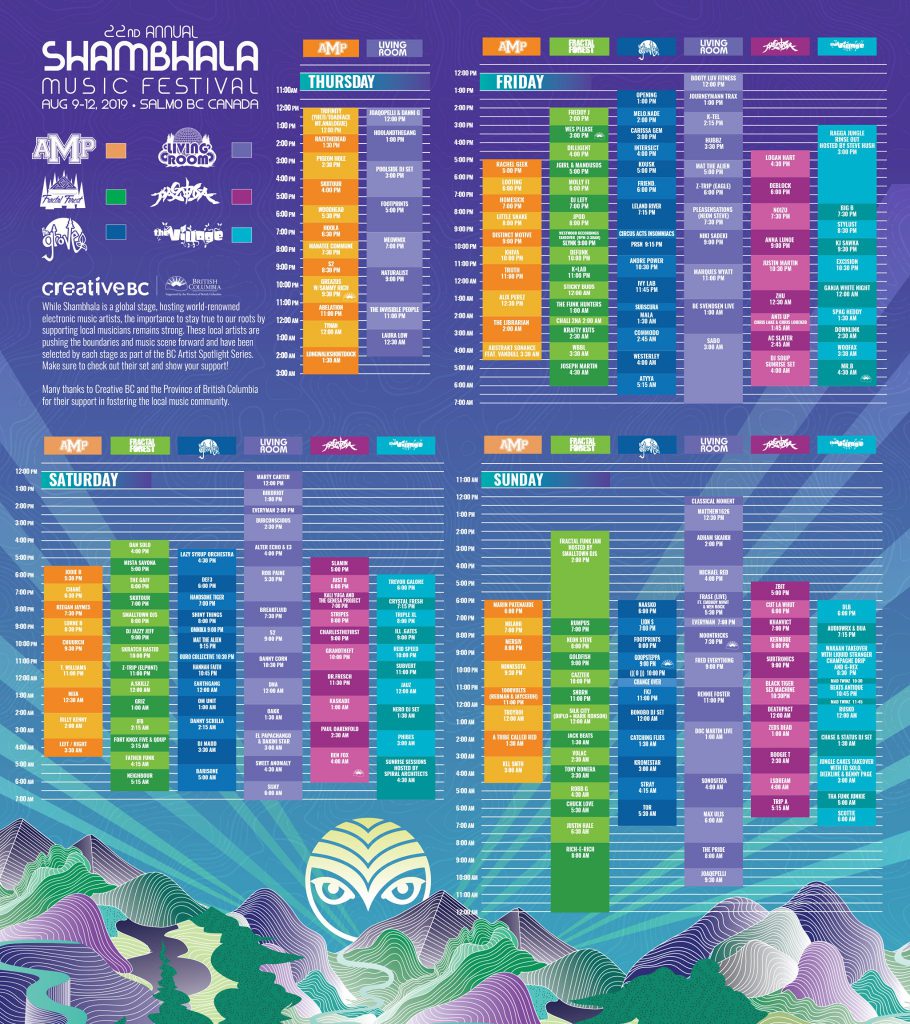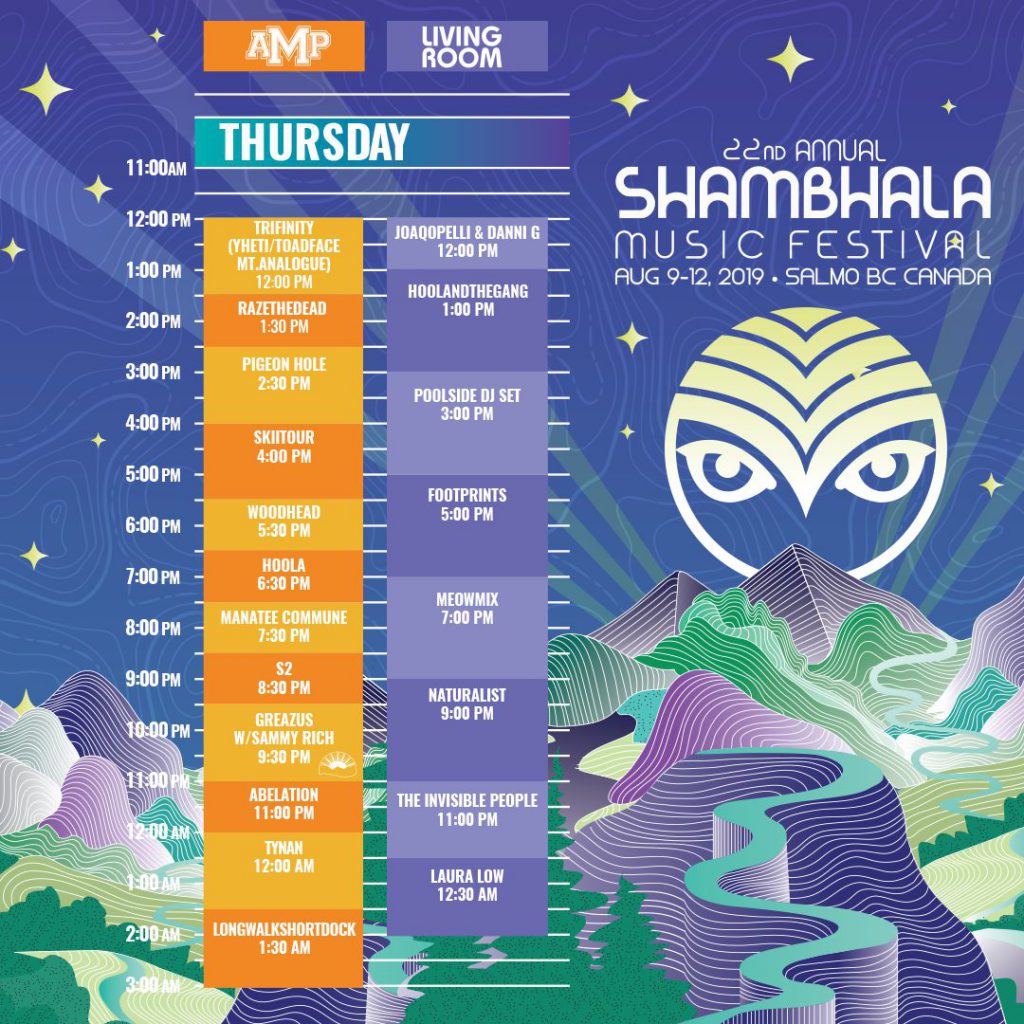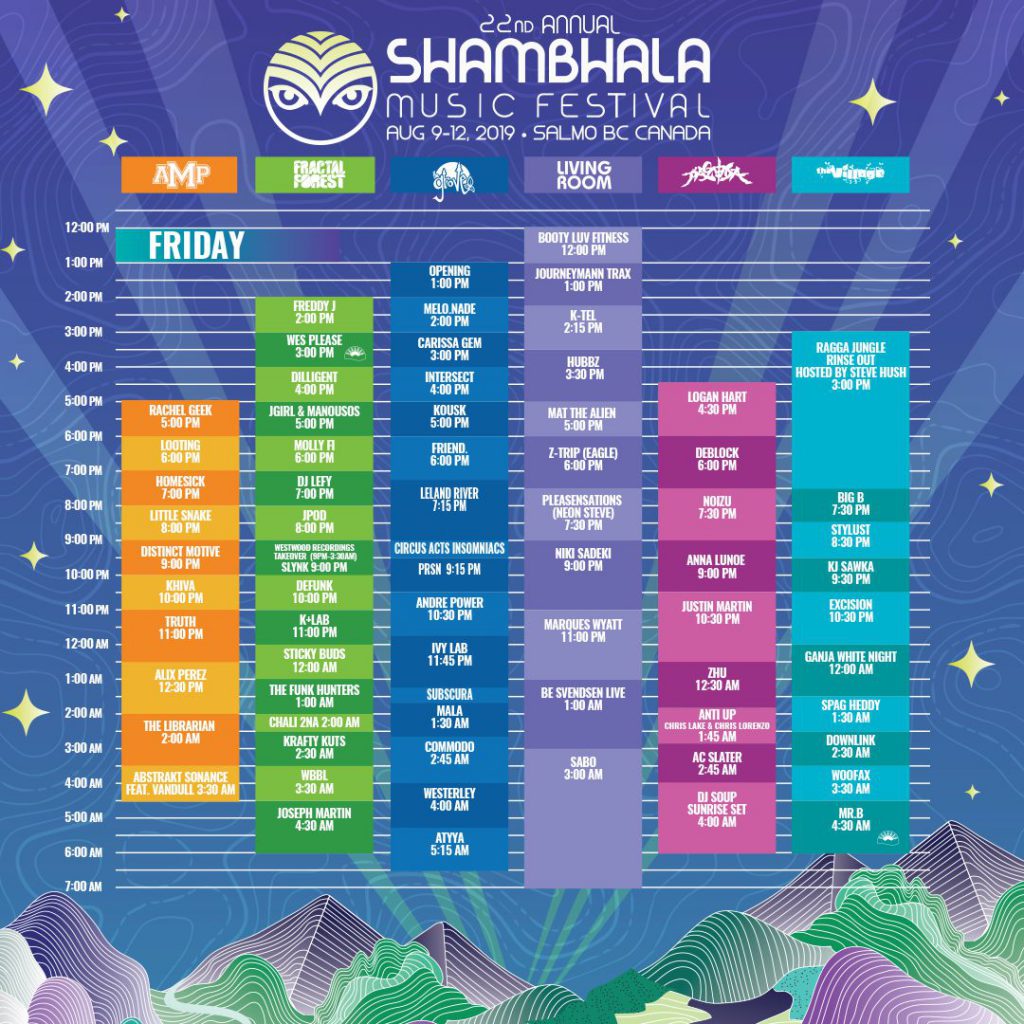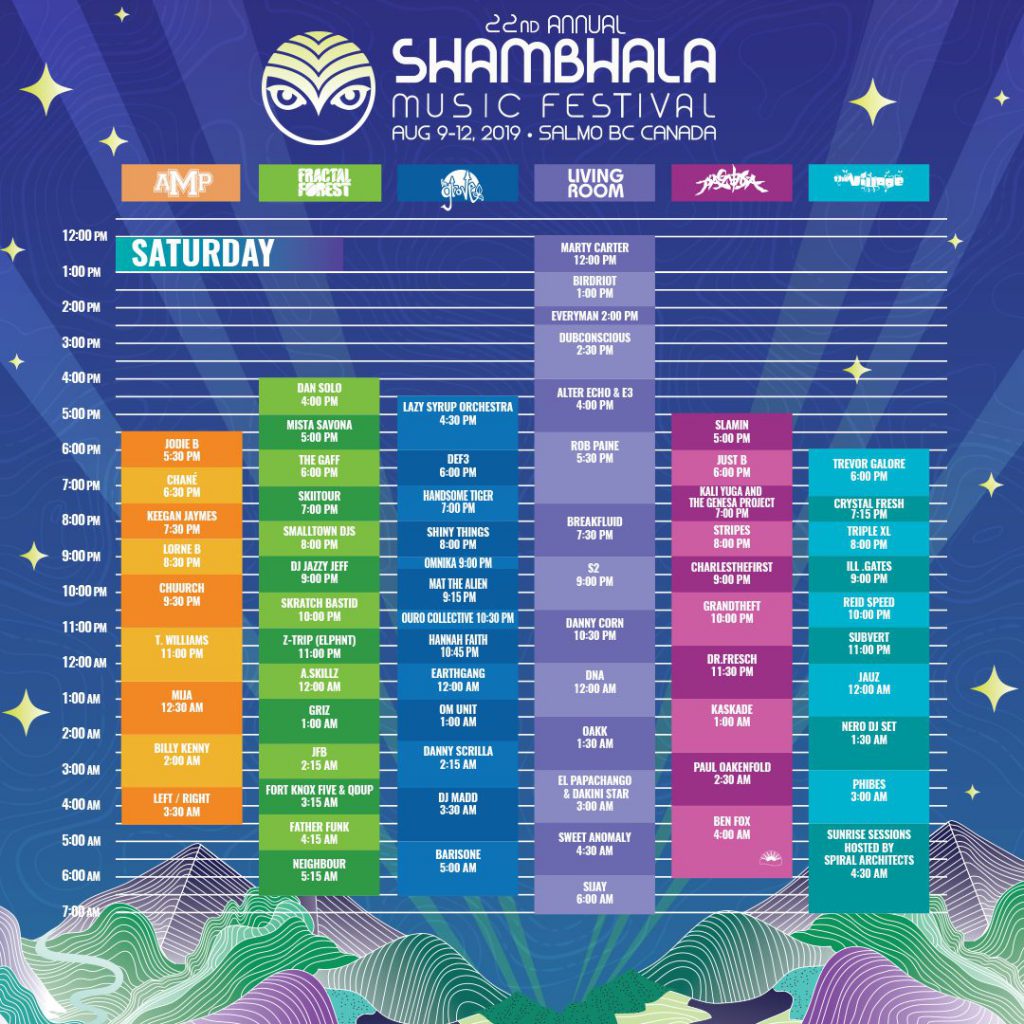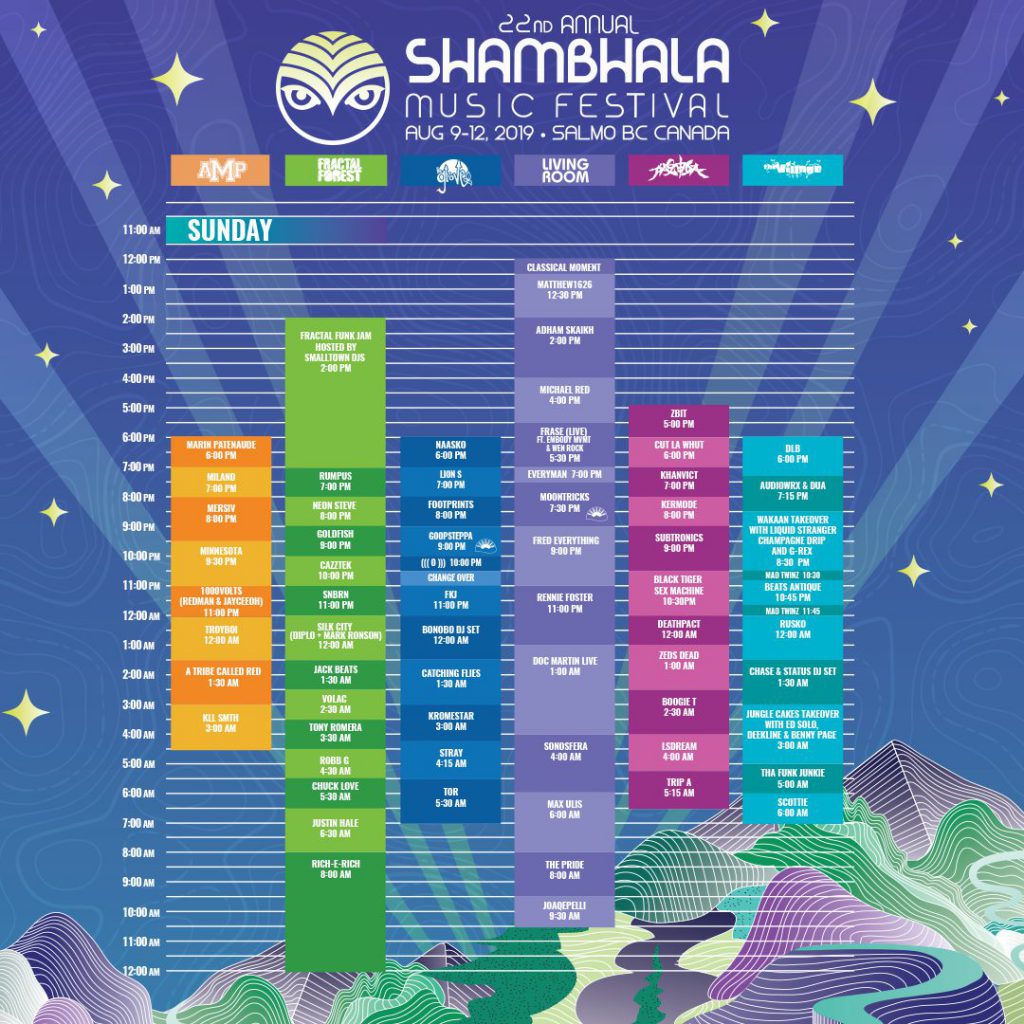 ---
Shambhala Music Festival 2019 Festival Map: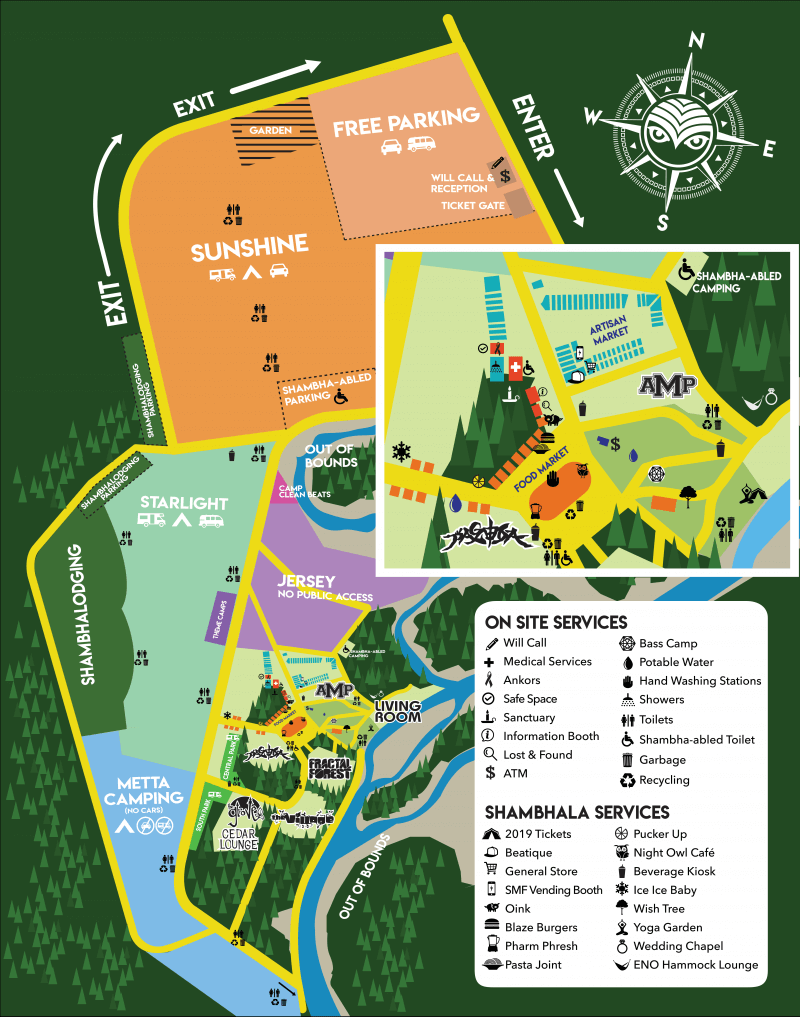 ---
Shambhala 2019 Do's & Don'ts:
Prohibited Items
Alcohol
Fire
Fuel
Generators
Glass
Lasers
Illegal Substances
Motorized Vehicles
Pets
Weapons
Hate Speech
Confiscated Items
Synthetic Feathers and Boas
Recommended Packing List:
Camping gear
Bandana
Sunglasses
Water containers
Jacket
Backpack
Food
Biodegradable shampoos and sunscreens
Flashlight
Comfortable footwear
---
Reminder To Mind Your Belongings:
Unfortunately, many people have reported pickpockets, bag slashings, and theft of wallets, smartphones, purses and other valuables during this festival season. While this small number of bad apples in the bunch doesn't define an entire crowd, there are opportunistic people who come to these events to take advantage of unsuspecting partygoers and it's important to be mindful of your valuables while at Shambhala Music Festival.
Looking for tips to keep your belongings safe? Check our post highlighting some ideas!
---
Connect with Shambhala on Social Media:
Website | Facebook | Twitter | Instagram | YouTube | Facebook Event Page