Mark Knight, Leftwing : Kody, and Wheats will be bringing the sounds of the underground to cities in the US on the upcoming Toolroom Stateside tour.
---
One of the most revered labels in the house and techno scene is Toolroom Records. Well-known for bringing some of the best electronic beats to the forefront from both rising stars and established artists alike, the label has been dominating the soundscape of the scene for over 15 years. Now, they'll be showing select cities in the United States what Toolroom is all about this fall with their forthcoming Toolroom Stateside tour.
Announced earlier this month, Toolroom Stateside will touch down in four of North America's most dance music-centric cities: San Francisco, Chicago, Brooklyn, and Los Angeles. While the lineup for their night in LA has yet to be announced, the three other dates will feature label-boss Mark Knight and rising star Wheats who have both been dominating the decks in Ibiza all summer long. Joining them in Chicago and Brooklyn will be dynamic duo Leftwing : Kody as well to make these nights ones you won't want to miss.
Stay tuned for more details on that show at Exchange LA as the lineup is sure to be one that will knock your socks off. Will you be catching the Toolroom crew on this tour or Mark Knight at a festival like Splash House this summer? Let us know in the comments!
Tickets and more information about the upcoming Toolroom Stateside shows can be found by heading over to their website. Grab your tickets soon because these shows will definitely sell out!
Get swept away with the Toolroom Ibiza 2019 Compilation:
---
Toolroom US Fall Tour 2019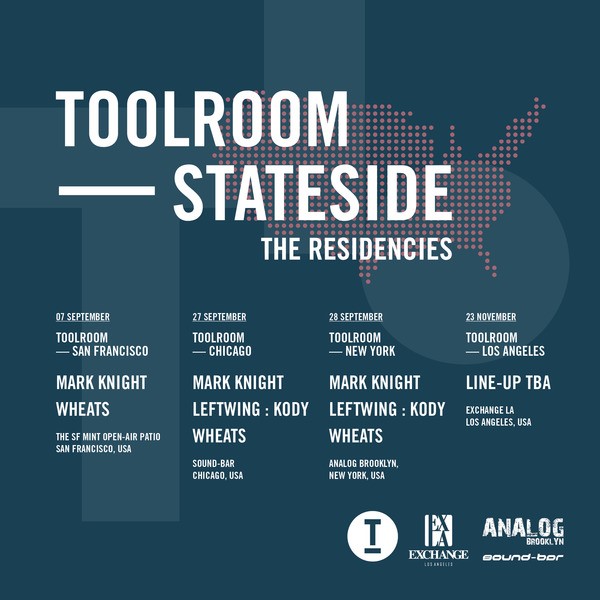 ---
Dates, Venues, and Lineups:
September 9 – San Francisco, CA at SF Mint Open Air Patio
September 27 – Chicago, IL at Sound Bar

Mark Knight, Leftwing : Kody, and Wheats

September 28 – Brooklyn, NY at Analog Brooklyn

Mark Knight, Leftwing : Kody, and Wheats

November 23 – Los Angeles, CA at Exchange LA
TBA – Washington D.C.
---
Follow Toolroom on Social Media:
Website | Facebook | Twitter | Instagram | SoundCloud | YouTube