If you liked Apex, you'll love Apex: The Remixes. Filled with 14 unique remixes of each song on Excision's original studio album, this remix package is the best in bass we've heard all year!
---
Last August, Excision blessed headbangers with his 14-track studio album, Apex. Featuring collabs with Dion Timmer, Sullivan King, and more, Apex found itself nestled in the setlists of heavy bass sets everywhere. It was only a matter of time before industry heavyweights and rising dubstep stars alike made their own spin on some of the tracks. Ranging from deep and dark subterranean wobbles to incinerating slashes of vicious dubstep, Apex: The Remixes will make you fall in love with bass harder than you ever have before.
Related: Looking for the original Apex review? Check it out!
Headbangers, get ready to get low and dirty with G-REX's thick wubby soundscapes, feel the grime with Black Tiger Sex Machine's resounding midtempo, and get funky to Boogie T's crunchy blips and bloops. There's a remix of every single track on the Apex album, and I can honestly say that each one will blow you away.
Stream or download Apex: The Remixes on your favorite platform today and read on for a review of some of my favorite remixes!
Listen to Excision – Apex: The Remixes on Spotify:
---
The remix album opens with G-REX's "Exterminate" remix, which is one of my favorites.
I first heard G-REX's "Exterminate" remix in his "The Summoning" mix and was immediately blown away by each seductive bass ripple. The remix is a complete opposite of Excision's original; instead of scorching dubstep whomps and robot dinosaur shrieks and rapid-fire, G-REX's rendition is comprised of gravelly bass and subtle wallops. Though a different flavor altogether, the tune carries just as much heat as the original.
If loud and aggressive dubstep is your thing, and it probably is if you're an Excision fan,  then you won't be able to get enough of 12th Planet's "Wake Up" remix. If there's anyone who could possibly make the original collaboration with Sullivan King any better, it's 12th Planet. The familiar vocals drift in and descend into the same reverberated screech from the original before exploding into a relentless fury of heavy dubstep. The second half of the track is even heavier than the first, and I can't get enough of it.
Of course, Mastadon reigns supreme with the heaviest remix in the package.
Each and every time I listen to Mastadon I'm taken completely aback by just how insanely heavy and detailed his sound production is. With his signature waves of haunting bass stomps and an onslaught of pure filth, Mastadon's remix of "Tonight" is a fiery testament to this young artist's creative ability. There are many reasons why industry dons respect Mastadon so much, and this very remix is one of those reasons.
I wouldn't be myself if I didn't review Subtronics' remix of "Vault".
Having been a huge fan of both Excision and Subtronics, I couldn't have been more excited to get a remix of one of my favorite songs on Apex. Mirroring Excision's signature intro from the beginning of the track, which is a mashup of several of his hit tracks, Subtronics chops up vocal samples from some of his own tracks. What I particularly love about this remix is that it still does a great job of retaining elements of the original while fully capturing Subtronics' diverse sound palate.
Last but definitely not least is my top favorite remix on the album from none other than Champagne Drip.
Champagne Drip's take on "Hoods Up" is exactly what my ears have been craving lately. As one of my favorite Excision/Dion Timmer collabs of all time, I expect nothing less than absolute greatness from whoever decides to remix it. Thankfully Champagne Drip stepped up the plate and once again has knocked me off my feet with ridiculously thick and brazen basslines. It's the kind of track that'll leave you motionless and genuinely shocked by how insane it is, and for that reason, it's one of the best remixes I've ever heard of the original.
Although I only highlighted my favorites, the entire remix package from start to finish is a deliciously brutal bass adventure. Whether your fancy is midtempo, brostep, wonk or freeform, Apex: The Remixes is sure to satiate your wubbiest desires.
What's your favorite track on Apex: The Remixes? Leave us a comment!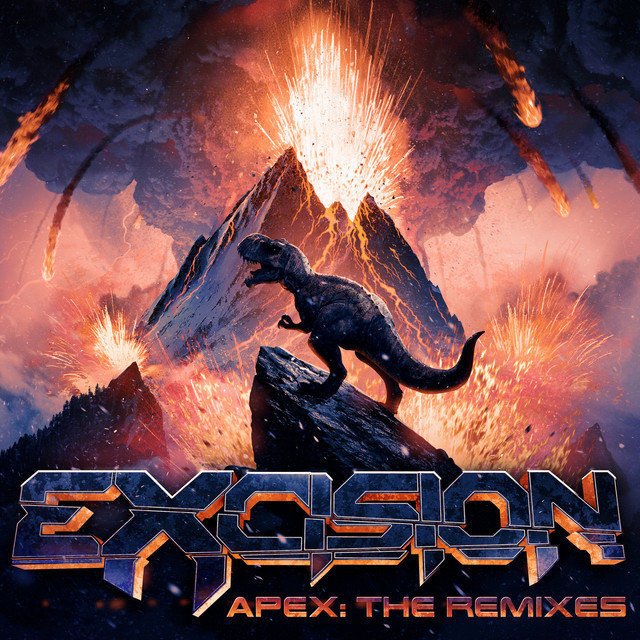 ---
Connect with Excision on Social Media:
Website | Facebook | Twitter | Instagram | SoundCloud | YouTube