MASTERIA sat down after some massive sets at Spring Awakening and Electric Forest to chat about his recent releases and more!
---
Ever since our ears first feasted on the Darkness EP by MASTERIA late last year we've been hooked on the sounds coming from the depths of his studio. Riding the wave of that release on CONFESSION into 2019, he's continued to keep us grooving with even more original work and sets that show off his skills behind the decks.
This year, MASTERIA has released tunes like "Rude Boy" and "Come On" on Do Not Duplicate Recordings while also returning for another solid EP on CONFESSION dubbed Groove. Additionally, he took Billie Eilish's "bad guy" and spun it into a true dancefloor smasher with a beat that you simply can't resist bumping along to while listening.
MASTERIA hasn't just stopped with the releases this year, as he's taken the stage at Spring Awakening, spun a surprise set at Electric Forest, and even headed to Sin City to heat things up this summer. In the midst of his massive year, we wanted to catch up with this rising star to get some insight into his recent releases and more, so stream his guest mix and read on to learn more!
Stream EDMID Guest Mix 176 || MASTERIA on SoundCloud:
---
Hi MASTERIA, thanks for taking the time to chat with us today! Let's start off by turning back the clock and taking a look at the beginning of your career. What led you to develop a passion for dance music and ultimately to becoming a DJ/producer?
Thank you for having me, really excited to be doing this. I grew up listening to tons of music, pretty much anything that I could get my hands on. But when I first encountered artists like The Prodigy, Chemical Brothers, I was hooked. That's what initially sparked my interest in electronic music, but when the dubstep movement started breaking into the scene, that's when I realized that I wanted to make those sounds myself.
So I learned music production throughout high school/college, but it was more of a hobby and I never took it that seriously. Unfortunately, as I progressed through college, I found myself having less and less time available to focus on music, and instead had to focus on building a career using my degree and supporting myself financially.
During my time working after college, I'd find myself constantly daydreaming about how great it would be to be able to produce the songs I was listening to or to be able to play the festivals and shows I attended. So in 2017, I decided to say fuck it and make this dream a reality.
That's when I moved back home and basically spent every waking minute learning everything I could to become the best producer I could be. Looking back on it two years later, it was the best decision I've ever made.
You closed out 2018 with the Darkness EP on CONFESSION and have since blown us away with tracks like "Rude Boy" along with the Groove EP. What's your production process like and did you approach these releases differently from each other?
With every track I write, I try to start with something that inspires me. A sound that makes me forget about whatever else is going on, and brings me fully into the music. From there, I try to turn that sound into some sort of phrase or melody, and then continue to write around that idea.
The biggest difference in each of these tracks is the vibe I try to create around that main idea. For example, in a track like Rude Boy, I'm picturing the listener in this dark, evil jungle, so I create and add sounds that help paint that picture.
One of the other standout tunes in your arsenal this year is a massive remix of Billie Eilish's "bad guy". When did you decide to remix this song and do you have more remixes planned for the future?
The first time I heard the original song, I immediately fell in love with it. The unique production style and ominous vocals really appealed to me, so I tried to combine those aspects with my darker, upbeat tech house sound.
Everything came together really smoothly for this remix, and I've been blown away by the support on the track. Really excited to do more remixes in the future!
This year has seen you take the stage a number of times in Chicago, Seattle, Las Vegas, and more. When you have a performance on the horizon do you do anything specific to prepare for the set?
Absolutely. The live performances are my favorite part of this whole thing, so I do everything I can to make sure each MASTERIA show is the best it can be. That includes planning out a curated setlist for each performance, mapping out what the lighting and visual aspects will be, and everything in between.
More recently, my team and I have been working hard to take the visual aspect of my shows to the next level. To us, that means using visual components that, along with the music, help tell a story and invite the listener to go deeper into the MASTERIA brand and story.
Most recently you played a surprise set at Electric Forest. Can you share what that experience was like as someone who had attended the festival in the past?
It was wild, seriously a dream come true. Playing those kinds of sets at Electric Forest has always been a huge bucket list item for me. The energy and vibes at that festival is unlike almost any other, and I got to meet so many amazing people this year.
I really love playing festivals because they bring together so many different styles of music. The fans get to experience and listen to so many different genres over the course of a few days, and artists like myself also get to experiment with music we might not normally play during a standard 1-hour set.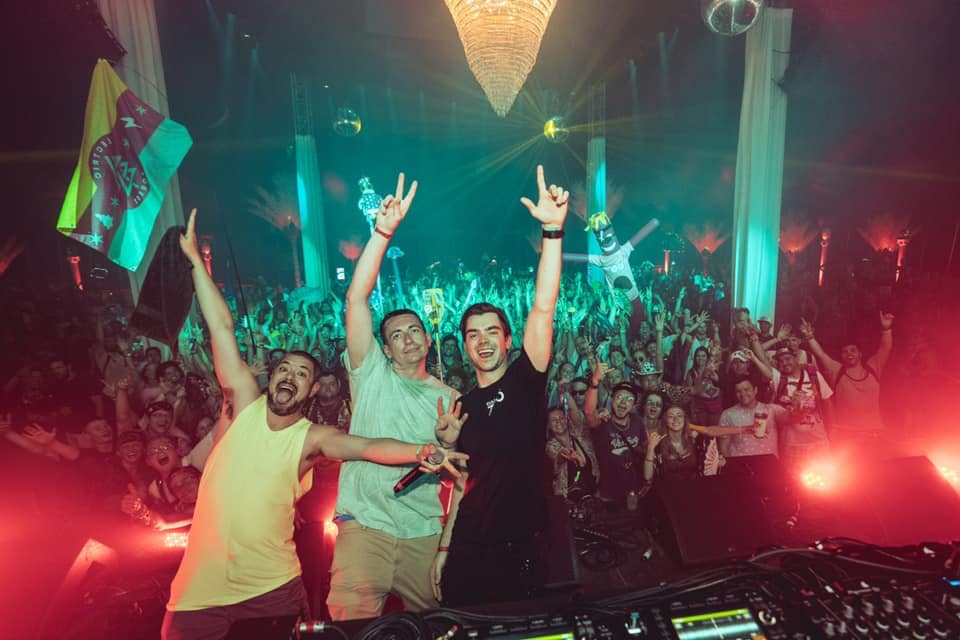 If you could take the stage anywhere in the world to play a set, where would it be and why?
My biggest bucket list festival is honestly Movement right here in Detroit. I've been going since I was just a teenager, always imagining how amazing it would be to play on one of those stages. I actually have a list of goals on my wall, and playing Movement is right at the top of that list.
This year I was actually lucky enough to have Golf Clap bring me out on the Main Stage during their set to premiere our upcoming collab together. It was an amazing experience and made me even more excited to hopefully play the festival myself one day.
As an artist who is rising through the ranks of the scene, what has been the biggest struggle you've faced so far? How have you battled against it or overcome it?
The biggest struggle for me and I think most artists in my shoes is finding your own lane. There is so much music these days that finding a way to actually grab the listener's attention and have them remember your song (or you as an artist) is tough.
That's why my team and I are always trying to really push the envelope on everything, from the music I produce to the artwork we attach to the music and the visuals we use during live performances. We want to tell a story that goes beyond just tracks or a cool drop, and that's what we're really excited to begin unveiling this Fall.
Now that half of 2019 is in the rearview window, what goals would you like to achieve in the remainder of this year?
This Fall, my team and I are really excited to begin rolling out our full vision for the project. We're putting together music, artwork, and visuals that will really help convey what MASTERIA is, and the story we want to tell. More to come on that soon!
Finally, since both cities have distinct styles of pizza, do you prefer Detroit over Chicago, and where's your favorite spot to grab a slice?
Wow, this one is tough, both places have amazing pizza. But I'm gonna have to hold it down for the hometown and say Detroit pizza. Buddy's has some amazing Detroit style za.
---
Follow MASTERIA on Social Media:
Website | Facebook | Twitter | Instagram | SoundCloud