Can't make it up to the Bay Area for the debut of Porter Robinson's Second Sky Music Festival? Tune in to their Twitch Live Stream to catch the action!
---
Porterfam from all over the world were buzzing with excitement when the news first broke that Porter Robinson would be hosting his very own festival this year. Packing in a stacked lineup that features notable artists like Madeon, G Jones, and more along with a Worlds Live show and Virtual Self set each day, Second Sky Music Festival is a dream come true for many.
Hosted on June 15-16 at Middle Harbor Shoreline Park and featuring the exact same lineup each day (except G Jones on day two), Second Sky is shaping up to be quite the experience for those who can make their way to the Bay Area. But if you can't make it there for the festivities you're in luck, as today they've announced that there will be a live stream of Second Sky on Twitch so you can catch the action!
Running from 4pm to 10pm PT on Saturday, June 15, many of the sets from Second Sky Music Festival will be streamed to give you a taste of what's happening at the festival. Additionally, Porter Robinson's headlining slot will be streamed as well, giving his massive fanbase the ability to see the return of Worlds Live.
During the live stream, those who tune in will be able to donate to the recently announced Robinson Malawi Fund while watching their favorite artists perform. Check out the set times below for an idea of when you should tune in, and head over to Twitch or simply press play on the embedded stream below on Saturday!
Watch the Second Sky Music Festival 2019 Live Stream on Twitch:
Watch live video from twitchmusic on www.twitch.tv
---
Second Sky Music Festival 2019 Live Stream Schedule: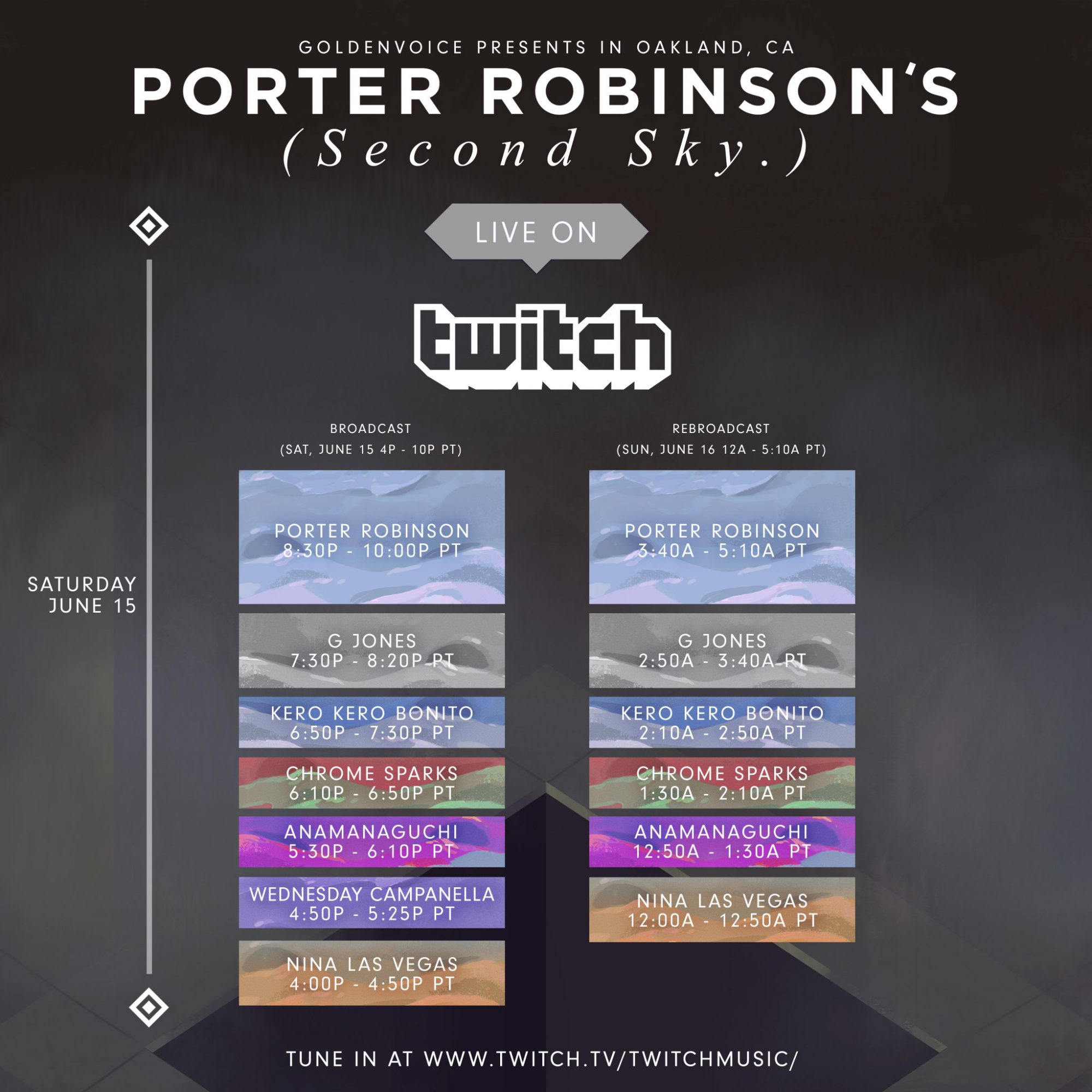 ---
Connect with Porter Robinson:
Website | Facebook | Twitter | Instagram | SoundCloud
Connect with Second Sky Music Festival on Social Media: