Envision Festival is celebrating their 10th Anniversary in style with the announcement that it will be expanding to a full week-long experience in 2020!
---
Nestled in the jungle of Costa Rica is one of the most environmentally conscious festivals in the world, Envision Festival. Hosted each year at Rancho La Merced just near Bahia Ballena, Uvita, this festival has become renowned for providing experiences that few others have been able to offer. Now, the Envision Festival organizers have announced that they'll be returning to their tropical paradise home again in 2020 to celebrate their 10th Anniversary in the best way possible.
The upcoming edition of Envision is set to be their biggest yet, as today they've announced an expansion to a week-long experience taking place on February 17-24. This will give those who make the trek down to Costa Rica even more time to bask in the sun, discover your inner self, attend new workshops, and participate in adventures both on and off site. And while the music lineup is yet to be announced, if past editions are any indication then you should expect some jaw-dropping sets and stunning performances throughout the week as well.
"We are filling a need that there has consistently been demand for, MORE ENVISION.  There is so much happening during the 4-day festival, that most people only attend a few workshops over the whole weekend.  This allows attendees to dive a bit deeper with our world-class leaders, have more time for adventures and not have to deal with the challenge of traveling around Costa Rica days before or after.  It's accomplishing so many things; more education, more yoga, a basecamp for adventure and a way to ease into the biggest and best Envision ever."

– Envision Festival Co-Founder and Creative Director, Josh Wendel
Additionally, as Envision Festival celebrates its 10th anniversary there will also be a Gold Party hosted on Saturday night. Legendary past performers will be present for the party, along with some surprise guests and fun activities to participate in as well!
If you are thinking about making the trip, Full 7-Day Experience Tier-1 prices for VIP tickets start at $899 and GA passes are at $589. Are you only able to make the weekend still? Tier-1 4-day VIP passes are available as well at $599 and 4-day GA passes will be priced at $289.
Stay tuned for more details that are to come ahead of Envision Festival 2020 and get ready to grab your passes as they'll be on sale on their website starting with a loyalty sale on June 11 at 1pm EST and general sale on June 13 at 1pm EST.
---
Envision Festival 2020 – Event Information:
Date: February 17-24, 2020
Location: Rancho La Merced, Uvita, Puntarenas, Costa Rica
Age Restriction: All Ages
Facebook Event Page: RSVP HERE
Tickets: Purchase HERE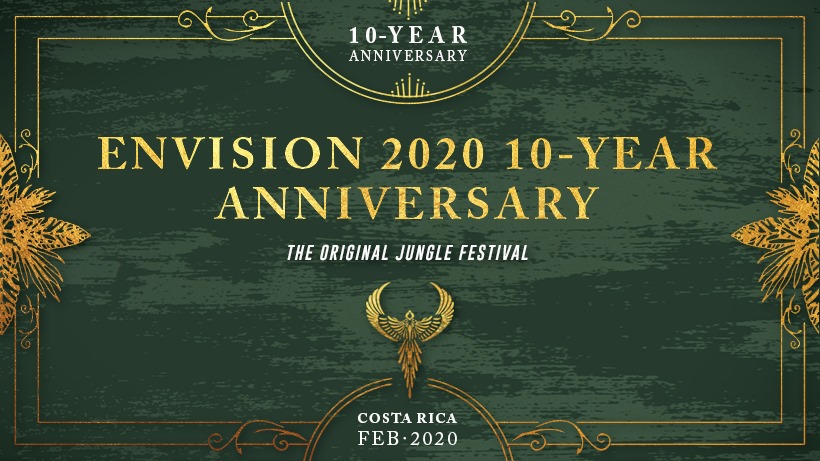 ---
Follow Envision Festival on Social Media: