Are you ready for Spring Awakening in less than two weeks? Get familiar with the new location and read on for more essential info!
---
It's hard to believe that Spring Awakening Music Festival is already in its eighth year! Every June, fans from around the Midwest flock to Chicago to see some of the biggest names in dance music. One of the best festivals to attend in Chicago, SAMF continues to deliver a worthwhile experience every single year. The 2019 edition of SAMF will be headlined by Zedd, Illenium, Galantis, DJ Snake, Martin Garrix, Dillon Francis, GRiZ, and more. Here's who I'm most excited to see.
Held at Adams-Medill Park on the near south side of Chicago the last three years, Spring Awakening is moving to Poplar Creek at Hoffman Estates for 2019. Be sure to confirm all of your travel plans to and from the venue, as many attendees (including myself) will be traveling long distances to the far northwest suburban location. Thankfully, SAMF has us covered with convenient parking and shuttles to and from the venue. Keep reading for all the information you need!
Want a sneak preview of the new venue? Check out this video from Spring Awakening, and be sure to purchase your tickets now on SeeTickets! 
---
Spring Awakening 2019 Essential Info:
Dates: June 7-9, 2019
Hours: 1pm – 10pm, daily
Ages: 18+, 21+ for VIP Section
Venue Address: Poplar Creek – 5523 Prairie Stone Pkwy, Hoffman Estates, IL 60192
Tickets: Purchase HERE
Facebook Event Page: RSVP HERE
Acceptable Forms of Identification for Entry
Drivers licenses, passports, and legal government-issues IDs will be accepted. IDs must contain both a photo and your date of birth. Temporary paper government-issued IDs that match these guidelines will be accepted.
Will Call Information 
If you purchased a ticket after May 23, your ticket will NOT be shipped. You will have to pick it up at Will Call. Luckily, you'll be able to pick up your ticket starting on Monday. I HIGHLY recommend stopping by Will Call before Friday to avoid any lines at will call on the day of the festival.

Vic Theatre (3145 N Sheffield Ave, Chicago)

Monday 6/3, 12 PM – 8 PM
Tuesday 6/4, 12 PM – 8 PM
Wednesday 6/5, 12 PM – 8 PM
Festival Box Office (5523 Prairie Stone Pkwy, Hoffman Estates)

Thursday 6/6, 12 PM – 8 PM
Friday 6/7, 12 PM – 9 PM
Saturday 6/8, 12 PM – 9 PM
Thursday 6/9, 12 PM – 8 PM
---
Spring Awakening 2019 Set Times: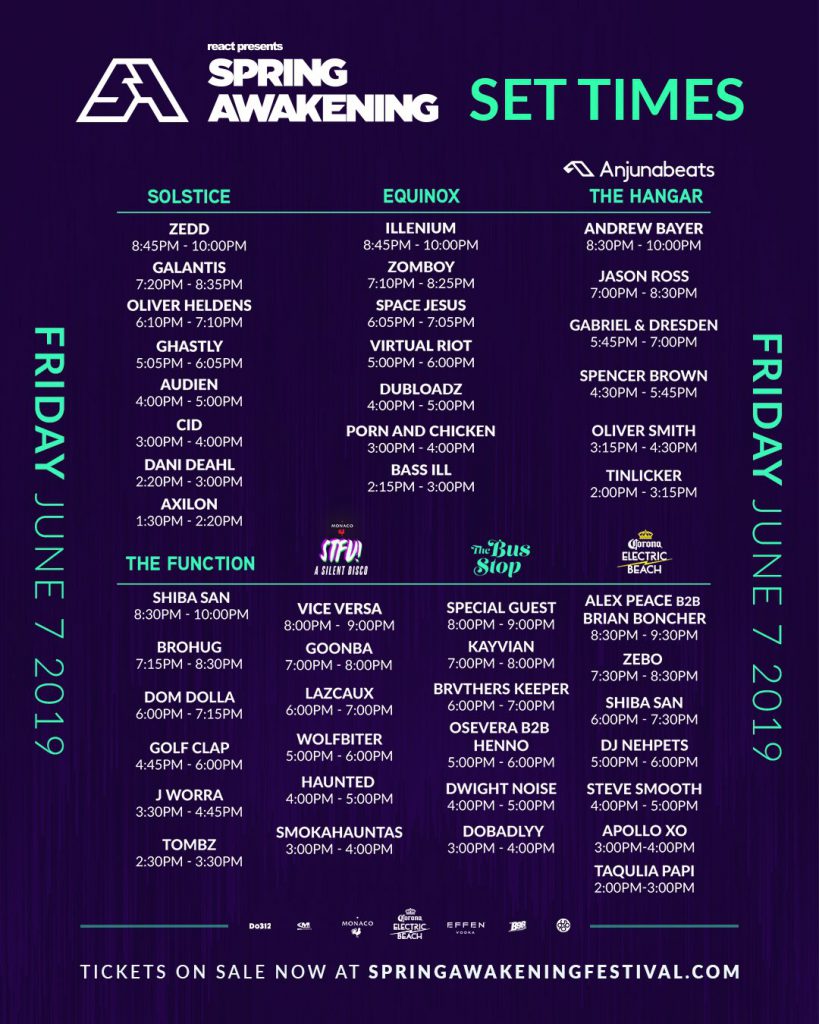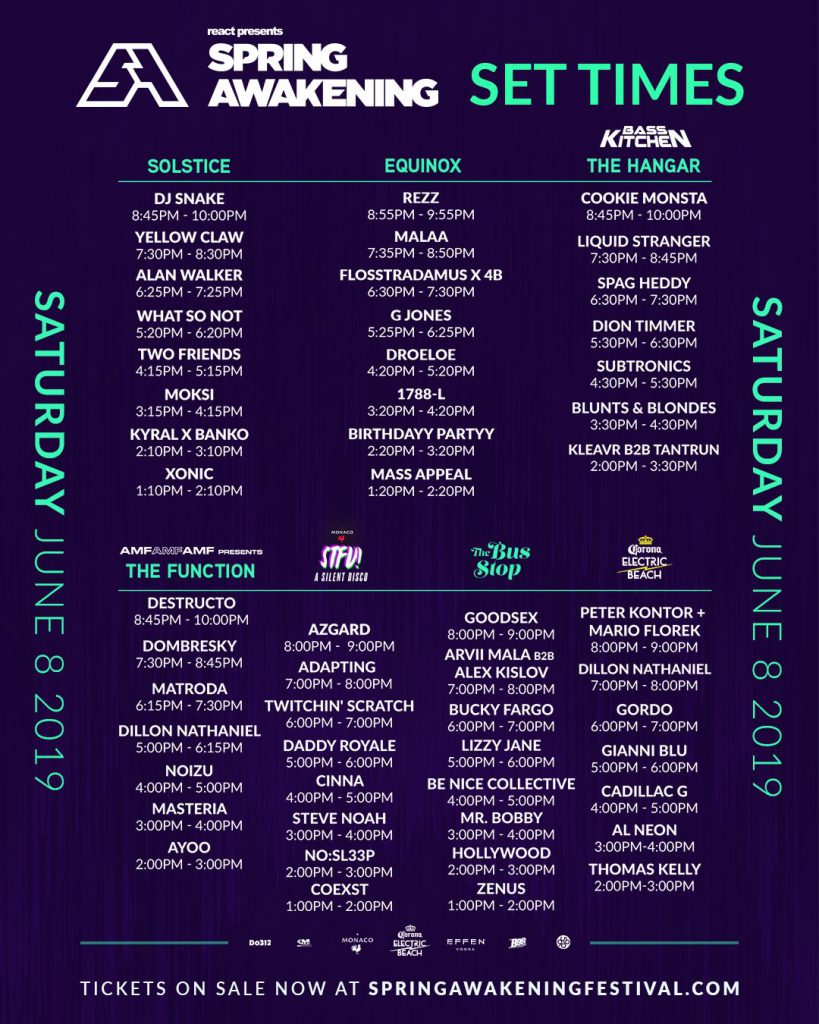 ---
Spring Awakening 2019 Official Afterparties: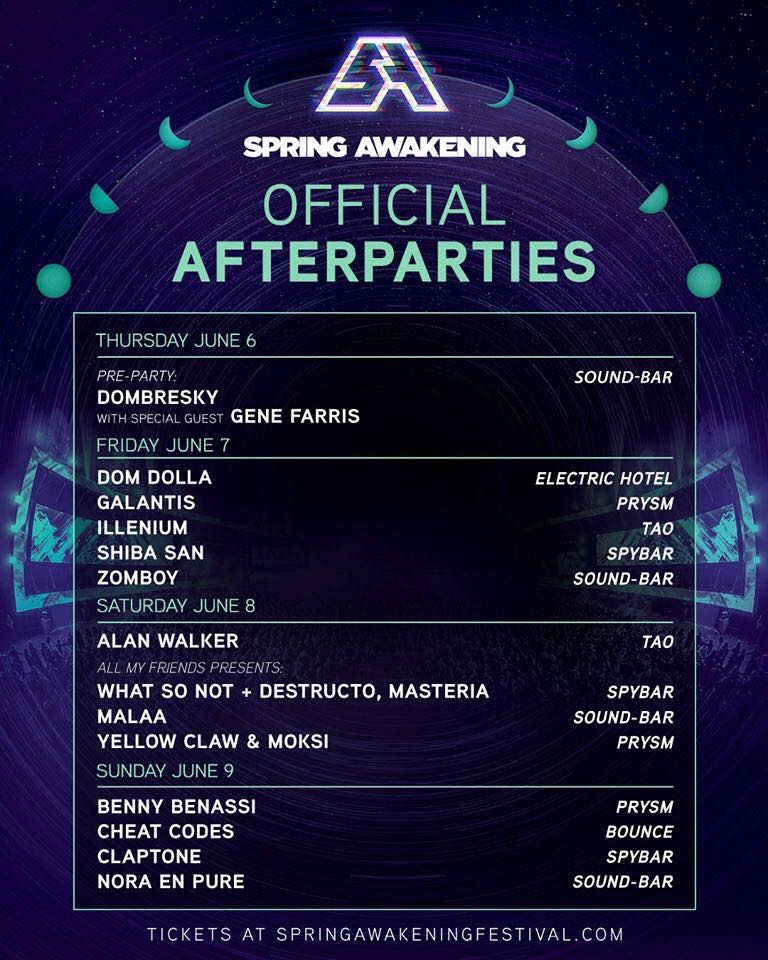 ---
Spring Awakening 2019 Festival and Parking Maps:
Parking & Transportation Information 
For the first time at SAMF, there will be parking on site! Parking passes can be purchased now, and do not have to be picked up at will call.
Bike parking is free on site, and there will be a dedicated ride share lot across the street from the venue.
Shuttles to and from the Rosemont Blue Line, Barrington Metra Station, and Elgin Metra Station will be running from 12 PM – 12 AM each day of the festival.
---
Spring Awakening 2019 Do's & Don'ts:
Prohibited Items
NO glass of any kind
NO Native American Headdresses
NO weapons of any kind (regardless of permit)
NO paint of any kind (including paint markers and spray paint)
NO fireworks
NO illegal substances
NO drugs or drug paraphernalia
NO large chains
NO laser pointers
NO tents or umbrellas
NO flags or totems with metal or wood pieces
NO large umbrellas
NO unsealed tampons
NO unsealed cigarette packs
NO pre-filled vape pens (see allowed list below for vape specifics)
NO stuffed animals/dolls (including stuffed animal purses)
NO pacifiers
NO unsealed over the counter medications/vitamins (prescription drugs in non-approved containers must be turned over to medical)
NO vending without permit
NO bicycles, scooters, go carts, skate boards, hoverboards or atvs
NO pets – unless it is a service animal.
NO coolers
NO outside food or drinks (1 factory sealed water bottle is okay)
NO open containers
NO backpacks with multiple pockets or  multi-pocket bags
NO bags bigger than 12″x 12″ including purses
NO luggage
NO bota bags (empty hydration packs and Camelbaks are permitted. must be able to remove water pouch from bag)
NO push carts
NO sports equipment (including frisbees)
NO tents or camping gear
NO soap, shampoo, conditioner or other detergents
NO flammable products
NO aerosol cans
NO camera tripods or go-pro sticks
NO projectiles or explosives
NO knives or sharp objects
NO open fires
NO water guns or misters
NO chairs
NO flyers, stickers, posters
NO hammocks
NO grills of any kind (including propane and charcoal)
NO generators
NO gas masks or tactical gear
NO aerosol cans (including deodorant, bug spray, sunscreen and perfume)
NO Chinese lanterns
NO LED gloves
NO drones or unmanned aerial vehicles
Permitted Items
Factory sealed cigarette packs
Factory sealed tampons,
Factory sealed vape pens, factory sealed vape cartridges, empty vape pens
Go-Pro Cameras (No Go-Pro Sticks), Digital phone, point and shoot cameras, disposable cameras
Fanny packs
Purses smaller than 12″x 12″,
One-pocket cinch bags smaller than 12″ x 12″
Single-Pocket Bags smaller than 12″ x 12″
Empty hydration packs or Camelbaks (you will be required to remove the pouch for inspection prior to entry)
Empty clear plastic water bottles
ONE factory sealed single-serving plastic water bottle per person
Hula Hoops
Poi toys and instruments as long as the materials are SOFT.  Any Poi instruments with hard materials will be denied upon entry.
Flags (but no flag poles)
Sunglasses
Hats
Pashminas and Scarfs
Lighters
Factory sealed sunblock (non-aerosol)
Factory sealed bug spray (non-aerosol)
Lip gloss
Binoculars
Totem Details:
ALLOWED TOTEM DETAILS: Flags, Decorated Pool Noodles, and Totems that DO NOT contain metal pieces, sharpened elements, or are capable of being pounded into the ground or hurting others.
Totem Guidelines: Maximum height of 10 feet, made from a lightweight material (foam, PVC, etc.). Poles must be no thicker than one inch in diameter and cannot contain solid metal pieces. Decorated pool noodles recommended. Any item deemed dangerous, promoting illegal activity, or hate speech will not be permitted. Totems are subject to inspection.
NO Totems which contain metal pieces, sharpened elements, or are capable of being pounded into the ground or hurting others. Totems and flags without these pieces are deemed safe and adhering to these guidelines will be allowed.
---
Reminder to Mind Your Belongings:
Unfortunately, many people have reported pickpockets, bag slashings, and theft of wallets, smartphones, purses, and other valuables during this festival season. While this small number of bad apples in the bunch doesn't define an entire crowd, there are opportunistic people who come to these events to take advantage of unsuspecting partygoers and it's important to be mindful of your valuables while at Spring Awakening Music Festival.
Looking for tips to keep your belongings safe? Check our post highlighting some ideas!
---
Follow Spring Awakening on Social Media: