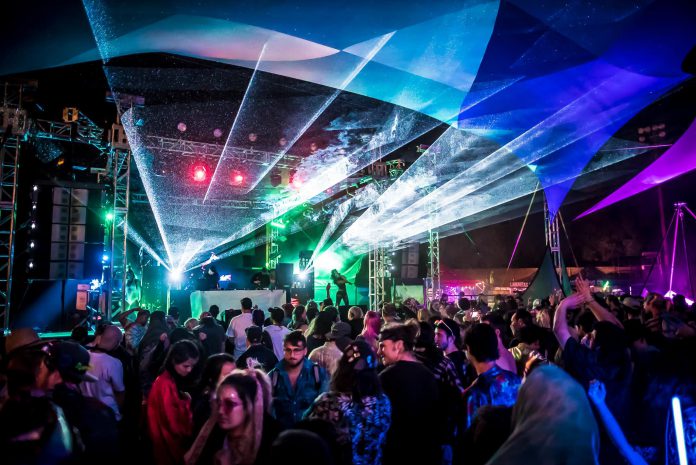 Are you ready for a weekend full of bass vibes at The Untz Festival? Stay in the know with all of the essential info!
---
The fourth annual installment of The Untz Festival is almost upon us! Humanoids from all walks of life will be gathering under the Northern California stars next weekend from Friday, May 31 to Sunday, June 2 to celebrate great vibes and amazing beats from talented members of the scene.
This year, the lineup features some of the heaviest hitters in bass music, including Space Jesus, Slug Wife, Freddy Todd, Of The Trees, and Mersiv. There will be plenty of dubstep, riddim, and a diversity of other artists to boot, as well as meditation, yoga, and a variety of workshops to participate in over the weekend.
To help you get prepped for the weekend, we've compiled some of the most crucial information that you need to know before you head out to the show. Read on for the set times, what not to bring, and more!
Tickets for The Untz Festival are still available, so go ahead and buy yours via Vendini!
---
The Untz Festival 2019 – Essential Info:
Dates: May 31 – June 2, 2019
Ages: All Ages (Children 3 and under admitted free)
Festival Hours: Early arrival begins Friday 5/31 at 4pm. General entry 9am Saturday
Box Office Hours: Friday 4pm-Midnight for early Arrival. Saturday & Sunday 9am-Midnight.
Venue Address: Mariposa Fairgrounds, 5007 Fairgrounds Road, Mariposa, CA 95338
Facebook Event Page: RSVP HERE
---
The Untz Festival 2019 Set Times: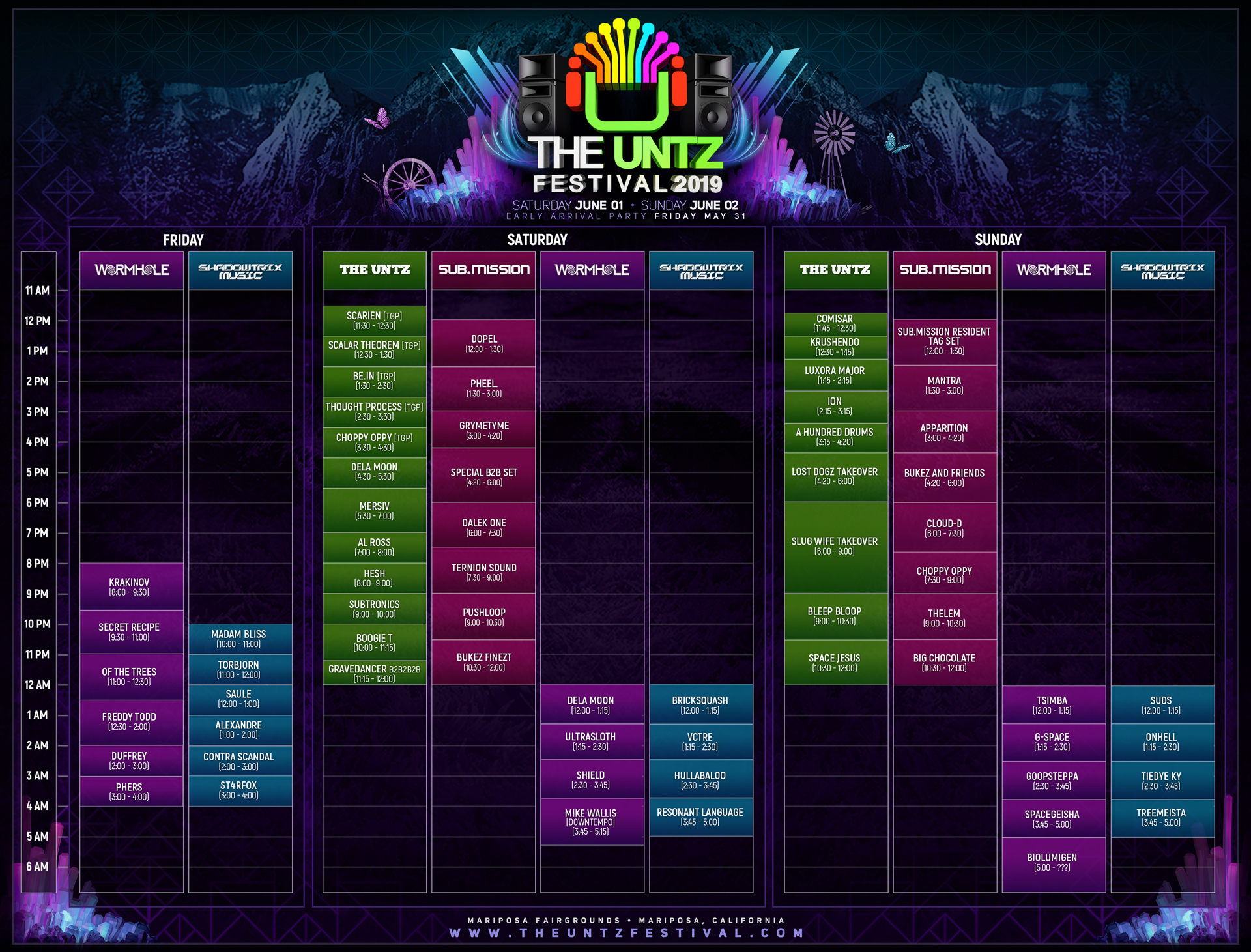 ---
The Untz Festival 2019 Workshop Schedule:
---
On-Site Services:
ATM – One on-site, with a transaction fee. It is suggested that you come with enough cash.
Cell service – Verizon reportedly works well at the venue, AT&T does not.
Water – Available free throughout the site. Please bring reusable containers.
Ice – Available for purchase on-site.
Showers – Available for free at several bathing houses around the facility.
Lost & Found – Located at the info/security booth. Valuable items (wallets, phones, Id's, cameras) will be held after the event and proactively returned.
Food Vendors – Various options including meat, vegetarian, and vegan.
Ride Sharing:
If you are looking for a ride or are able to give someone one, head over to The Untztoppable Facebook Group!
Camping:
All tickets have walk-in camping included. Camping is first-come, first served. Please be mindful of your overall footprint and your neighbors.
The Untz Festival participants may set up camp anywhere in the campground that is not marked out by event staff for parking, environments, or art. Please keep in mind that vehicles are not permitted on-site for gear drops or pick-ups.  ­­­
To find out more details on camping at The Untz Festival, visit their website!
---
Do's & Don'ts:
APPROVED ITEMS
Appropriate clothing for all types of weather – temperatures can be in the low 40's at night!!
Camping gear and shade structures – free-standing and waterproof
Stakes and tennis balls – keep your gear grounded and protected.
Water, lots of drinking water
Reusable water bottle!
Trash bags for your site
Flashlight, headlamp, rechargeable solar lights for your camp
Earplugs – one pair of earplugs for the dancefloor, and another of the noise-cancellation type for when you want to sleep
Sunglasses, hat, sunscreen
Shoes
Yoga mat and portable chairs
Any prescription meds, eye solutions, and any other healthcare items. A small first aid kit is always a good idea.
Gifts for gifting and bartering; art for sharing
Costumes
PROHIBITED ITEMS
Alcohol – all alcohol must be purchased in the venue, none may be brought from outside.
Illegal drugs
Pets – only qualified service animals will be permitted
Firearms or weapons
Fireworks, explosives, candles, or sky lanterns
Fire toys – all fire performers must be pre-approved
Charcoal grills or open flames – white gas/propane is ok
Glass containers
Professional photography equipment or cameras with detachable lenses
Solicitations – handbills, giveaways, etc
Amplified sound or guerrilla sound systems
Motorized vehicles
Laser pens or similar focused light devices
Unauthorized motorized and/or remote control aerial devices, toys, cameras or equipment (drones, toy planes, etc.)
Confetti
---
Reminder To Mind Your Belongings:
Unfortunately, many people have reported pickpockets, bag slashings, and theft of wallets, smartphones, purses, and other valuables during this festival season. While this small number of bad apples in the bunch doesn't define an entire crowd, there are opportunistic people who come to these events to take advantage of unsuspecting partygoers and it's important to be mindful of your valuables while at The Untz Festival.
Looking for tips to keep your belongings safe? Check our post highlighting some ideas!
---
Connect with The Untz Festival on Social Media: