The neonGARDEN is a house and techno lovers one-stop shop at EDC Las Vegas and we have the beats to get you pumped for the party!
---
While many will flock to witness the emotional "feels" and grandeur of the kineticFIELD mainstage at EDC Las Vegas, there are those among us, including myself, that gravitate to the more stylized stages. This year, I will join my tribe at neonGARDEN, determined to make it my home for the majority of EDCLV weekend. In this space, we do away with all of the candy-coated melodies and lovey-dovey uplift, inviting in beats that are intense, alienistic, dark, driving, and no-nonsense.
Featuring some of the biggest names in the techno, house, minimal, and tech house industry, neonGARDEN Hosted by Factory 93, will submerge you into an elite subterranean realm surrounded by a family of rhythmical beat seekers that wish to make unforgettable memories with you!
So in honor of the dark entities that will control the vibrations on the dance floor we have curated a spectacular neonGARDEN playlist to get you hyped for the insanity that awaits. Tune in to the playlist below and I hope to see you there!
Stream the EDC Las Vegas 2019 neonGARDEN Playlist on Spotify:
---
In the quest to feature everyone on the neonGARDEN lineup it is important to note that there are two artists who were not included but deserve an extra special shout out.
The first is Declan James, a progressive trance mood setter that has recently been bitten by the techno bug. Embarking on a brand new musical journey, he has been chosen to join the pack of techno dynamo's during Adam Beyer's Drumcode showcase on Sunday which will also include the stylings of Amelie Lens, ANNA, Bart Skils B2B Layton Giordani, and Enrico Sangiuliano. For a glimpse into what he plans on bringing to the table, check out his set from Club S&S Dallas, a surrealist techno celebration of sound dubbed VOIDWARE LIVE.
The second artist worth noting is Sinopoli. He is the founder of Miami's own III Points Music Festival, co-owner of Club Space, The Ground and Floyd and has been picked by Insomniac to join in on the neonGARDEN shenanigans with a wide range of underground styles waiting in his arsenal. Come and witness Sinopoli unleash his artistic genius as he pummels the airwaves with a fury of acid house, afro house, tech house, and techno. If you want to see what he has in store for us, check out his B2B performance with Nii Tei from Space Miami.
Who will you be dancing to most at the neonGARDEN Stage this year at EDC Las Vegas? Let us know in the comments below!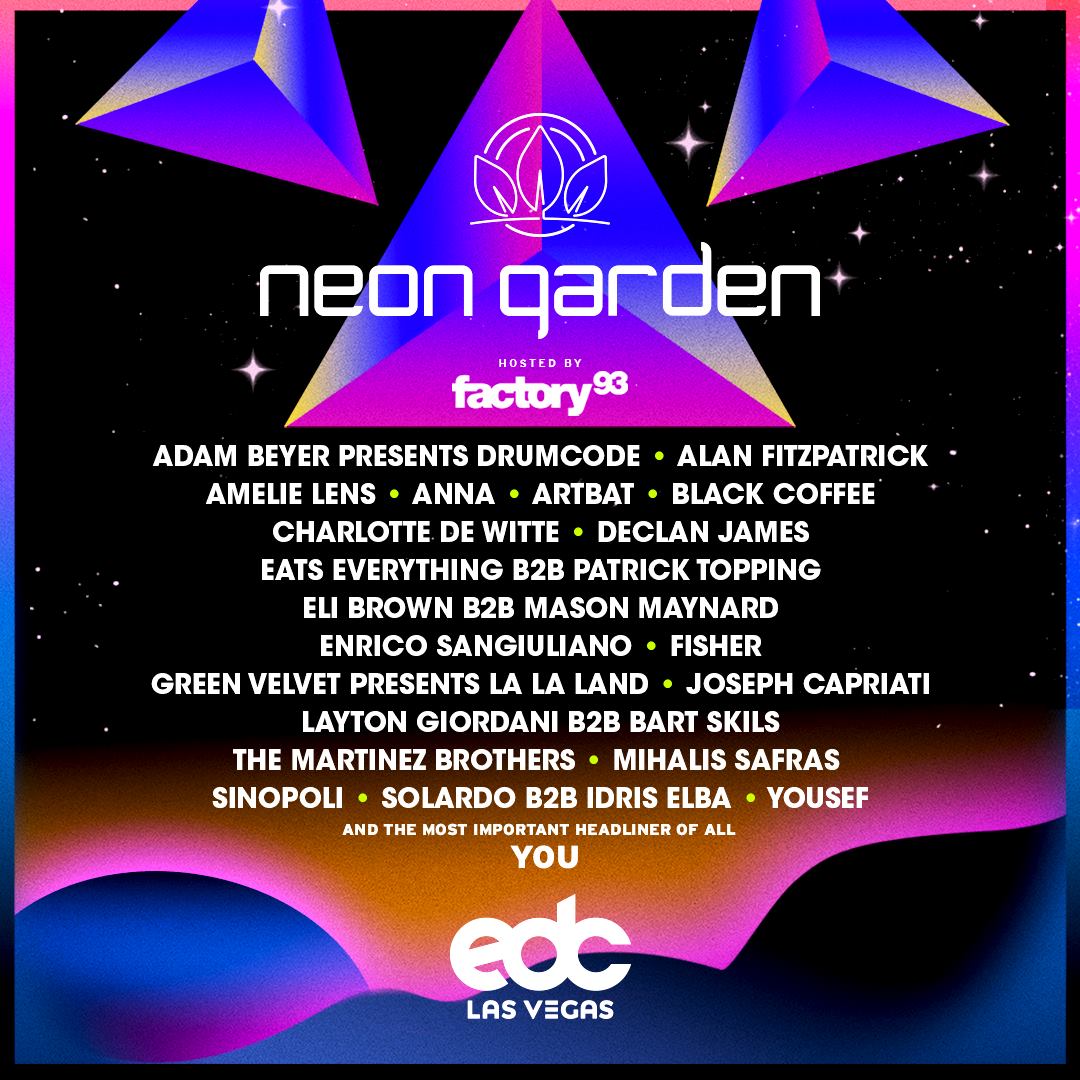 ---
Connect with EDC Las Vegas on Social Media: