Connection, love, and unreal music made for a fulfilling first-time experience at Desert Hearts Festival!
---
Over the years, the Desert Hearts family has created a unique culture in dance music that lives and vibrates through its community. Their annual festival has a heavy focus on connection, art, and self-expression, making it a destination for many and one that had been on my list of festivals to attend for quite some time. In fact, I couldn't wait to finally experience the magic at Desert Hearts Festival. I was excited about the music, but my mindset and approach were much different going into Desert Hearts compared to other festivals I have attended.
At most festivals I find myself focused on set times and which stage to be at. Because Desert Hearts has a one stage one vibe concept I never felt that pressure. I had some must-see sets over the weekend, but for the most part, I could stop by the stage at any time and get a healthy dose of house or techno.
Instead, I wanted to use Desert Hearts as an opportunity to recharge. To explore everything the Soul Palace, Healing Sanctuary, and Heartspace had to offer.
I used the rest of the days to explore the festival grounds, take pictures, participate in a variety of workshops and meet new people. These experiences and interactions are what really made my time at Desert Hearts the most fulfilling.
The first workshop I attended was led by Summer Bates and called Manifest Your Dreams Into Reality Yoga Workshop at Soul Palace. It combined the energies of yoga and positive affirmations to create an environment of tranquility, clarity, and mindfulness. We were guided through different stretches while being prompted to think of our goals and dreams. At the end of the session, everyone was laying on their backs focusing on their breathing, calm, eyes closed.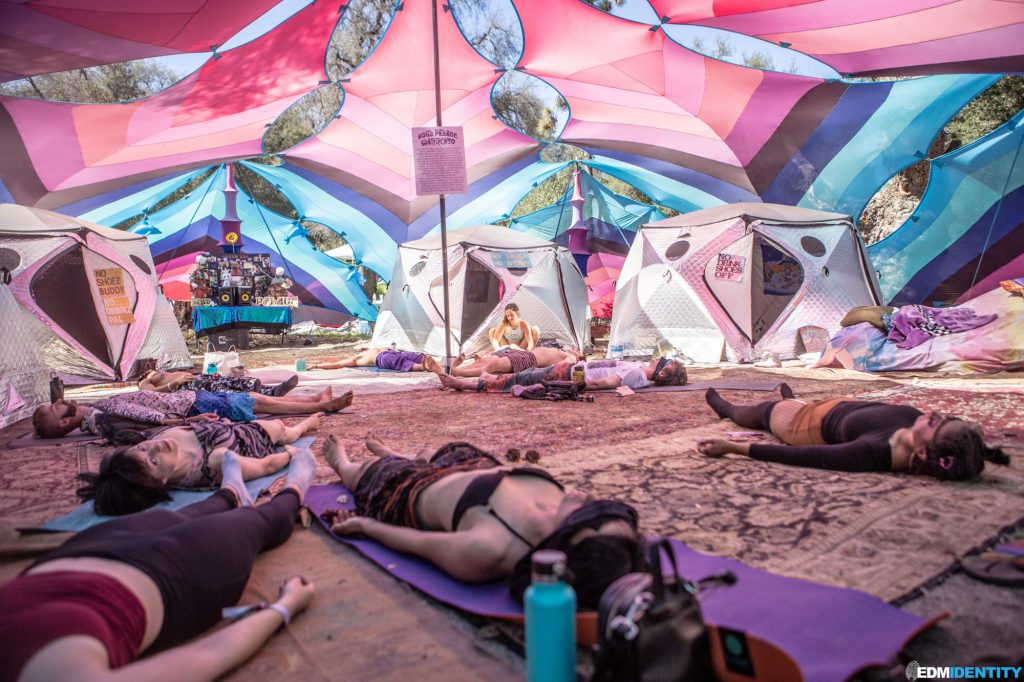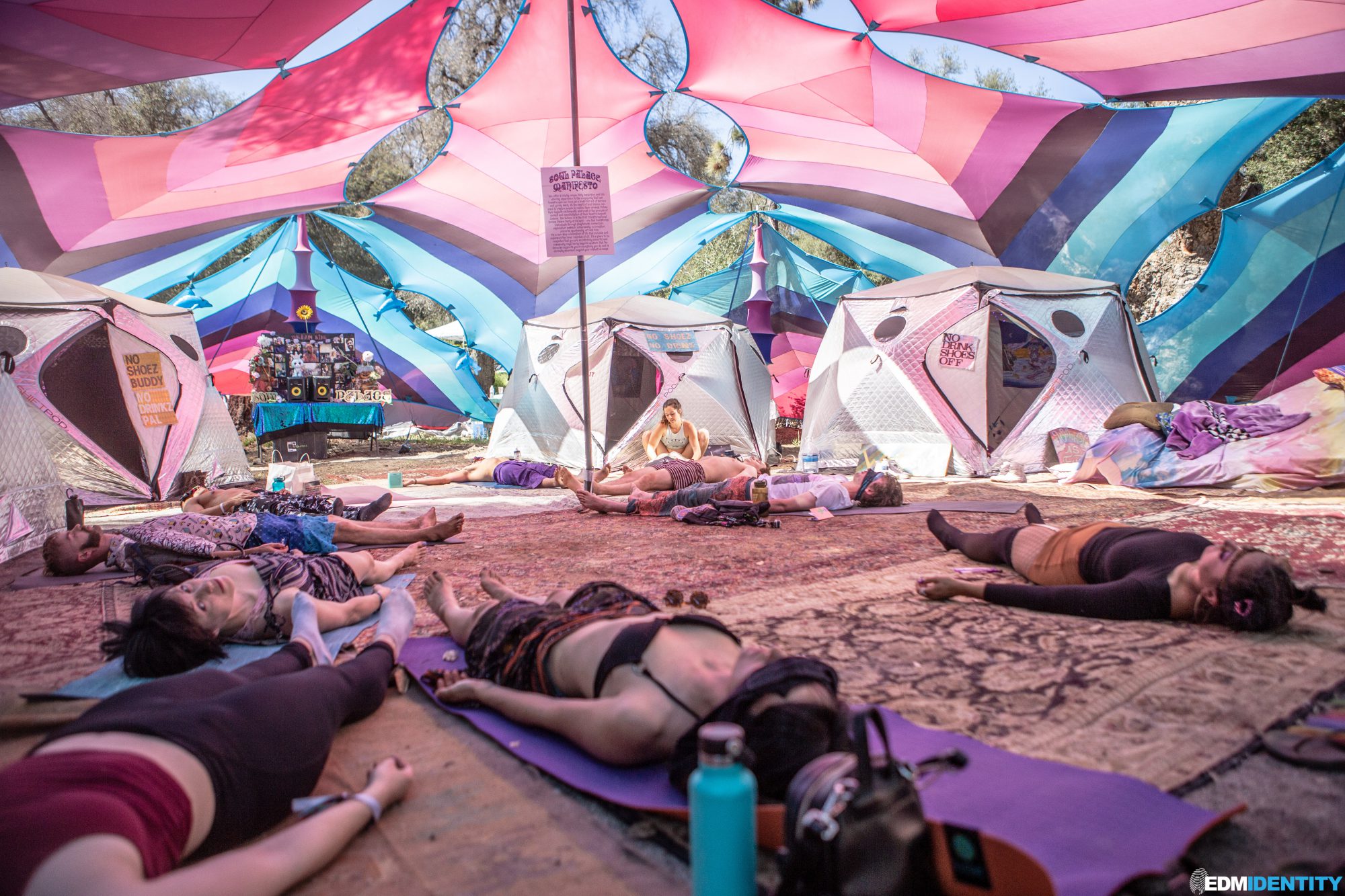 Summer went to each person and massaged essential oils on the back of their neck, and I could see each person's stresses melt away.
The immediate response from human touch was astounding and each individual experienced this immense relief as Summer connected with them. We finished the session with Oms and everyone received a Dream Journal to write and manifest their dreams into reality. It was an amazing session and a great way to recharge after a night of dancing and camping.
Another workshop I attended was presented by Kindra at the Healing Sanctuary.
Gina and her co-worker had a variety of different essential oils and explained the different properties and benefits of each. After learning more about each oil we were able to create a blend unique to how we were feeling and what we needed. They had little to-go vials and I made a mix of lavender and tea tree for the properties of stress relief and immune boosting. It was a very wholesome experience to learn about each oil, apply it to my current vibration, and create a specific blend for myself.
The Heartspace was another amazing part of the festival.
Located next to the food court the Heartspace hosted open draws, comedy, workshops, and a variety of speakers covering different topics. Although I was around the area often one of the sessions that stood out to me most was the panel with the Desert Hearts family talking about festivals and community culture. The discussion was guided by the Heartspace crew and Mikey Lion gave his insight into what makes Desert Hearts so unique and what we can do to continue growing the amazing vibe and community that has been cultivated.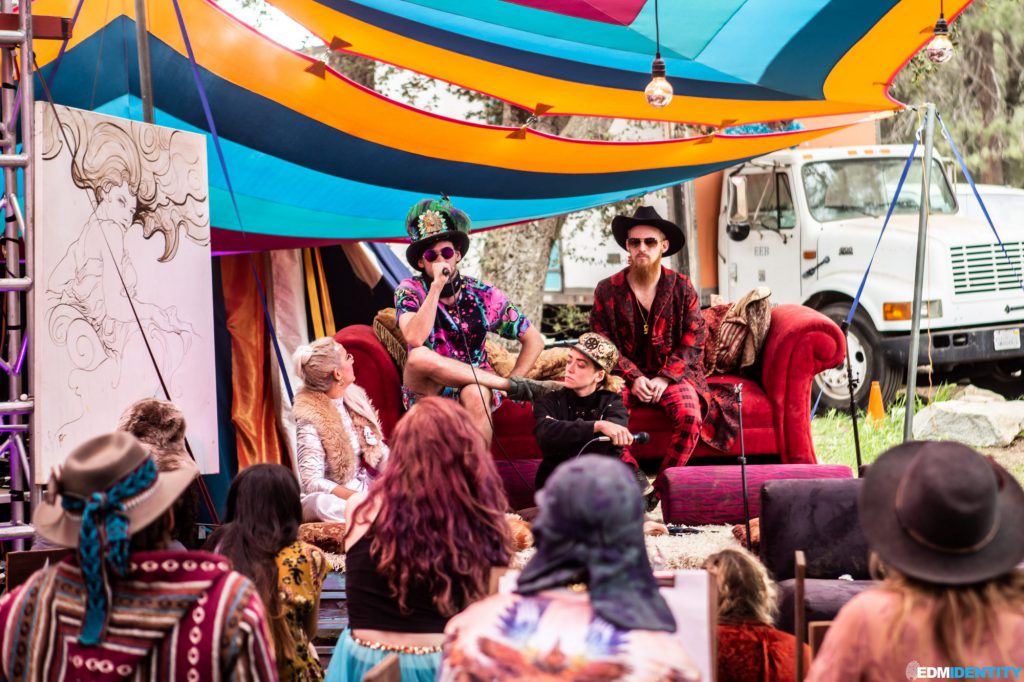 The Heartspace was also home to the secret Sock Party which I didn't find until Sunday, but I am glad I did.
One of the first interactions I had at Desert Hearts was with a lady wearing an all-white suit and white vest with tons of sharpies attached to it. Naturally, I had to see what the deal was and she explained if I signed her jacked I would be granted entry to a secret party +1. I signed her coat and she pinned me with a little sock and told me to find the entrance after 9 PM by the food court (Heartspace).
I returned to the Heartspace after 9 PM with a portion of my group and I was not expecting what was to follow. One of the Heartspace attendees asked for our socks, we put our hands in like a soccer cheer, repeated some sentence he asked of us, and he swooshed us to the back of Heartspace. The space had a small stage and tons of comfortable seating so we found a spot and sat down. It wasn't long before two people took the stage and started their improv comedy bit. It was hilarious. They somehow got into a myriad of Trade Joe's jokes and proceeded to call me on stage for a portion of it.
At that point, everything became a blur because I couldn't tell you what they were asking me or what I was responding to.
I was really nervous about being called onto stage, but at the same time, I knew it must have been really comical because I had no idea what was going on and my face showed it. Those two minutes felt like an eternity, but luckily, they sent me on my way with an extremely funny memory I wouldn't believe had my friends not witnessed it too.
Desert Hearts also had tons of art to get lost in while exploring the festival grounds.
Between the live paintings and installations, there was an abundance of creative energy. I would gravitate toward different pieces and connect with each artist I could, but there were some pieces that really called to me. My favorite installation was the Sideways House which I found at another festival, Phoenix Lights, and was so happy to see it again at Desert Hearts.
You enter the little house from the side and inside is a futon you can lay on that shifts your perspective because the coffee table, remote, and magazines are bolted to the walls. As soon as you lay on the futon and gaze through the open roof you can understand why it's called Sideways House. It's a simple yet dynamic illusion that, for some reason, I constantly find myself spending time at. To top it all off, I finally met the installation creator, Larry, and was able to connect with him and tell him all about my experiences inspired by his art.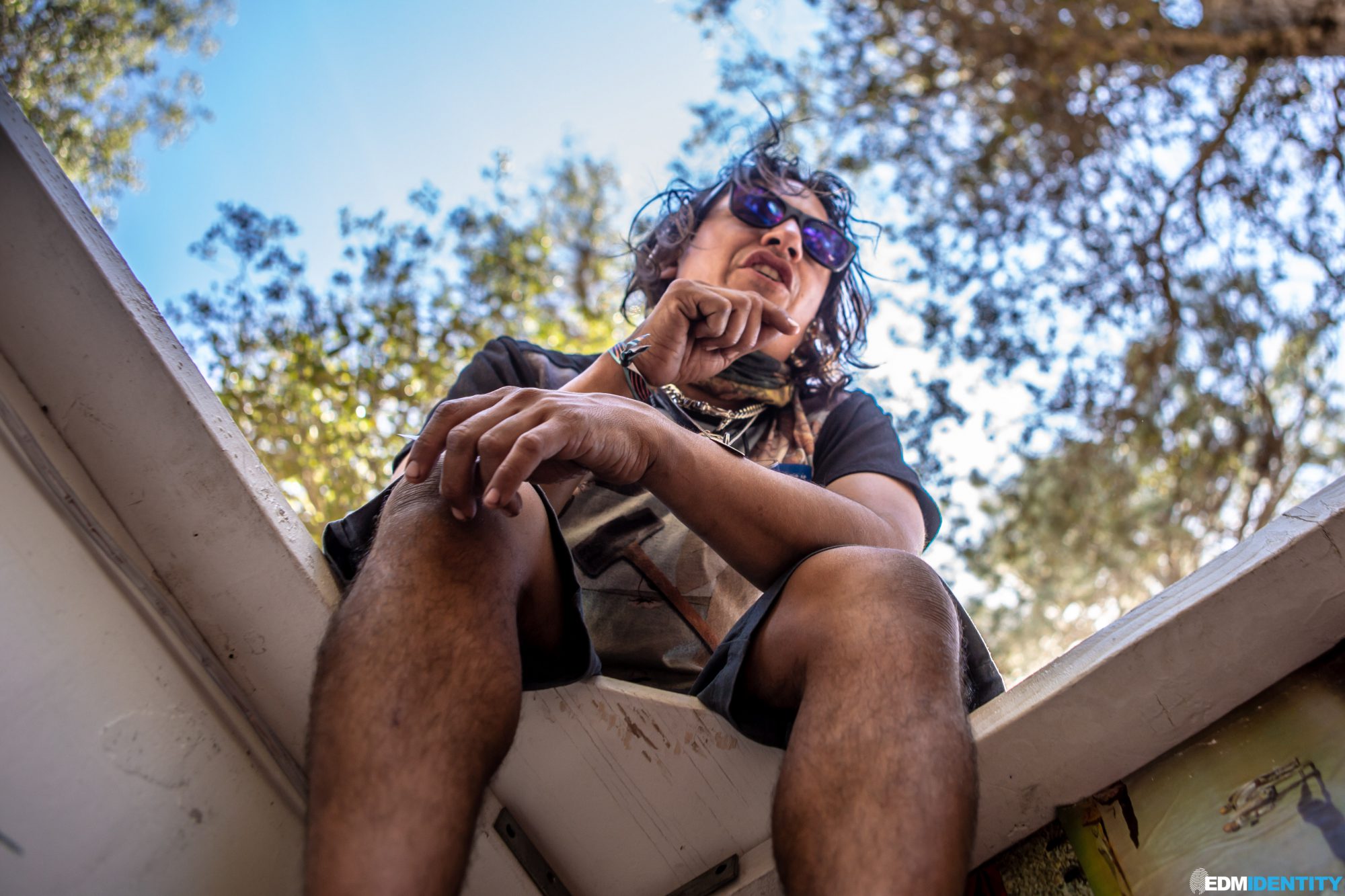 Another installation I found myself gravitating towards was the Hypercube.
I have been familiar with this specific cube a while now because I have been following them since the beginning of their Kickstarter campaign. It has been really interesting to see the cube go from concept to tangible, to Desert Hearts. Located close to the spinning globe the Hypercube could be easily overlooked, but enchanting once you find it.
It is designed to interact with the sound around and the LEDs inside create an infinity of color. The cube immediately transports you to another world where everything you perceived before looking into it disappears and you are left with nothing but visions of color and geometric sequences of infinity. Absolutely stunning.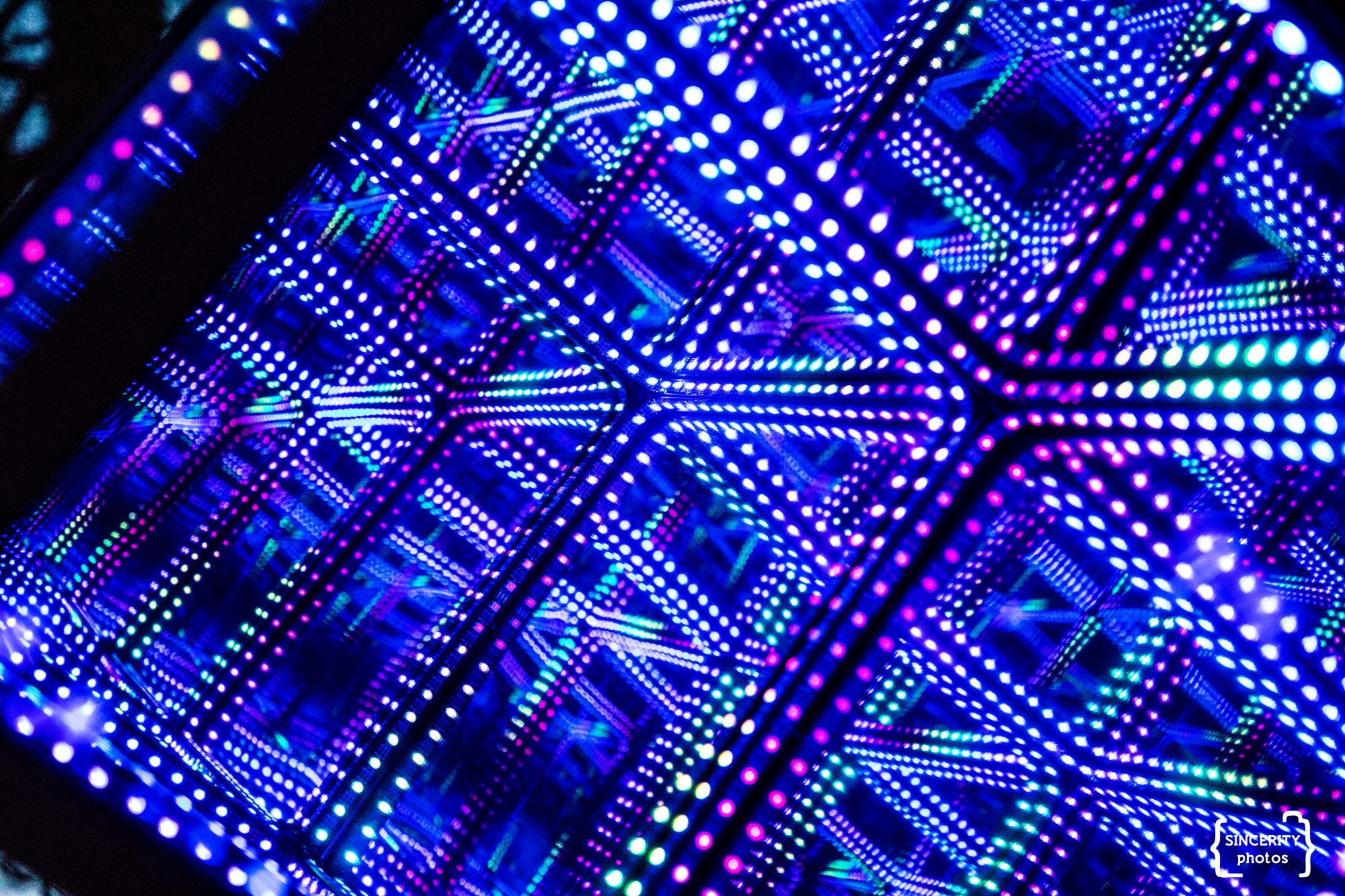 Once I got my fix of art and workshops each day I wiggled my way to the dance floor to let loose a bit.
Another thing that made Desert Hearts so enjoyable was never hearing the same song twice (or so it seemed) or a festival anthem. Everything I heard was fresh and kept my ears guessing. Even after 72 hours of house and techno, I couldn't tell you which one I enjoy more because each artist had a unique way of spinning the genre.
My favorite set of the weekend, though, was the Desert Hearts family set. I thought Monday would be one of the more mellow days, but as soon as it started raining the squad showed up to close out the festival right.
The whole DH fam was on stage playing b2b bringing their unique energies and sounds to the decks.
It felt like the whole weekend culminated to this set and there was tangible energy being shared by everyone who pushed themselves to the end. It was invigorating to see the whole Desert Hearts family, from the artists to the attendees, volunteers, and workers, sharing this one thing we all love. Music. Everywhere I turned I saw love being exchanged, smiles on people's faces, and connections being made. The Desert Hearts family set really showed me what the festival, vibe, and community is all about.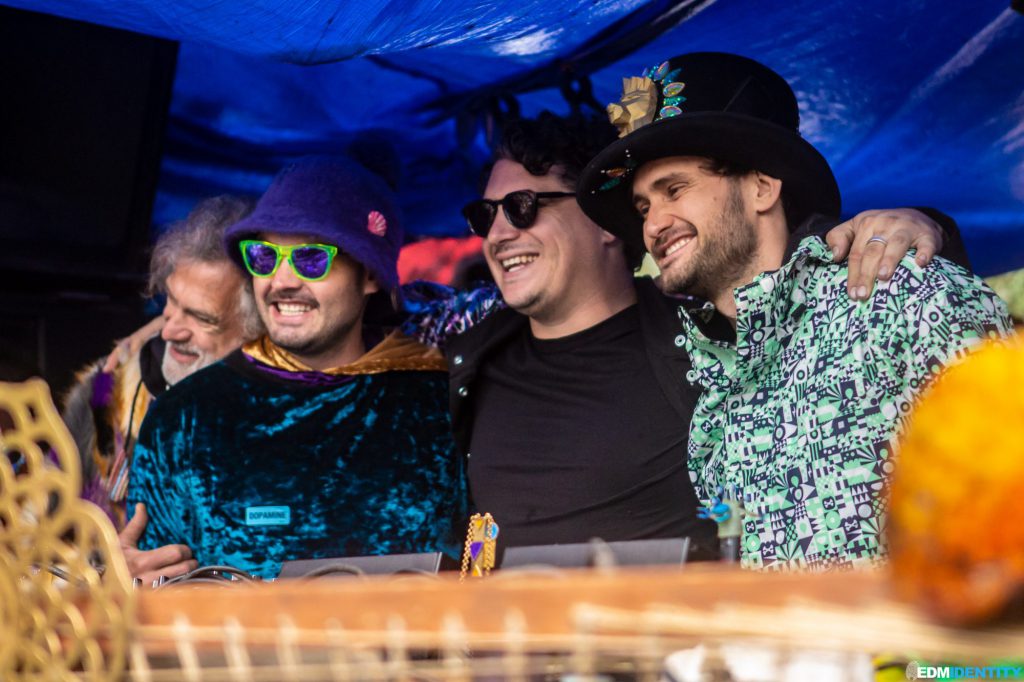 Having heard so many amazing things about Desert Hearts I can, now, say from experience the festival is one of a kind.
It is rare to be able to walk up on stage and hang out with the artist while they spin a set at festivals. Their code of community shines through in every aspect of the festival from the respect for the land and each other to the love and connection the community exudes. The festival is truly a safe space for individuals to express themselves without fear of judgment. It is a place to lose yourself in the music, workshops, nature, or just be with friends and family.
The music is what unites us all at Desert Hearts, but the community and festival are what take everything to another level. Thank you to the Desert Hearts family, my camp crew, Los Coyotes Indian Reservation, and everyone who came together to make my first Desert Hearts experience I will never forget. I can't wait for the next event and next year's festival. Also, shout out to Chico the Chinchilla.
Check out my full gallery of photos from the weekend over on Facebook!
---
Connect with Desert Hearts on Social Media: