Declan James chats about his first experiences with electronic music, how he approaches mixes, and more!
---
Hailing from the great state of Texas, Declan James has been on a mission to bring the world some unreal beats and quality mixes since launching his career at the age of 15. Quickly rising through the ranks with a series of bootlegs and originals like "Orion", labels like Enhanced Music quickly took notice of this star in the making.
Declan continues to show off some of his best work as he blends his past influences with progressive trance to create an infectious vibe that fans simply can't get enough of. He notably joined fellow talented artists Notaker and Karra on the track "Who I Am," which dropped on Monstercat, making it quite clear that the sky is the limit for his unique sound, and we're sure there is more to come from his studio!
After catching our ear with his releases and the Vibes I mix that dropped earlier this year, we wanted to catch up with Declan for a look into his history, his thoughts on the scene, and more. Listen to his exclusive guest mix below and read on for an in-depth look!
Catch Declan James open for Ummet Ozcan on September 29 at Academy LA!
Stream EDMID Guest Mix 132 || Declan James on Mixcloud:
---
Who were the first electronic music artists you ever listened to, and when did you decide you wanted to pursue a career in music?
When I was about 10 years old my mom introduced me to Trance acts like BT & Oceanlab, which I think laid the framework for what would later become an obsession, but I didn't start really paying attention to electronic music until one of my middle school friends showed my Skrillex's Scary Monsters and Nice Sprites EP.
My parents and I both knew very early on that music would play an integral role in my life, but I didn't really decide to pursue a career in music till my junior year of high school. I had always dreamed of making music full time, but never really regarded it as a serious option until later on. I was having a bit of a crisis as the prospect of college grew closer and decided that I didn't want to grow old and regret not fulfilling my dream, so I decided to give it my best shot. I'm really glad that I did.
Your Vibes I mix caught fire when you released it earlier this year and definitely had a lot of hype around it. What is your goal with this mix series and do they differ from how you would prepare for a live show?
I really like the idea of using mixes as a means of telling a story, and that's exactly what I'm attempting to do with the "Vibes" series. I love exploring the relationship between dark and light music and trying to build different sonic aesthetics from the ground up.
For my live DJ sets, I tend to always have a general idea of what I'm going to play, but I always leave room for improvisation, whereas the "Vibes" mixes are all planned down to the finest detail. But while they're different in that regard, I want the feeling(s) the listener experiences while listening to them to be the same.
Having released numerous collaborations with other artists like Notaker, Marcus Santoro, and Lycii, do you tackle these releases the same as your own solo work?
No two collaborations are ever quite the same, but I generally tend to focus most of my time and efforts on the composition and arrangement side of things because that's where most of my strengths lie, and my collaborators are typically responsible for the more detail-oriented stuff (like mixing, transitions, etc.). This is different from working alone where I'm responsible for virtually every aspect of whatever I'm producing.
I think the great thing about collaborating with other artists is that it allows both parties to really showcase their strengths while making up for each others' weaknesses – it's an incredibly inspiring process that benefits everyone involved, and oftentimes leads to great friendships and partnerships.
Between the names of your tracks like "Orion" and "Saturn", your fan group The Void, and more, when did your fascination for all things space-related begin?
From a very young age, I was captivated by anything relating to space. I don't know if I can really point to a specific event and say "that's when it all started"; I think it was more a combination of existential questions I began to grapple with that piqued my interest in it all. I remember when I was probably about seven years old my dad taught me the basics of space-time and relativity. To think that existence operated on such a large scale where even time was subjective was scary, yet inspiring at the same time.
I think I love the whole space theme so much because, to me, the universe serves as a constant reminder of how little humanity understands and how much of existence is still left to explore, and I think, more than anything else, that's what I want my music to be: a voyage into the unknown.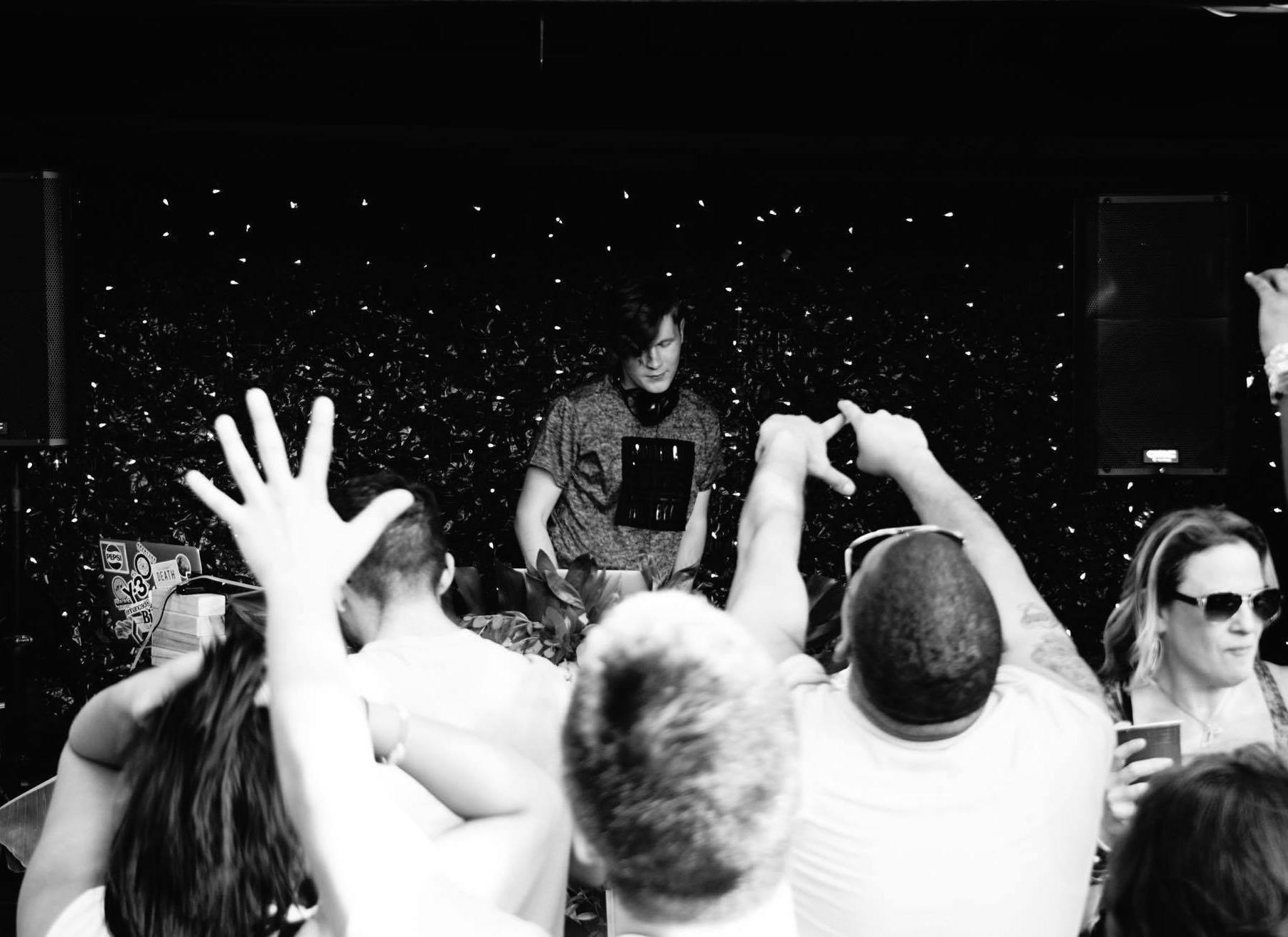 You recently took the stage in support of BlackGummy and Notaker during their tour dates in Texas. Can you speak to what the atmosphere was like at the shows in Dallas and Houston and how you approached these sets?
The atmospheres of the two shows were actually very different, which made for a great opportunity to and expand my horizons as a DJ. Houston was a very late crowd, so I played a much more progressive set, whereas Dallas was almost completely full within 20 minutes of the doors opening. I've learned very quickly that as an opener you have to be flexible with what you play because it largely depends on the vibe of the crowd. The real challenge becomes being versatile while still maintaining a clear style that's true to your tastes and sound as a musician.
What's the current state of the scene like in Texas, and what do you feel makes the region differ or stand out from other areas of the US?
Texas is interesting because it's rapidly changing both demographically and culturally. In the past few years, I've seen a massive change in Texans' enthusiasm for electronic music, and it's been really cool to watch the community here grow and evolve.
I think Dallas especially is really breaking into new territory for the state, and in the next few years, I'm expecting it to launch into the higher tier of American dance music cities that includes the likes of LA, New York, and Chicago.
In the past, you've helped other aspiring artists learn how to produce their own music via your Masterclass. What are one or two tips that every producer should know if they're trying to break out on the scene?
Well-written music will always take precedence over well-produced music. 
While obviously there's a threshold of production value that any song has to meet to be taken seriously, beyond that point, it really doesn't matter to the average listener how well produced your song is. Rather, they care about whether it conveys some sort of message musically.
I watch aspiring producers get so bogged down spending hours making tiny EQ adjustments to their music, but the truth is that time would be far better spent on composing something that will musically resonate with and inspire people. Always remember: well-produced music is circumstantial, largely based on the trends of the time. Well-written music is timeless.
Think ahead. 
Very few people have ever become wildly successful by being copycats, or by hopping onto bandwagon trains after they've left the station. The most successful musicians with the longest lasting careers are always the people who are attempting to push their respective genre forward by harboring a sound and brand that's new and unique.
If you could pick any one place in the universe to play a set, where would it be and why?
I would probably want to put on a show in front of the monolith that they found on Mars. I really love symbolism and the whole realm of metaphysics, and I think playing in front of something so mysterious and naturally symbolic would be pretty next level.
What's in store in the rest of 2018 for you? Any upcoming shows or releases you can share the details on?
Lots and lots of amazing things in store that I can't talk about yet, but I've got a new track with Lycii coming out in a few weeks called "Signal" that we're both super excited to share with the world. I'll also be making my LA debut at Academy on 9/29, opening for the big-room titan Ummet Ozcan.
Finally, what is your favorite way to relax and unwind when you're not wrapped up in the studio making music?
I love reading and watching movies – I'm especially big into Stanley Kubrick and all of his films. I also collect vinyl records and love traveling around to try and find new and exciting pieces to add to my collection.
---
Follow Declan James on Social Media:
Website | Facebook | Twitter | Instagram | SoundCloud