Feeling like you are too old to chase the beat? I am here to tell you that no matter your age, you belong and are welcome on the dance floor!
---
These days you may be feeling like you are no longer a spring chicken and are simply too old for the party. You look back on your early years of being a raver in the scene and reminisce about the wild ragers that placed you at the center of attention as you danced until the sun came up in the sky.
Back then, you could easily make it through the night with ease but today, the story may look a little different. You are no longer in your twenties and the pressures and experience of life may have begun to take a toll on your body, mind, and spirit. You begin to ask yourself, as an older generation raver, "do I still belong in this scene? Do I still have the stamina and passion that once pulsed through my veins in excess?" But if you love electronic dance music there is no reason that you still can't be part of the party!
Life is short and there is no time to talk yourself out of living it to the max. So, it is time to put all of your concerns and insecurities to rest and show how the OG raver still has what it takes to unleash the groove on the dance floor. I've narrowed down some of the most important problems and topics that older ravers face, so take a look and get to groovin'!
---
Respect your body and know your limits.
First and foremost, we can't be ignorant of the fact that there may be new physical limitations that need to be respected when we venture out into the festival or club scene. For me, this comes in the form of clicking knees, stomach sensitivity, and brain fog. While we may not be able to shuffle, headbang, or grind low like we used to, there is absolutely no limitation when it comes to enjoying the music that we connect so deeply with.
Does this mean adjusting our dance moves to ensure that we preserve our energy and protect our bodies? For sure! It's all about finding what works for you. Listen to your body and respond appropriately. This may mean that we need to slow down on or abstain from alcohol or other party favors. Substances have a way of wreaking havoc on our system and while we could bounce back easy as pie when we were in our early twenties, we are now dealing with multiple day hangovers after one night of heavy partying.
But how can I possibly have any fun without indulging in the fruits, you might ask? I can say from personal experience that the music can be a drug all in itself. As the beat lifts you to the next dimension, so does a feeling of euphoria that seems to wrap around your soul like a warm blanket.
In the end, the ones who continue chasing the beat well into their golden years do it because they can't imagine a life without their favorite music as the backdrop. So, don't ever feel out of place if you realize your party favor days are over. There are still boundless amounts of fun to be had! But, if you do decide to partake, do it at your own pace, remember to test everything before ingesting, and stay hydrated!
Related: For a great read, check out Erik's article about harm reduction.
Opinions are like assholes. We all have one.
Now, I may only be in my mid-thirties but I can't even count the number of times that I have been asked if I was going to continue to attend festivals and club events now that I am past my raving prime. I roll my eyes every time I hear this question because when you love something to the core, why would you ever want to walk away from it?
From the young person's perspective it is easy to begin to think that this scene is reserved for them as, let's be honest, the scene has been flooded with a fresh crop of ravers dying to get in on all of the crazy shenanigans. And that is totally cool. I get it. EDM is life and I want the whole world to experience its awesomeness! The problem that I have is when the majority makes it seem like the older generation doesn't have a place at the party. Social Media is the absolute worst when it comes to this issue.
From trolls trying to get a rise out of excited attendees with their "you are too old for this" rhetoric or family members scoffing at all of your festival posts because they just don't understand why you won't quit. This type of age shaming boils my blood. While it is perfectly fine to have an opinion, what really matters is that you are happy with the choices you are making in your own life.
My best advice. Learn to put on your ear muffs and ignore the haters. And whenever appropriate (especially when it comes to family members) don't ever hesitate to be openly vocal about your history in the scene and why dance music is an indispensable part of your life. From personal experience, it can make a world of difference. And then go and be absolutely fabulous on the dance floor!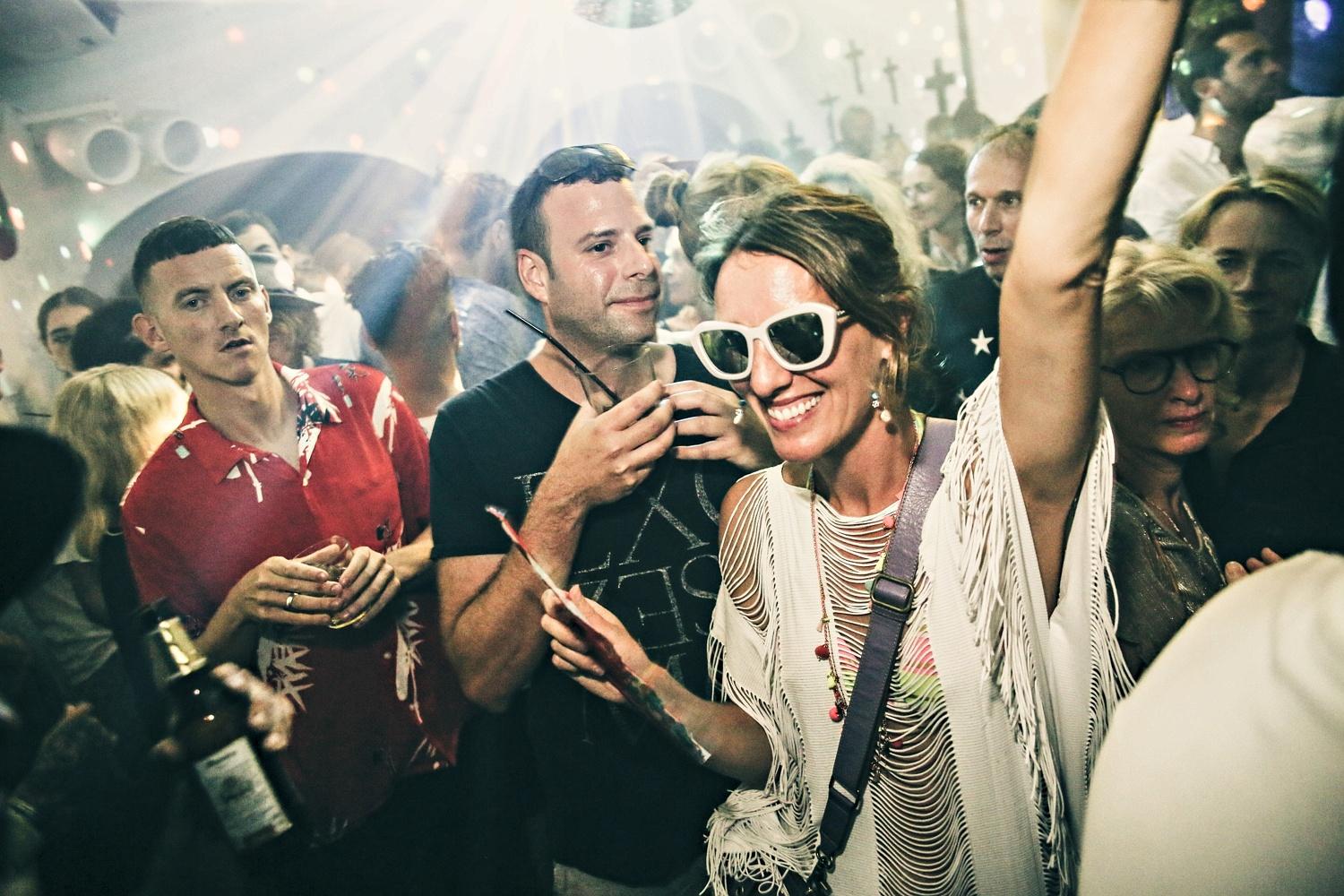 We are the ambassadors of PLUR.
Peace, Love, Unity, Respect. For those of us who have been raving since the turn of the century, we hold this credo near and dear to our hearts. It is the heartbeat of rave culture but has fallen by the wayside as the new generation gets their feet wet within the scene. Without the older generation to teach the ideals of PLUR, our fully inclusive scene has the potential to become disjointed and chaotic.
This is why it is so incredibly important that you stay focused and invested in the community. We need the OG ravers to spread the message. And let's be real, this is a very unique community. It's one that we are free to express ourselves, forge new relationships, unite together within a common interest, and escape the trials and tribulations of day to day life. With that being said, it is up to us to make sure that our values stay intact so that future ravers can experience the same homecoming feeling that we discovered many years ago.
So, the next time you are at your favorite EDM gathering, don't let your age turn you into a wallflower. Get in there with your experience in tow and be a beacon of peace, love, unity, and respect. I promise you that kindness and a smile is absolutely infectious and is healthy for you too! People will respond and hopefully learn to mimic your vibrancy and leadership the next time they step onto the dance floor making for a better future under the lasers and lights!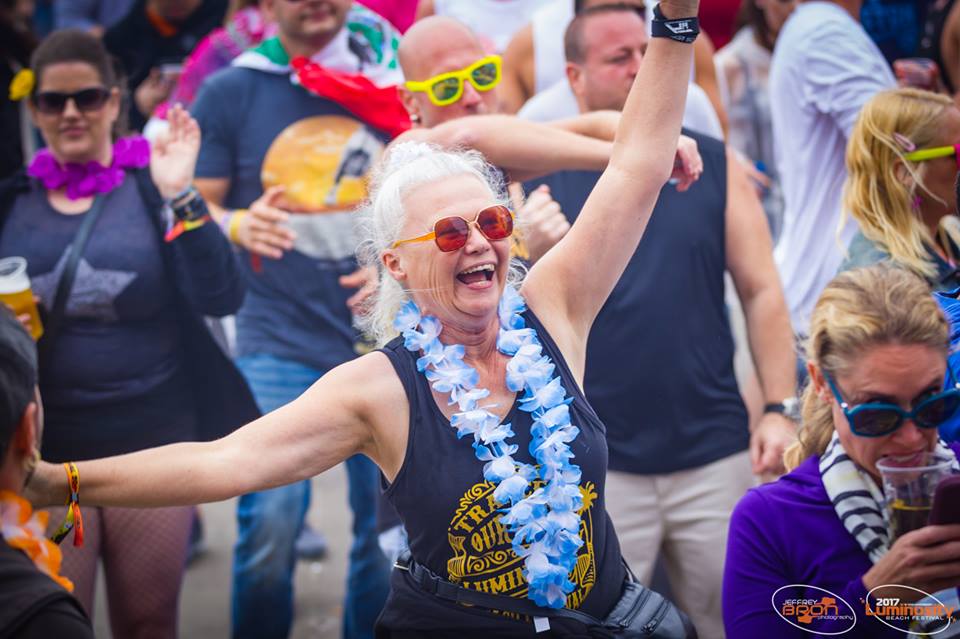 I hope that if nothing else, this touches the heart of those on the cusp of hanging up their dancing shoes.
At the end of the day, we have to do whatever it is that makes us happy. If that means hitting a festival at age 50? Then, by all means, get out there! Saturate yourself in the social gathering. Soak in the energy that drips from every nook and cranny of the festival grounds. Indulge in melodic euphoria and find your heartbeat in pulse-pounding rhythms. Stay in the scene that will forever and always be your home. And don't ever let anyone make you feel like you are not welcome.
On the other side of the token, if you are in your twenties and reading this, I pose a challenge. The next time you see someone from the older generation on the dance floor, strike up a conversation. You may be amazed to hear some pretty epic stories and learn a little bit about the history of our beloved scene!
Related: Get to know Pamela Lake aka Shewang (photo featured above), a raving beauty that still rides the rails at the biggest trance events on the planet!
---
Are you an older generation raver? Tell us about your personal experiences in the comment section!