We caught up with Ravell at Beyond Wonderland SoCal to discuss his latest releases, the massive Ravell & Friends show in LA, and plenty more!
---
One of the rising stars in the electronic music scene is none other than Los Angeles-based artist Ravell. Picking up some serious steam as of late with releases like "Before I Go" that saw him team up with LondonBridge and Kaleena Zanders, it seems as if the sky is the limit to how high he can take us with his sound.
Additionally, Ravell has been making crowds groove to his sound all over the country as he's taken the stage at some of the largest festivals in the world like EDC Las Vegas along with joining artists like Kaskade on tour. He also recently hosted his own standalone show at Academy LA, Ravell & Friends, that sold out quickly and was entirely produced and curated by him as well that gave it a personal touch.
Ahead of his set at Beyond Wonderland SoCal in March, we caught up with Ravell to chat about his recent work, the epic party in Hollywood, and so much more. Take a listen to his guest mix below and read on for our chat with this rising star in the scene!
Stream EDMID Guest Mix 164 || Ravell on SoundCloud:
---
Earlier this month you hosted Ravell and Friends at Academy LA and had the club at capacity in 30 minutes. How did it feel to have such a positive response to that show? And what was your favorite moment?
Ravell and Friends was mind-blowing, everything about that show was so organic. I actually produced the show myself. I just said, "I wanna do something special, it's Los Angeles, my hometown, and the Ravellions always come in strong so I definitely wanted to do something really special."
Every little detail about that show was exactly how I envisioned it to be. I wanted to provide an experience and that's exactly what went down. A moment… There were so many moments! We even had pupusas on Hollywood Boulevard, which has never been done before! I'm Salvadorian so being able to serve my favorite dish at my own show, was really special. It felt really rewarding because I got to share a bit of my culture and the things I enjoy outside of music.
The best part was that I was able to bring out one of my favorite restaurants from my hometown called, "Los Molcajetes" in Fontana. They came out and served pupusas non-stop till 4am. I also had a ton of special guests, even Pasquale Rotella came out that night, which I'm extremely grateful for. There's just so much, the fans, the energy, the list goes on, I could be here all night.
Grant: It was all over Social Media too. We're from San Diego and couldn't make it up but we saw that Pasquale was there and there was all this dope food.

It was like a family party to me. That's what we do, we gather the family. It was definitely an experience and something cool that I hope I reflected back into the city of Los Angeles. That was super special to me.
Grant: Do you have plans to do more of these in the future?
I hope so, we did hit capacity pretty quick. I was super grateful and excited, especially for a Thursday night. That's kind of hard since its during the week and most people work have work the next day. I'm sure everyone's Friday was a little bit of a struggle. With that said, thank you to everyone that came out, supported, and sacrificed their Friday for me.
You're about to take the stage on the Wide Awake Art Car here at Beyond Wonderland. Do you approach your festival sets differently than you do your night club sets?
Okay, so I'm gonna let you in on a little secret, right here, right now. I don't really prepare my stuff. I try, but it doesn't happen. My whole team knows this, but I literally go off instinct. I have tried so many times, even when I've played my biggest shows. At the end of the day, I feel more comfortable just going off the vibes and what I'm feeling at that very moment. I can't program and project what is to be expected. So I definitely love to do that organically.
Grant: You know your catalog really well.
Yeah! I actually do know it really well. I feel like it's important. I always like to sit at my computer a few days before any show and gather a good amount of songs that I'm digging at that moment. No secret to it.
You recently also dropped "Before I Go", a beautifully melodic house track. Can you tell us a little bit about your creative process when making this track with LondonBridge?
So, "Before I Go" was super organic. I've been preaching organic all night!
Carlos: We're here for it.
I met LondonBridge in a nightclub when I got booked to play his LA show called, "Space Yacht". We instantly said, "yo, let's hang out, outside as human beings." I went over to his place and we just hung out in the studio. No intentions of making a song or anything and then… boom we started creating. It just happened organically, one thing led to another and we just clicked. We then brought in Kaleena Zanders to the do the vocals and she absolutely killed it!
Carlos: That's some great synergy.
Yeah! I think to me it was about going in with no intentions, not forcing anything to happen. It's like going on a first date, you have to see if you're going vibe with each other. No hard feelings if it doesn't, but you kind of just have to go with the flow.
With so many amazing singles and remixes out there, can we expect to see an EP or maybe even a full album in the future?
I hope to one day come out with an EP or album, if it makes sense. Right now, I've been focusing on a lot of singles. I like to put in all my energy into a single and try to tell a story along that. That takes up a good chunk of my time. In the future, I am hoping to manage that so I am able to release more music.
As an artist who has worked their way up through the ranks in the scene. What is the biggest piece of advice you can offer other artists who are looking to make it in the industry?
One of the biggest pieces of advice that I live by is to work hard. If you believe in something, don't be afraid to push it to the limit. Do your own thing, create your own lane. Hard work will get you places, especially when you believe in yourself and in your work.
In the past, you said that your that never say no kind of guy. That kind of attitude is helpful, but can also add a lot of stress to your life. How do you manage your work life balance of the "Yes, man" attitude?
Man, I don't know. It's tough, but I've done it. I've stood by that and it's provided me so many opportunities because someone else is not willing to do everything it takes. I've done that many times, and I've seen the results. I'm grateful for any opportunity that comes my way because there was a point in my life where I didn't have the opportunities I do now. I will admit, I do enjoy pushing it to the limit.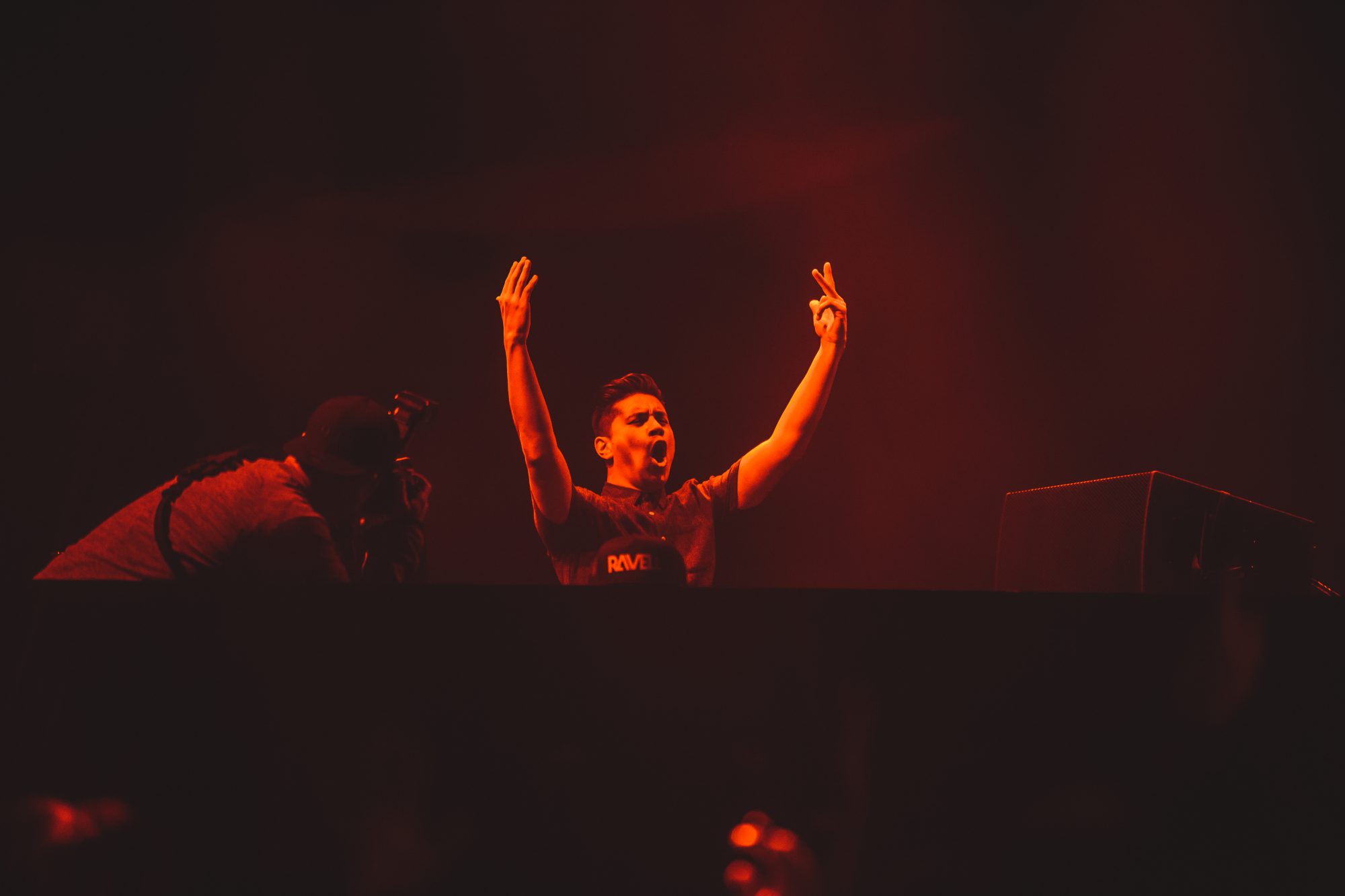 You also talked about your Ravellions, saying they are more family than fans. Can you share with us some of your favorite Ravellion moments?
Oh, man! That's tough. There's so many to just pick one. Every moment is special. They always come out and support every time.
Carlos: Well and to some of them that moment is their world.
Yeah, and I feel like it's my duty as an artist. Having them support my music, career and dreams is huge. I have to show love back, that's a must. Every artist should try to make the time and do that.
Having traveled all over the country, what is your go-to food of choice when you're on the road?
Oh man, I try to eat as healthy as possible, but it's tough. I just recently launched my YouTube channel and my goal was to let people in on what I'm doing behind the scenes. As well as the things I enjoy doing. Within that, you can see how important food is to me. In one of my videos, "Ravell & Friends", you can see through all the chaos and preparing for the show, you'll see me pull over to In-N-Out and then later I'll end up hitting up a taco truck to get me a burrito and tostada. I love food in general so it's hard to just choose one.
Finally, what are some of your personal goals you'd like to achieve in 2019?
A personal goal for me not only for 2019 but for many years to come is to not get comfortable. I want to keep growing as an artist and continue to develop my skills. I love the idea of pushing it to the limit.
Grant: An everlasting goal. I like that.
Yes, an everlasting goal. I don't want to put a limit on that. I always ask myself, how bad do I want this? So, I definitely have a lot to look forward to.
Well, that's all we got for you.
Thank you guys for having me.
Thank you for making the time for us!
Anytime, I'm all about it, we're in this together.
---
Follow Ravell on Social Media:
Facebook | Twitter | Instagram | SoundCloud | YouTube