Heineken House has added even more rocking names to the Coachella lineup this year to pair with their upgraded experience! 
---
While Coachella is a massive three day festival with six separate stages all on its own, its glory comes with its two add-on stages: the DoLab and, my personal favorite, the Heineken House. Sponsored by Heineken, this stage hosts some of the best electronic artists during the three-day Coachella weekend while also pouring attendees cold beers inside. As a staple during Coachella for some years now, the 2019 Heineken House will be a brand new house in a brand new location within the festival!
Rocking this year's Heineken House lineup are some seriously talented artists in the realms of electronic music and hip-hop. On both weekends, Friday is featuring a takeover by Jauz and his record label BITE THIS!. With supporting acts like Dillon Nathaniel, Holy Goof, Sikdope, and Ookay you can bet to see a lot of shuffling and headbanging on this day at the Heineken House!
Saturday of Weekend 1 will feature legendary hip-hop group De La Soul along with The Roots and Pete Tong, while Weekend 2 will see some epic sets from Ravell, Wolfgang Gartner, and Dirty Audio. Rounding out the weekend on Sunday is Ghastly or Liquid Stranger depending on your weekend, along with other bass-heavy acts such as Midnight Tyrannosaurus, WHIPPED CREAM, and UBUR!
Check out the full lineup below and let us know your thoughts about the Heineken House at Coachella in the comments!
---
Coachella 2019 Heineken House Lineup: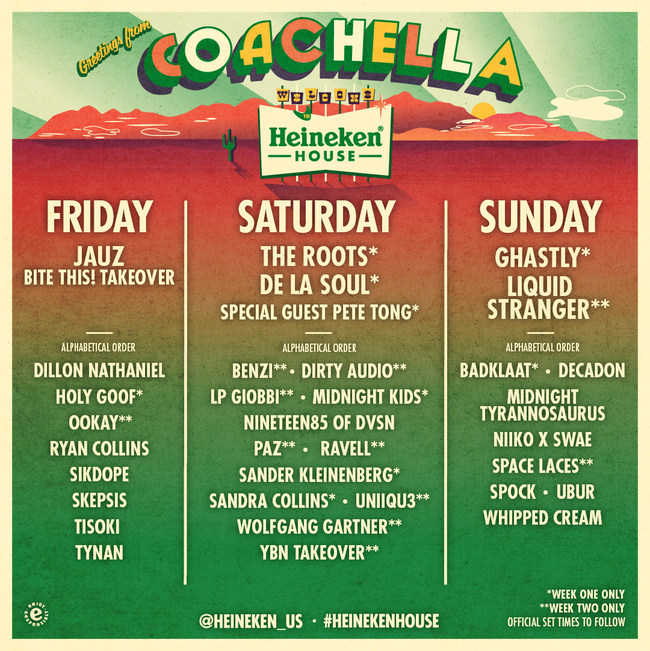 ---
Lineup By Artist:
*Denotes Week One Only
** Denotes Week Two Only
Badklaat*
Benzi**
De La Soul*
Decadon
Dillon Nathaniel
Dirty Audio**
Ghastly*
Holy Goof
Jauz Bite This! Takeover
Liquid Stranger**
LP Giobbi**
Midnight Kids*
Midnight Tyrannosaurus
Niiko x Swae
Nineteen85 of DVSN
Ookay**
PAZ**
Pete Tong*
Ravell**
Ryan Collins
Sander Kleinenberg*
Sandra Collins*
Sikdope
Skepsis
Space Laces**
Spock
The Roots*
Tisoki
TYNAN
Uber
UNIIQU3**
Whipped Cream
Wolfgang Gartner**
YBN Takeover**
---
Connect with Coachella on Social Media: