Electric Forest has unveiled more artists who will be playing the festival along with the curated event series! Will you be heading to EF this year?
---
After announcing that they'd be returning to a single weekend (June 27-30) and unveiling a jaw-dropping lineup, the buzz surrounding Electric Forest has continued to grow as we count down the days until the festival. While many are working to finalize their group's plans for camping and how they'll be getting to Michigan, Forest HQ has unveiled something new to keep the excitement levels high: more artists for this year's lineup.
That's right, today a list of lineup additions have surfaced and it is also stacked with some serious talent. House music lovers will be thrilled to see artists like Mason Maynard, Hannah Wants, and Escapade (Walker & Royce + Ardalan) joining in on the fun. Also added to the lineup are artists like DC Breaks, Random Rab, EOTO, and Robotaki who will all be bringing some heat with them.
Check out all the additions below, and read on for more information about the Curated Event Series that will be taking place this year. Tickets for are SOLD OUT so make sure you stay smart and follow our third party ticket purchasing tips when grabbing your passes!
---
Electric Forest 2019 Lineup:
Lineup Additions By Artist:
Adam Freck
Aidan Sokol
Ambar Lucid
Amtrac
Cas Haley
DC Breaks
DJ Mancub
DJ PZB
Doom Flamingo
Eli Brown
EOTO
Escapade (Walker & Royce + Ardalan)
Exmag
Funkstatik
Govinda
Handmade Moments
Hannah Wants
Homemade Spaceship
John Craigie
Kruza Kid
Loadstar
Lucid Vision
Mason Maynard
Mihali
Motion Potion
OPIUO
Project Aspect
Random Rab
Robotaki (Live)
Sam White
SNBRN
Sophistafunk
Southern Avenue
Spaga
Steve Poltz
Sweet Crude
Trufeelz
Unlimited Gravity
WHITEOWL
Yung Bae
---
If the news surrounding the additional artists wasn't exciting enough, Forest HQ has also unveiled the 2019 Curated Event Series!
Hosted during the festival itself, the Curated Event Series brings labels and collectives to the stage to showcase their artists. This year, Electric Forest will host NGHTMRE and SLANDER's Gud Vibrations and Bassrush at Tripolee, with Studio 54est taking over the Carousel Club.
Notable sets will include artists like WHIPPED CREAM and Wooli during the Gud Vibrations takeover and an absolute onslaught of Drum & Bass during the Bassrush experience with artists like Ivy Lab, Loadstar b2b DC Breaks, and more. The Studio 54est curated event will take you back to an era where disco reigned supreme with vibes coming from The Nth Power Presents: Earth, Wind & Power, WHITEOWL, and more.
---
Electric Forest 2019 Curated Event Series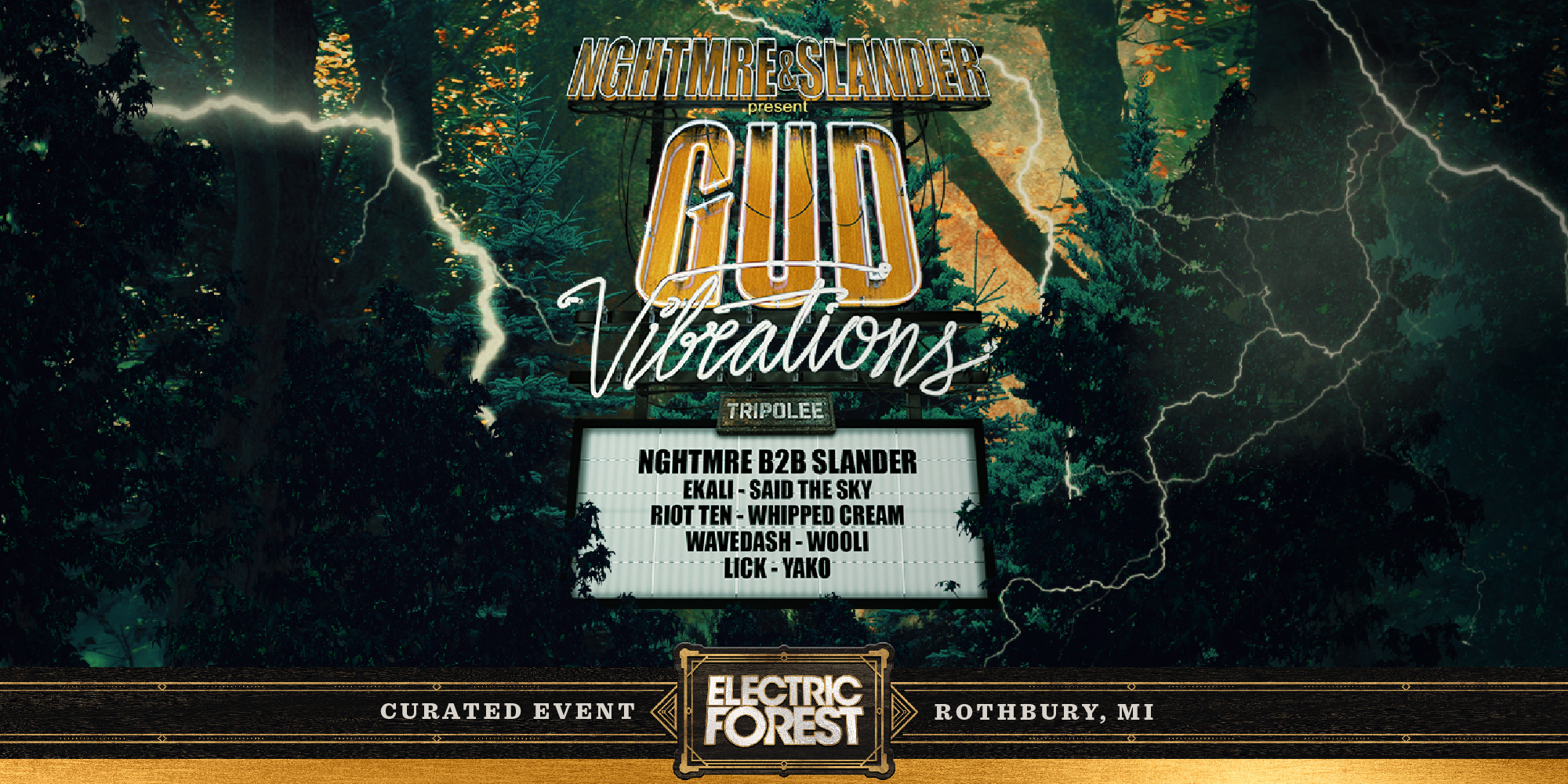 Thursday, June 27 – Gud Vibrations at Tripolee – Lineup:
NGHTMRE b2b SLANDER
ekali
Said The Sky
Riot Ten
WHIPPED CREAM
Wavedash
Wooli
Lick
Yako
---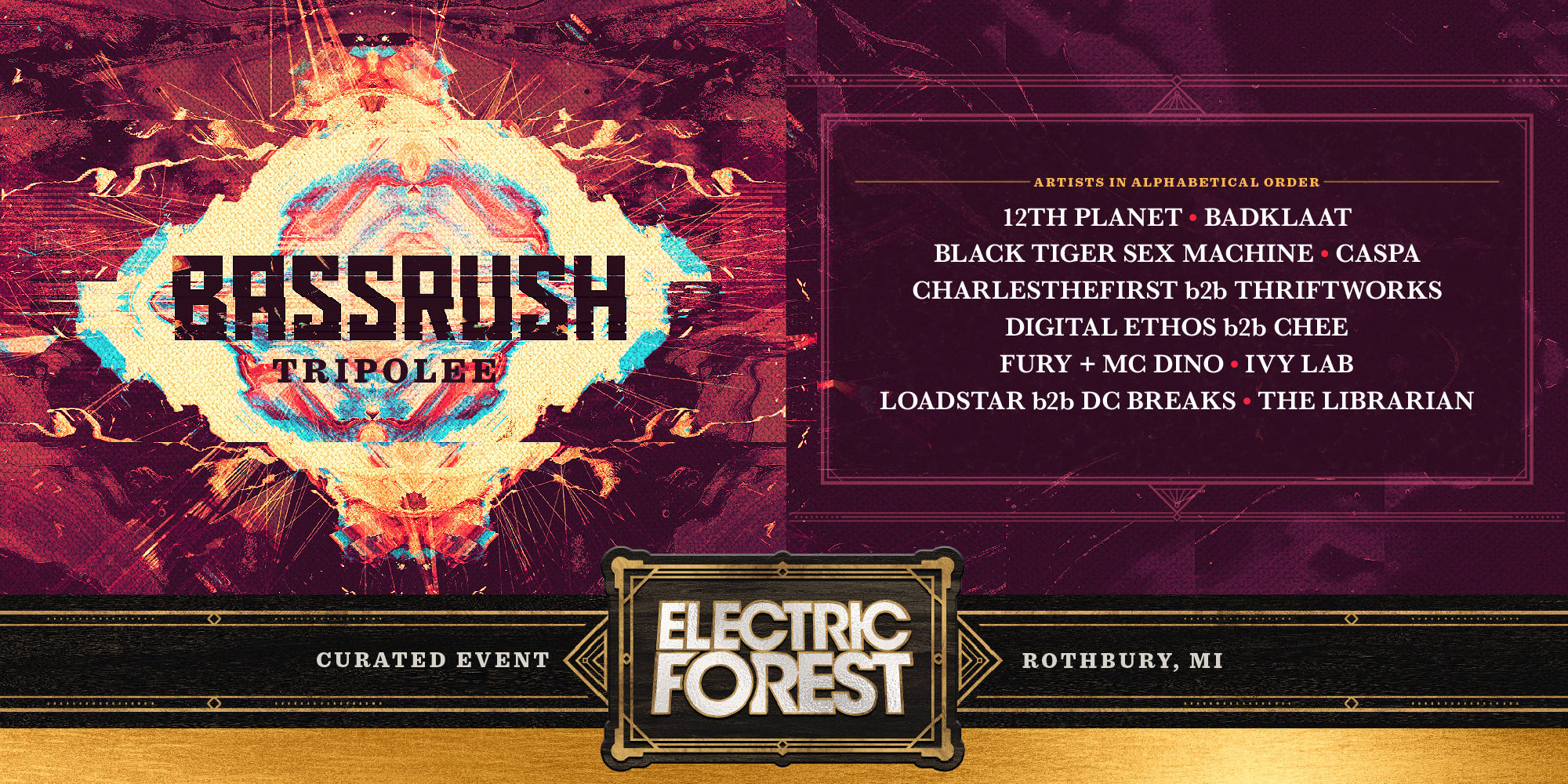 Friday, June 28 – Bassrush at Tripolee – Lineup:
12th Planet
Badklaat
Black Tiger Sex Machine
Caspa
CharlesTheFirst b2b Thriftworks
Digital Ethos b2b Chee
Fury + MC Dino
Ivy Lab
Loadstar b2b DC Breaks
The Librarian
---
Friday, June 28 – Studio 54est at the Carousel Club – Lineup:
Escort
Orchard Lounge
The Nth Power Presents: Earth, Wind & Power
Yung Bae
WHITEOWL
---
Connect with Electric Forest on Social Media: