FNGRS CRSSD brought some exceptional talent to San Diego for the 2019 edition of CRSSD Festival Spring. 
---
It's hard to believe that it's only been a week since CRSSD Festival Spring 2019 graced San Diego's Waterfront Park with the sweet sounds of house and techno. While last weekend was not my first time in San Diego, it was my first time attending the festival, and I couldn't help but be impressed by the level of curation across the board and the attention to detail that went into creating an experience that elevated CRSSD from just another regional festival to something that was truly representative of the city of San Diego and the amazing musical culture that exists there.
The best thing about the festival, though, was undoubtedly the musical performances, and although there were times when some of the sets were hampered by unfortunate sound issues, there were some incredible moments during the course of the festival's two-day run that will stick with me for years to come. Read on for a look into some of my favorite performances from the weekend!
Related: For a deeper look at the full experience from a veteran's point of view, check out Grant's review of CRSSD Festival Spring 2019.
Five Performances that Defined CRSSD Festival Spring 2019
---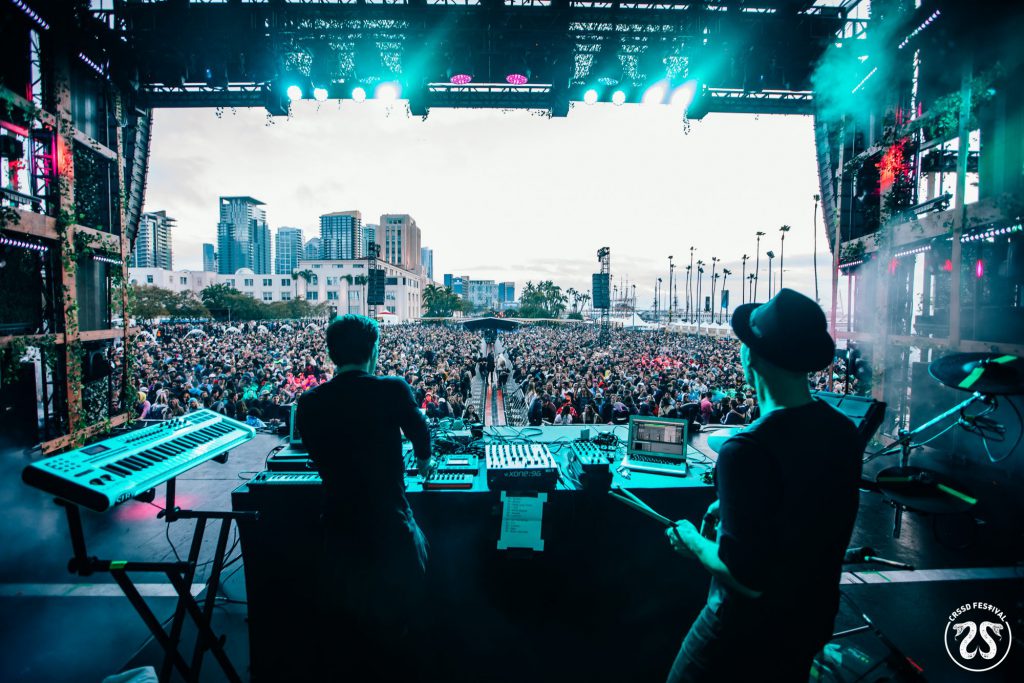 Booka Shade brought their A-game with a fantastic live set at the Ocean View stage.
One of the performances I was most excited to see at CRSSD Festival was German duo Booka Shade, and I am so grateful to have had a chance to see the legendary pair take the stage. Playing the Ocean View stage midday Saturday, they set the perfect tone for a late-afternoon performance — a perfect blend of kinetic energy and all-encompassing chill that eased us into the rest of the night.
Booka Shade is well-known throughout the industry as an absolutely stellar live act, and the praise is certainly well deserved. Although the sound at the stage probably could have been a smidge higher, it was hard not to get lost in the sounds of peerless originals like "Cut the Strings" featuring Troels Abrahamsen and their latest hit, "I Go, I Go," featuring Kaktus Einarsson.
With the proliferation of electronic acts turning to a live performance for more notoriety or appeal, it's unusual to find one that manages to so perfectly render their music in that setting — most acts just don't live up to the hype and it comes off like a gimmick. Not so with Booka Shade. Seeing them at the Ocean View was a masterclass in what a live electronic performance is supposed to look like.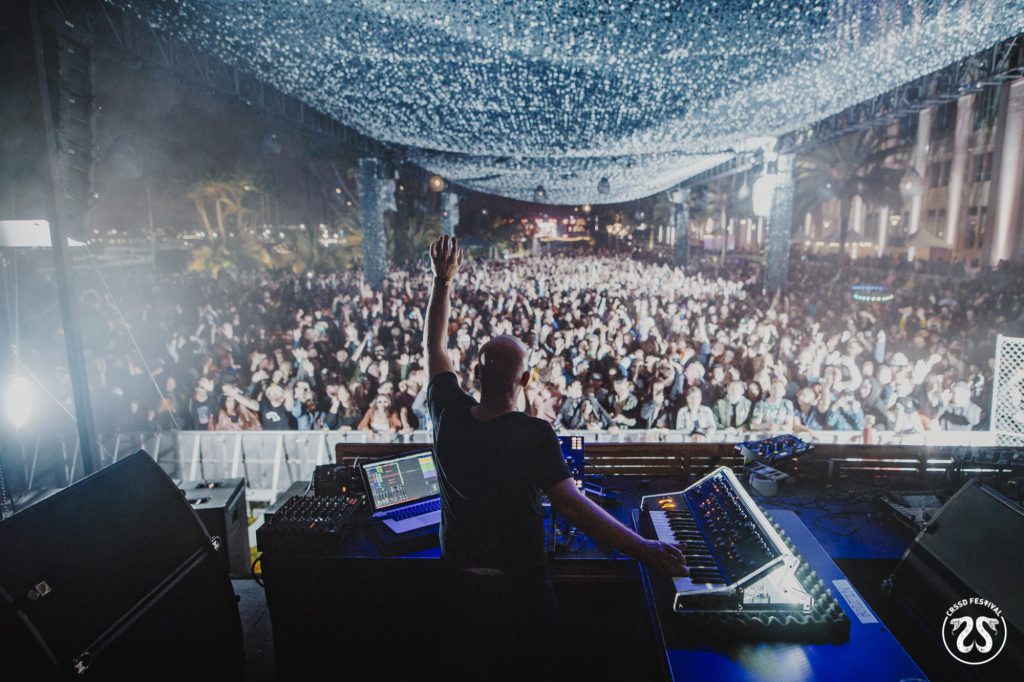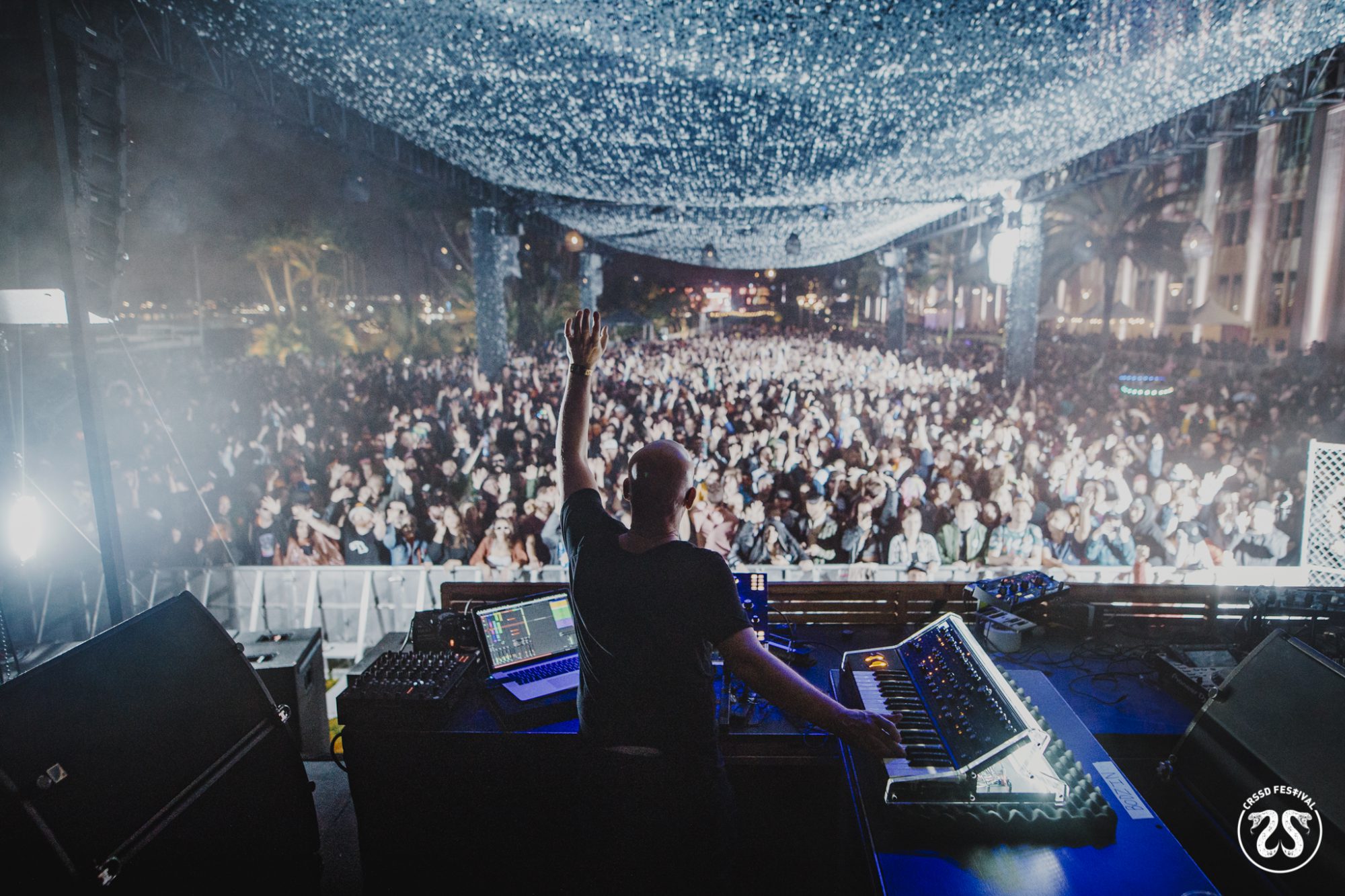 Stephan Bodzin transcended genres for an unforgettable Saturday closer.
There is no question in my mind — Stephan Bodzin played the best set of CRSSD Festival Spring 2019, and if you weren't there, you missed out on a once-in-a-lifetime experience. Bodzin's classical training was immensely apparent as he brought together different flavors of music into one flawlessly crafted set, manually creating elements of his builds along the way to enhance the drama and leave the jam-packed crowd completely breathless in his wake.
Bodzin describes himself as a "melody man," and that was undeniable during his set on Saturday night at City Steps as he navigated us through a surprisingly diverse mix of house and techno tracks, each one playing perfectly off the next. It was the live elements that took it to the next level, though, showing off exactly how talented he is and exactly why you should always make it a priority to catch him live if you can.
It doesn't happen often, but every once in a while, the setting and the artist come together perfectly to create a truly transcendent experience for attendees — the sort that elevates you from the physical plane and into something greater than mere reality alone. And at CRSSD Festival Spring 2019, that moment was Stephan Bodzin's closing set at City Steps.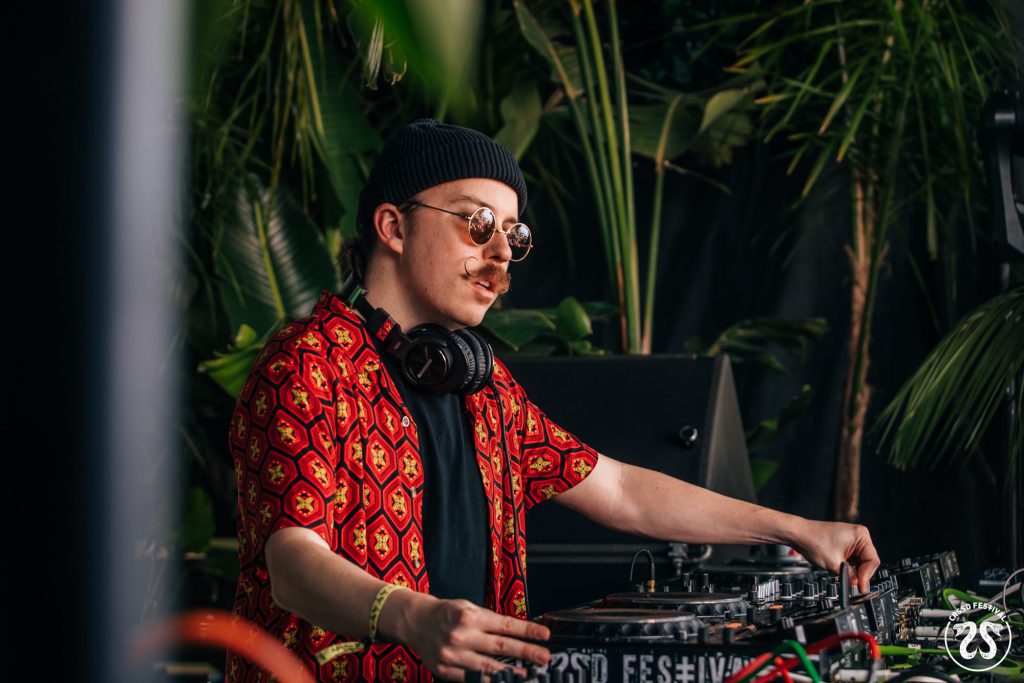 Luttrell dazzled with a set packed full of gorgeous originals and unexpected remixes.
I had a feeling that Anjunadeep darling Luttrell was going to be one of the weekend's standouts. When I saw that he was set to bring his dreamy brand of house music to The Palms on Sunday afternoon, I knew we had to make it a priority to see the whole thing from start to finish. The setting could not have been more perfect — with sunny skies overhead and a gentle breeze blowing through the venue, a decent-sized crowd found their way over to the stage for his hour-long performance, and we were not disappointed.
One of the best things about Luttrell is that his sets are, above all else, a vibe, and he set the perfect tone for the early part of Sunday with a steady stream of powerful, emotive originals including "Stormwatcher," "Float," and "What You Are." He even surprised us with a few remixes like his take on What So Not's "Stuck In Orbit," which I had never heard before and fell in love with on the spot. He even got into a bit of an 80's groove toward the end.
Without a doubt, Luttrell played the best set I saw on Sunday, and he cemented his place in my mind as an act never to be missed. It's rare that early performances so perfectly encapsulate the setting — oftentimes, artists perform sets that would be better suited to the evening and miss out on the opportunity to take advantage of their sun-dappled surroundings. But not Luttrell.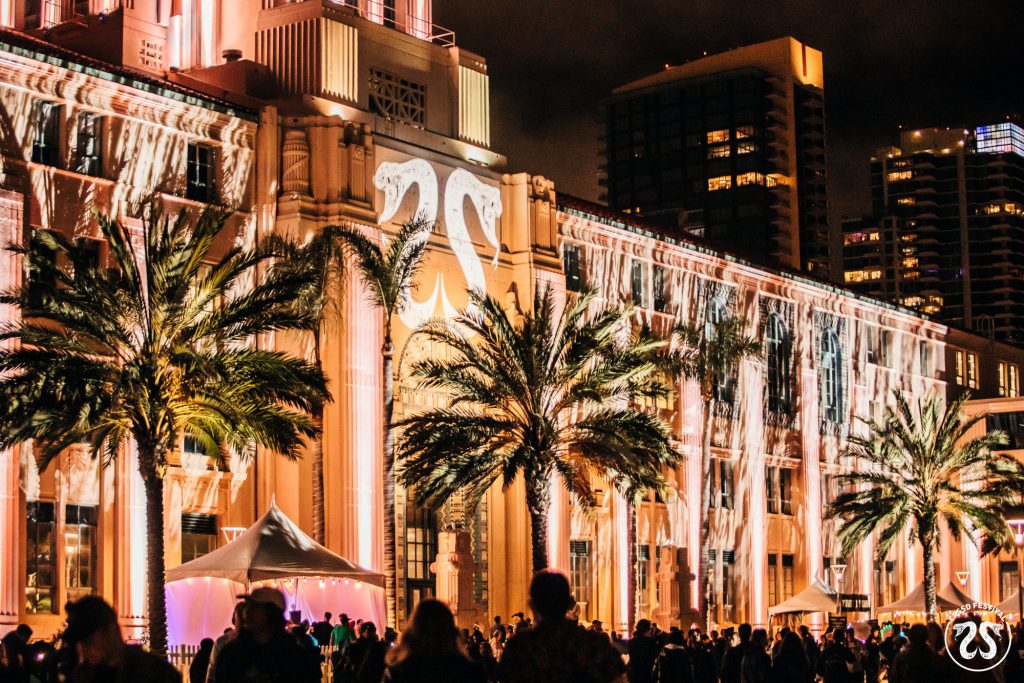 German techno goddess Monika Kruse commanded the stage at the City Steps for an exceptional midday performance on Sunday.
Prior to Sunday at CRSSD, I'd never had a chance to catch German techno pioneer Monika Kruse, but am I ever glad that I had an opportunity remedy that last weekend. Coming in hot after another standout set by Waze & Odyssey, we were treated to a masterful array of unparalleled techno that enthralled the crowd, and I was immediately crystal clear on why Pete Tong referred to her as "techno royalty."
Kruse showed off her considerable skills with a 75-minute set that took on a dark, cerebral vibe, gradually building elements and creating a feeling of relentless, almost frenetic motion. Standing in the crowd and listening to her set, it was clear that we were watching a master at work; every single track was perfectly chosen, each element immaculately mixed. With the increasing popularity of house and techno, it's all too common to see DJs who don't have this level of skill, and it was refreshing to see a DJ with her prowess take the decks and school us all.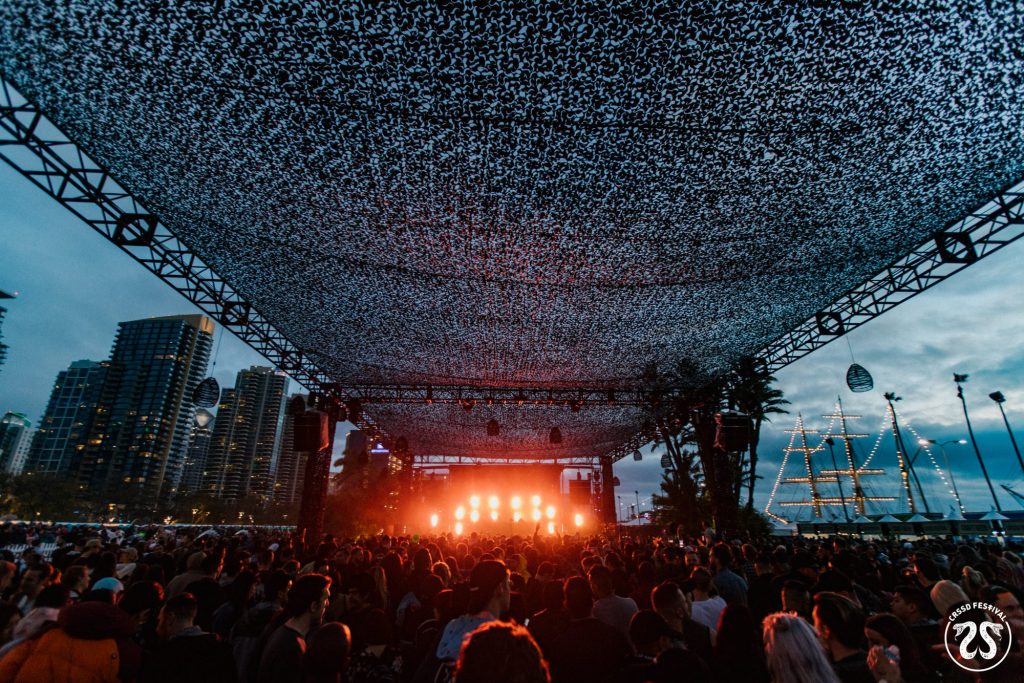 Sonny Fodera set the crowd on fire with a banging set that kept the party going late into Sunday night.
The surprise set of the weekend for me had to have been Sonny Fodera, who hopped onstage immediately after Lane 8 lulled everyone into a sense of calm and turned it up to 11 with a series of relentless bangers. Opening up with his own track, "Insane," the entire vibe at The Palms completely changed as the crowd quickly got on their feet and shuffled to the beat.
Although he played three FISHER tracks in fairly quick succession (and at this point, isn't that sort of cheating?), I couldn't really hate, because even I was getting it down as "Losing It" pumped through the speakers. And even if you want to disparage him for that, he brought in some serious heat with lesser-known tracks like Gorgon City's remix of "Feel My Needs" and Rebuke's "The Pipe." No question — he tore it up. It was incredible.
Playing the penultimate set of the night and doing it after a crowd favorite like Lane 8 is no easy feat, but Fodera brought a sense of energy and excitement that got us amped enough to make it through the rest of the night. I'm certainly glad we caught him.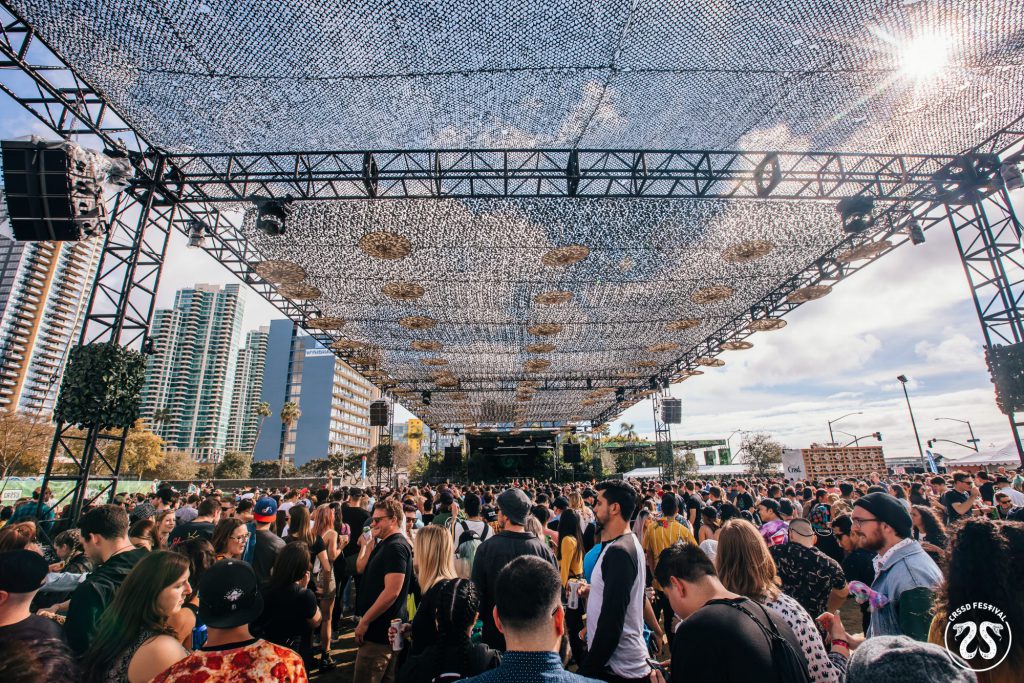 CRSSD Festival Spring 2019 provided the perfect blend of amazing house and techno in San Diego.
As a first-timer at CRSSD Festival, I couldn't help but be impressed by the caliber of performances and the number of legendary acts that I had the opportunity to see in just two days' time. If you're a fan of house and techno and you haven't yet made it out to CRSSD Festival, put it on your list because this is one of the few places in the US where you will be able to see some of these acts side-by-side.
What was your favorite performance at CRSSD Festival Spring 2019? Let us know in the comments!
---
Follow CRSSD Festival on Social Media:
Website | Facebook | Twitter | Instagram | SoundCloud | YouTube