Adrian Alexander is a progressive house/trance artist who has helped pave the way for Elliptical Sun Recordings all the while teaching science in the classroom! 
---
Yes, you heard that right! Adrian Alexander is a man with multiple passions. By day he teaches high school science but there is a side to his multidimensional soul that simply can't deny the call of dance music. As the A&R and manager for Elliptical Sun Recordings, Adrian Alexander has harnessed his passion, driving the brand to new and exhilarating heights. But this is just one small piece of the puzzle.
It is his original music that has got us singing praises and with the recent release of "Nyquist", a collaboration with fellow friend and artist, The Antipodes, it is clear that Adrian is a force to be reckoned with. Even the supergroup Above & Beyond has felt the gravitational pull of his supreme melodies, opening up the Group Therapy platform for Adrian to unleash his expertise.
He is also no stranger to breaking records as his track "Stratosphere" clocked in as the highest ranking Elliptical Sun single, landing on the Beatport Top 100 Trance Tracks chart at number 18. Or how about the fact that his Turnaround / Imagine EP grabbed the #1 spot on the Beatport Top 100 Trance Releases chart. Very impressive indeed. So, without further ado, read on to get The Lowdown on everything Adrian Alexander!
Stream Adrian Alexander & The Antipodes – "Nyquist" on SoundCloud:
---
Hi Adrian, thanks for taking the time to chat with us today! Let's start off by chatting about your recent track with The Antipodes, "Nyquist", that has skyrocketed to the top of the Beatport charts. What is it about this track that you feel resonates so deeply with your fans?
For some, I think this track is a reinvention of the melodic Anjunabeats sound that captivated Above & Beyond's audience back in the mid-to-late 2000s.  Jared (The Antipodes) and I tried really hard to infuse some of those vibes into the "Nyquist", while still making it sound fresh for clubs and festivals today, and I think we achieved that.
For others, namely those that know me personally, I think they're just stoked to see a couple of young trance producers make it onto Anjunabeats!
Since this was a collaborative production, can you describe how you blended your creative vision together with The Antipodes on the tune to find the perfect sound?
"Nyquist" is actually the third collaboration between Jared and me.  Jared is really, really good at coming up with basslines, and I'm generally the guy that can take an idea and turn it into a full arrangement.  In this case, we started with a couple of bassline ideas on the table and a chord progression he had sent over. It took me one studio session to glue those parts with extra layers, write the pluck line and arrange the percussion groove that gives the track its danceability.  "Nyquist" is an example of a track that came together very quickly and naturally.
When taking a look at your personal discography as an artist, which track resonates in your heart the most and why? Also, which track was the most difficult to produce?
Oh gosh, I think the track that resonates most with me is probably my track "Phases" from last year.  Ever since my early days of listening to electronic music, I've loved tracks that tell a story in distinct, unique sections, and "Phases" was my attempt to tell a story in that way.  I was going through some pretty difficult times mentally and emotionally at the time, and you can probably hear that from the somewhat haunting vocal motifs in the break ("Phase 2") and the dark, aggressive vibe of bass build ("Phase 3").
The most difficult track to produce might also be "Phases" as the project was something stupid like 200 channels and gave my old iMac a hard time to load or play in its later stages.  "Meridia" was also tough, as my studio was in transition at the time and I had to do most of the mixing on cheap headphones, then reference the mix on several different sound systems.
You're also about to release the third edition of the Elliptical Sun Music compilation. How will this one measure up to past editions as far as style and track selection?
Every year, this compilation gets a little bit better.  Our artist roster is getting increasingly diverse, and that's a huge help when putting together a compilation, as it allows you to explore different moods and atmospheres more easily.  Compared to last year's comp, the first disc of ESM03 definitely sees a more fluid progression from deep, melodic progressive house to club-ready progressive trance. Meanwhile, the second disc is packed with new collaborations and epic returns to the label from some of our favorite artists on the roster (The Antipodes, Emerge and Thomas Mengel to name a few).
As A&R and management for Elliptical Sun Recordings, what do you look for when choosing artists to represent the label and bring them onto the roster?
I love this question because every time I'm asked, I realize that I have a different answer than last time–hah!  At this stage, we are looking for artists who are coming into their own sound, who stand out musically and whose music really fits the melodic nature of the label.  Perhaps more importantly, we want those artists to grow with the label and invest themselves and their music in the label as well.
For instance, compare the first Elliptical Sun releases of Nikhil Prakash ("Noodle") and Chris Giuliano ("Closeout") to their tracks on ESM03.  These guys have a signature sound, but one that has evolved and improved in various ways over time. They also throw down some amazing sets at our label showcase events and are active members in our artist group chat.  Guys like these are essential to Elliptical Sun, as they help us grow as a label, which helps them grow as artists and continues the cycle.
Last month you were part of the Elliptical Sun Showcase in Phoenix, Arizona as well. For fans who may have missed out can you talk about some highlights of the evening and why we should all get out to future Elliptical Sun events?
Phoenix was a really exciting experience, as I had never visited there and didn't know much about the scene at all.  Bar Smith is an intimate venue and the Trancefamily/Anjunafamily that we were able to meet out there were incredibly nice, and really knew how to party.  Alex of Phoenix Trance Alliance was an awesome host and knows what he's doing!
Elliptical Sun Showcases are very special events, as they give the artists a chance to connect with fans that we usually only get to interact with online.  Showcases are also jam-packed with debuts and road tests; in fact, the guys and I had the pleasure of testing out about half of the new tracks off ESM03 in Phoenix, and I'm thrilled about how they played out live.  It really is worth getting out to a showcase–great community vibes and the newest and best music from our artist family!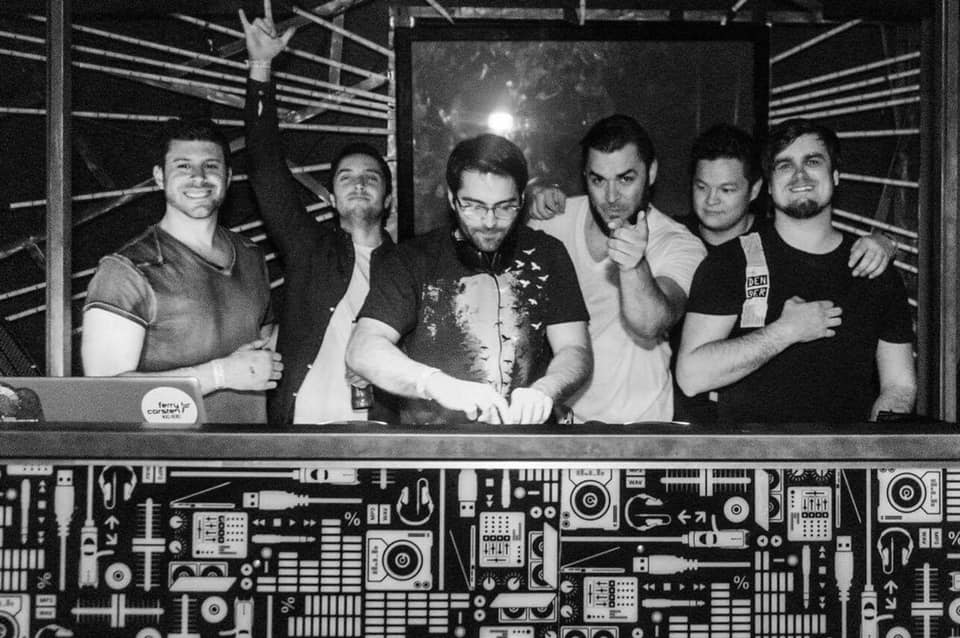 On March 8 you took the reins of the guest mix duties on Above & Beyond's Group Therapy Radio Show. When preparing a guest mix of this caliber, what type of journey do you hope to take listeners on?
For this guest mix, I wanted to serve up a solid taste of what to expect on the new compilation.  As I mentioned before, this compilation explores several different vibes and atmospheres, so I wanted to capture some of that diversity in the mix.  I was also compelled to include "Nyquist" for obvious reasons!
We're always curious to hear about the scene in different regions of the US, and you're based out of Louisville, Kentucky! Can you share what the scene is like there and what hurdles you might have faced in growing the reach of electronic music in the area?
Louisville's scene is growing, but I don't think they're quite ready for trance yet.  The few dance clubs here feature either top 40 remixes, trap, the occasional house set and, interestingly enough, some late-night drum and bass.  I still enjoy going out here from time to time, but if I'm looking for more of my scene, then I'll likely drive up to Chicago.
While you're a musician by night, you're a teacher by day! What would you say to other aspiring artists out there with multiple careers or interests, when trying to find balance? And what do your students feel about your alternate career?
Time management is everything.  I go through periods of time where I'm in the studio every other day, and then times where I don't/can't even touch my studio computer for a week or longer.  That said, I'm doing label stuff every day, whether it's A&Ring demos, writing social media posts or just sending emails, so I keep myself in industry mode for at least an hour per day.  What I can say for certain is that if your passion is legitimate and you can manage your time and focus when you're in the studio, then you can achieve your goals.
My students think the whole double life thing is cool, but ultimately I think they still just see me as their quirky science teacher with endless dad jokes.  Still, I use my experiences as an example that in life, you can find yourself doing things that you never could have imagined yourself doing. Keep yourself on a good path, try new things and take advantage of opportunities as they present themselves.
Now for a fun one! In the honor of science and because we love to learn new things, can you give us a quick lesson on your favorite topic that you teach your students?
Hah, this is a hard one!  I teach one AP Chemistry class this year and we're studying chemical equilibria right now, so I guess I'll rant about that!
In chemistry, equilibrium is a state where a reversible chemical reaction is happening both forwards and backward at the same rate.  You can change the amounts of the chemicals involved in the reaction, but the changes you make will adjust spontaneously and equilibrium will be restored. My favorite example of this concept is the blood buffer in the human body.  There's a very important chemical system in your blood that maintains the pH of your blood around 7.4. It's a chemical equilibrium that maintains this pH, and it involves carbon dioxide converting to and from carbonic acid in your blood.  
We all know that you breathe out carbon dioxide, but what happens when you hold your breath? Well, carbon dioxide builds up in your lungs, which "forces" the equilibrium to shift, and the carbon dioxide turns into carbonic acid over time.  Yep, when you hold your breath, you are literally building up acid in your blood. That lowers your blood's pH, and in turn, you get very light-headed and fuzzy feeling, and eventually your body's defense mechanism kicks in and forces you to pass out so that your breathing regulates again.  This returns the equilibrium and blood's pH back to normal.
Some people who are particularly good at holding their breath are able to neutralize that additional acid better than others–but I'll let you research how that works on your own! 
---
Connect with Adrian Alexander on Social Media: