With some of the top names and an extra helping of classics sets, the Luminosity Beach Festival 2019 lineup is a trance lover's dream!
---
Over the past few months, the Luminosity Beach Festival team has been teasing trance fans around the world with some of the artists who will be taking the stage at the event. Dropping the first phase during ADE that included headliners Paul van Dyk, Ferry Corsten, and Markus Schulz, they packed an even bigger punch with the second phase that dropped last month.
Now, the full lineup for Luminosity Beach Festival 2019 has been released, and my oh my is this a trance lover's dream. Joining the headliners with a top billing on the lineup are Solarstone, Jordan Suckley, and Cosmic Gate, and the list of names only gets better from there. Major names like Indecent Noise, Sied van Riel, Richard Durand, and Roger Shah have also been added to the festival to play some epic sets.
While the main lineup is stocked full of amazing names, it's the heavy list of classics that really are sending us to the moon with excitement. Classics sets from the likes of 4 Strings, Signum, Factor B, Scot Project, The Thrillseekers, and more will surely bring forth some memories of days gone by.
Tickets for Luminosity 2019 are on sale now. If you haven't bought yours yet, definitely scoop them up soon via their website! 
---
Luminosity Beach Festival 2019 – Full Lineup: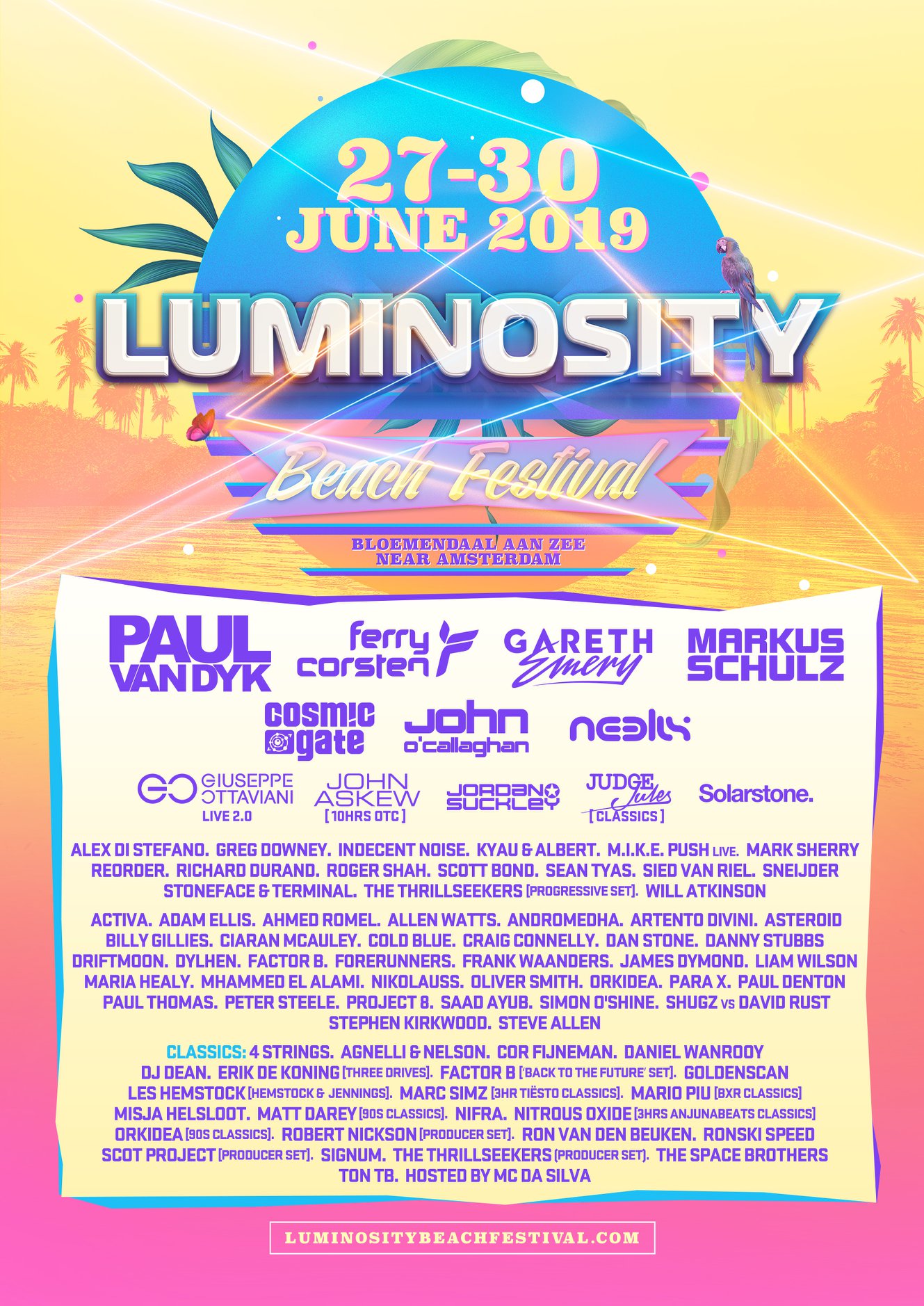 ---
Luminosity Beach Festival 2019 – Full Lineup By Artist By Day:
Thursday, June 27
Neelix
Jordan Suckley
Roger Shah
Will Atkinson
Adam Ellis
Ahmed Romel
Allen Watts
Ciaran Mcauley
Dan Stone
Dylhen
Frank Waanders
Mhammed El Alami
Project 8
Shugz vs David Rust
Steve Allen
Classics by:
4 Strings
Cor Fijneman
Misja Helsloot
Nifra
Ron van den Beuken
Ronski Speed
Friday, June 28
Gareth Emery
Markus Schulz
John Askew (10 Hours OTC)
Solarstone
Kyau & Albert
M.I.K.E. Push LIVE
Mark Sherry
Scott Bond
Sean Tyas
Stoneface & Terminal
Activa
Liam Wilson
Oliver Smith
Paul Denton
Paul Thomas
Simon O'Shine
Classics by:
Daniel Wanrooy
Erik De Koning (Three Drives)
Factor B ('Back to the Future' set)
Marc Simz (3hrs Tiësto classics)
Signum
Ton TB
Saturday, June 29
Paul van Dyk
John O'Callaghan
Giuseppe Ottaviani LIVE 2.0
Alex Di Stefano
ReOrder
The Thrillseekers (progressive set)
Billy Gillies
Cold Blue
Craig Connelly
Danny Stubbs
Driftmoon
James Dymond
Maria Healy
Nikolauss
Para X
Peter Steele
Classics by:
Agnelli & Nelson
Goldenscan
Les Hemstock (Hemstock & Jennings)
Mario Piu (BXR classics)
Orkidea (90s classics)
The Space Brothers
Sunday, June 30
Ferry Corsten
Cosmic Gate
Indecent Noise
Richard Durand
Sied van Riel
Sneijder
Andromedha
Artento Divini
Asteroid
Factor B
Forerunners
Greg Downey
Orkidea
Saad Ayub
Stephen Kirkwood
Classics by:
DJ Dean
Judge Jules
Matt Darey (90s classics)
Nitrous Oxide (3hrs Anjunabeats classics)
Robert Nickson (producer set)
Scot Project (producer set)
The Thrillseekers (producer set)
---
Connect with Luminosity Events on Social Media: