Trance Thursdays are back on the White Isle as SHINE Ibiza is set to bring Paul Van Dyk, Aly & Fila, John O'Callaghan, and more for their residency at EDEN Ibiza this summer! 
---
Nearly two months ago we found out that the trance brand SHINE Ibiza would return for another season on the White Isle. The brand, captained by the very capable Paul van Dyk, moves from the halls of Privilege to the more intimate air of EDEN this year.  Joining Paul as residents for the season are Aly & Fila, who are deeply entrenched in new music for the trance faithful – including an upcoming new album titled It's All About The Melody.
Shine rekindles the spirit of an older Ibiza brand – Cream – which often held the island's trance fueled parties at Amnesia. As the modern dance music landscape evolves, so has the island's musical performances as mega-clubs turned to experiences over music, many music-first nights have shifted focus on small venues. Shine Ibiza offers the same beauty of the trance journey housed at Cream in the past but offers it in a more intimate package.
The lineups also resonate with Ibiza's trance roots as artists who are set to take the stage throughout the residency include legends like John O'Callaghan, Bryan Kearney, and John 00 Fleming. Others notable artists billed include GRUM, Jordan Suckley, Will Atkinson, and Giuseppe Ottaviani who will surely be playing some epic sets.
If you are ready to dive into the depths of trance, Shine Ibiza is the haven that you crave. The magic of trance on Ibiza is back in full force at EDEN Ibiza that has rooted itself in the island's cultural haven – the west end in Sant Antoni de Portmany. It worth noting that the venue holds some of the biggest brands in the world and with such heritage behind the venue, trance fans are sure to be wooed. The venue offers cutting edge sound in two rooms that will undoubtedly fill quickly.
Check out the full list of artists performing, grab your tickets for the weeks you can attend below, and let's dance in the moonlight until the sun rises to the fever of trance in your veins!
SHINE Ibiza 2019 Dates and Lineups: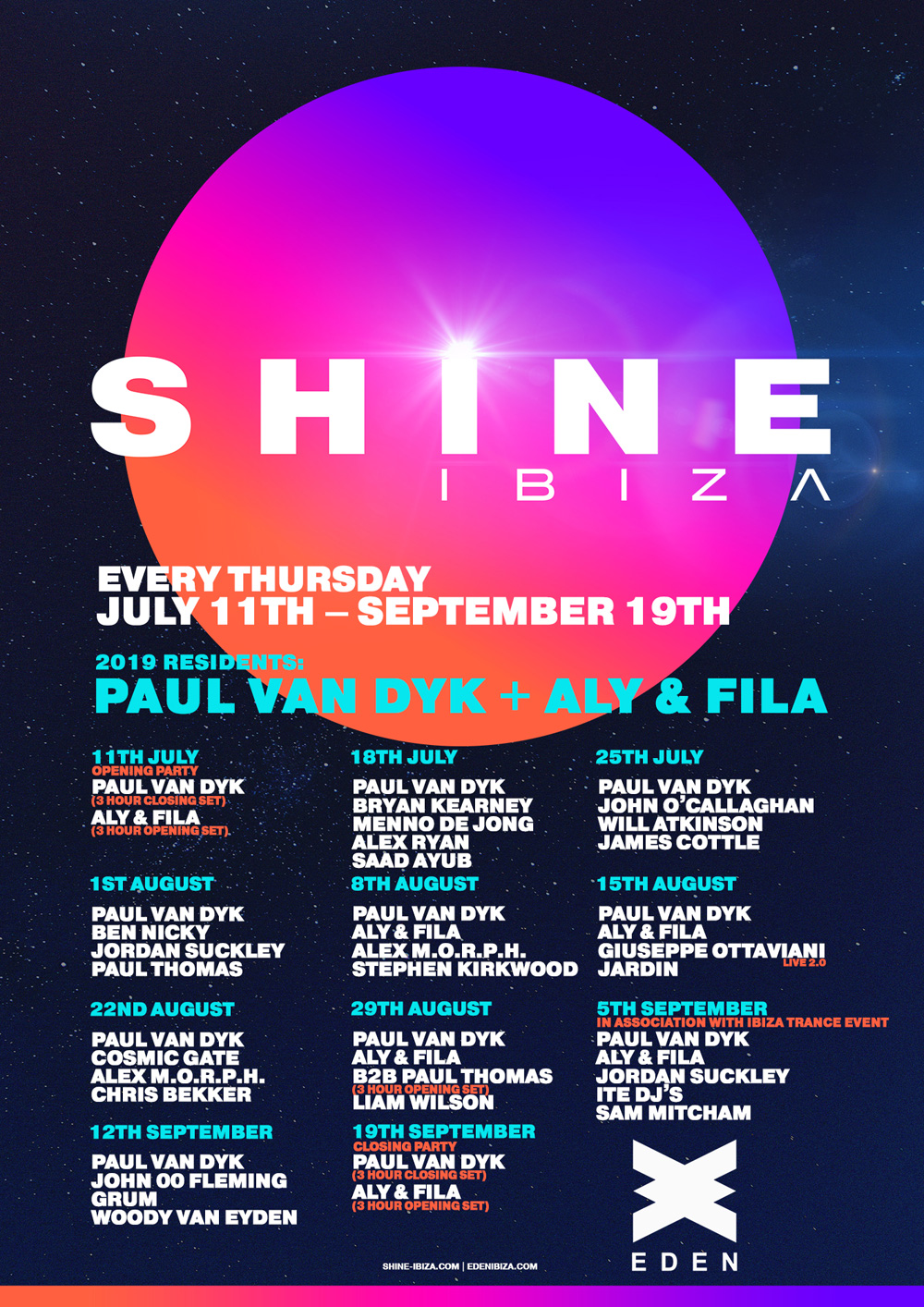 ---
SHINE Ibiza 2019 Dates, Lineups, and Ticket Links:
Week 01 – 11 July 2019 – SHINE Opening Night: (Buy Tickets)
Paul van Dyk (3 Hour Closing Set)
Aly & Fila (3 Hour Opening Set)
Week 02 – 18 July 2019: (Buy Tickets)
Paul van Dyk
Bryan Kearney
Menno de Jong
Saad Ayub
Week 03 – 25 July 2019: (Buy Tickets)
Paul van Dyk
John O'Callaghan
Will Atkinson
James Cottle
Week 04 – 01 August 2019: (Buy Tickets)
Paul van Dyk
Ben Nicky
Jordan Suckley
Paul Thomas
Week 05 – 08 August 2019: (Buy Tickets)
Paul van Dyk
Aly & Fila
Alex M.O.R.P.H.
Stephen Kirkwood
Week 06 – 15 August 2019: (Buy Tickets)
Paul van Dyk
Aly & Fila
Giuseppe Ottaviani
Jardin
Week 06 – 15 August 2019: (Buy Tickets)
Paul van Dyk
Aly & Fila
Giuseppe Ottaviani
Jardin
Week 07 – 22 August 2019: (Buy Tickets)
Paul van Dyk
Cosmic Gate
Alex M.O.R.P.H.
Chris Bekker
Week 08 – 29 August 2019: (Buy Tickets)
Paul van Dyk
Aly & Fila B2B Paul Thomas (3 Hour Opening Set)
Liam Wilson
Week 09 – 05 September 2019 – In Association with IBIZA TRANCE EVENT: (Buy Tickets)
Paul van Dyk
Aly & Fila
Jordan Suckley
Sam Mitcham
Special Guest: ITE DJ's
Week 10 – 12 September 2019: (Buy Tickets)
Paul van Dyk
John 'OO' Fleming
Grum
Woody van Eyden
Week 11 – 19 September 2019 – SHINE Closing Night: (Buy Tickets)
Paul van Dyk (3 Hour Closing Set)
Aly & Fila (3 Hour Opening Set)
---
Connect with SHINE Ibiza on Social Media: