After much anticipation, bass legend Liquid Stranger finally released Polarity, a six-track offering of weird wubs and deviously dirty sound design. 
---
Bass music encompasses a vast array of sounds. Spanning from the upbeat stippling of DnB to aggressive dubstep stomps, there's so much variation in the world of wubs and wobbles. As with any other genre of EDM, all these different sounds create factions of fanbases with different ideas as to who the best bass producers are. One artist who everyone seems to agree is a premier contributor and creator of bass is Liquid Stranger, the Swedish-born father of all that is weird and wonderful. His latest release Polarity is an auditory journey, full of raw emotion, ethereal soundscapes, and a mouthwatering serving of extraterrestrial bass goodness.
Having dabbled in melodic lullabies, heavy dubstep, and oil-slick coils of freeform wobbles, Liquid Stranger has spent over a decade hacking away at normative bass constructs and erecting his own in their wake. In every facet of his production, the Wakaan founder dedicates immense attention to detail, creating an unparalleled listening experience. Each time I've had the pleasure of catching a Liquid Stranger set, I've been utterly blown away by his expansive sonic repertoire. It's what has made him one of my favorite artists of all time, and his brand new EP only further heightens my love for his crazy sounds.
Polarity ventures through foreign worlds and transcends universes with each mechanical blip and bobble. Each track brings forth a resonating energy within its clambering bass whips and whops, ultimately seducing you under their spell. Featuring collaborations with Shlump, Bleep Bloop, Freddy Todd, and Pistol, Liquid Stranger has once again managed to redefine everything we think we know about bass music.
Download or stream Polarity on your favorite platform today and read on for a full review!
Listen to Liquid Stranger – Polarity on SoundCloud:
---
Polarity begins with "Meteor Ride", a fun rocket ride through whimsical universes.
This is one of those tracks where you aren't entirely sure how to dance to it, but it definitely makes you want to dance. Amidst robotic chirps and wonky dribbles, "Meteor Ride" defies preconceived ideas of trippy bass music. Every ribbed chime and whistle will have you blissfully enthralled before "Creature" jolts your senses with blistering whomps.
Shlump is another one of my faves and for good reason. "Creature" combines juicy squelches with a thick bassline, making this Liquid and Shlump collab one of my favorite tracks on the EP. I've heard this one in a couple of Liquid Stranger's live sets, and it always gets the crowd going with its electrifying energy.
Up next is Liquid's collaboration with Bleep Bloop, "Paranoid".
We all have those few unreleased tracks that we can never get enough of and pray that they'll one day be released. For me, that's "Paranoid", and I can't tell you how excited I was to see this make the track listing on Polarity. Erratic clashes of gritty bass flood over delectably heavy whooshes of grime following a deep voice belting, "Paranoid and sweaty with two clenched fists!" I don't know what fabulously dark dimension Liquid Stranger and Bleep Bloop extracted these sounds from, but I'm so happy they did.
"Gunslinger Pt. II" featuring Pistol is next on Polarity. It's the deeper and filthier cousin of Liquid Stranger's original "Gunslinger", packing heat with formidable wobbles and alien clicks and warbles. The intensity of the track is the perfect prelude to "Mind Over Matter", a cooled detour from the heat of earlier tunes. The first half of the track is an orchestra of scathing emotion, layering soundscapes to create the sentimental journey of a lifetime. The fluttering of tones against a beautifully deep bassline are sure to tug at your heartstrings before the track drips into some seriously weird wobbles.
Polarity ends with "Saturn Cruiser", Liquid's collaboration with Freddy Todd.
Paralleling the delicacy seen in the beginning of "Mind Over Matter", "Saturn Cruiser" is an enchanting finale to a wild ride. Pay close attention to the countless layers of sound design in this track. Somehow, these two managed to deftly combine molten wubs with symphonic instrumentals and air-light chimes. If Hans Zimmer ever decided to get into making bass music, this is what it would sound like.
---
Liquid Stranger Polarity Track List:
Meteor Ride
Creature feat. Shlump
Paranoid feat. Bleep Bloop
Gunslinger Pt. II feat. Pistol
Mind Over Matter
Saturn Cruiser feat. Freddy Todd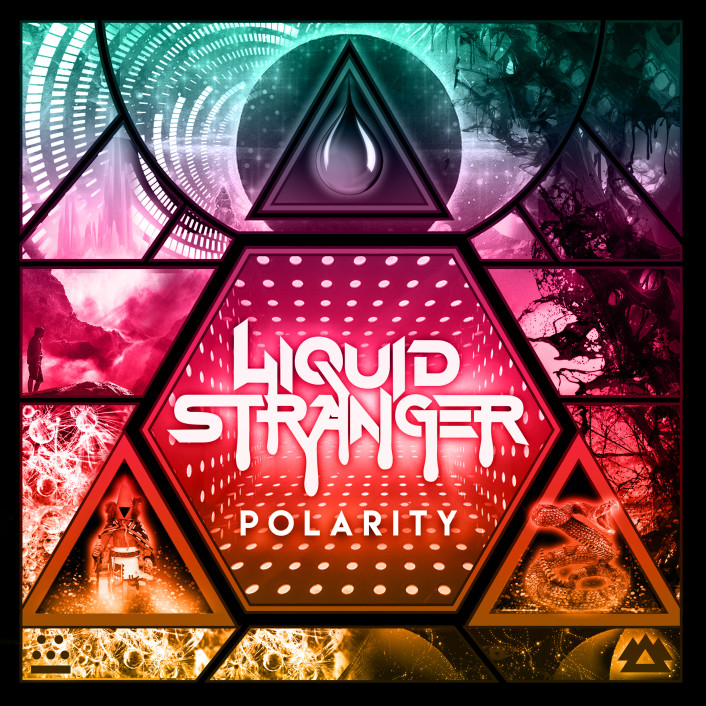 ---
Follow Liquid Stranger on Social Media:
Website | Facebook | Twitter | Instagram | SoundCloud